Tricotin (Dim sum in Paris)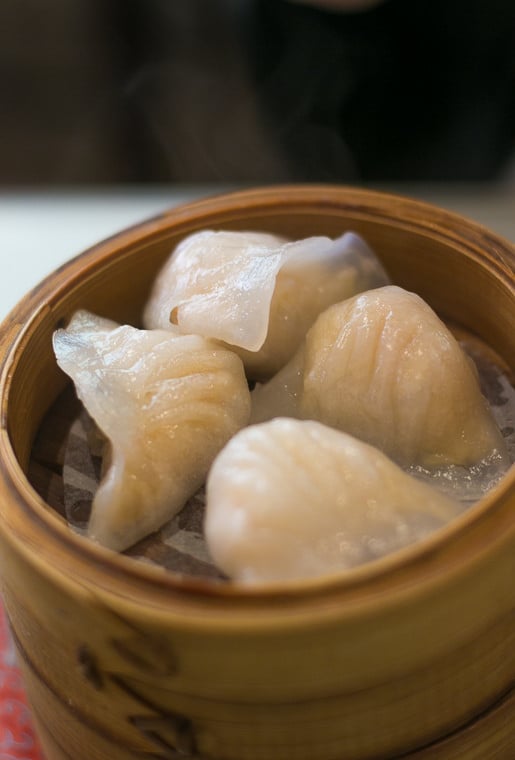 One thing you probably don't know about me is that I'm half-Chinese. Actually, I'm not officially half-Chinese, but I was unofficially adopted by two Chinese-American sisters, who have told me that I'm Chinese. Dining with them has a host of advantages, which includes assuming that if you're going out for Chinese food, they're going to order three or four times what you're actually planning (or able) to eat.
In San Francisco, I've seen people bring their own plastic containers to restaurants. When the meals is over, they take them out and fill them up.
Another benefit of my bequeathed heritage is a plethora of amazing food. When I go to San Francisco, upon arrival, the refrigerator is stocked with won tons, dumplings, noodle soups, and chow fun. (Thick rice noodles.) And the rest of the time is spent going out to eat. One gets pretty spoiled living in California because there are a lot of great places for Vietnamese, Thai, Chinese, and Japanese food. (Although after going to Thailand, I couldn't eat Thai food anywhere else. When can I go back? And Vietnam, Burma, and Hong Kong are at the top of my bucket list.)
But Paris is a lot more international than people think. In fact, we have three quartiers chinois: Belleville, Arts et Métiers (the original Chinese neighborhood), and the 13ème, in one compact little city. So there.
I discovered the 13th arrondissement shortly after I moved to Paris. The first time that I stepped into the giant Tang Frères and Paris Store, I felt right at home amongst the shelves and refrigerators piled up with Asian ingredients. And Chinese jostling felt a lot different – more comforting – than Parisian jostling. So whenever I missed California, I would elbow my way through the store, fill my cart up with candied ginger, tofu, scallions, chili paste, and shaoxing, and bring home the taste of "home." (Although you can get some of those ingredients in grocery stores, people aren't as familiar with them in Paris and I had a supermarket checker – a young woman – ask me with great curiosity, what the piece of fresh ginger I was buying was.)
There are a lot of inexpensive Chinese restaurants and take-outs in Paris (and les sushis). Most are forgettable, and simply fill a need of people grabbing something cheap and easy on their way home from work. But there are a number of good Chinese places in Paris. So when my adopted sister from San Francisco came to town this week, it just seemed natural that we go out for dim sum on Sunday morning.
I have assured her that, while it wasn't Saigon, Ton Kiang, or Hong Kong Lounge II, it was pretty good, as the never-ending line of people waiting for tables at Tricotin, can attest to.
First of all, if you're looking for a pitcher of real iced tea, unsweetened — unlike those cans of peach-flavored, sweetened teas they serve in cafés, with one dinky ice cube melting sadly on top of the tepid liquid — this is the real deal. (Although now that I'm Chinese, I've also learned that you should order hot tea, so that you can use it to wipe down your plates before you put food on them, as well as the plastic chopsticks, before you use them.)
We had an assortment of raviolis vapeur, or dim sum, which included Ha Kao (shrimp dumplings), Char Siu Bao (pork buns, not shown, which were my least-favorite), Sui Mai, and steamed dumplings with civettes, not the nocturnal animal whose pooped out coffee beans have become a dubious luxury item, but Chinese chives.
To me, it's not dim sum unless it includes my all-time favorite dishes: Lo Mao Gai, or Rice cooked in lotus leaf. It's not the most attractive dish to photograph…
…inside or out.
Especially when you're being jostled in a crowded restaurant and your co-diners are diving in before you have a chance to take a photo. (And really, all you want to do is dive in, too.) But what's not to love about a wad of browned sticky rice, steamed inside a carefully folded lotus leaf, with bits of lap cheong sausage and sautéed mushrooms to extract with your (sterilized) chopsticks, with the flavor of the rice taking on the earthy flavor of the leaf? Especially those scrappy, caramelized rice bits stuck to the leaves.
My co-diners insisted on styling the chive dumplings for me, which is one reason you shouldn't always let people style your food. Unless you don't mind it coming out looking like a bullfrog trapped in a rice wrapper. Happily, the insides are full of steamed civettes, the green kind, and are quite good. And unlike the take-outs around town, the dim sum here is made in-house.
The pile of beef Chow Fun (shown up above) wasn't as good as versions I order elsewhere, which are normally cooked "dry." I never realized one had to specify how to cook them in Chinese restaurants, because it always came out that way when I'd ordered it. (Or, quite likely, my friends and family who are Chinese, are ordering in Chinese, and they make that distinction.) Dry-cooking gives the thick noodles a slightly seared color, and they take on the flavor of the wok. Not sure if they will cook it that way at Tricotin. But next time, I'm asking. Well, once I memorize how to say "dry cooked rice noodles" in French.
Paris isn't a city of doggy bags, although some people are trying to change that, to combat gaspillage, or food waste. And I had to convince my sœur chinoise that we couldn't do the usual over-order because we couldn't take anything home. So we ordered a sensible amount of food.
This meant in addition to six baskets of dim sum, and a big plate of chow fun, we had a plate or roast pork and Gai Lan, or Chinese broccoli, which is done really well here; cooked until still slightly crunchy, served glistening with a slick of chicken fat.
However being Chinese, I'm constantly reminded, that there's always room for another course. And while I had to stop my "sister" from ordering a double order, I did notice plates of deep-fried shrimp dumplings being delivered to other tables. So why not get some for us?
While waiting for the check (and believe me, busy Chinese restaurants are places in Paris where you don't wait very long to get one…), we saw a well-fed couple that runs a food concession stand at the Stade de France, the sports stadium to the north of Paris, waiting for a table to eat. A few places behind them, one of the best chefs in Paris was with his girlfriend, who is the chef/owner of one of the best new restaurants in Paris, were waiting in line as well.
Interestingly, they got seated at the same table as the couple with the kiosk at the stadium, which made for a curious juxtaposition of dining companions. (Most people share tables at Tricotin. So only go if you don't mind menus flung down on the table, and sharing spaces.) It showed the variety of people who like good food in Paris, who appreciate quality food from around the world. Happily, the circle of multicultural dining options continues to widen in Paris. So if you're looking for good dim sum in Paris, you might want to include Tricotin in your sphere.
Tricotin
15, avenue de Choisy (13th)
Tél: 01 45 84 74 44
(No reservations)
Related Posts and Links
Sticky Rice Lotus Leaf (The Woks of Life)
Chinese sausage with sweet soy sauce (Steamy Kitchen)