Shang Palace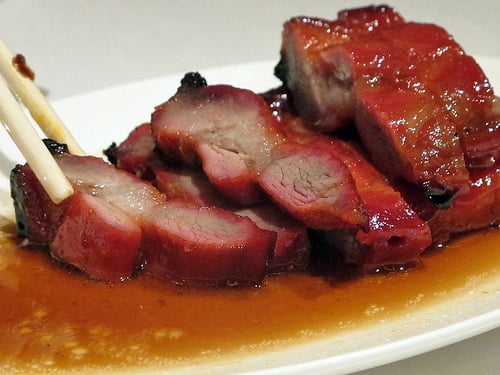 Quite a while back, I worked at an Asian restaurant in San Francisco. The food was amazing. Fresh shrimp were cooked up, chopped, then smeared on bread, then deep-fried for shrimp toast. All the dumplings had freshly cooked ingredients in them – no canned peas or frozen shrimp. And each one was hand-rolled. All the meats were well-sourced and cooked daily, then shredded for fillings and claypot dishes. And the seafood was sparkling fresh.
The restaurant hobbled along for a few years then, sadly, closed. There were number of factors, but the one that I heard from most people is that they balked at paying regular restaurant prices for Chinese food.
For some reason, people think that Asian food needs to be cheap. (Last time I was in New York City, I went to a place that is famous for serving dumplings that could be had five for $1. It was recommended by a lot of people and they were so awful I threw them away, mainly because I was concerned about the meat – or whatever was inside – that I was eating.) I don't know why people will easily pay $20 for roast duck at a regular restaurant but scoff if it's more than $8 at an "ethnic" restaurant, especially if the ingredients are sourced with the same care at both.
I went to a luncheon at the Shang Palace when the restaurant opened last year in the Shangri-La hotel, and found it just, um, okay. I don't know much about the specifics of each region of China but Cantonese food doesn't have the zing and fireworks of the other regional cuisines of China.
Sitting at the table, I wasn't sure who the clientele would be. They'd brought a highly regarded chef and his team from China to cook here, but French people, I thought, don't care about authentic Chinese cuisine, Americans aren't coming to Paris to eat Chinese food, local expats are going to hit the smaller Chinese joints, and visiting Asian guests at the hotel aren't going to eat in a Chinese food in Paris. So I didn't think it would make it.
But I was invited back by the restaurant (their representative is one of my neighbors, who also gave me a hot tip on a great bakery treat in our area, which I'll report on if I can get there before they run out) and I was interested in returning. I love Chinese food, which is one of the world's greatest – if not the greatest, cuisines. And I was curious to see how the restaurant had progressed and evolved.
We arrived early and had a drink in the bar, because I've recently had my love of cocktails reignited – and Paris has really ramped up the cocktail bar scene. I had a Vieux Carré, made the Hudson Manhattan rye, Martini rouge, and bitters, that was just perfect. While I sipped on the expertly made drink, I spoke to the fellow at the bar about the restaurant, wondering who were the customers.
"Parisians" he said, without hesitation.
It kind of surprised me, but sure enough, when we went downstairs for dinner, the dining room of the Shang Palace was filling up with French patrons. Most of them were drinking fancy red wines in special stemware, although we went with tea. So count me as xenophobic for thinking that there wasn't sufficient appreciation for authentic Chinese fare in Paris.
(Speaking of self-criticism, I'd like to note that the photographs in this post don't do the food justice as I only brought along my point & shoot camera.)
I'm not sure if the locals like it as much as I do, but I love, love, love Chinese bar-b-q, and was thrilled at the lengthy selection of meats on the menu. It was probably the hardest decision for us of the night, but we went with the porc laquée au miel, or pork with honey glaze, which was crispy outside, falling-apart tender inside. The portion was huge and I kind of realized we may have over-ordered when we realized we had a few more dishes coming. And this was just the first. (There's a full-page of barbecued meats on the menu, ranging from lacquered Peking duck, crisp suckling pig, pork brisket, and pork ribs. I may go back just for an assortiment de spécialités rôtis façon cantonaise, an order of all of them.)
After a plate of very thinly shaved cold beef shin marinated in soy sauce and spices, out came a stir-fry of pork and clams with chives and steamed buns made with oatmeal flour, which you stuff yourself – literally, and figuratively. (If that makes sense.)
One of my favorite of all Chinese dishes is rice in lotus leaf. It sounds ho-hum, but here it's the house specialty and elevated to something extraordinary. It was the best version I've ever had.
It's one of those simple things that's hard to put your finger on. This one had shrimp, chicken, roasted duck, and small bits of vegetables in it. When I asked the waiter why this version was so good, he mentioned it was marinated overnight. But that didn't really explain how I could not stop digging my chopsticks into it.
I was so enamored of the food, I could not stop eating it, even though we were threatening to burst. And somehow, we also managed to get mostly through a claypot of stuffed tofu. Still, that's never stopped me from ordering dessert.
Luckily my partner is a pretty adventurous eater, although Chinese sweets can certainly be an acquired taste, as they often are jellied or use ingredients that are unfamiliar to western palates, I appreciate them not as a comparison to Western desserts, but as something entirely different.
The first that came out was the Crème d'amande en coque de sésame croustillante, a miraculously light, crisp sesame shells. The waiter snipped a hole in the whisper-thin shell, which had the faint aroma of pork. The fragile (and edible) lid was removed, and inside was a smooth, quivering warm almond custard. It was a feat of dessert engineering, and I happily spooned it all up.
Then three dumplings came out, made with steamed rice flour, served on shiso leaves.
When sliced open, each was filled with fresh, thick cream dotted with tiny nuggets of mango and melon. It was another amazing dessert. It was intriguing to figure out how they were made as well, but we didn't think about it too much – we just ate.
And in true Chinese restaurant fashion, although hardly Parisian, they were happy to give us a doggy bag to bring home the leftovers.
I was really impressed with the meal at the Shang Palace. And like Alec Lobrano, it's going to be a special-occasion restaurant for me in the future. I am anxious to go back and try the dim sum menu because all the dumplings are made in-house and dim sum is certainly underrepresented in Paris. (There is a special dim sum menu at lunch that I'm anxious to try.)
True, this is a special dining experience and it's not a regular Chinese restaurant that you just drop into when you can't think of anywhere else to eat. But we were both more than surprised at how much we liked the food, as well as the friendly, top-notch service. Now who wants to join me for dim sum?

Shang Palace
Shangri-La hotel
10, avenue d'Iéna (16th)
01 53 67 19 98
Métro: Iéna
(Menu and prices on the website.)

Related Reviews
Chrisoscope (in French)
Ptipois (in French)


Note: As mentioned, I was an invited guest of the restaurant for dinner.