Char Siu Ribs
I was recently chatting with a culinary equipment company about working with them, as I was a fan of their products. After a while of getting nowhere, I was told, "You're not the right demographic. We're targeting busy, stay-at-home moms, that don't have time to cook."
Obviously they haven't looked at my daily planner because they would have seen that time is something that's in short supply with a certain someone, who spends plenty of time at home. As for the mom part, well, let's just say that sometimes I feel like I am babying a number of people in my life. (None of you, of course…)
So even though I wasn't born with the right, um, equipment to be a stay-at-home mommy (and from what I hear about the process of giving birth, I think it's something I'm okay skipping), I do know a thing or two about not always having time to cook. People often find that rather funny, but when you've been testing recipes all day (the other day, I made sixteen cakes – yikes!), that last thing you want to do is make dinner – or worse – face yet another sinkload of dishes afterward. Moms, I hear ya!
Yet even though I'm hopelessly unmarketable, one thing that I do share with those moms who are so darned busy is that I keep a few tricks up my sleeve. One of them is to keep a jar of Char Sui sauce handy. For those who think jarred sauces are dubious, you obviously haven't spent the day surrounded by screaming kids then had your other half come home and complain about what a horrible day he had.
The jarred sauce has exactly the same flavors found in the bbq pork that you get in Chinese restaurants, yet takes no time at all to make a main course with it as a base. Just smear it on some pork, finish up those recipes you've been working on, and within a few hours, you'll find yourself pulling a terrific dinner out of the oven with practically no work. (And if anyone gives you a hard time about using a jarred sauce, open their refrigerator and pull out a jar of mustard, and demand an explanation.)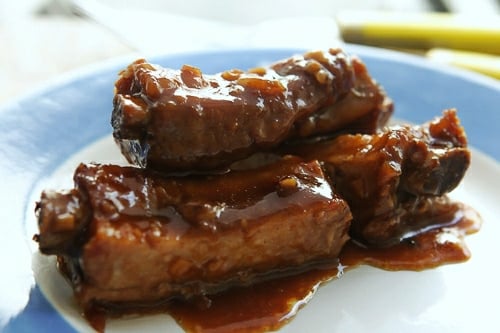 I like to ramp up the sauce with a bit of spicy Sriracha sauce and some tangy pickle juice. I've tried adding fresh ginger but during the reduction process, it can get really strong. I love the zing of fresh ginger and understand if you want to add it. But if you do, just use a little less than you think.
And to be honest, I've had a busy, stay-at-home day, and I've got guests coming for dinner. And we're having ribs. I'm serving them with a raw vegetable slaw with fresh mangos and putting out a jar of homemade kimchi, for folks to help themselves. Because I'm wiped out from being so busy all day.
| | |
| --- | --- |
| Char Siu Ribs | Print Recipe |
Char Siu sauce is available at any Asian market. I look for a brand that doesn't have a long list of unpronounceable ingredients. Most don't, since the ingredients are pretty shelf-stable anyways. For those who think ahead, rub the teaspoon of salt into the ribs and let them sit overnight in the refrigerator. Which is a good do-ahead tip. For those who don't want to use beer, try root beer or even apple juice. If you have the time, you can let the ribs cool down after the baking (step 3), and chill them overnight. The next day you can scrape off any fat that's risen to the surface then finish cooking the ribs. And actually, the ribs are better if they sit overnight in the sauce, and rewarmed following day. If not, you can drain off the fat and remove it using a fat skimmer or taking the bowl of a ladle and delicately stirring the liquid, making a vortex. And when the fat moves to the edges, skim it off.
3
pounds (1.4kg)
pork ribs,
trimmed of excess fat, cut into sections of 3-4 ribs
1
8-ounce (240g)
jar Char Siu sauce
1/4
cup (60ml)
pickle juice
(or cider vinegar)
2
teaspoons
Sriracha sauce,
or similar chili sauce
2
cloves
garlic,
peeled and minced
1. Preheat the oven to 350ºF (180ºC).
2. Rub the salt into the ribs. Put them in a Dutch oven or large covered casserole and add the remaining ingredients, mixing them all together.
3. Cover the pot and cook for 2 hours, turning the ribs over two or three times during cooking, so they get evenly coated.
4. After the ribs are fully cooked and tender, remove the lid and return the pot to the oven, letting it cook until the sauce is reduced to your liking. (Turn the ribs once or twice while the sauce is reducing.) It should take less than 25 minutes for the sauce to thicken.
Related Links
Chinese-Style Roast Pork (Just Bento)
BBQ Pork (Rasa Malaysia)
Chinese Roast Pork (Appetite for China)
Char Siu Bao (Chubby Hubby)
Chinese Roast Pork (No Recipes)
Char Siu Sauce (Serious Eats)