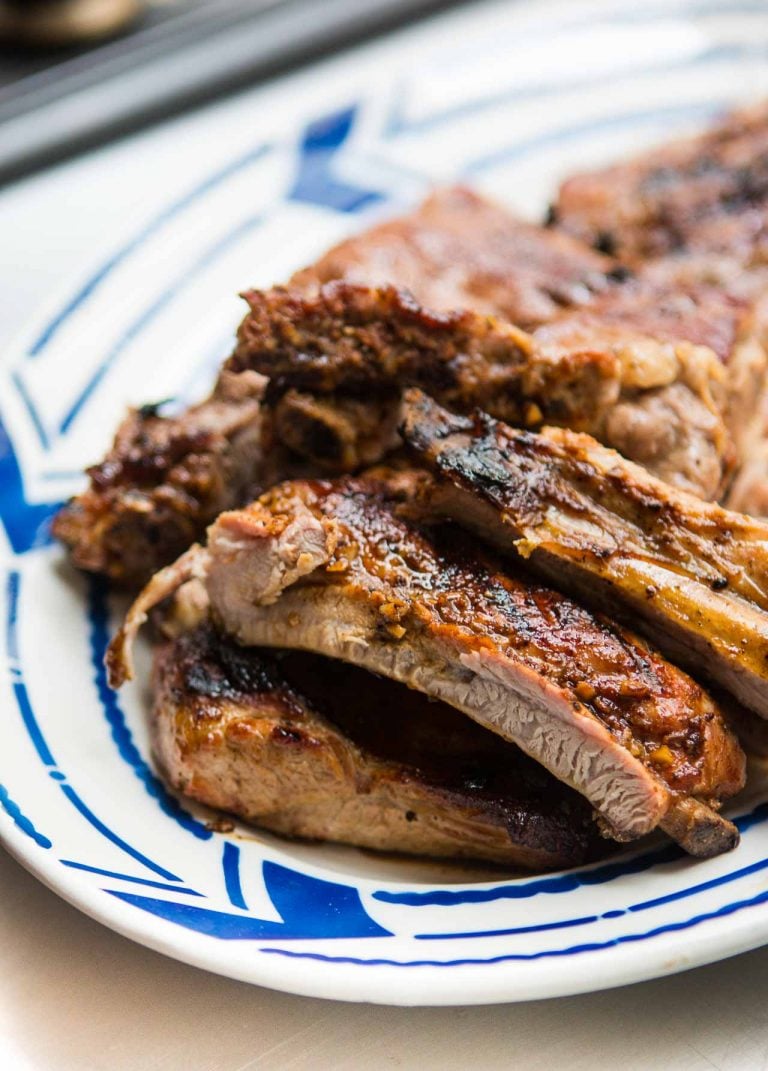 People don't associate French cooking with grilling. But if you go to any neighborhood festival in the summer, out in the countryside, there's invariably a grill covered with sausages, including merguez, lined up and sizzling away, as well as a broche with something turning on the spit, being lapped with flames, roasting to perfection.
Another thing that people don't know, including me, was that you can cook baby back ribs in less than 30 minutes, ending up with tender ribs using a grill pan – no fire needed! That's an especially good thing if you're a city dweller and don't have access to a grill, or it's forbidden, as it is in Paris for safety reasons, which is understandable; the city has been through a number of rebuilds and doesn't need another one.
The word barbecue in English comes from la barbe à la queue, or, from the beard to the tail, and what you see at those countryside festivals is often a whole beast roasting away, while people hover around, drinking wine, waiting until it's ready.
My friend Susan Loomis spent years living in the French countryside and now divides her time between Normandy, and Paris, where she teaches cooking classes, enjoying the best of both worlds.
Susan's book latest book, French Grill: 125 Refined & Rustic Recipes, celebrates the flavors and traditions of grilling in France with everything from grilled vegetables and aïoli and chicken wings with herbs de Provence, to duck breast à l'orange, and éclade, a layer of mussels cooked under pine needles, a ritual I took part in last summer. (You can see the fiery, dramatic cooking of the mussels in action on my Instagram Stories.)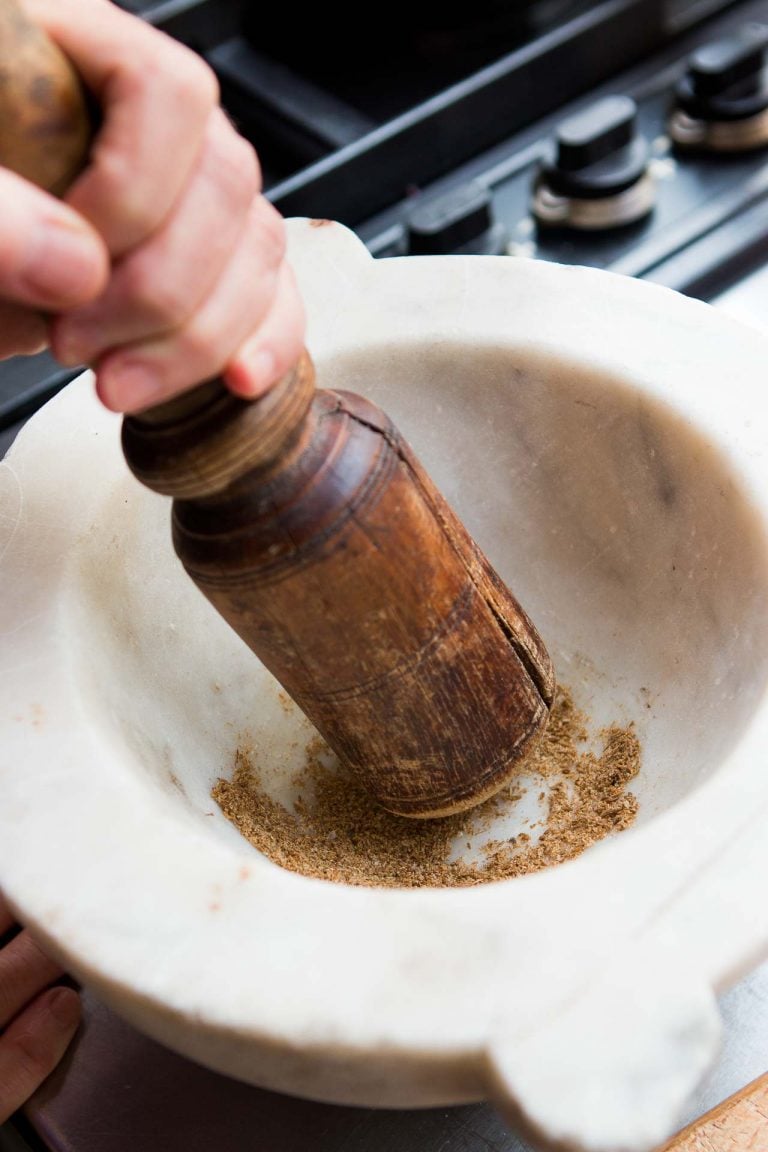 Susan's book even has grilled sablés, Normandy shortbread cookies, which she brought over when I invited her for lunch, where she made the Côtes de porc grillé, or Grilled Baby Back Ribs, French Style (page 162.) I didn't quite believe you could have tender ribs in about thirty minutes – and until I tasted her lovely cookies, I didn't believe you could grill cookies! – but she told me that she came up with this recipe when guests arrived for a party at her house in the country with a few racks of ribs, and she needed to cook them quickly.
In the book, Susan mentions how grilling is often seen as "man's work," and men hover around, making suggestions about how she should be grilling, practically grabbing the tongs out of her hands. Not sure if mansplaining has a translation in French, but I was at the demo of a bartender and bar owner in Paris and winced a few times when she was asked if doing her job, and hiring other women to work with her, was a political statement.
Having worked with, alongside, and for women, most of my life in restaurant kitchens, I don't spend time thinking about if women could or couldn't cook, bake, mix, or grill something up as good as, or worse, or better, than I could. Having said that, knowing Susan for a number of years, and seeing her behind the stove, and at the grill, I let her do her thing. Because she's definitely the boss of the grill, at least in my house.
The secret of these ribs isn't a long list of ingredients. Smoked paprika, fresh garlic, and cumin each have dynamic flavors that come together to complement, and provide a counterpoint, to the tender, juicy pork. But we both agreed when we sat down to eat the ribs later, that the freshly toasted and ground cumin was key to the flavor. The garlic may get a little char when cooking, but as long as you turn the ribs before the garlic gets too dark, that roasty flavor is also part of the appeal.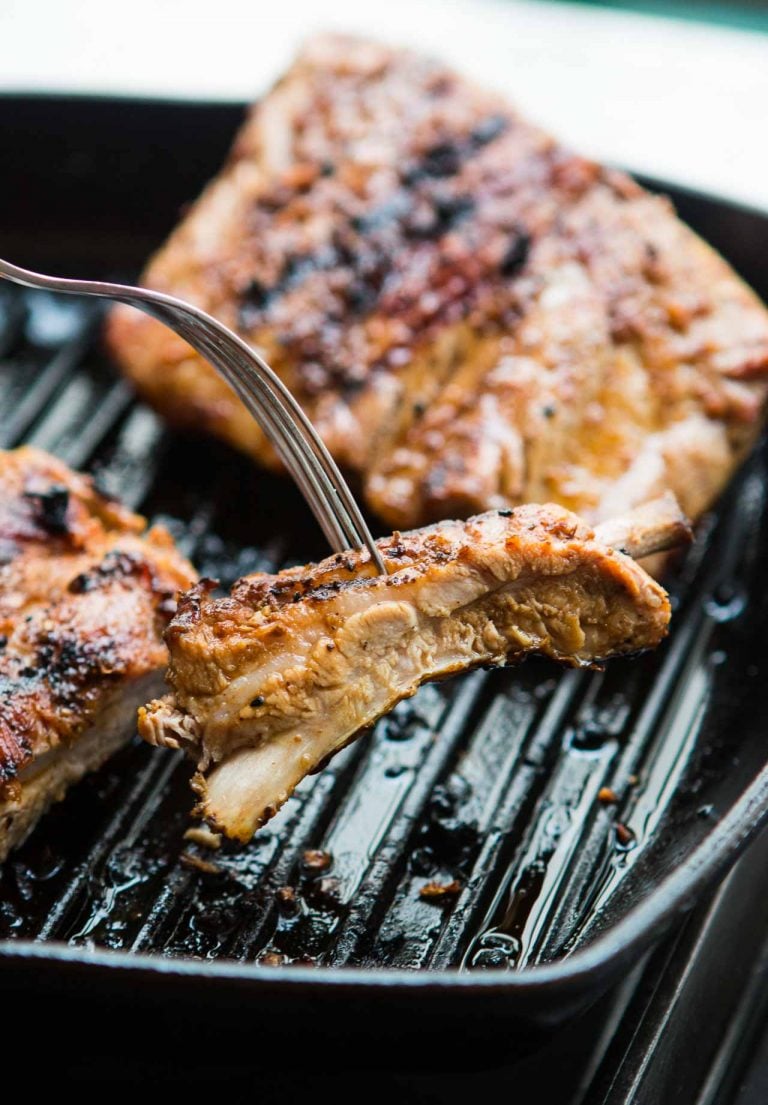 Susan had never cooked these in a grill pan, which worked very well. And sure enough, we were sitting down and eat ribs, and licking our fingers, not long after she started.
Grilled Baby Back Ribs
Adapted from
French Grill: 125 Refined & Rustic Recipes
by
Susan Herrmann Loomis
Although I've given instructions for cooking them on the stovetop, for this quantity of ribs, you may need two pans. We did one batch in a grill pan and the other in a cast iron skillet. If you only have one pan, you can keep the first batch warm on a baking sheet on in a baking dish, covered in foil in a moderately hot oven, while you cook the second batch or ribs. For best results, toast and grind your own cumin. It does make a difference although ground cumin can be used. Susan's recipe uses baby back ribs. In France, we get
travers du porc
. Like any grilled meat recipe, use the instructions for cooking as guidelines. If you see (or smell) the garlic burning, turn the ribs over, then turn them back again a few minutes later. The total cooking time was about 30 minutes on my stove.
2

pounds (1kg)

baby back ribs

,

trimmed of excess fat

1

teaspoon

cumin seeds

1/2

teaspoon

fine sea salt

2

large cloves

garlic

,

minced

freshly ground black pepper

1/2

teaspoon

smoked paprika

2

tablespoons

olive oil

,

plus additional oil for the preparing the pan
Cut the rack of ribs into portions of 4 or 5 ribs, or whatever size will fit in your pan. For this recipe, using 2 pounds (1kg) ribs, she cut them into four portions. Put them in a large bowl.

Toast the cumin in a skillet, stirring frequently, until fragrant, about 2 to 3 minutes. Let cool, then grind the seeds in a spice grinder or mortar and pestle with the salt. (If you don't have either, place them in a sturdy freezer bag and whack them with a hammer.) Sprinkle them over the ribs, along with the minced garlic, several generous turns of freshly ground black pepper, smoked paprika, and olive oil. Rub the seasonings into the ribs and let them stand for 1 hour at room temperature. They can be prepared up to this point and refrigerated for up to 24 hours. (If you refrigerate them, let them come to room temperature before grilling.)

When ready to cook the ribs, brush a grill pan with oil and heat it on the stovetop over medium-high heat. (If using two pans, simply follow the instructions, dividing the ribs into the two skillets.) Add the ribs to the pan, fattiest side down. Check after a few minutes to make sure the garlic isn't burning. If it is, turn the ribs over.

After about 7 minutes, turn the ribs, if you haven't yet, and cover the pan. I used a lid from a stockpot. Continue to cook the ribs, turning them as necessary, but leaving them in place long enough so the fatty side turns a deep golden brown.

Cook until the ribs are tender when poked with a sharp knife; if you cut into one, the meat next to the bone should be cooked through and not pink, which will take 20 minutes or so. Turn off the heat and leave the ribs covered in the pan for another 5 minutes before serving.
Notes
Serving: Cut the ribs into pieces and serve on a platter, warm. Serve with a salad of your choice. I especially like <a href="https://www.davidlebovitz.com/cole-slaw-with-wasabi-dressing/">slaw</a>-<a href="https://www.davidlebovitz.com/chicken-mango-cole-slaw-recipe/">type</a> salads with grilled meat.
Note: If you want to cook the ribs on a traditional grill, Susan explains how to do that in her book, which involves cooking them over a hot grill for about 35 minutes, turning them a couple of times and keeping the grill closed when not turning them, until they are well-browned on all sides.