Sables Bretons: French salted butter cookies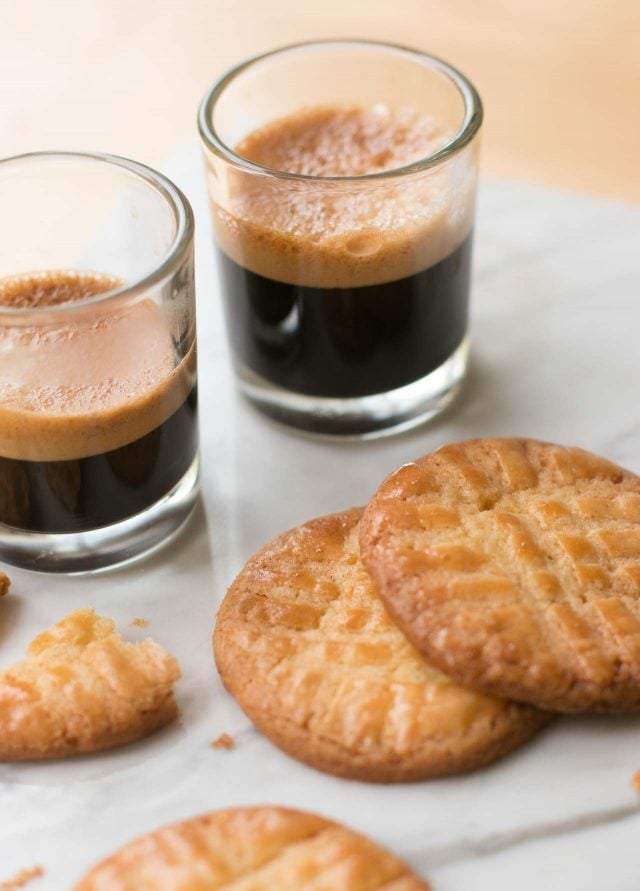 Shortly after I had moved to France, I made dinner for friends in my apartment, which we finished up with a chocolate tart, which I flecked with a few grains of flaky sea salt. Everyone ate their desserts but one guest, politely, finally spoke up to let me know that somehow, I'd gotten some salt on the dessert. Since then, salt has become a popular ingredient in pastries. It adds a bit of contrast to any sweetness, and helps to enhances other flavors, too.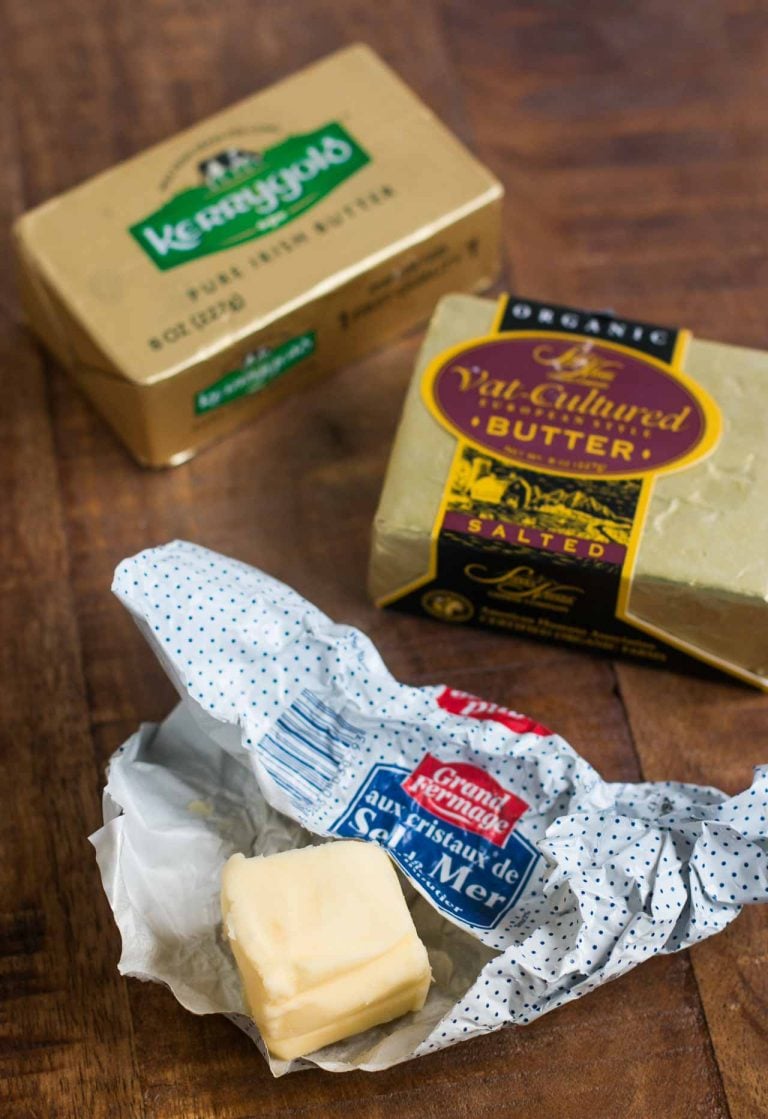 In Brittany, butter is celebrated in a variety of desserts, like kouign amann, that have become globally popular over the last few years, salted butter is used to make them. Unsalted butter used to be the butter of choice for making pastries and desserts. Some said (including myself) that salt is added as a preservative, so unsalted butter is usually fresher. And the other reason was that using unsalted butter allowed you to control the salt in a recipe.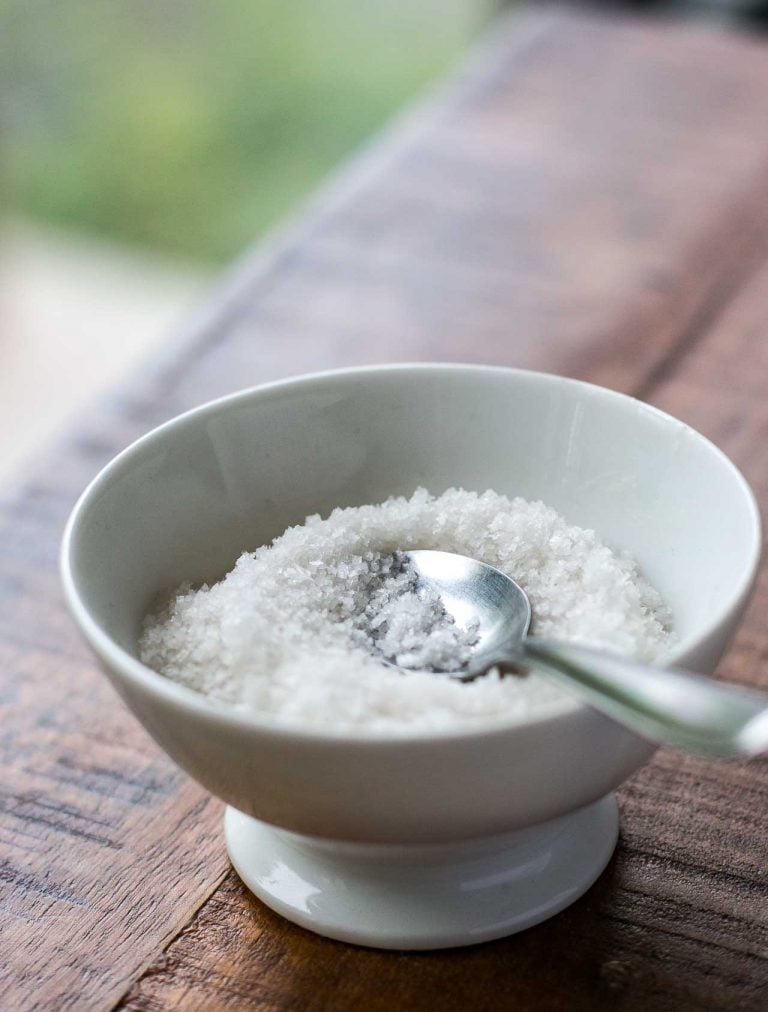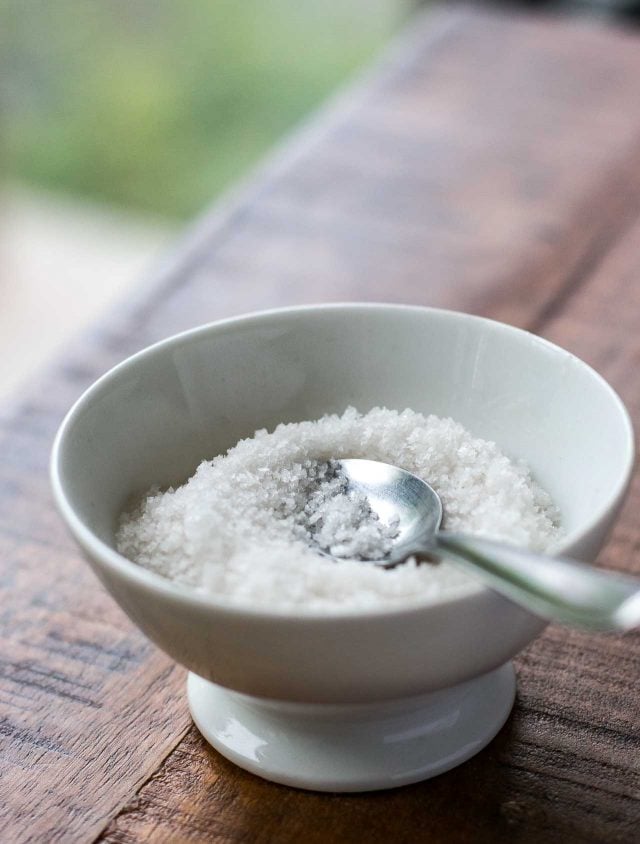 With refrigeration, the freshness of salted and unsalted butter isn't really a question anymore. And regarding the second point, the amount of salt in a stick (4 ounces, 115g) of butter is about 1/4 teaspoon, which isn't an enormous amount for an entire recipe and if you use salted butter, you can dial down the salt in a recipe proportionally.
These classic Breton cookies are called sablés, which refers to their sandy (sablé) texture, due to a high proportion of butter (and egg yolks) in them. Because the Bretons use so much butter, it's traditionally salted to help preserve it. These cookies get their special flavor from using salted butter.
There's often a discussion amongst people who write recipes whether or not to call for specialty ingredients, or specific brands. My take it to only call for them when they're either absolutely necessary, or will make a big difference. Sending people on a wild goose chase for an ingredient to make a recipe isn't usually appreciated, but in this case, with butter-rich cookies like these, using a top-quality salted butter is the key to their crisp, crumbly texture and salty-sweet flavor. And it's worth seeking out.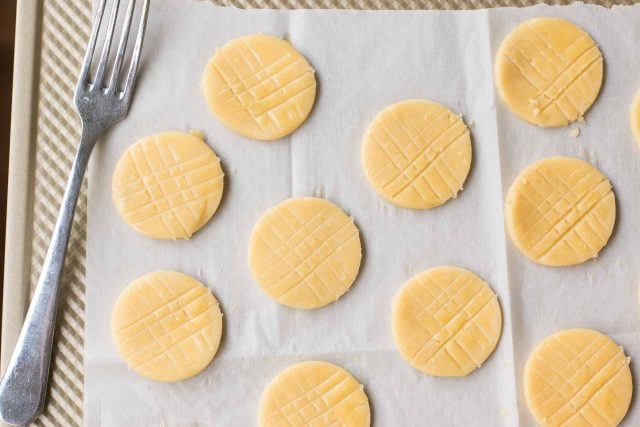 I was excited to see the Little Flower Baking book. If I could only go everywhere, I would. And one of those places is Christine Moore's Little Flower Cafe and Bakery in southern California, but I've had her amazing sea salt caramels, some of the best I've had anywhere, and knew from the first bite of those glossy, gooey beauties, that this woman knew her way around butter and salt. Having this book, filled with recipes from the bakery, is the next best thing to being there. (Well, I think. Since I haven't been, I'm going to have to assume it is.)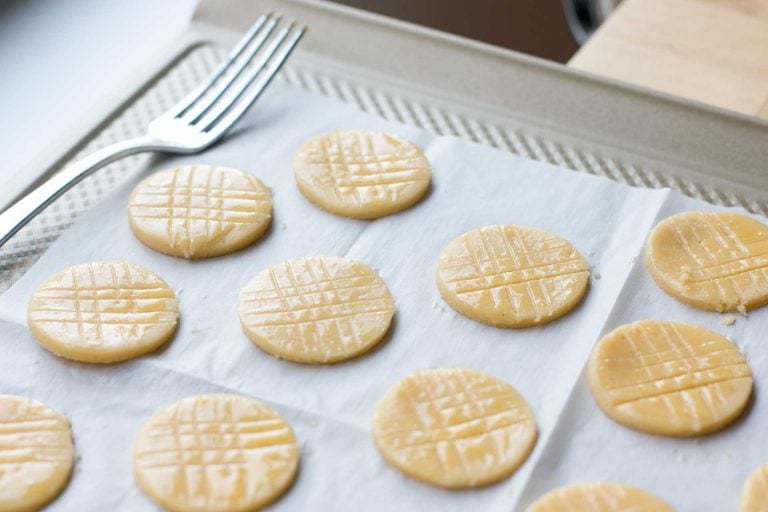 For these sablés bretons, for best results use very good butter. In the U.S., some butter is labeled "European-style" which means it has a little less water and a higher fat content. Those are good choices, but even better are cultured butters, which have a live bacteria added to the cream before it's churned and is the secret to the great-tasting pastries in France. Cultured butter takes longer to make and the culture not only gives the butter a richer flavor, but you can taste it in the finished pastry as well. At least I can.
You can get French brands of butter in the United States (Christine calls for Échere), although Kerrygold, Vermont Creamery, Straus, and other good-quality brands (some cultured, others not) of butter, are available stateside. I can't go shopping with you (it's that "I can't go everywhere" thing…) but if you visit a well-stocked supermarket or food store, you should be able to find a good salted butter for these cookies. Even major brands like Land O Lakes and Challenge now make European-style butter.
The dough is quite sticky and I like to roll it out between two sheets of parchment paper. You'll need a pastry scraper or metal spatula to help coax the cookies from the parchment after rolling. If the dough gets too warm and soft, you can place the rolled dough in the refrigerator or freezer for a few minutes until it firms up enough to cut.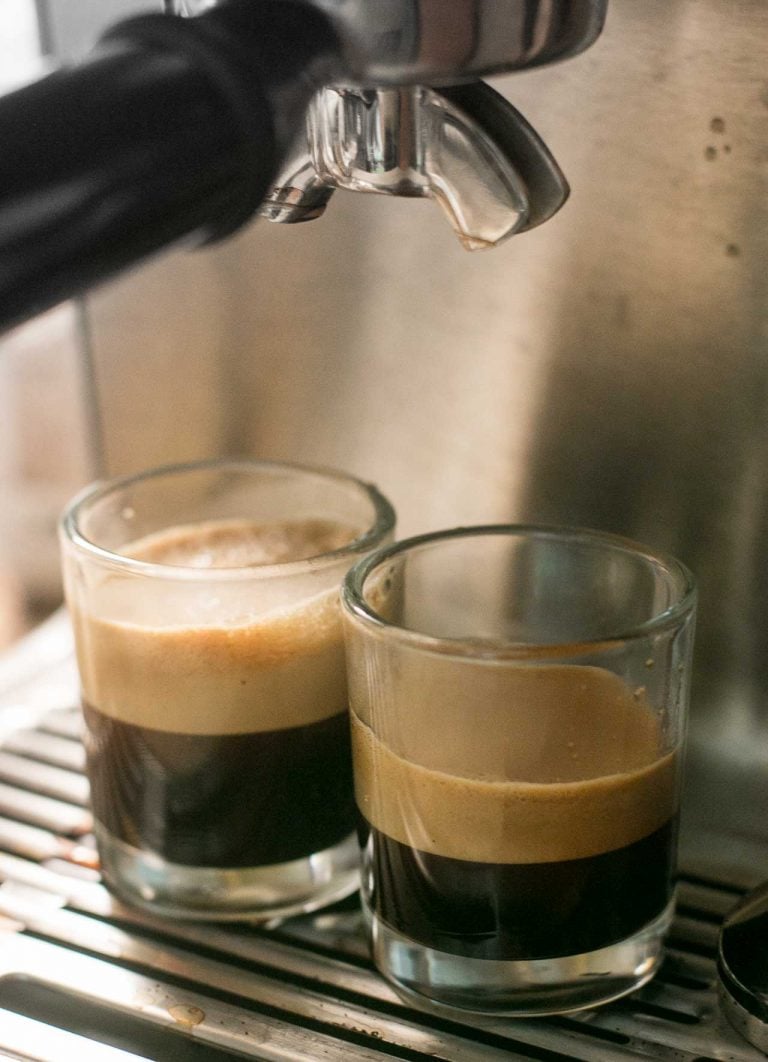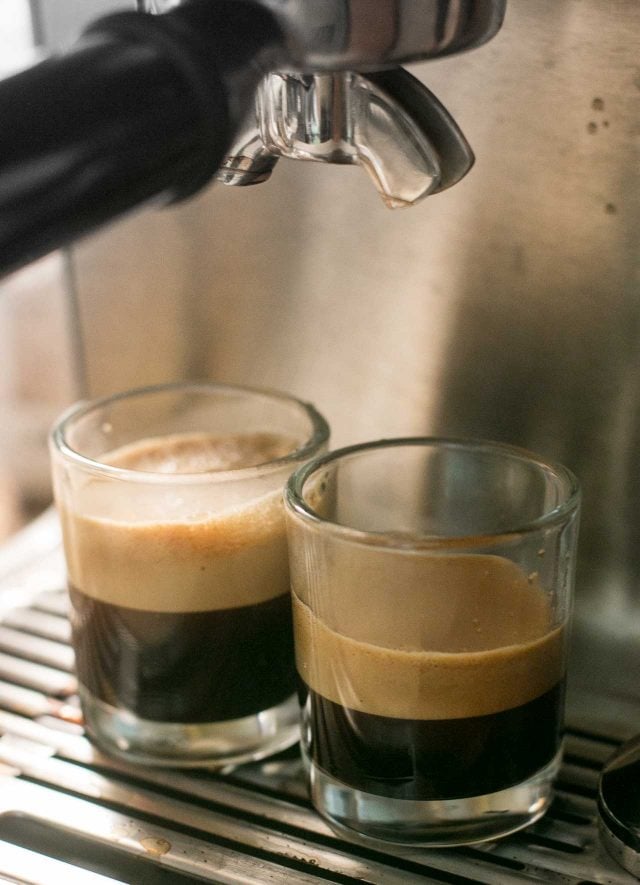 The reward for seeking out good butter are rich little disks of buttery goodness, and as soon as mine were cool enough to eat, we dove in, accompanied by dark coffee. However I found the leftovers were great to snack on during the rest of the day. And I even found myself raiding the cookie jar (although I use a coffee can) first thing the next morning.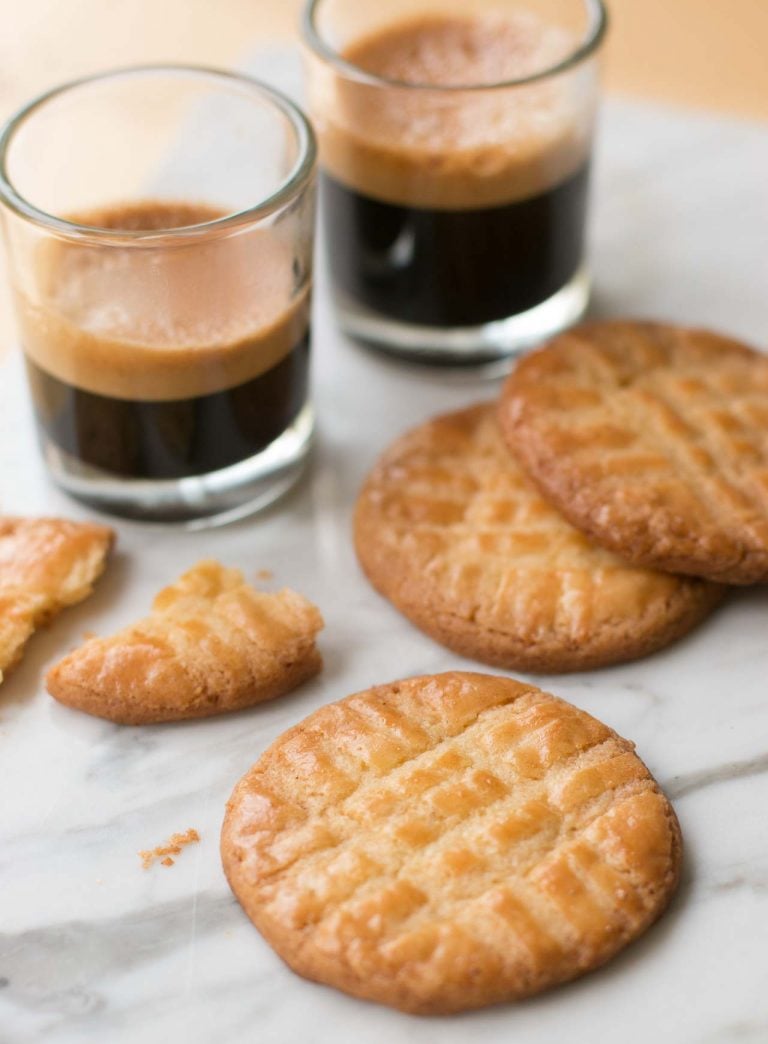 Sables Breton
Adapted from
Little Flower Baking
by Christine Moore More than other types of cookie, these are quite sensitive to being overbaked. Some might like them darker, but I prefer mine a little less, which allows for the flavor of the salt and butter to come through. I recommend baking them one sheet at a time on the middle rack of the oven. Even in a convection oven, I find if you bake these on the lower rack, they'll cook too quickly on the bottom. It helps if you can make room in the refrigerator or freezer before you start rolling the cookies so you chill the baking sheets with the unbaked cookies on them. Chilling them makes it easier to score them with a fork, but if you work fast – like I did – you can probably get away with not chilling them. I reduced the baking powder in the original recipe, but it's still imperative that you use
aluminum-free baking powder
because these have a bit more leavening than other cookie recipes. Regular baking powder has a tinny taste, and you want to avoid that in these buttery treats.
2/3

cup (5.2 ounces, 150g)

best-quality salted butter

,

at room temperature

2

teaspoons

flaky sea salt

,

such as fleur de sel or Maldon

4

large egg yolks

1

cup (200g)

sugar

1 3/4

cups (210g)

all-purpose flour

4

teaspoons

aluminum-free baking powder

1

egg

1

teaspoon

of water
In the bowl of a stand mixer fitted with the paddle attachment, or by hand in a bowl with a sturdy silicone spatula, cream the butter and salt together on low speed until smooth, about 30 seconds.

In a separate bowl, whisk the egg yolks, gradually adding the sugar while whisking, until the yolks are light and fluffy – about a minute. With the mixer on low, add the egg yolks to the butter, stopping the mixer to scrape down any butter clinging to the sides so it all gets incorporated.

Sift together the flour and baking powder in a small bowl, then stir that into the creamed butter mixture until it's completely incorporated. (Don't overmix it.)

Pat the dough into a rectangle about 1-inch (3cm) thick, wrap in plastic, and chill for an hour. (The dough can be made up to five days in advance, and stored in the refrigerator.)

Line two baking sheets with parchment paper. Have a pastry scrape or thin metal spatula handy.

Cut the rectangle of dough in half and place one piece between two large sheets of parchment paper. Roll the dough until it is between 1/3- to 1/2-inch (1,25cm) thick. Peel off the top piece of parchment paper and, using a 2-inch (5cm) round cookie cutter, cut out circles of dough, place them on the prepared baking sheet at least 1/2-inch (2cm) apart. You may need to coax them off the parchment with the pastry scraper or spatula.

Roll the second piece of dough, cut out circles, and put them on the other baking sheet. (Scraps can be gathered up and rerolled to make additional cookies.) Chill the baking sheets of cookies in the refrigerator or freezer until firm.

To bake the cookies, preheat the oven to 350ºF (180ºC). Adjust the oven rack to the middle of the oven.

Beat the egg in a small bowl with the teaspoon of water. Remove one sheet of cookies from the refrigerator or freezer. Brush the tops of the cookies with the egg wash then use a fork to cross hatch a pattern on the tops of the cookies. Bake the cookies until the tops are golden brown, about 15 minutes, rotating the baking sheet in the oven midway during baking.

Remove the cookies from the oven and let cool on a wire rack. Brush the second baking sheet of cookies with the egg wash, rake a pattern across the tops with a fork, and bake them.
Notes
Storage: The unrolled dough can be chilled for up to 5 days or frozen for up to two months. Once baked, the cookies will keep for up to four days in an airtight container.
Related Posts
Ingredients for American Baking in Paris
Recipe Ingredients and Substitutions
Gluten-Free Baking and Substitutions