Apple Date Cake with Salted Caramel Glaze
It's been a turbulent week and I went into my usual default mode: I baked something. I'd been planning on sharing an apple cake recipe with you, having cooked up some apples and bought some dates in preparation. But one morning I awoke very early after a fitful night of sleep and started pitting dates, in the early hours of the day, before the sun came up. By the time daylight finally broke through, I was pulling a fragrant, espresso-colored cake from the oven.
Because it's that time of year – and yes, I'm talking about the holidays – I'm glad to add a moist, gently spiced cake to my repertoire. Add to that, I glazed my cake with salted butter caramel, because no matter where your loyalties lie, I think one thing we all can agree on is that everything is better with salted butter caramel. Has it become the 'bacon' of the dessert world? If so, I'm not complaining.
In fact, I'm probably guilty of promoting it. Years ago, the idea of adding salt to caramel, or even desserts, was considered avant-garde, to some. The first time I sprinkled a bit of sea salt over a chocolate dessert, a French guest who was dining at my place said, tentatively, "Um…I don't know if you know this, but you put some salt in the dessert by accident."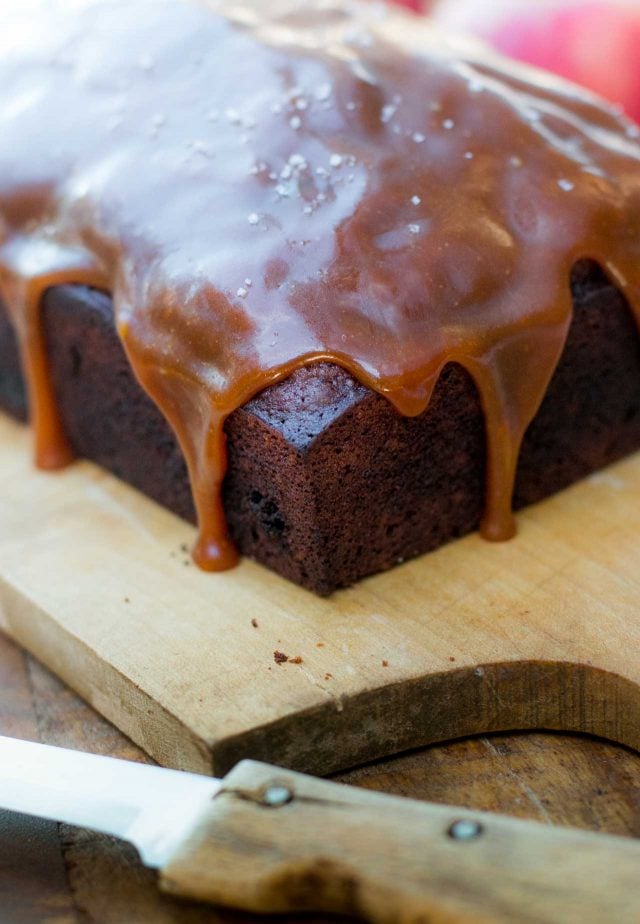 It was no accident. A flurry of salt provides contrast to any sweetness, accenting other flavors as well. Some cultures routinely salt to fruit, such as watermelon, add it to yogurt drinks, and people in Brittany use salted butter for baking some of their iconic desserts, like Kouign amann and Sablés Bretons, French butter cookies.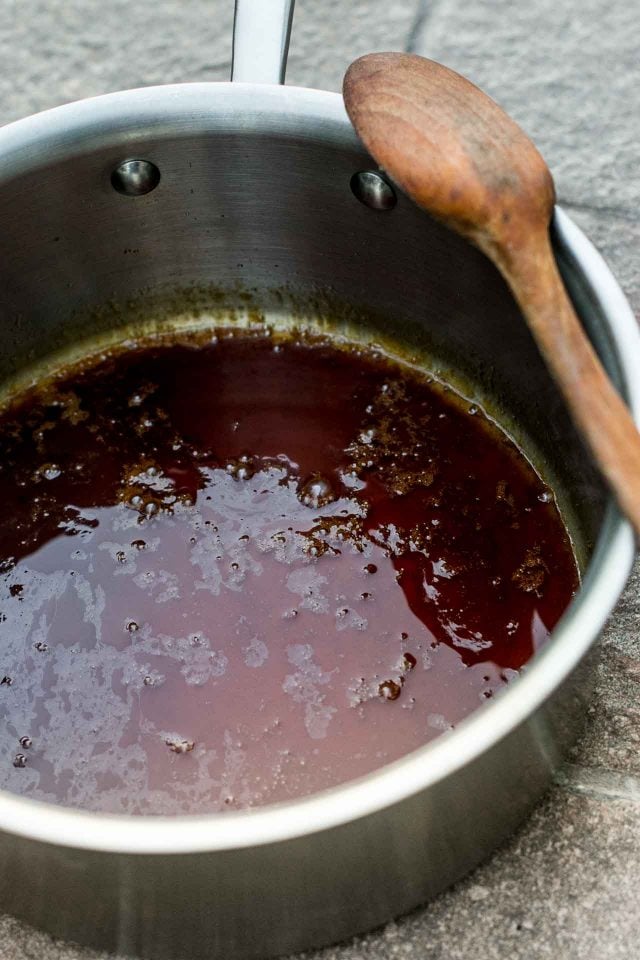 I like to cook my caramel the point where it is as close as possible to the point of being burnt. That gives it a bit of a smoky edge. It paired well with the hint of spices in the apple-enriched batter dotted with sticky sweet dates that I imbibed with a shot of rum. After I poured the luscious caramel over the cake and let it work its way down the edges, I lopped off that all-important first slice.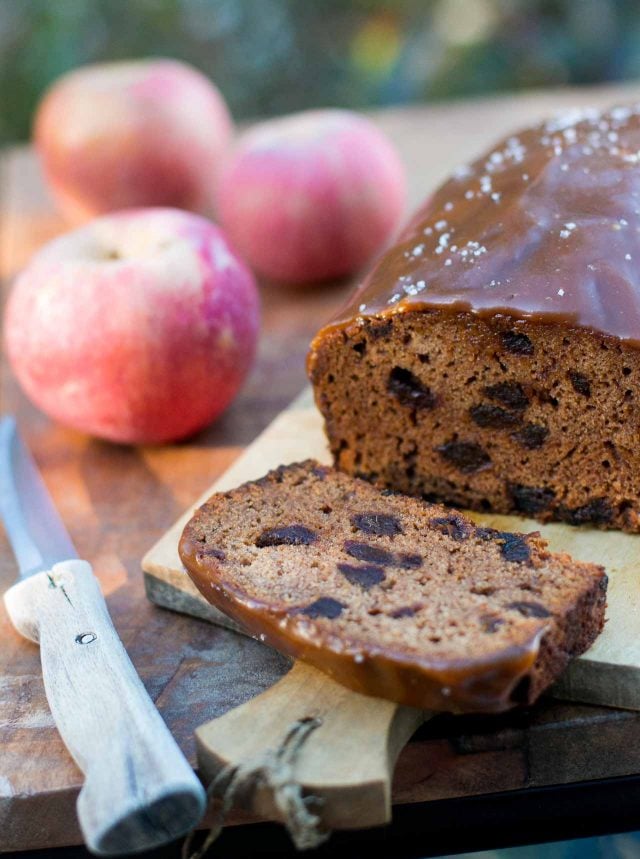 I liked it so much that I made this cake a second time this week and can definitely say that baking (and eating) cake can help whatever ails you. And with a deeply flavored salted butter caramel glaze? That's just icing on the cake…
| | |
| --- | --- |
| Apple Date Cake with Salted Caramel Glaze | Print Recipe |
One
9-inch (23cm) cake, about 10 servings
If you don't want to use the rum or whiskey, pour boiling water over the dates if they are dry to hydrate them. If they're moist, you can use them without the rum. If you've not made a caramel, check my post on Making the Perfect Caramel for step-by-step instructions, with photos.
Apple Date Cake
1 1/2
cups (220g)
dates,
pitted and diced
3
tablespoons
rum or whiskey
1
teaspoon
ground cinnamon
3/4
teaspoon
ground ginger
1/4
teaspoon
ground allspice or cloves
8
tablespoons (4 ounces, 115g)
unsalted butter,
at room temperature
3/4
cup (150g)
granulated sugar
1/3
cup (60g)
packed light brown sugar
1
large
egg,
at room temperature
1
cup (240g)
unsweetened applesauce
1
teaspoon
vanilla extract
Salted Butter Caramel Glaze
1/2
cup (100g)
granulated sugar
a few drops
fresh lemon juice
3
tablespoons
salted butter,
at room temperature, cubed
3
tablespoons
heavy cream
1/4
teaspoon
flaky sea salt or kosher salt
1/4
teaspoon
vanilla extract
1. Butter a 9-inch (23cm) loaf pan and line the bottom with parchment paper. Preheat the oven to 350ºF (180ºC).
2. To make the cake, toss the date pieces in a small bowl with the rum or whiskey and set aside.
3. In a medium bowl, whisk together the flour, baking soda, cinnamon, ginger, allspice or cloves, and salt.
4. In the bowl of a stand mixer fitted with the paddle attachment, or by hand in a large bowl with a study spatula, cream the butter with the granulated and brown sugar at medium high speed until smooth. Beat in the egg.
5. By hand, stir in half of the dry ingredients, add the applesauce and vanilla, and stir in the remaining dry ingredients so they are partially mixed in. Fold in the dates (and any liquid in the bowl, if there is any) and mix just until the dry ingredients are incorporated and the dates are evenly dispersed. Do not overmix or the cake will be tough.
6. Scrape the batter into the prepared loaf pan and smooth the top. Bake until a toothpick inserted into the center comes out clean, about 1 hour. Remove from oven and let cool completely before glazing.
7. To make the glaze, heat the sugar and water in a medium-sized saucepan (about 4qts/4l) with a few drops of lemon juice. Cook until the sugar turns deep amber brown and starts to smoke, tilting the pan gently as the sugar cooks. (Check the post on making the perfect caramel.)
8. Remove from heat and stir in the butter until melted, then stir in the heavy cream, salt and vanilla until smooth. Let cool until it's just above room temperature, still slightly warm, so it reaches a spreadable consistency. Remove the cake from the pan and spoon the glaze over the cake. If desired, sprinkle a few grains of flaky salt over the top of the cake.
Storage: The cake can be made and kept at room temperature for up to 3 days. It can be frozen, prior to glazing, for up to two months.