Salted Caramel Cream Cheese Swirl Brownies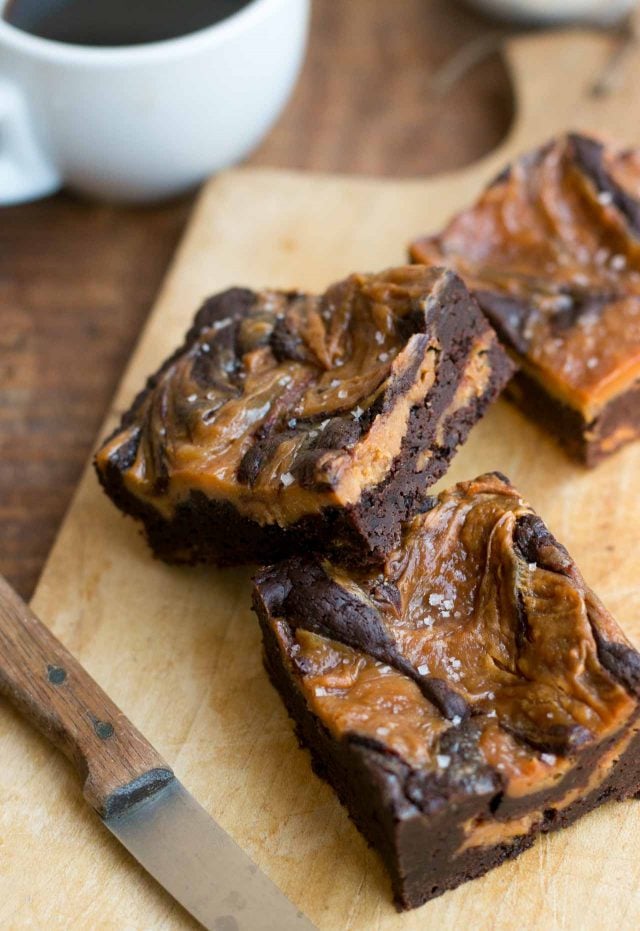 A few years ago, a favorite bakery in Paris near where I lived was offering brownies. The baker gave me one to taste and although I was happy they were expanding their repertoire outside of their borders (actually, many French pastries are influenced from other cultures), the plain, somewhat dry brownies weren't doing it for me. They didn't understand that a brownie is best when it's a moist, compact square with an intense chocolate flavor, like these are.
Being a diverse country, some Americans like their brownies cake-like and others prefer chewy. Some prefer nuts, some don't. But one thing we do share – even with the French, is a love of salted butter caramel, and – yes, cream cheese, too.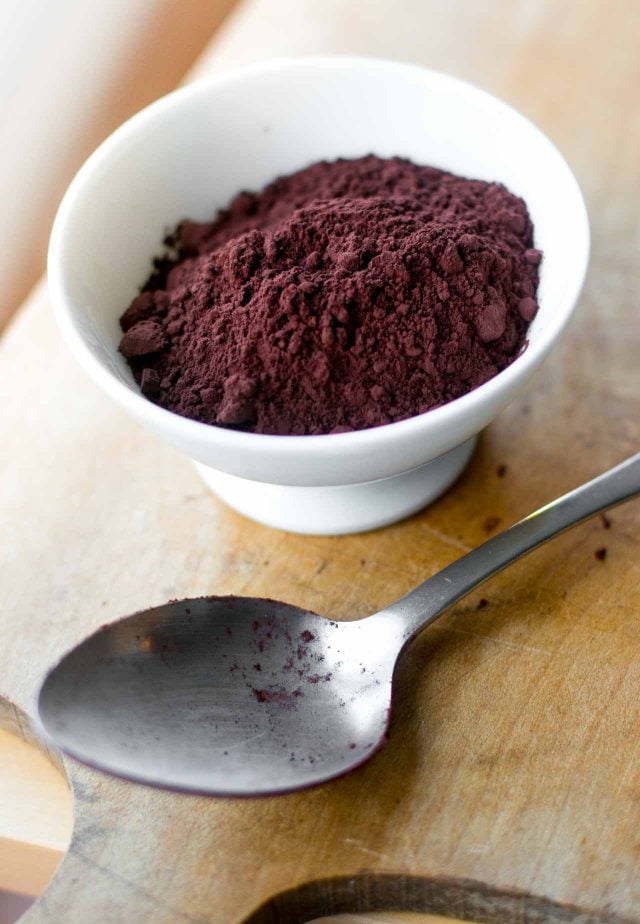 Salted butter caramel is credited to the fine folks in Brittany, who traditionally add salt to their butter to preserve it, since they use so much of it. Although it's not an expression you hear in French, adding it to caramel is a "no-brainer." Adding it to pâte à tartiner (cream cheese, which is usually just called le Philadelphia), could be called très américain, since we like to take things over-the-top.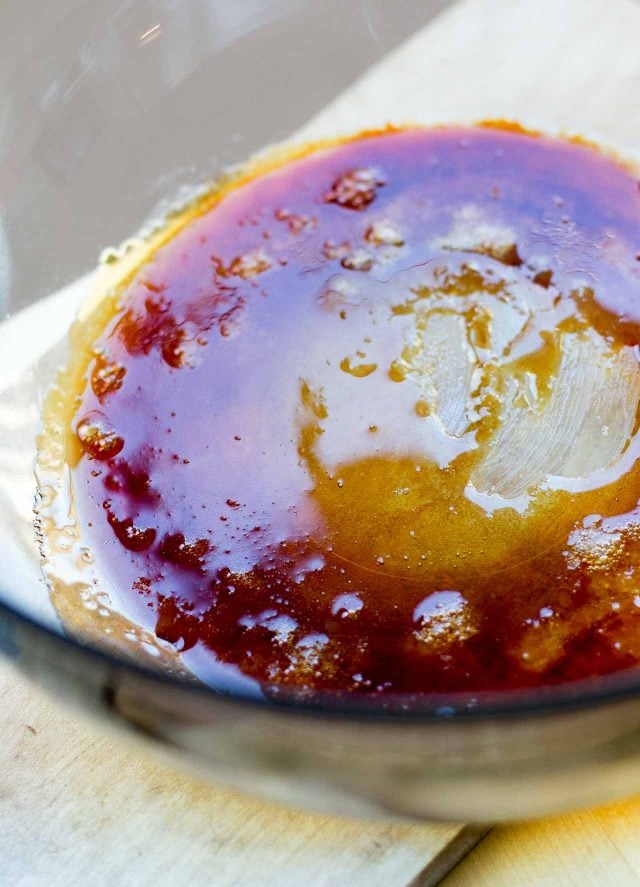 One could say that Irvin Lin falls into that category. He has a blog, Eat the Love, and a baking book, Marbled, Swirled, and Layered, which offers up a collection of traditional recipes that are marbled with peanut butter, swirled with browned butter, and layered with apple-cinnamon, as well as a kaleidoscope of other flavors. It's clear he likes playing around in the kitchen, and with lots of fun notes and sidebars throughout the book, he demystifies, and challenges, bakers to take some chances. Even old warhorses like me.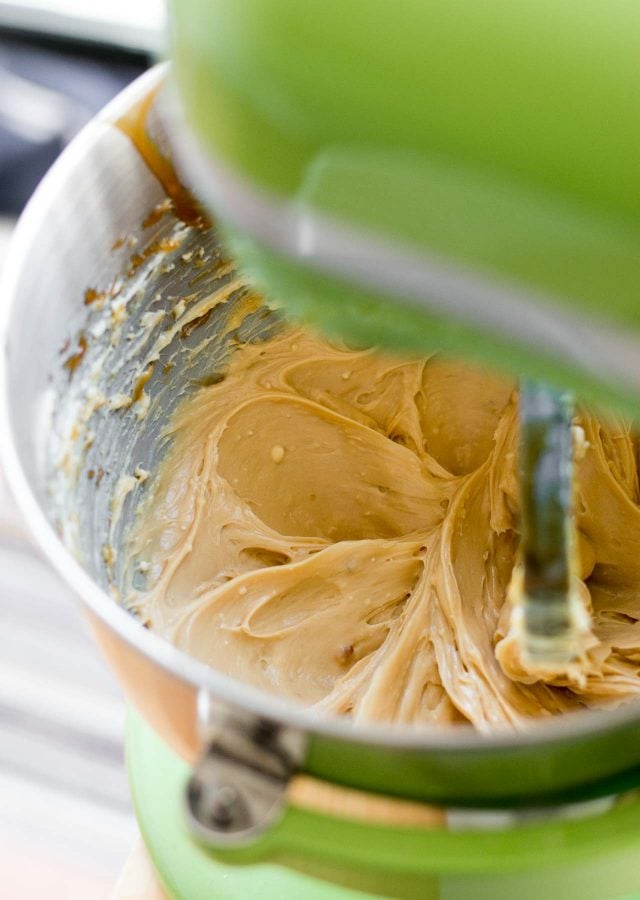 For example, I've never made caramel in the microwave. I have a microwave oven, but don't like using it for certain tasks, like melting chocolate, because you have to stand there and press the button and open the door repeatedly to check on the progress, whereas on the stovetop, the melting chocolate is all right there in front of you. Call me crazy, but I like watching (and helping) solid chunks of dark chocolate gently melt into a puddle of smooth, shiny, darkness. It's one of life's greatest pleasures and I don't want anyone taking that away from me.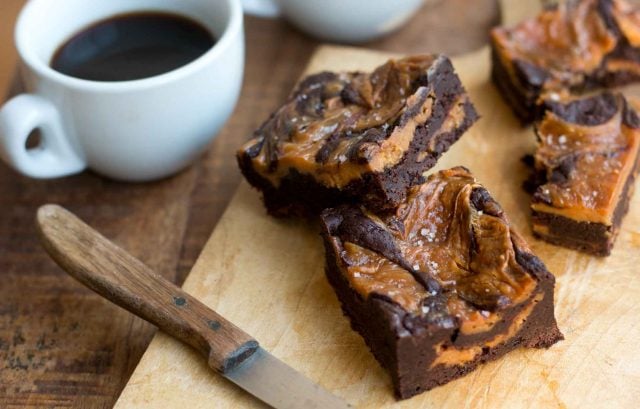 Nevertheless, I'm not a rigid traditionalist and instead of jumping on the anti-microwave bandwagon, I decided to take mine for a ride with this recipe. The technique worked well and although I'm not putting my skillets on the market, I was interested to try something new.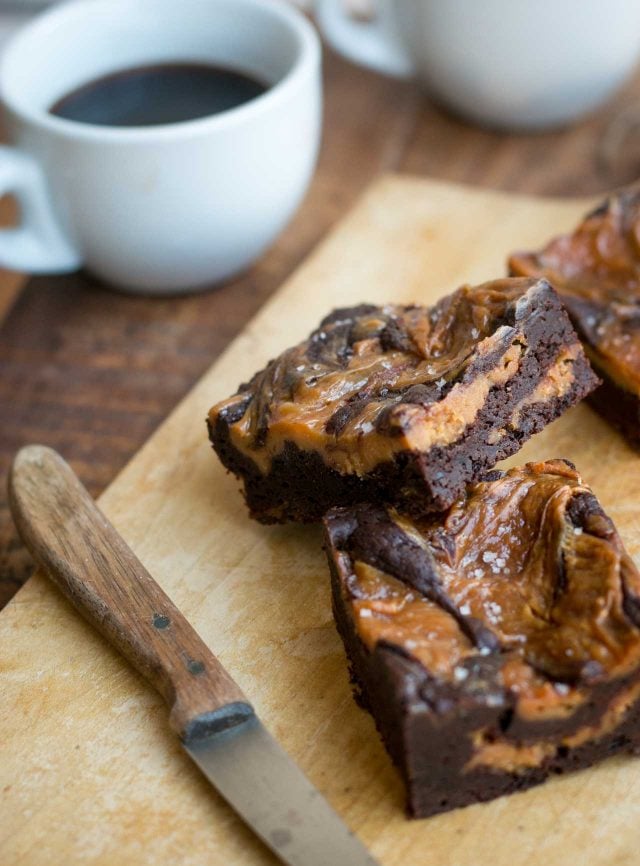 Even better, once blended with the cream cheese, the caramel…and subsequent flurry of sea salt…took traditional cream cheese brownies to another place. And it was a place that I wanted to be. I don't like messing too much with what I think is already le top du top, but the salted caramel definitely took it over that.
| | |
| --- | --- |
| Salted Caramel Cream Cheese Swirl Brownies | Print Recipe |
One 9-inch (23cm) pan Adapted from Marbled, Swirled, and Layered by Irvin Lin The recipe calls for a few steps. One that can be done in advance is making the caramel through step 2. You can store it overnight at room temperature, or for a few days in the refrigerator. According to Irvin, making caramel in the microwave requires the use of corn syrup. I haven't tried it without it (golden syrup is a good substitute) but do make sure your bowl is ovenproof. Check with the manufacturer's website if you're unsure. If you don't have a microwave oven, he notes this can be made by caramelizing the sugar in a skillet (see my instructions, How the Make the Perfect Caramel), without the corn syrup and water, adding the butter and cream when the sugar is caramelized. All microwave ovens are different so be sure to check the caramel frequently as it's cooking in it, opening the door. Mine took about 4 minutes, but the recipe noted that it could take anywhere from 2 to 6 minutes. People outside the U.S. may need to track down unsweetened chocolate. In France it's called 100% pâte de cacao, which they sell at G. Detou in Paris. Lindt 99% chocolate is a good substitute. If baking with kosher salt, use 1/4 teaspoon in the brownie batter. For the finishing salt, a good, flaky sea salt such as Maldon or fleur de sel is best. Kosher salt isn't quite the the same, but if you use that, use it very sparingly as a finishing salt. It's much stronger than the sea salts that are suggested.
For the caramel
1
tablespoon
light corn syrup or golden syrup
4
tablespoons (2 ounces, 55g)
unsalted butter,
cubed, at room temperature
3
tablespoons
heavy cream
For the brownie batter
8
tablespoons (4 ounces, 115g)
unsalted butter,
cubed
4
ounces (115g)
bittersweet or semisweet chocolate,
chopped
2
ounces (55g)
unsweetened chocolate,
chopped
2
large
eggs,
at room temperature
1
egg white
(reserve the yolk for the cream cheese swirl)
2
teaspoons
vanilla extract
For the cream cheese swirl
8
ounces (225g)
cream cheese,
at room temperature
1
teaspoon
vanilla extract
flaky sea salt
for finishing
(see headnote)
For the caramel
1. Stir together the 1/2 cup sugar, water, and corn syrup in a microwave safe glass bowl or large glass measuring cup. Place the bowl or measuring cup in a microwave oven and set the timer for 6 minutes. Watch the mixture, checking it as it hits the 2 minute mark. (Or before, depending on the power of your microwave oven). When it starts to turn a light amber color, remove the bowl or glass from the microwave and let it continue to bubble and cook in the bowl until the caramel becomes a deep amber color.
2. When it's the right color, stir in the 4 tablespoons of butter using a heatproof utensil, then mix in the heavy cream, one tablespoon at a time, and the salt, until smooth. If it's not smooth, very gently warm the caramel in the microwave, in 5 to 10 second intervals, until you can smooth it out. (A few lumps of caramel are fine and will melt later during baking.) Set caramel aside until completely cool.
For the brownie batter
3. Preheat the oven to 325ºF (160ºC). Line a 9-inch (23cm) square pan with aluminum foil. The best way to do this is to overturn the pan, press the foil around the outside, then lift off the foil, which has taken on the shape of the pan. Turn the pan right side up, then press the foil inside the pan, smoothing out any wrinkles. Spray the foil with nonstick spray or brush with melted butter.
4. In a small bowl, whisk together the flour, cocoa powder, baking powder, and salt, until well-combined and lump free.
5. In a medium saucepan, melt the butter and bittersweet and unsweetened chocolates over very low heat, stirring until smooth. Remove from heat and stir in the 1 cup of sugar. Mix in the eggs one at a time, as well as the egg white and vanilla, until smooth. Stir in the dry ingredients just until combined, but do not overmix.
For the caramel cream cheese swirl
6. In the bowl of a stand mixer fitted with the paddle attachment, or by hand in a large bowl with a sturdy utensil, beat the cream cheese and 1/2 cup of sugar until smooth. Blend in the egg yolk and the vanilla, then mix in the caramel, stirring until it's smooth and light.
7. Spread half of the brownie batter into the prepared baking pan. Spoon three-quarters of the caramel cream cheese mixture in dollops over the brownie batter and use a butter knife to gently swirl the cream cheese. Don't overswirl or you'll muddy the results; you want good-sized pockets of caramel in the finished brownies. (Or at least I do.)
8. Add the remaining brownie batter to the pan and smooth the top, then spoon the rest of the caramel cream cheese batter in large dollops over the top and swirl them gently in with a knife. Sprinkle with sea salt and rap the pan on the counter a few times to level the batters. Bake until the center feels just about set but still jiggles freely, about 50 minutes. A toothpick inserted into the center should come out almost clean, but with wet crumbs attached.
9. Remove from oven and let the brownies cool completely, then refrigerate overnight.
To serve: Lift the foil to remove the brownies from the pan and use a sharp knife dipped in hot water, wiped clean between cuts with a paper towel, to cut the brownies into neat squares.
Storage: The brownies can be kept at room temperature for up to 4 days. They can be frozen for at least two months.
Related Posts and Recipes
American Baking Ingredients in Paris
When to Use, and Not Use, Corn Syrup in a Recipe
Salted Butter Caramel Ice Cream