Sbrisolona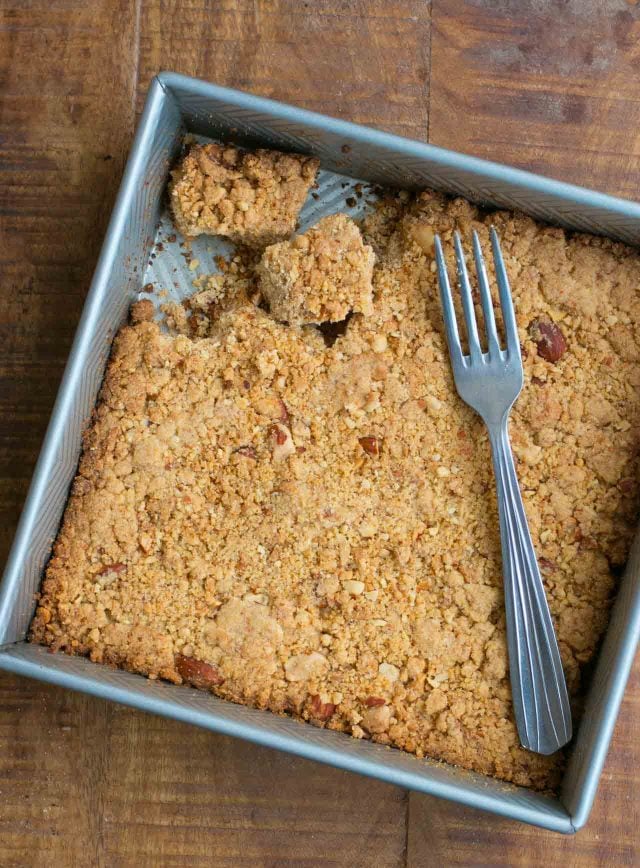 Like the recent recipe for Caramelized Almond Cake, I've been anxious to make Sbirolona, a crunchy Italian torta that sort of defies description. I don't know any other dessert or pastry like it.
The first time I had it, it was already broken into pieces, piled in a covered glass jar at a bakery. I didn't know what to make of the craggy pieces I was nibbling on. It tasted like streusel topping held together with some butter, was very, very crunchy.
Because it's the end of the year, I thought I'd check it off my baking roster and toast up some almonds, mix them with cornmeal and flour, add eggs and butter, then crumble the dough into a baking pan, so I could have it at home.
It's been a curious year. I keep thinking that things in our lives usually get better. Advances in medicine, technology, diplomacy, and efficiency are supposed to improve our lives as humanity moves forward. But the world has thrown a few loops at us, and the problems are larger than the usual three-day news cycle warrants, before it's on to the next story, and the next.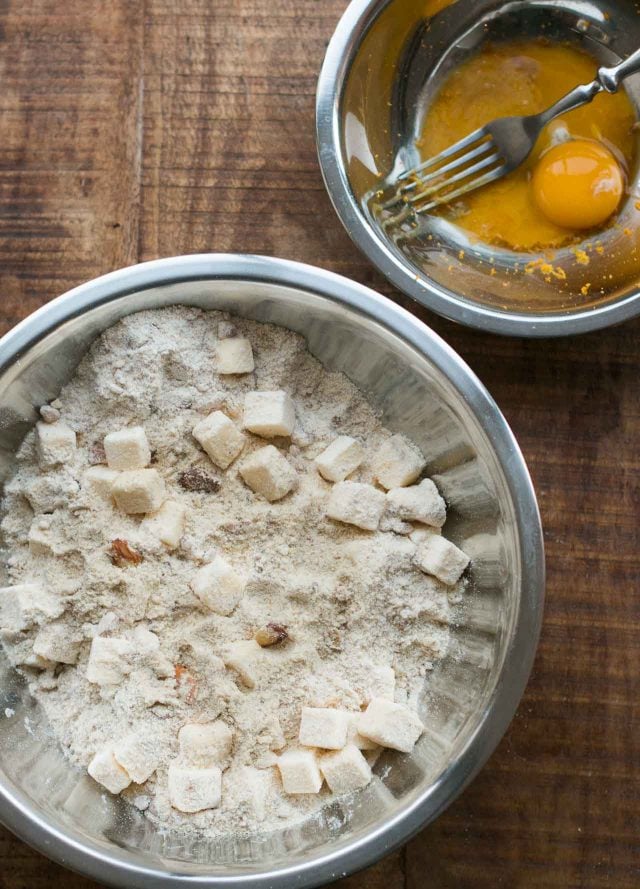 I'm not sure about what's in store for us. We all spent a lot more time in front of our computers than we used to, reading, writing, and communicating. It's allowed us (and yes, I mean you and me) to connect, and I love how this space lets me share stories and recipes. And gives some of you a place to correct my grammar, French and English : )
I've always been thankful the tone of the site. Readers has been friendly, and at times, spirited, but everyone takes care to be respectful of others, no matter who they are or where they are from. It's something that I've always been very grateful for and while this is just a personal blog, the tone is very special to me, so I appreciate everyone who visits, comments, and cooks or bakes something from this site, and shares it with me and others.
You'll probably notice that I have recipes categorized on the site, in the right sidebar. One is "Cookies, Bars & Brownies." I wasn't sure where to put this, considering it's a torta in Italian, but in English, I'm not sure where Sbrisolona falls, or crumbles. To me, it reminds me of a cookie or a bar rather than a cake. (One of our differences is that I don't think any other culture has word for dessert "bars.")
Food is something that unites people. America has always been a melting pot of cultures (and cuisines), and while it's not always as evident, that's true of many other places – from Spain, France, and Italy, to the Middle East, and beyond. Although we're all different people, it's hard to categorize everyone and every place.
I was wondering how to wrap up this post, and the end of the year. The only thing that kept coming to mind was just to say thanks. Happy holidays to you all, and best of the new year!
To toast the almonds, spread them on a baking sheet and toast them in a 350ºF/180ºC oven for about ten minutes, stirring them midway during baking. Let cool completely before grinding in the food processor. If you don't have a food processor, you can grind the almonds and flour in a blender, pulsing them until they're in smaller pieces. If you don't have a square cake pan, a similar pan that's about the same size would work, such as a springform or tart pan, although the Sbrisolona will be thicker as round pans have less capacity. I have seen recipes where people pat the mixture directly onto a parchment-lined baking sheet into a rough approximation of the size of a 9- 10-inch (23-25cm) pan, and baking it that way, although I haven't tried it. If you do, let us know in the comments how it works out. Some variations include using hazelnuts instead of almonds, adding some anise seeds (perhaps about 1 teaspoon), or a bit of cinnamon to the dough. For more crunch, replace the 1/4 cup (45g) of brown sugar with granulated sugar, for a total of 3/4 cups (150g) granulated sugar. The brown sugar adds a touch of toffee-like flavor, but does make the Sbrisolona slightly softer. If you have granulated brown sugar, such as turbinado, demerara, or another raw cane sugar, use that. One tip from my friend Judy Witts Francini, of Divina Cucina, is to splash the hot Sbrisolona with grappa, which she says "gives it a nice kick." I'm sure it does!
1 1/2
cups (170g)
almonds,
lightly toasted
3/4
cup (110g)
stone-ground cornmeal
1/2
cup (100g)
granulated sugar
1/4
cup (45g)
packed, light brown sugar
8
ounces (1 cup, 225g),
unsalted butter,
chilled and cubed
1/2
teaspoon (each)
vanilla and almond extract
zest of
one orange,
unsprayed or organic
1. Preheat the oven to 350ºF (180ºC). Butter a 9- or 10-inch (23-25cm) square cake pan or tart pan. (See headnote.)
2. In the bowl of a food processor, pulse 1 cup (110g) almonds with 1/4 cup (35g) of the flour until the almonds are in fine pieces, but not too fine - about the size of small peas or diamonds. (Unlike diamonds, it's not problem - and even better - if they are very irregular.) Transfer the almonds with the flour to a large bowl. Pulse the rest of the almonds until they are very coarsely chopped, but in large, recognizable pieces.
3. Mix in the rest of the flour to the bowl and mix in the cornmeal, granulated and brown sugar, and salt. Add the butter cubes to the bowl and use your fingers (or a pastry blender) to cut in the butter by working in the cubes of butter, rubbing them with your fingers against the flour and cornmeal, until they are well-dispersed and about the size of kernels of small peas. Like the almonds, the bits of butter can be irregular, and some in larger chunks than others.
4. In a small bowl, stir together the egg yolks with the almond and vanilla extracts, and the orange zest. Add the yolks to the Sbrisolona mixture and stir with your hands, mixing and squeezing it a bit, until the dough starts to clump together.
5. Transfer the dough into the prepared pan and spread it out so that it's somewhat even, but don't press it down or compact it. Bake the Sbrisolona until it's golden brown across the top, about 30 to 40 minutes. Let cool completely before removing it from the pan in rough chunks. It will not come out cleanly, but that's okay; it's meant to be served in pieces.
Serving: Serve the sbrisolona with dessert wine, coffee, or even as a breakfast treat.
Storage: The sbrisolona can be broken in pieces and stored in an air-tight container for up to 5 days, at room temperature. It can be frozen for up to two months.
Related Recipes and Posts

Polenta cake with orange glaze
Baking Ingredients and Substitutions
Recipes to Use Up Leftover Egg Whites