Italian Almond Cookies
From day 1, I was instantly smitten with the almond cookies I had in Sicily. Most cafes I went to in Sicily served a variety of sweets to choose from, to go along with coffee – and it's probably a good thing that cafés in France don't, because otherwise they'd have to force me out of there with a crowbar.
These kinds of cookies often go under the umbrella name of amaretti, although they are softer than what most folks are used to: Most of us are familiar with the Italian amaretti that you buy in the red decorative tins, which are crisp and crunchy. I'd previously made these kinds of cookies with almond paste, but the folks in Sicily said that they used almond powder, which I can confirm because almost every food shop I went into had bags of almond powder for sale, including those that sold vegetables. So I worked on modifying a cookie dough I had in my recipe files from way-back-when, to recreate those tasty cookies I had in Sicily.
I added a few spoonfuls of tangy apricot jam, which makes the cookies a little moister, a trick I learned when I went to pastry school in Paris where the instructor told us to put a few spoonfuls of jam in our macaron batter. Because Parisian macarons are based on Italian almond cookies, I figured the partnership would work well. Which it did.
In Sicily, most cookies like these were covered with sliced almonds or lots of pine nuts. But when I went to the store to get pine nuts here in Paris, the non-Chinese pine nuts were – *gulp* – €18 for 250 grams, roughly $48 per pound. (I don't eat Chinese pine nuts anymore, after getting pine nut syndrome.) So in the spirit of Sicily, whose cuisine is not based on spending a lot of money or being extravagant, I used sliced almonds for some of the cookies, and a few pine nuts that I had on hand for the others.
| | |
| --- | --- |
| Italian Almond Cookies | Print Recipe |
If you don't have apricot jam, replace it with an additional 1/4 cup (50g) of sugar. You can also use orange marmalade in place of the apricot jam, whizzing it in a mini-food processor until smooth. (If your apricot jam isn't smooth, that'll smooth it out, too.) If you want to keep them extra-simple, you can also skip rolling them in sliced almonds and simply bake them nudi (see picture, below.) They're excellent like that way as well. As mentioned, I used pine nuts for some of the cookies, which you're welcome to use as well in place of the sliced almonds. Traditional Sicilian cookies often have bitter almonds added, which are very hard to find. (Amaretti di Saronno use apricot kernels.) Most almond extract is made from bitter almonds, so I often add a bit to desserts that use almonds, to highlight their flavor. But do go easy on the almond extract; it's a flavor that can quickly become overpowering. A few drops should do it.
1. In a large bowl, mix together the almond powder and sugar. In a separate bowl, whip the egg whites with a pinch of salt until they start to mound and form soft, peaks. They should not be stiff, but the consistency of softly whipped cream.
2. Fold the beaten whites into the almond mixture (they'll lose volume, which is fine), then fold in the apricot jam and a drop or two of almond extract. Mix the dough until it comes together in the smooth ball. You may need to get into it with your clean hands to help knead it together.
3. Preheat the oven to 325ºF (160ºC.) Line two baking sheets with parchment paper or silicone baking mats.
4. Pinch of pieces of dough about 1 1/4-inch (4cm) in diameter and roll each into a ball, then roll them in your hands to make them into ovals, setting them on a dinner plate as you go. (You can also bake them in rounds, if you wish.)
5. In a small bowl, stir the egg white with a fork briskly for about ten seconds to break it up. Put the sliced almonds on a plate. Working with 3 or 4 at a time, roll each piece of rolled cookie dough in the egg white and place it in the dish containing the sliced almonds.
6. Roll and press the ovals of dough into the almonds, being extremely generous coating when coating with the almonds. I start with 1 1/2 cups of sliced almonds in the bowl, and add more as necessary. After coating each batch of cookies with the almonds, put them on a baking sheet, evenly spaced apart.
(You may need to press the almonds well into the cookies to get a lot of them to stick, and the cookies may lose their perfect oval shape – which is fine, the cookies should be a bit rustic.)
7. Bake the cookies for 25 to 30 minutes, rotating the baking sheets in the oven, turning them around so the cookies bake evenly, until the cookies and nuts are light golden brown. Let cool before serving.
Storage: Once cool, the cookies can be stored in a container at room temperature for up to one week. I would not recommend freezing them as it will change their toothsome texture.
Notes: Almond powder often goes by the name almond meal, almond powder, or almond flour. It's simply ground up almonds. If in doubt, check the ingredients; the only one should be almonds. If you can't find it, you can pulverize the equivalent amount of sliced, blanched almond (by weight) in a food processor with the sugar called for in the recipe. You can read more at my post - Almond Flour FAQs.
Almond flour is available in well-stocked grocery stores, natural food stores, and online. (If you need help finding it, check out How to Find Foods Mentioned on the Site.) If you can only find unblanched almond powder, that's fine to use, although the color will be different.
For a twist, you can try another powdered nut, such as pistachio or hazelnut.
Here are a few recipes to use up leftover egg yolks: Sabayon, ice cream, or crème anglaise.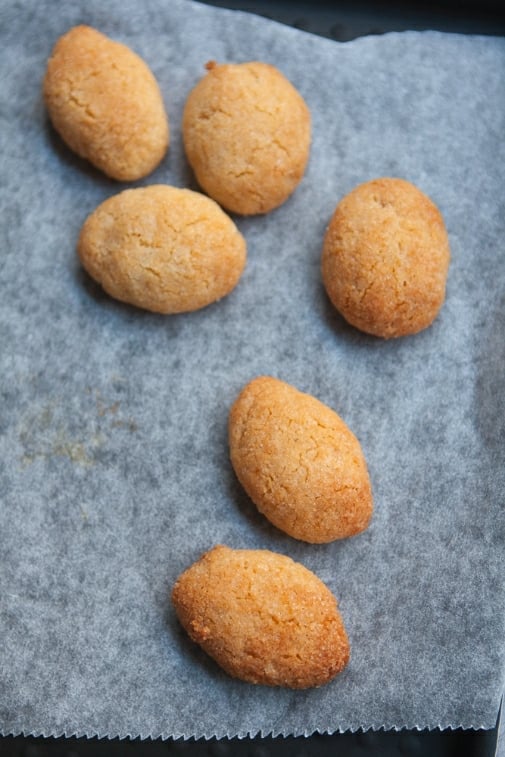 (Italian Almond Cookies without the nuts.)
Related Recipes
Ricciarelli (Divina Cucina)
Limoncello Macaroons (101Cookbooks)
Apricot Amaretti Cookies (Eat The Love)
Seven-Layer Cookies (Smitten Kitchen)
Italian Blood Orange and Almond Cookies (Serious Eats)
Almond Pine Nut Cookies (Lidia's Italy)