Sicily
I've been living in what is arguably the center of Europe for a while now (and I'm certain someone will get out their ruler and argue that technically, I don't actually reside in the precise center of the continent – but let's just go with that for the sake of the story), I don't visit other countries as often as I'd like. It's so easy to just stay home, not worry about airline tickets, packing, making sure you bring enough socks and don't forget shaving cream, getting to the airport on time, the stress of unpacking everything to pass through security, and being herded onto, then cooped up in, a tight plane for a few hours in a seat that's just barely big enough to hold a small child.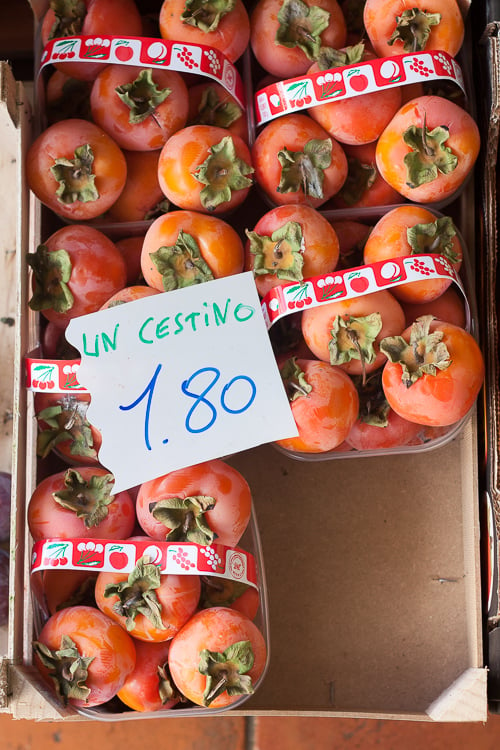 The reward, however, is arriving somewhere, leaving the airport, and realizing you're somewhere magnificent. Even if you have to nearly blow-up like a smoldering Sicilian volcano to get there.
Sicily has been at the top of my list for a while now, but by the end of fall, less folks want to travel there. And because it's not a popular winter destination, airlines heavily reduce their flights to Sicily and I had to do some sleuthing around to find out which one would actually take us there.
I scored tickets – but in my haste, didn't check them carefully, I guess. And the day before we were set to go, and I was all packed…having spent the week before making sure I had every single possible thing that I might need for a week away – chargers, unmentionables, sunglasses, shaving cream, a sweater, etc..I noticed the names were transposed on our tickets. (Of course, I forgot my sweater and sunglasses, and had to pay airport prices for a new pair of lunettes de soleil, which was an hour-long process because it's Paris, and the woman insisted I try on every pair to find just the right ones.)
Since I'm constantly going back and forth between American and European websites, I have to triple-check dates because, for example, a date like November 12, 2013 is expressed as 11/12/13 in America, whereas in Europe, it'd be 12/11/13. And as much as I knew I'd appreciate a trip to Sicily on December 11th as well, we were leaving the next day and I panicked because the airlines refused to change the tickets and wanted me to buy new ones – for €600 ($800) each way.
The upside of the fiasco was that I got to see Romain tell off someone. If you've ever seen a French person tell someone off, it's impressive. I've only been on the receiving end once and after working in professional kitchens most of my life, I'm pretty decent at a good put-down, but these folks are pros.
Fortunately I live in the land of "Non doesn't mean no. It means you have to to find a way to get out of a jam and make it work." I won't go into the details but when stepped past the boarding gate and got onto the plane and in our seats, I was so soaked that I didn't think I'd need that sweater I'd forgotten.
We stayed on the farm of Mary Taylor Simeti, the author of Pomp and Sustenance, a terrific book about classic Sicilian cooking, who has lived in Sicily for 51 years with her Sicilian husband. Her house is situated in the middle of lush olive groves, there are rows and rows of grapes which they press into wine, trees heavy with rosy pomegranates, bergamots, citrons, lemons, and oranges. And here and there, a squash or two.
There were lots of cucuzza squashes everywhere. And you can see how tempting it is to take the most interesting ones, and display them in curious ways.
One of my favorite things to eat in Sicily is the ricotta cheese. A by-product of cheese-making (ricotta means "recooked", and it's made with the enormous amount of whey that gets cast-off when the milk is curdled for other cheeses), it became our daily breakfast, piled on toast with a drizzle of local honey or jam made on the farm.
After some confusion at the bakery with the baker – I forgot the word for "whole wheat" – I finally landed on the magic word, integrale, that became our daily bread. We get great bread in Paris, but ricotta really needs to be eaten a day or so after it's made. After that, it's lightness and fresh taste really diminishes.
The Sicilian food I had was quite rustic, which is just fine with me, and I joked somewhere online that this was a low-fat sausage, and – like so many other things (like when I joked I made a non-fat carbonara with nonfat yogurt and smoked tofu, and some woman sent me a string of expletives – yikes!…), a few didn't get the ironic joke. But no matter what you think of it, or my silly sense of humor, it's pretty beautiful, isn't it?
Proof that just like in other countries, you can get a bad meal in Italy, too, one of our first was a doozy. We had lunch in a repurported marble public building, which sounded like it might be fun. But our salad was a plate of wet iceberg lettuce with a few leaves of radicchio and a cruet of vapid olive oil to pour over it. When you are surrounded by olive groves (and groves and groves and groves of olives) I can't think of any excuse to give people supermarket olive oil.
Sicily is known for its seafood so I'd ordered a shrimp pasta with arugula. What came out was a plate covered with those tiny bay shrimp (yes, the frozen kind) and perhaps four leaves of arugula wilted underneath. I didn't feel so great the next day but right afterward, to eradicate the meal, I said, "You know, I need to eat something really great. Like, right now."
So we drove out to Euro Bar (via Garibaldi, 11/13, Dattilo – note, they close from 2:30-4:30pm), which is famous for their cannoli. And proof that it's not just in Paris that the longer it takes to get somewhere, the more likely it is that it'll be closed when I get there, the metal awning to the caffè was down and we had about two hours to kill before they reopened. So we drove out to Trapani.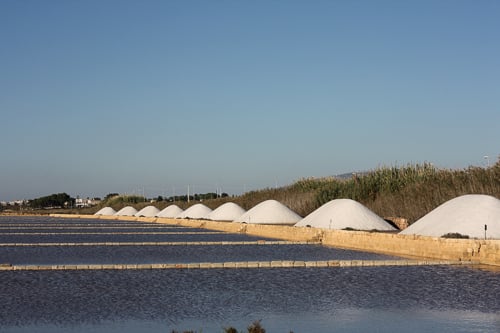 Trapini is famous for the salt that is harvested there. And even though the museum and the all-important (at least to me…) gift shop was closed, and they were closing the jetty to the salt marshes, like the folks at the airport who nodded waved us onto the plane (not the ones in the office that Romain told off), the kind woman gave us five minutes to take a walk and a look around. See how much easier it is just to be nice, and helpful?
Big mounds of salt sit on the banks of the water, and they could not have been more beautiful. I was tempted to grab a few pocketsful, in lieu of being able to go on a salty spree in the gift shop, but I thought better of it, and left empty-handed. Or empty-pocketed.
Back in Dattilo, we arrived at the bar and found that a few well-dressed older gents had taken up the tables outside, where they likely gather daily, as we all waited in anticipation for the shop to open. Fortunately they were pretty punctual and as soon as the heavy metal gate started sliding upward, we headed inside. And, fortunately the cannoli were as good as I'd heard.
Each cannoli is deep-fried in lard and stuffed with sweetened sheep's milk ricotta, bits of candied orange, and a few chunks of chocolate, and are made to order so the shells stay nice and crisp. They shatter when you eat them and I lost a few pieces to the floor. But they were so big that it didn't matter. This massive cannoli made up for the plate of puny shrimp and wan salad. There were other Sicilian pastries which I was anxious to try, but I was more stuffed than the cannoli, feeling like I was going to burst out from top to bottom, too.
On the opposite end of the "health scale" I love all the greens in Italy, and something I miss. Whenever I eat bitter greens, sautéd in garlic and red pepper flakes, I always feels like I'm scrubbing out my insides. There are piles and piles and piles of green everywhere, and an array of vegetables that is stunning, no matter where you look.
You just need to pull up, park, and grab your greens-to-go. One night I cooked up a massive pot of green, most pulled from the grounds at the farm where we stayed, and tossed them in olive oil and pasta for a simple dinner with white wine. I was tempted to bring a whole bunch of greens back with me, which I did once from somewhere else, but decided to dedicate my luggage space to olive oil, which is everywhere.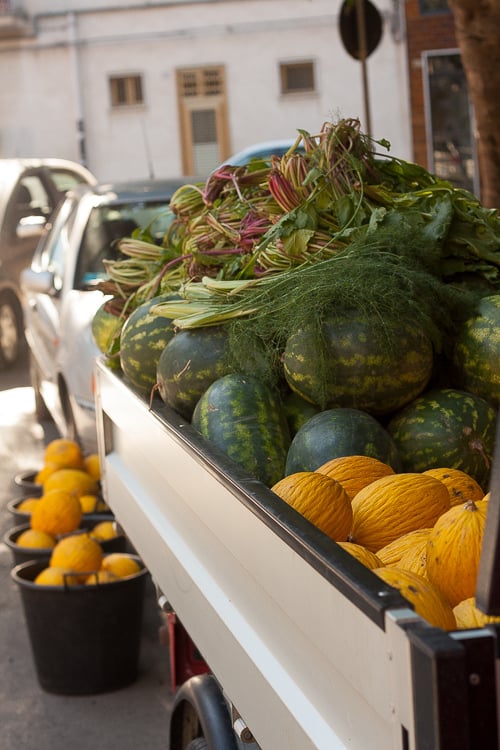 A fun thing about Sicily is that you might be walking through a small town or city, and come across a frantoio, or olive oil pressing place, where locals bring their olives to get mashed by granite rollers into juicy, green olive oil.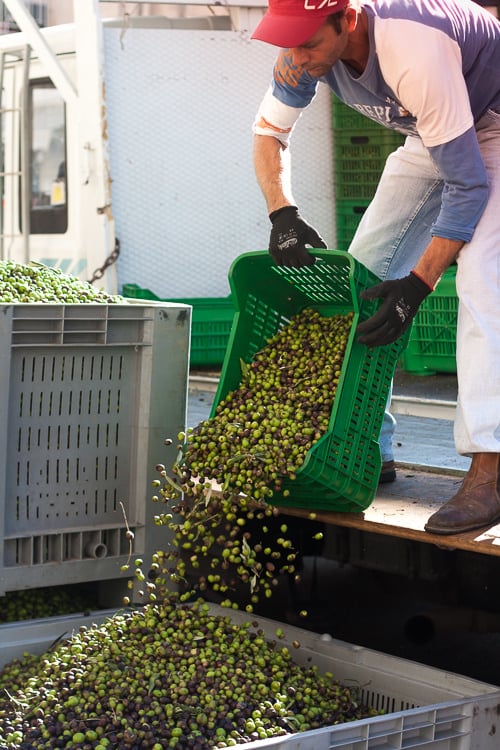 Or you might come across a chestnut roasted parked on the side of the road, roasting chestnuts over a billowing fire, then tossing them in local salt.
Each one was crackling hot when the vendor handed the paper cone over to us.
Italians have a pretty intense sweet tooth, and while I like sweets (which is a good thing, because if I didn't, I'd be out of a job!), like pastas, one should be judicious where they indulge.
Almost every caffè and bar had a selection of treats to nibble on with your coffee, but the almond paste cookies were the most scrumptious of what we tasted. Many of the cookies were rolled in pine nuts, almonds, pistachios, or other nuts, than baked until crisp. They were perfect not just for afternoon coffee, but I found myself waking up earlier than the others and stealing a nibble before breakfast, too.
We also visited the butchers, where the artisans excel in rolling up spiedini, or skewers, with the meat rolled up with everything from oiled breadcrumbs and rosemary, to chopped pistachios. One day we asked for porchetta (roast pork) sandwiches which they kindly made, and we ate in the shop. And because it's always more enjoyable to have something to drink with your lunch, even if you're standing in a butcher shop, the butcher came out with three glasses of wine and handed them to us.
If I had an Italian butcher shop, I'd do the same thing. And if I ever opened an Italian restaurant, I'd call it "Il Pipino Rosso", or "The Red Penis" too.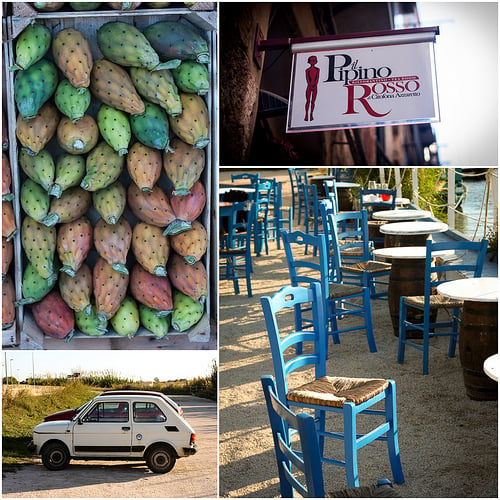 The last day we left the relative tranquility of the countryside and hit Palermo. It's kind of crazy city – a mad jumble of streets, cars, dubious characters, massive and marvelous historic public buildings, and little alleys – and as we were looking for parking (thankful to have a Parisian driver), we passed a dog lying prone on its side, in the middle of a busy turnabout. Cars were whizzing past and people huddled on the sidewalk nearby, presumably talking about what to do with the injured, or deceased, dog lying in the middle of the road with cars swerving around it.
We were on our way to get panica'meusa, or pancreas sandwiches at Porta Carbone (Via Cala, 62), which I wasn't entirely anxious to try – especially since my tummy was still a bit sensitive from the crummy pasta meal. But I loved watching the counterman slice up the boiled meat, layer it between soft rolls, sprinkling the meat with Trapani salt and a bit of cheese, then handing it over.
I took a bite, and I must say, it was the best pancreas I've ever had. In fact, it was the only pancreas I've ever had. (And in fact, it may actually be spleen – although I'm not sure the difference is. If I was so smart, do you think I'd be making cookies for a living?) Whatever it was, it wasn't connecting kindly with my turbulent stomach, and I had to pass on eating any more.
When we left, we passed the dog, which had been dragged to the curb. The Italian-speaker in our little group went over to express our condolences to the woman standing over it, who laughed, and said "He's just taking a siesta!" And we laughed too, at the idea that a dog would just lie down in the middle of a busy thoroughfare and take a nap amongst the cacophony. But that's Palermo for ya.
Vucciria market was recommended to me by my friend Judy to visit, then a local told me it was "over", so I wasn't sure I wanted to try to find it. Fortunately as we walked through the winding little streets and passages, all of the sudden, we came up on a nice little market square with folks selling sardines, bottarga (dried fish roe), salted capers, beautiful fresh and tinned fish, and, happily, more pancreas sandwiches.
I passed on a sandwich, but bought an old, metal gelato goblet for €2 and a horn for my bicycle for €1,50 made of green metal.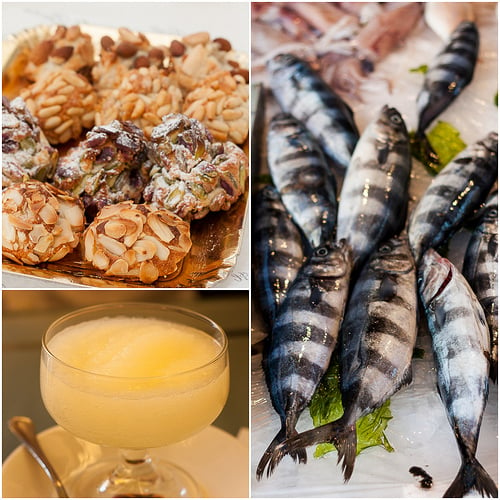 We had a final lunch at Trattoria Piccolo Napoli (Piazetta Mulino a Vento, 4), which was all I needed to feel completely better in the tummy department. Evidently some culinary luminaries had also recommended the restaurant, and I found out that Anthony Bourdain was there with Mary Taylor Simeti when he was taping a television episode on Sicily, and a few tables were obvious fans of his. And judging from the check, the restaurant knew they were a television star as well.
But it was still Sicilian with tables of men coming in for lunch. And locals definitely outweighed the two other tables of non-Italians. We had a tangle of wild greens sautéed with whole cloves of garlic, deep-fried artichokes, and sheets of fried chickpea batter, similar to panisses, but not quite as crisp.
Like the French, Italians also still eat in courses so after our shared starter, we dove into a platter of fried sardines with a delicious crust. Next up were bowls of pasta, I chose vongole (clams) because as a New Englander, I have a deep fondness for the little bivalves.
I slurped up the tangle of al dente pasta while a dining companion had squid ink pasta, which she pronounced excellent. (Although we both had a little bit of a tangle when I said I preferred dry pasta cooked, because it absorbs sauce better. I passed on tasting, but was intrigued when a man come in the door with a tray of goopy octopi.
I went to take a look at the delivery right before they were whisked into the kitchen, and a few minutes later the two men dining next to us were presented with, er, lunch.
While one took a phone call, the waiter came over and sliced open the head from the tentacled beast, extracted something from the inside on the end of a fork, and speared it into the guy's mouth while he chatted on the phone. We went to prawns, both raw and grilled, and while they were quite fresh, I was reaching my limit.
Lemon granita ended the meal and while we considered going back to Euro Bar for cannoli (one of my traveling companions lost a bet and I was considering holding her to it, the wager being a free cannoli), we extracted the car from the tight parking space (that's Palermo!) – which my Parisian driver (that's Romain!) did with relative ease – only unleashing the fury of 3-4 Sicilian drivers.
The next day it was back to the airport, with a suitcase packed with tins of organic extra-virgin olive oil. The oil went into a checked bag so there was no problem bringing it home, but passing through security, the officer pulled my carry-on aside, reached into my bag, and extracted my green metal bike horn. Curious, perhaps due to its musket-like shape, he held it up for his comrades to see. He asked if it was okay to honk it – probably to make sure it wasn't something that could be fired, and I said, "Sure!"
So he started honking away in the Palermo airport. First just once, then a couple of time – then they all had a good laugh and he gave it back to me. I needed the laugh to get over the stress of praying that they would let us on our flights home due to our names being inverted on our plane tickets – because otherwise my 9 liters of olive oil would be winging its way to Paris without me.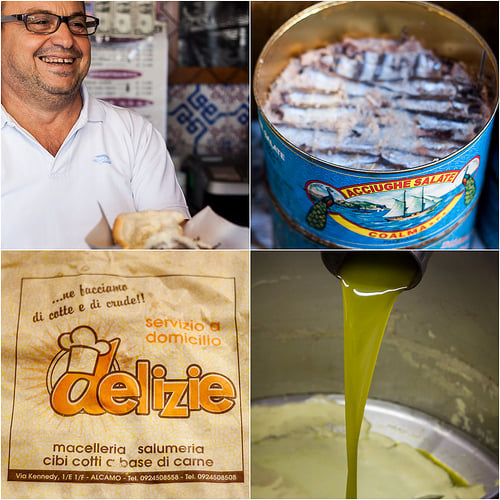 I ended up arriving before the olive oil, which arrived the next morning after a 7:15am wake-up call from the airlines, saying that my suitcase was on route to my apartment. And soon I was in possession of several tins of Sicilian olive oil, a sack of lovely citrus fruits – citrons, bergamots, and some lemons – but no ricotta for my morning toast. So I think I'd better start slicing from fruits to make jam, which I managed to avoid getting into, coming from and going to, Sicily.