Frenchie To Go, Terroirs d'Avenir and L'Arbre a Cafe
I don't gush all that often, but one of the people in Paris that I really admire is Gregory Marchand. He'd probably be a little irked that I said that (or maybe not), but he's one of the few chefs in Paris that's been successful at creating what have become some of the best places to eat in the Paris. His restaurant Frenchie is always complet, and I went to Frenchie wine bar the other night, getting there just before opening time, and there was already a line of folks waiting outside for it to open so they could snag a table. And the food, from cornmeal-crusted "nuggets" of sweetbreads to the pulled pork sandwich, was as good – if not better – than dishes I've had in multi-starred restaurants. A friend who I worked with in San Francisco was there as well, and he kept giving me the thumbs-up from across the room.
Gregory took a previously deserted street, set up shop, and now it's a bustling, charming little rue with a seafood shop where the fish is purchased directed from the fisherman, an excellent butcher, and a vegetable shop that has bins of things that you rarely see in Paris, from gorgeous (and giant) citrons from Corsica to leafy greens like dinosaur kale, and crates of curious root vegetables – parsley roots, tiny celeriac, and something else that I forgot the name of, but went by a Latin name that I never heard of before. (So, of course, I want to try it – whatever it was.) I was tempted to pick up a bag of the bright-yellow, smooth quince that were no larger than tennis balls, until I realized how much peeling would be involved. So I put them back.
His other talent, which is perhaps the most profound – and rather challenging, is that he's great at taking American flavors and using French products, making them appeal to the French palate. This is obvious when you bite into a sandwich at Frenchie To Go, a take-out place with a few stools for those who want to eat & run.
On the day I ate there, it had just turned noon and people were already crowding in. There are probably about a dozen stool clustered around a few tables, and not sure how many people actually get their food "to go", but since I'm not a fan of trying to juggle a sandwich as I walk down the street, we were fortunate to snag two seats by the window. (If you can, I recommend going during off-hours, when most people are not on their lunch breaks.)
I'd had the pulled pork sandwich with house-smoked pork, sauce bbq, with the crunch of coleslaw at the wine bar the previous week, where it's cut into 4 wedges for easy eating. And it was hard to pass up the house-cured bacon hanging in the butcher case, which goes on the egg and English muffin sandwich, but we went in a different direction.
Because Romain is crazy for pastrami – he once brought his sandwich into the kitchen of a restaurant in Paris, handing it back to the cook and telling him that it's supposed to have a thick layer of pastrami – not one or two measly slices – we went with the double-whammy of beef sandwiches as we guarded our coveted stools.
The pastrami on rye is made from British beef on the famed pain des amis from Du Pain et des Idées. While I like that bread just fine (it seems to be in the bread basket of virtually every hip and new restaurant that opens in Paris), it's almost too-flavorful to go with the seasoned meat and I found myself pulling out pieces of the tasty pastrami and nibbling on them, before chowing down on the delicious slices of crisp, griddled bread afterward.
A Reuben's sandwich is layered with pastrami on light rye from baker Gontran Cherrier (Warning: Link contains music) along with melted cheddar and choucroute (sauerkraut) that was the team favorite. Although I'm not sure why it's called a Reuben's sandwich, with a possessive apostrophe "s" at the end, but perhaps whoever Reuben is, he's finally taking credit for this deli favorite.
The fries were excellent and two kinds are offered: thick-cut ones, and thin ones. I was a little overwhelmed when I was at the register ordering, so wasn't sure which was which. (Kind of like those root vegetables – both proof that my mind may be slipping away…) But when the cashier told me that one of them came with a choice of sauces, I immediately chose that one. I guess I hit the jackpot, because not only were those fries some of the best I've had in Paris (crisp and well-cooked), but they brought me all the sauces to try. The best of the lot was the housemade harissa, although the herbed mayonnaise was no slouch either. And I toggled between the two repeatedly, until they were both gone.
(Final proof there's something wrong with me; I took a nice shot of the cone of fries – which I even wiped my hands clean to take so I wouldn't get my camera button dirty, but can't find it, so can't share.)
Because the place was threatening to burst at the seams, I decided to come back a few days later to try the pastries by Camille Malmquist, including the famous Brillat-Savarin cheesecake, made with the triple-crème cheese that's a great example of Gregory's matching up French ingredients to align with something American, and creating tasty that showcases the best of both cultures. And I'm interested in trying the sticky buns that have been garnering raves from everyone who's tried them.
Because the shop opens at the early hour of 8:30am, if Camille can get up at the crack of dawn and bake, I have no excuse for lying in bed past the break of dawn and not getting myself over there to test the pastries. Right? (However with the sun coming up now at 8:30am or so – and my new bed warmer from Germany, it may take a little more effort than any normal person might think, to get me out of bed to bike over there.)
After I left, I was thinking how perhaps in the future, Gregory Marchand should try his hand at some of the French classics, like toasting up a Croque-madame, using top-quality ham and cheese, served a tangy sourdough (levain) bread with a farm egg resting on top. I am certain he could add his own touch that would take it over-the-top. Truffles? Tarragon salt sprinkled on top? Piment d'Espelette béchamel? Or maybe do something like a Hachis Parmentier "walk-away", with crisp-edged potato cakes encircling braised meat. Am not sure how he'd pull that one off (honestly, I can't even get out of bed or pull off posting a picture of French fries), but if he could pull off a string of successful restaurants in Paris, I'm confident he could do it – and do it right.
On the same street is Terroirs d'Avenir, which runs the butchery, fish shop, and épicerie, that sells all sorts of elusive vegetables, fruits, and a well-edited selection of cheeses. [Update: Terroirs d'Avenir has opened a produce shop at 84, rue Jean-Pierre Timbaud in the 11th.)
Over at the butcher shop, the friendly fellow was happy to offer us tastes of chorizo (spicy sausage) – which was marvelous, and Jambon noir de Bigorre. They also carry the true Jambon de Paris, which is the only ham made in Paris, without any additives – and is available smoked and unsmoked. It may look like your everyday boiled ham, but it has a dense, rich flavor that makes you realize you're eating something that ain't your average "deli cold cut." And if someone doesn't start making a jambon-beurre sandwich with it, a perfect French sandwich if I ever imagined one, I'm going open my own stand just down the street and do it myself. Well, once I get through the mass of paperwork it takes to open a place. So perhaps don't hold your breath.
There was a nice French guy there that we started talking to, who I found out was a neighbor of a friend who lived nearby, who was grabbing some things for lunch. I saw in the exact same spot, by the butcher, a couple of days later. Making me think I should start looking for a closer place to live as well.
I was so full from lunch I didn't think I could slide anything else in my gullet. But I was glad I did when I tasted some of the charcuterie from the shop, especially that jambon de noix, which is a close relative to the acorn-fed Spanish hams that I had in Seville, and every bit as good. Next time I go, I'm bringing an empty stomach – and a shopping bag.
Last up is coffee, and you can sip a pretty great cup at L'Arbre à Café, perhaps the most 'focused' coffee shop in Paris. I was amazed at some of the tools they had for making coffee including a hand-cranked espresso grinder that wasn't cheap, but was a fraction of the cost of one of those fancy machines – and a lot less noisy. (Which is the main reason I stopped grinding my own coffee.) And there is an extensive selection of Claudio Corallo chocolates, too.
They also carry what is perhaps the oddest coffee I've ever seen in Paris – or in the world – Jacu coffee, which is made from beans collected from the droppings of Jacu birds. Which, unlike the now-industrialized civet coffee, is collected from birds that run wild on an estate.
It's pricey stuff at €312 per kilo (about $422 for 2.2 pounds), so it's not something you're going to scoop into your percolator. But was served cold-brewed – and in wine glasses, which was the best way to capture the flavor of this elusive coffee. My palate isn't refined enough for that kind of coffee experience, but for those experts out there, here's your chance to taste it. I'll stick with my usual café express.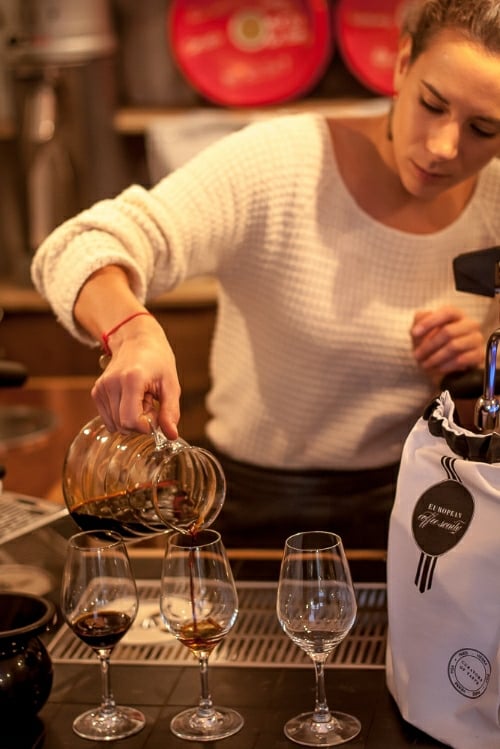 All the coffee in the shop is from single-estate and single-farms. (You can get coffee from L'Arbre à Café from European Coffee Society.) And although my tastes run more toward espresso, citrons, quince, pastrami, and chorizo, it's nice to know that I can have them all on one street.
Frenchie to Go
9, rue du Nil (2nd)
Open Tuesday through Saturday, 8:30am to 4:30pm – no reservations
Métro: Sentier
Terroirs d'Avenir
They've also opened a second shop on rue Jean-Pierre Timbaud (11ème)
L'Arbre à Café
10 rue de Nil
Open Tuesday through Friday, 12:30 to 7:30pm, Saturday from 10am to 7pm.
(Note that opening hours are subject to change.)
Related Posts and Links
Frenchie: New Bistro Cooking (Amazon)
Brillant-Savarin Cheesecake Recipe (in French)