I've been thinking for eons about making macaroni and cheese. Well, I suppose I could whittle that down to say that I've been thinking about making macaroni and cheese for at least for the last six years. Yet I'd not gotten around to it, even though I live in the land of les fromages exceptionnels. And because of that, there are always knobs and ends of cheese floating around that I'm always looking to use up.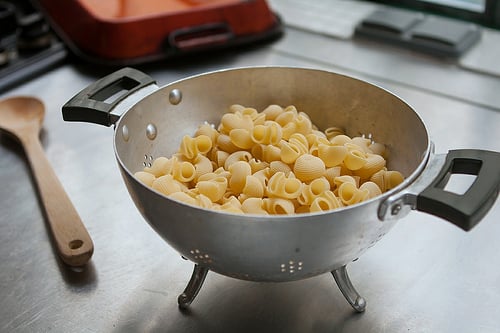 So I was thrilled when I got a copy of Melt: The Art of Macaroni and Cheese, a whole book dedicated to the cheesy, carby subject close to many of our hearts. And with gorgeous photos that'll make you want to grab hold of your grater, knuckles be darned, if you're anything like me, you'll find it's hard not to jump up, head to the kitchen, and start shredding away.
I skimmed the book, noting one mac & cheese that was made with Brillat-Savarin cheese (rich!) with torn croissants on top (richer!) and was intrigued by another version of the classic that included baked apples. But I was hankering for the classic; noodles baked in a creamy sauce, topped with crisp, buttery breadcrumbs. So I went off in my own direction, as I am wont to do.
I'm one of those goofy people who actually likes whole-wheat pasta (with stewed greens, garlic, red pepper flakes and Feta? – yes!), which my French other-half silently tolerates. And believe me, it isn't easy to find a Frenchman who tolerates anything silently. (Yes! He's a keeper.) But in the end, classicism won out and I went with regular elbow pasta. Interestingly, I've not found regular elbow-shaped pasta in French grocery stores, just little bitty ones. However a trip to the natural food store yielded a nice bag of Italian pasta in a similar curlicue shape, but a lot more attractive than plain elbows, with nifty little ridges to trap bits of the cheesy sauce.
Speaking of cheese, while some of the top fromagers in Paris "get" that cheddar can be a cheese worthy of elevated status, for the most part, a majority of the cheddar you can find is of supermarket quality, shipped over from across the channel and nowhere near as interesting as the very good stuff. So with all the amazing French cheeses easily available, and the bits and pieces in my refrigerator, I kept it local and went with sharp Gouda Étuvé and nutty Comté because that's what I had on hand.
I used to propose articles to magazines and newspapers articles for the US about clever ways of using up leftover things like ends of bread and bits of cheese (both are serious problems if you live in France) and they never want to do them, so you guys are stuck with me, just like I'm stuck with lots of odds and ends of cheese.
But there were no complaints when I pulled the pan of hot macaroni and cheese out of the oven, a soft layer of melted cheese in white sauce baked with pasta under a crunchy blanket of buttered breadcrumbs. I tried to think of a French name to call it, then realized it was a version of the classic gratin, the much-beloved dish that can contain anything from potatoes and bacon, to braised endive. And everyone dove in.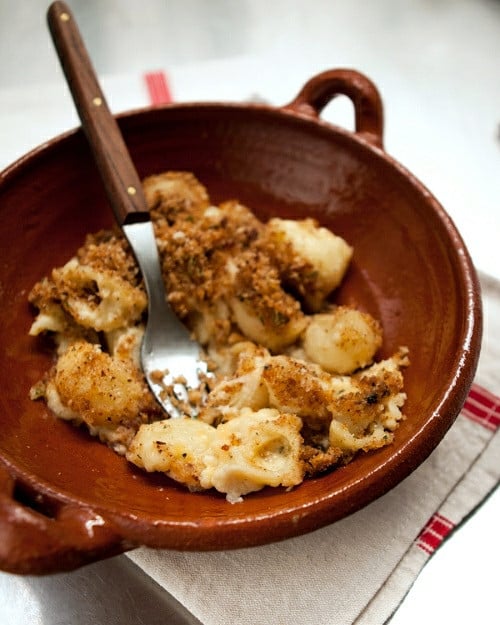 Macaroni and Cheese
This dish is, of course, all – or mostly – about the cheese. A good cheddar is wonderful, but it's nice to mix up a sharp cheese with another that's nutty and slightly creamy, such as Jarlsberg, Comté or Gruyère, in whatever proportion you like. I cook the sauce in the same pan that I made the pasta in to save on clean up. I seasoned this with dry mustard powder and thyme. The mustard gives a bit of depth to the sauce and the fresh thyme adds a pleasant herbal note in the background. But you can omit them if you'd like.
For the pasta and cheese sauce
3/4

pound (340g)

uncooked pasta

5

tablespoons (70g)

unsalted butter

6

tablespoons (60g)

all-purpose flour

4

cups (1L)

whole milk

,

warm

1

pound (450g, about 6 cups)

grated cheese

1/2

cup (45g)

grated Parmesan cheese

1

teaspoon

dry mustard powder

1-2

teaspoons

minced fresh thyme

1/4

teaspoon

cayenne or red pepper powder
For the topping
1 1/2

cups (190g)

breadcrumbs

4

tablespoons (60g)

melted butter

,

salted or unsalted

2

tablespoons

finely chopped parsley
Butter a wide 2 1/2 to 3-quart (3l) baking dish.

Cook the pasta in a large pot of lightly salted water until tender, and drain well. When cool, spread the pasta in the baking dish.

Preheat the oven to 350ºF (180ºC.)

Wipe the pasta pot dry and melt the 5 tablespoons (70g) butter in it over medium heat. Add the flour and cook for about 2 minutes, stirring constantly. Dribble in some of the warm milk, stirring continuously; you can use a whisk, which will help break up lumps, or use a spatula, stirring briskly.

Continue to add the milk, a small amount at a time while stirring, until all the milk is added. Cook the milk until it comes to a low boil, stirring constantly, then cook the mixture for 3 minutes, until it thickens.

Remove from heat and stir the grated cheese, Parmesan, mustard, thyme, and cayenne. (Depending on the cheese, you may wish to season the mixture with a bit of salt.) Pour the mixture over the pasta in the baking dish and stir it to combine. When finished, make sure it's in an even layer in the dish.

Make the topping by mixing together the breadcrumbs, melted butter, and parsley, then strew the crumbs over the top.

Bake the macaroni and cheese for 25 minutes, or until the topping is nicely browned.