Being a baker, summer is my favorite time of year. Not only are peaches, nectarines, cherries and plums abundant at the market, but as the seasons progress, the volume of fruits lowers the price, and I stock up on whatever I can, whenever I can.
At Paris markets, I try to search out producteurs, the vendors who grow the food they sell, and every summer, one in particular shows up at my market with lots of Reine Claude and mirabelle plums, a few different varieties of cherries, plump melons that you can smell standing a few feet away, tender figs, and fresh apricots.
Making the shopping experience even better, were the fellows who sold the fruits. Not only were they easy on the eyes, but they often put punky-looking cherries in baskets, labeling them "for clafoutis" (a nicer way of saying "for baking") and selling them at a reduced price. This year, there seems to have been a turnover in staff – zut – but the replacements also offer up the imperfect fruit, or even an overload, at a discount.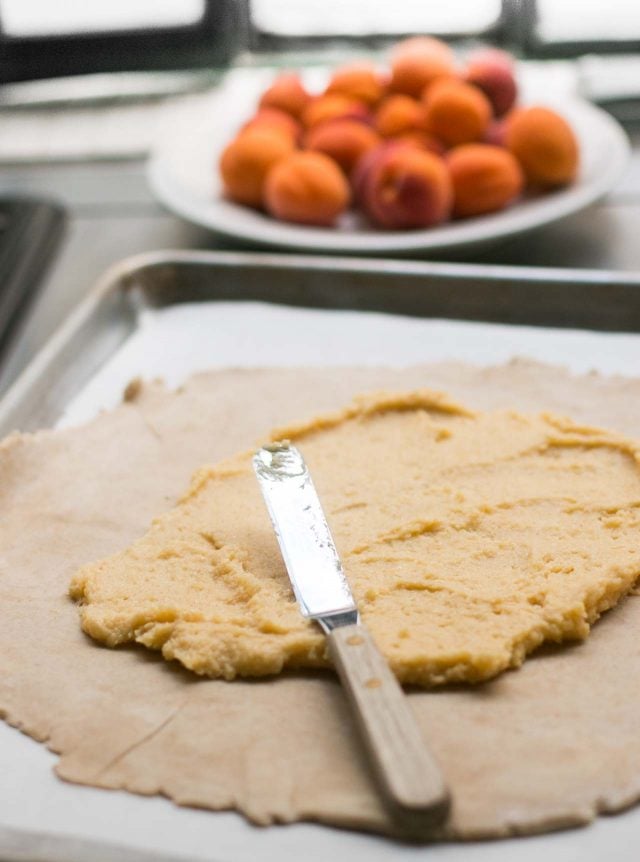 The last couple of weeks, they've had small lugs of fresh apricots offered up at €5 for 3 kilos, about a dollar a pound. Fortunately, I live close to the market and hauled one home the first time I saw them, along with everything else I had bought, which I used to make apricot jam. If they ever do a show called Fruit Hoarders, I will likely be the star of the premiere episode, because I went back a few times and bought several more cases of fresh apricots. (Lest you think that I was mostly shopping there because of les beaux mecs.)
With over a dozen jars of apricot jam all packed up, I still had apricots coming out of the wazoo, so decided to bake up an apricot galette. When baking a free-form, fresh fruit tart, such as this, it's good to have a strategy to deal with any excess fruit juices that might ooze out, which is especially true of apricots; like most stone fruits, some varieties exude a lot of juice.
When I baked at Chez Panisse, we used something we made, that someone dubbed "Moon Dust." Which, because I can never leave anything alone, I nicknamed "Lunar Lint." It was a mix of flour, almond meal, sugar and crushed amaretti cookies.
Because it was Sunday in Paris, and most stores are closed, I couldn't go on a hunt for amaretti cookies. But no matter what the day – they're rather hard to find. So I used to buy them and keep them in my cabinet, but found I was snacking on them, rather than saving them for lunaire lint. (And yes, I've got a recipe for amaretti in Ready for Dessert, but I didn't have time to DIY everything, especially after making several batches of jam, and cleaning up after each one.)
The apricots that I used were a little more restrained, and not much juice gushed out during baking. Still, no one called me out, saying the frangipane wasn't necessary. In fact, my guests loved the thin, flavorful layer of almond cream under the fruit, which complimented the apricots and cherries, which, as the younger generation says these days, was a sick combination.
I'm still not on board with that word, so I'll go back to my California roots and say the combination was "awesome," or in French, they'd say it was chouette (an owl). Depending on where you live, you can make this galette with other stone fruits, or even figs, pears or apples, when they're in season. I don't give a hoot which ones you use, but do give it a go with the frangipane. One bite, and you'll agree that it's a wise move to use it.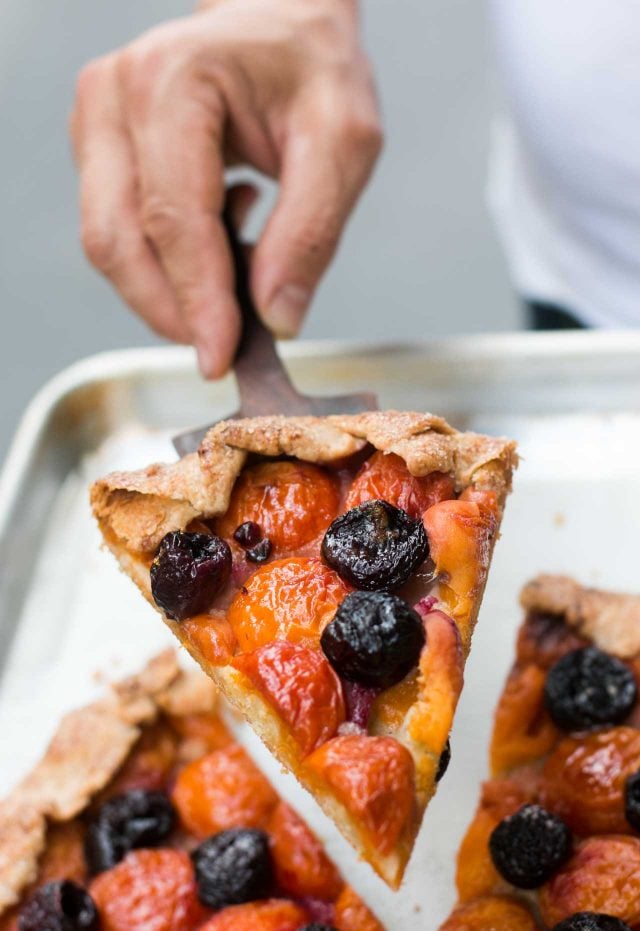 Summer Fruit Galette
Normally apricots give up a lot of juice when baked, but these late-season ones didn't. Fruit varies in moisture but the nice thing about the layer of frangipane is that it keeps the tart dough crisp on the bottom, in case your fruit is juicy. You can use walnut or hazelnut flour in place of the
almond flour
. You can certainly use other fruits, such as sliced nectarines, peaches (peeled or unpeeled), plums, or figs. You'll need about 1 1/2 pounds (700g) of fruit. More important than precise numbers to follow, it's best to try to push the fruit as close together as possible, or if using sliced fruit, to overlap it as much as possible, because it'll cook down during baking. You can also make this without the frangipane but you may want to sprinkle the bottom of the tart dough with some crumbled cookies, nuts or flour, or toss the fruit in 1 to 2 teaspoons of cornstarch if the fruit is particularly juicy, although I prefer using frangipane. That's why I gave you the recipe. (And because my "Lunar "Lint" recipe makes enough for 12 to 18 tarts.) Update: A reader pointed out that ground almonds can sometimes be wanting in flavor, so I often add almond extract. The amount can vary, to taste, but since it's getting baked, you might want to err on the stronger side. (Although I know some people don't like that flavor when it's too strong.) You can also swap out raspberries or blueberries for the cherries, using them to fill in the spaces between the fruit. I add the cherries at the beginning, but if using raspberries or blueberries, you can add them during the last 15 minutes or so of baking. Just before baking the tart, I sprinkled mine with
organic cane sugar
, which you can see in the photo. It's a little coarser than granulated white sugar. I like it because it doesn't melt so easily, and I enjoy the crunchy crystals in the crust. But feel free to use either regular granulated sugar, if that's what you've got. Just be sure not to be too stingy with it; the crackly crust (to some of us) with lots of juicy fruit tucked underneath, is the best part!
For the galette dough
1 1/4

cup (175g)

all-purpose flour

2

teaspoons

sugar

1/4

teaspoon

salt

7

tablespoons (100g, 3 1/2 ounces)

unsalted butter

,

cubed and chilled

3 1/2 to 4

tablespoons

ice water
For the frangipane
3/4

cup (95g)

almond flour

1/4

cup (50g)

sugar

2

tablespoons (20g)

all-purpose flour

2

tablespoons (30g, 1 ounce)

unsalted butter

,

at room temperature

1/4 to 1/2

teaspoon

pure almond extract

1

large egg,

at room temperature
For the fruit galette
1 1/2

pounds (700g)

fresh apricots, halved and pitted, or quartered if large

,

(see headnote for other fruits that can be used)

18-20

cherries,

sweet or tart, pitted

1

tablespoon (15g, 1/2 ounce)

unsalted butter

,

melted

2

tablespoons

sugar (or organic cane sugar)

,

see headnote

strained apricot jam,,

for glazing the tart
To make the dough
To make the dough, mix together the flour, sugar, and salt in a medium bowl, or in the bowl of a stand mixer.

Add the cubed butter and mix, using a pastry blender (or the paddle attachment if using a stand mixer), until the butter is in small, but still visible pieces, about the size of corn kernels.

Add the 3 1/2 tablespoons of ice water and mix until the dough starts to come together. If it feels dry, add an additional 1/2 tablespoon of ice water. Form the dough into a disk with your hands, wrap it in plastic wrap and refrigerate for at least 30 minutes.
To make the frangipane
In a small bowl, mix together the almond flour, sugar, and all-purpose flour. Add the butter and almond extract, and mix in with a spatula until smooth. Mix in the egg.
To make the tart
Preheat the oven to 375ºF (190ºC). Line a baking sheet with parchment paper.

On a lightly floured surface, roll the dough to a 14-inch (35cm) circle, turning it over and dusting lightly with flour, to keep it from sticking to the counter.

Brush off any excess flour and transfer the dough to the prepared baking sheet. (At this point, you may want to chill the dough for a few minutes, as the frangipane may be a bit tricky to spread if the dough feels warm.)

Smear the frangipane on the tart dough, leaving a 2-inch (5cm) rim around the edges. Place the apricots on the frangipane and put cherries in the spaces between the apricots. Fold the edges of the dough over the fruit to make a crust. After pleating and folding the rim, make sure there are no "gullies" in the pleats, for fruit juices to run out of.

Brush the rim of the crust generously with melted butter then brush the remaining butter over the fruit. Sprinkle the rim with about 1 tablespoons of sugar. Then sprinkle another 1 tablespoon over the fruit. (If using fruits like nectarines and peaches, you can reduce the sugar to a few teaspoons.)

Bake the tart until the crust is well-browned and the fruit is cooked through, about 50 minutes. Remove from the oven and let the tart cool for 5 to 10 minutes, then brush the top with apricot jam.
Notes
Serving: Serve with a compatible ice cream, such as vanilla, crème fraîche or noyau ice cream. (The last two are in my books, The Perfect Scoop, and My Paris Kitchen, respectively), or another favorite flavor. A dollop of crème fraîche, sabayon, or softly whipped cream are other options. (Although often I like it just as it is.)
Storage: The dough can be made up to two days ahead and refrigerated, or it can be frozen for up to two months. The tart is best enjoyed the same day it's made, but is okay the second day.
Related Links and Recipes
Summer Fruit Tart with Almond Cream
Baking Ingredients and Substitutions
Gluten-Free Apricot and Mascarpone Galette (Bojon Gourmet)