One of the first books that made me fall in love with France and French cuisine was Roger Vergé's Entertaining in the French Style. Vergé was the chef and owner of Moulin de Mougins, his world-famous restaurant on the Côte d'Azur, near Cannes. I never went, but used to page through the book, admiring the relaxed, friendly lifestyle that always seemed to revolve around a table, laden with good food and plenty of local wine. It made me want to go and be a part of it all. In fact, there are two empty seats at that table, and I'd like one of them.
Unlike a lot of chef books, this isn't "aspirational" cooking, that is, pictures and recipes of foods that you could never hope to make. I recently got a book by a much-admired chef and I wanted to share a recipe. But there was only one recipe in the book that could be made in less than a day, and each recipe had at least one ingredient that I had no idea where I would get it. Don't get me wrong. I liked the book a lot and his restaurant looks amazing, but it didn't make me want to run to the kitchen. So I admired the book, and the food, from afar.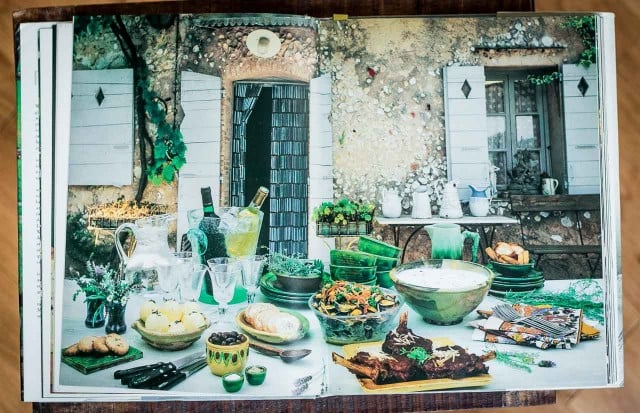 There are so many pictures in Chef Vergé's book that made me flash back to my past, decades ago, when I was learning more about French cuisine while cooking in Northern California, which shares a similar climate – and ingredients – with Provence. He had dubbed it "Cuisine of the Sun." The much-loved chef recently passed away and I revisited the book, to relive what excited me about French cuisine, way-back-when.
For those who want to see some Provençal pottery porn, you'll be seduced by pictures of colorful Provençal pottery, platters of vegetables and herbs everywhere, and oval omelets surrounded by toasted garlic croutons. Tables are laden with bottles of both red and white wine in buckets of ice (due to the heat in Provence), wine glasses are filled with pastel-tinted rosé, and individual frozen strawberry soufflés, reflecting the sun of the south of France in the book, took me back to a certain and time and place in French cuisine.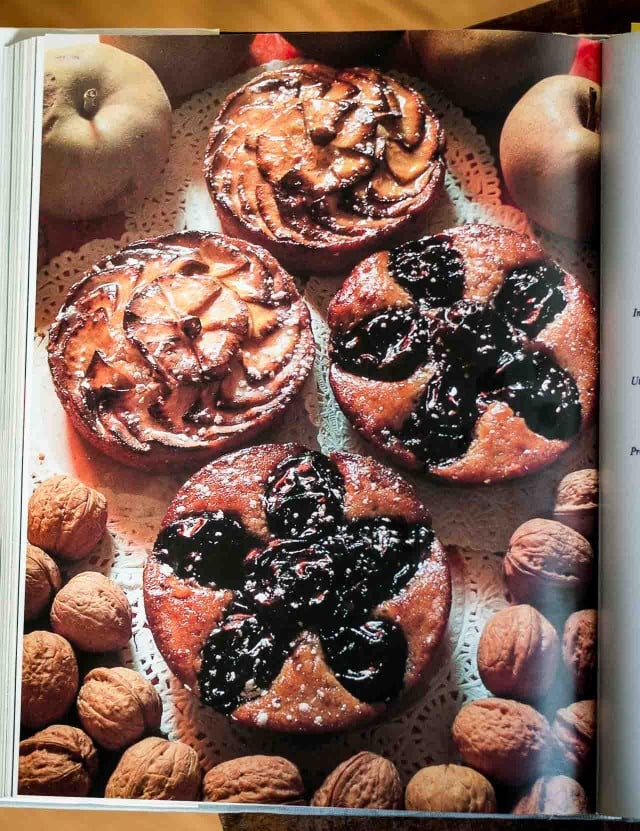 Published in 1986, nearly three decades ago, it's certainly a document of an era and some of the photos are delightfully dated. When he came to visit Chez Panisse when I was cooking there, it was nice to find out that he was as jovial and welcoming as his book, and his cooking. I remember him coming to the kitchen and we found him immediately likable, with his his silver hair, bushy mustache, and beaming smile. He was traveling with another French chef who was a little – um, dour, and the contrast between the two made us even more engaged by him.
I had lost my copy of his book so quickly scrambled to find a used one, since it's out-of-print. I believe it was reissued, but I wanted the original because I like "dated" cookbooks since they give you a glimpse into another time and era.
Most of the desserts in the book are very accessible. I rustled up some big, dark cherries to make his clafoutis, which he says not to pit. I did pit them because few like it when they hit a hard cherry pit with their teeth (except, perhaps, cash-strapped dentists). Although some say the cherry pits add a certain almond flavor to desserts like clafoutis, with their hard coating around them, I doubt much of the flavor of the noyau (kernel) passes through that tough pit during baking.
After pitting my cherries, I mixed some farm eggs, milk, almond flour, and a few other ingredients into a thick batter. I poured it over the fresh cherries in a gratin dish, and baked the clafoutis during one of the hottest days of this summer. My kitchen was an inferno, but I was anticipating being rewarded with a wonderful fruit dessert for that evening.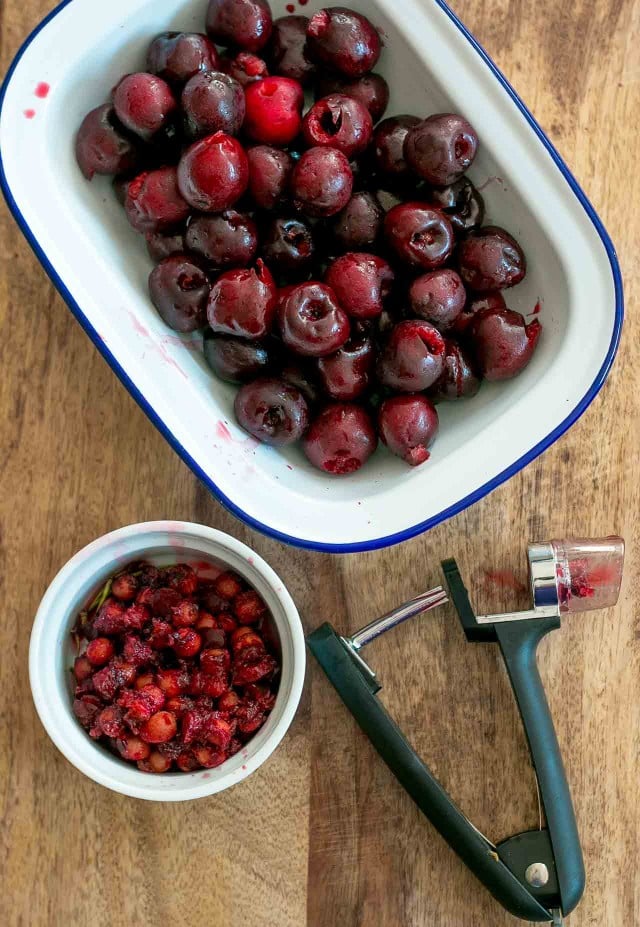 Malheureusement, the recipe wasn't what I was expecting. Instead of juicy cherries embedded in an almond-rich custard, the clafoutis was very dense, similar to a butter cake. I set it aside and the next day, I took a few more spoonfuls to see if it had improved overnight. It didn't grow on me, and I ended up mostly plucking out the cooked cherries and eating those, leaving the crumbly almond custard behind.
But it's hard to stay mad at Chef Vergé with his charming French accent and dashing good looks. What can I say? I'm a sucker for a Frenchman who can cook. Even if they stumble on writing up their recipes. (Note: The recipe in the book is different than the one presented here. It had a lot of almond flour in it, in addition to regular flour, and the proportions raised an eyebrow when I read it but I wanted to give it a go anyways.)
However I figured you probably would be less forgiving than I am, so I made another cherry clafoutis the next day to share with you, under the wire before the end of cherry season. And although I'm not a distinguished French chef, I liked it very much. And now that I've got the clafoutis worked out, it's time to work on that silver hair and dashing mustache.
Cherry Clafoutis
If you've not made clafoutis before, you'll be delighted to find out how easy it is! The batter is based on a crêpe batter, so unlike a traditional custard, it contains some flour, so the texture is somewhat dense, and the thicker batter ensures that any juices that escape from the cherries are well-contained. You could use a non-juicy fruit, such as apricots or bushberries, such as raspberries or blackberries, for this clafoutis. Other fruits, like nectarines, peaches, sour cherries, and plums may exude too much juice when baking. But it's meant to be a rustic, casual dessert, so feel free to personalize it.
1 1/4

pounds (570g)

sweet cherries

3

large eggs

,

at room temperature

1/2

cup (70g)

all-purpose flour

1

teaspoon

vanilla extract

1/8

teaspoon

almond extract

1/2

cup (100g) plus 3 tablespoons (45g)

sugar

1 1/3

cup (330ml)

whole or lowfat milk

Softened butter

,

for preparing the baking dish
Preheat the oven to 375ºF (190ºC). Smear a 2-quart (2l) shallow baking dish liberally with butter.

Stem and pit the cherries. Lay them in a single layer in the baking dish.

In a standard blender, or using an immersion blender and a bowl, mix the eggs, flour, vanilla and almond extracts, ½ cup sugar, and milk together until smooth.

Pour the batter over the cherries and sprinkle the fruit and batter with the 3 tablespoons of sugar.

Bake the clafoutis until the custard is just set; a knife poked in the center should emerge relatively clean. It'll take about 45 minutes.
Notes
Serving: The clafoutis can be served warm, at room temperature, or cold. It's traditionally not served with any accompaniment. Storage: The Clafoutis can be made up to one day in advance, and refrigerated overnight.