Masterpieces of French Cuisine
When I moved to France a number of years ago, the hardest things to part with were my cookbooks. (And San Francisco burritos.) Some I shipped ahead – which, as readers of my Paris book know, I'm still waiting for today. Some got boxed and put in storage, and the rest were sold or given away. One of my favorite books of all time was brought to my attention by a woman who ate in the kitchen at Chez Panisse a few times a week. Back then, it wasn't trendy to be seated where the cooks were working, which are now called "chefs tables" and they've become so popular that restaurants actually put tables frequently in the kitchens and guests can reserve them. She just preferred to be back in the kitchen with us, rather than with the rest of the diners.
Since we all liked her a lot, and not just because she regularly brought us in French pastries and Belgian chocolates, but because she was a lot of fun. She held court at that table for perhaps a decade and she even entered through the kitchen door when dining with us because she wanted to be "part of the gang." She loved to eat everything, especially lobster and frais des bois (or anything with butter, really), but she had a soft spot for pastries and her table was next to where I worked, so I spent a lot of time talking about food with her. Knowing I liked cookbooks, one day she brought me in a copy of a large-format cookbook from her collection to read – Masterpieces of French Cuisine.
I'll get to the content of the book in a moment, but inside the jacket, her name was inscribed in pen. I held onto her copy of the book for a few weeks and eventually (and with great regret) I gave it back to her. Sadly, her health started fading and her visits became fewer and fewer. We sent goodies and edibles to her over in San Francisco until one day we got word that she couldn't really eat any more of the foods that she loved. Then she passed away.
A couple of years afterward, I was combing through a used book store in San Francisco and came across a hefty copy of Masterpieces of French Cuisine, and pulled it off the shelf. When I opened the cover, inside was her name, written in pen, evidently sold as part of her estate, and that same book somehow percolated up to this bookshelf and was now in my hands.
When I moved to France, due to its size, it was one of the books I left behind in San Francisco – or it got sold, or is still lost somewhere between here and there…but I had fond memories of that book reading about styles of French cuisine that are long-gone – from swank Parisian restaurants, to rustic auberges in the woody forests, to grand seaside restaurants on the Mediterranean when seafood from that sea was bountiful.
The eateries and restaurants were from an era when local ingredients weren't just plentiful, but used by chefs who took regional pride in their cuisine. Leafing through Masterpieces of French Cuisine today is a wistful snapshot of the glories of classic French cuisine before diets, onerous labor rules, and industrialized products crept into the culture. The text, recipes, and photos on those pages show what made French cuisine magnificent.
It was a time when chefs presided not only over the kitchens, but the dining rooms as well. Most were owners and often their wives kept a watchful on on the dining room, the staff, and the till. Although it's been argued that the best days of French cuisine are in the past, there's no denying that once you take a look into the past, it's easy to see what happened to make the rest of the world so utterly fascinated by French cooking.
Back in those days, dishes like La côte de porc avesnoise, a repast of two pork chops fried in butter which get topped with half-pound of Comté cheese, enriched with heavy cream, then gratinéed, until it's finally finished with additional butter, may not have been on everyone's table, but it's a dish that I think Paula Deen couldn't even dream up today.
The book is divided into chapters, each one categorizing a region and its specialties. I was once thinking of giving Madame Darroze's Pastry Cake a go, which is layers of sugar and buttery pastry, folded repeatedly (similar to Kouign Amann.) And it calls for a nice shot of Armagnac to finish it all off.
But the third step requests the use of a goose feather pastry brush, and the dough requires two people to lift simultaneously. And it also needs to be cooked in "..a mold with a cover and put charcoal embers on top and underneath." So I had to skip it.
La pâté de truites Saint-Wandrille, the caption asserts, "will leave no diner indifferent." But makes no mention of how the cook feels who has to assemble this behemoth of a dish.
And what stylist these days could get away with propping food with rifles, or duck heads? Yet I love it, and think it'd be fun to resurrect this for a cookbook.
But these days, I am pretty sure that it'd be hard to imagine a chef proposing to his or her editor a recipe for a stuffed calves head, with a photo of the beast alongside. Or a vaguely wan-looking bouquet of daisies to buffer brioche stuffed with foie gras. Still, the whole thing evokes an era of cooking that I pine for today. When cooking wasn't about 'contests' or trends or television shows, but was really just about eating locally and seasonally, not because those were catchwords but because that was simply how people ate (and lived) back then in France.
Like, for example, perhaps you lived where there were partridges available. So why not use a taxidermied partridges as a prop?
I also love the discord within the photos, as in, who is hitching up their rowboat and returning to a dockside silver platter of petits fours and a cake garnished with tiny, wild fraises des bois bolted upright with an anchor of buttercream ? But on the other hand, wouldn't it be nice to step off a French train and be greeted by a dashing garçon hefting a heaping platter of pâté and ham?
But my favorite pictures in the books feature food served poolside, because…well, we all know the first thing you want when you step out of a pool in the middle of the summer is a rich platter of Le pennequet aux fruits de mer (seafood pancakes), doused with sauce Béchamel, truffles, and a modest one-and-a-half cups of full fat heavy cream.
Since I'm in the midst of a move, I've been revisiting some of the cookbooks in my collection here in Paris, but picked up this copy at the Strand Books on my last trip to New York because when I found it, everything came flooding back to me and I realized that I just couldn't live without it in my collection and in my life. To me, it shows the pinnacle of French cuisine; the regions and their various (and specific) dishes, the grand chefs surrounded by walls of gleaming copper cookware, and waiters with starched black aprons and bow ties serving exquisite food not just with pride, but with the skill from a time where waiting tables was full-fledged career, taking years of study to master.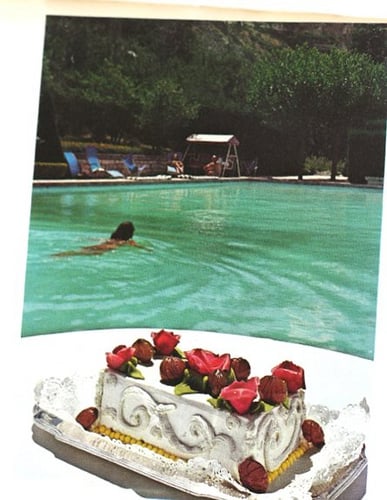 When I stood at the register in the bookstore, the cashier opened my copy of Masterpieces of French Cuisine to get the price and we both noticed it had been inscribed, in the same fashion as the book I previously owned. Unfortunately it wasn't my long-lost copy from our departed guest and friend back in San Francisco, but the note was written back in 1971 from one friend complimenting another on his French cuisine.
The writing is in French, so it's hard to tell if they were French or Americans – although the names lead me to believe the latter – but it was charming to know that it must be some sort of tradition to write something inside the book on the first page. Since this one is already inscribed, I never took my pen to it. But if I ever see another copy lying around, with a blank front page, I think I'll write a note in it for the next person that picks it up.

---

Masterpieces of French Cuisine has text by Dancis Amunategui, photographs by Gabrielle Adrion, Philippe Degoy, and Michel Holtz. It is out-of-print, but used copies can be found online and at used bookstores, or at shops or resellers specializing in vintage cookbooks.


Related Links
Masterpieces of French Cuisine (Amazon)
How to Find Items Mentioned on the Website
Five Places to Buy Vintage Cookbooks Online (Chronically Vintage)
Cookbook Stores Around the World (Cookbooker)