Favorite Cookbooks of 2010
2010 was a very big year for cookbooks. And when I say "big", I don't just mean there were plenty of great cookbooks published this year, but some of them were huge. Ready for Dessert tipped the baker's scale at over 3-pounds, and subsequent books that continued throughout the year tested the limits of my strength, such as Bon Appétit Desserts, which weighs in at a whopping 6-pounds.
But as they say, "Size doesn't matter" and I found myself attracted to a variety of cookbooks of all dimensions. Here are a few cookbooks, baking tomes, and food-related books that were released this year or that I featured on the site in 2010.
---
You'd never know that Dorie Greenspan only spends one-third of her time in Paris because after reading through this massive collection of three hundred fabulous recipes, she nails the city and the food, including stories and recipes from the restaurants, markets, and most endearingly, her stable of Parisian friends—which makes mine look like the unwashed masses. Her moist French Apple Cake was enjoyed from breakfast around here, and eating cake for breakfast probably isn't very French, but tant pis.
And my Seaweed Cookies got a makeover and are featured along with everything from Chicken in a Pot (poule au pot) to Nutella Tartine, something that's given to children during their afternoon snack break—but I don't see any reason we adults can't get in on the fun as well. Around My French Table is the new French classic cookbook in my collection and one I'll be turning to over and over again for years to come.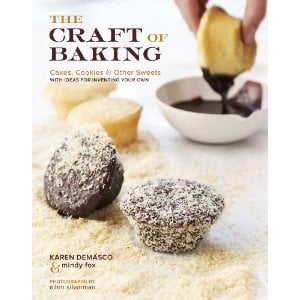 Every holiday season, the requests come in for a Pumpkin Ice Cream recipe. Although I do have a recipe ice cream made with sweet potatoes (which I prefer because they have less water and are richer-tasting), I made Karen DeMasco's spot-on Pumpkin Ice Cream, and the other recipes in this book have gotten similar acclaim. Karen was the pastry chef at Craft in New York, hence the name of her very first, and I'm sure not her last, book of desserts.




The Essential New York Times Cookbook
When this huge book landed on my doorstep, I assumed it would be a rote recitation of recipes culled from the Times' massive and deep archives. (I also assumed it wasn't a doorstop, although I nearly threw my back out lifting it.) And how surprised—and delighted, was I to discover that The Essential New York Times Cookbook had the unmistakable tone and voice of author Amanda Hesser. Instead of just re-presenting years of recipes, each and every one has been retested and updated for today's tastes.
She cooked and baked her way through over one thousand recipes, Amanda's words and advice along the way add much to the allure of forgotten recipes like Evelyn Sharpe's French Chocolate Cake (which she says is the first flourless chocolate cake to appear in the Times) to classics like Bourbon Pecan Pie. An added bonus? A recipe of mine is the last one in the book!





I was asked to write a story for this anthology from Lonely Planet of travel stories relating to food. I've never been asked to write about travel, and as far as being a food writer, well, I've written about everything from finding recipes in restrooms to getting rid of leftover egg whites in unusual ways. So I wasn't sure why I was selected but ended up adding an essay about the novelties of modern French cooking, a few of which had me scratching my head…





The Country Cooking of Ireland
I'm a little late in the game on this one, as A) This year I finally discovered the wonderful foods of Ireland, and B) Everyone else did too, as The Country Cooking of Ireland won the James Beard Cookbook of the Year award. There's more to Irish cooking than Brown Bread Ice Cream and I want to cook everything from this book, or move to Ireland. This book should come with a warning: it'll makes you want to do both, too.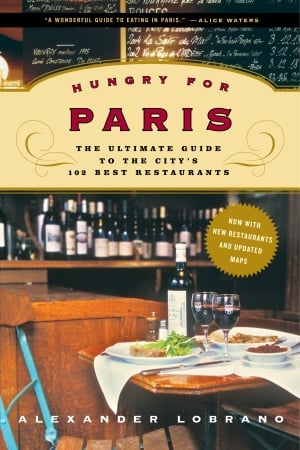 When Hungry for Paris first came out, I settled in to the sofa and read it from cover-to-cover. No one covers the Paris dining scene like Alec Lobrano and even though I didn't think this book could be any more vital for anyone coming to Paris in search of a good meal, Hungry for Paris was just updated with maps as well as a bunch of new restaurants and a few that he felt were no longer worthy of mention. As I said, no one has their finger on Paris dining as much as Alec Lobrano and if you bring just one book on the plane with you to Paris, you'll be well-fed after you arrive if it's Hungry for Paris.





My trip to London (and subsequently, New York) was thwarted by a mischievous volcano. Even sadder than unpacking a suitcase for a trip that I'd been planning for months was that I wouldn't get to meet Yotam Ottolenghi, author of Plenty. I'd made his Chocolate-Dipped Florentines from his first book and when his newest book on vegetarian cooking arrived, it didn't take me long to settle on his recipe for Fried Beans with Sorrel, Feta and Sumac.
Although there's no meat in this book, Yotam isn't a vegetarian and these recipes are intended for everyone. I've been dialing down how much meat I eat and am anticipating making a lot more of his recipes, which range from Smoky Frittata to Caramelized Garlic Tart, as well as other dishes that reflect Chef Ottolenghi's Middle Eastern heritage.





One of the high points of my year was having lunch in the home of Rachel Allen in Ireland. Her food was simple, but boldly wonderful reflecting the strong character of her native country and the ingredients available there. The Plum and Rhubarb Crisp paired two tangy ingredients under the nutty, buttery topping and the other recipes in Favorite Food at Home are equally appealing and simple. Rachel is beloved in her country and it's easy to see why her fame has crossed through various oceans and borders.





James Beard's American Cookery
Forget all these young, hot-shot chefs with their tattoos and potty-mouths: I remember the day that James Beard walked into the kitchen at Chez Panisse and our collective jaws pretty much hit the our chopping blocks. If any of you whippersnappers out there don't know who James Beard was, Google him. He was one of the first to celebrate and trumpet American cuisine and while Tongue and Eggs in Aspic probably won't be on any home menus soon (and would anyone 'boil' spareribs?), it makes pretty fascinating reading to go back in time and I enjoyed reading about how Americans ate back then.
He begins a recipe for Frankfurters and Beans with: "This is certainly one of the most thoroughly American dishes of all. It can be very poor as served in some of the greasier greasy spoons…" which reminded me of a Frenchwoman who, upon discovering that I was American, asked me what was My Most Perplexing Question of 2010: "Oh, well then you must like American food then."
Obviously she hadn't been back to the states in a while to see how far we've come. But James Beard's American Cookery is a witty reminder of our culinary heritage. I've actually bookmarked his recipe for Cassoulet (page 598), just because I think it'd be fun to make one American-style, and serve it to some French guests. Minus one.





The internet makes for strange bedfellow and although you're probably thinking I'm going delve into the "too much information" category here, you can relax (although enquiring minds might want to know more). Having a food blog means one is constantly interacting with a wide variety of people, many of who live in other countries and follow other diets. Aside from being a place for some people to find bedfellows, it's what makes the online world such an interesting place. Meeting Shauna James, otherwise known as Gluten-Free Girl, was a real treat several years ago when I was in Seattle, and we've been friends ever since.
We haven't been bedfellows; that honor goes to her husband Danny, otherwise known as The Chef. This collaborative book, Gluten-Free Girl and the Chef, is about their life and love (of food, and each other) and is stocked with recipes like Black Cod in Black Rice Powder and Smoked Salt Caramel Ice Cream, an adaptation of one of my recipes that doesn't contain a speck of gluten, but you'll never miss it. Once I get my hands on some cranberries, I'm giving their Shiso-Cranberry Sorbet a whirl in my ice cream maker.





When people ask me "What's the best food city in the world?" they're always surprised when I say "San Francisco." But if you've been to any of the glorious farmer's markets there, it's hard not to agree on how varied and spectacular the fruits and vegetables are. And good cooking begins with good ingredients, so Jennie Schacht hits the greenmarket for inspiration in Farmer's Market Desserts. Thankfully this book isn't regional and anyone with access to a farmer's market or well-stocked grocer can whip up French Fig Bars or Rosemary Cornmeal Crisps which I'm planning on making to accompany some cheese…that I get from my own market, here in Paris.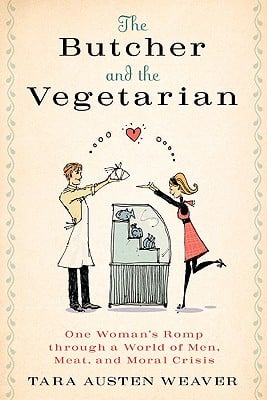 The Butcher and the Vegetarian
I was a vegetarian for a number of years. I like vegetables and if it wasn't for people nagging me all the time to at least try to eat some meat, it was pretty easy. But during that time, I was almost always craving a hot corned beef sandwich on rye bread. (I was living in New York at the time and at times, it was excrutiating not to dive into one.) Eventually I succumbed to the temptation and at that moment, my mother was probably the most relieved person on the planet. Tara Austin Weaver took a different tact; she was raised as a vegetarian and only because of medical issues did she reluctantly delve into the world of meat-eating.
Having lived in places like San Francisco and Seattle, where it's fairly easy to find locally-raised meat (that you didn't need to worry about), The Butcher and the Vegetarian tells the awkward dance that she did with meat-eaters and meat-pushers, leading to an unusual conclusion. I was hoping for a Chimichurri recipe because her description sounded so good and I started a blog post about it but never followed though. But the idea of strips of rare meat with a slick herb sauce has stuck with me since I put the book down and just thinking about it again right now is making me want to revisit that idea—and my butcher.





My biggest disappointment in life didn't involve a wasted opportunity or a regretful decision; it involved coconut. When I was a kid and the Good Humor man came by ringing his bells, if I couldn't afford the Toasted Coconut ice cream bars, which were priced at an outrageous 40¢, I had to console myself with a 5¢ whammy stick. Now that I'm all grown-up and stuff, I can eat whatever I want (which I do…a little too much) and to this day, my favorite dessert combination is coconut and dark chocolate.
So of course, I had to make the chocolate-and-coconut extravaganza known as German Chocolate Cupcakes from Lori Longbotham's Luscious Coconut Desserts. The cupcake fad may be on the wane, but anything combining these two flavors is always going to be in fashion for me.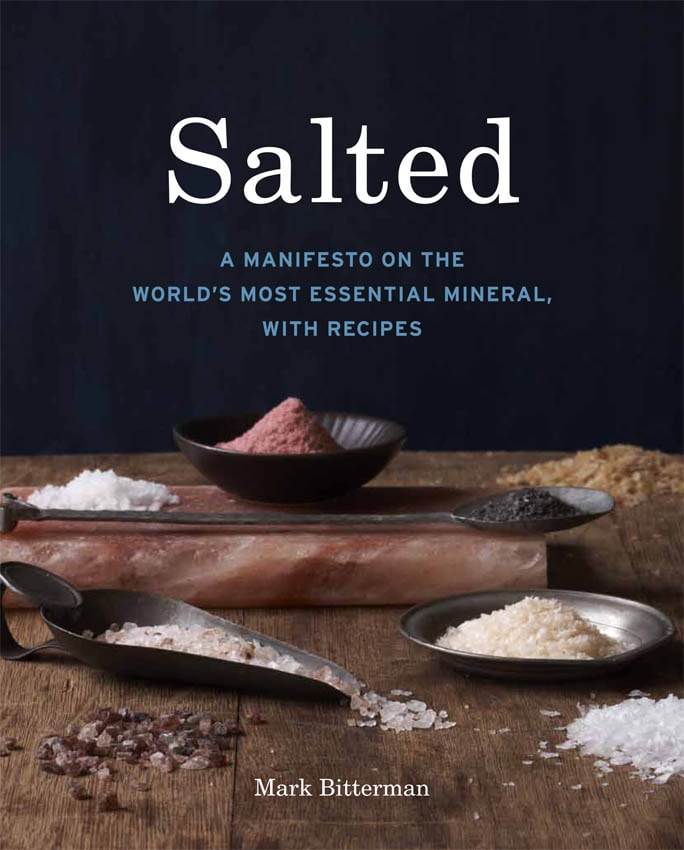 You might be one of those people who think, "Salt? What's the big deal?" But turn the pages of this major treatise on the various kinds of salts from around the world (including how they're harvested and what makes them so special), and you'll learn what to do with them as well. Mark Bitterman is a selmelier who owns an artisanal-product boutique that specializes in salt. But you don't need to take a trip there to learn all about salt. Salted is going to be my go-to reference when I find a new type of salt and am wondering what to do with it. The last one-third of the book focuses on recipes that use everything from fleur de sel from France to a Himalayan Salt Bowl Chocolate Fondue, although I'm strongly eyeing the Soft Pretzels with Hickory Smoked Salt.





This unexpected book isn't really about the three items they chose for the title, but I think they're familiar to Americans hence their leading role. And although the book is about Jewish cooking in France, there's everything from Oatmeal Bread with Figs to a warming Soupe au Pistou that I used as inspiration for making a big pot of soup and dragging out my mortar and pestle for pounding some summer-fresh basil. I've not explored much of Jewish cooking in France, but if it involves anything like a crusty Alsatian Pear Kugel with Prunes shown in the book, well, I'd better start searching for it. Or start peeling some pears.





Nothing surprised me more than My Sweet Mexico when I opened the unsolicited package from my publisher. Like many of you, perhaps, we haven't given Mexican desserts a lot of thought. Sure there's Flan and quite a few delicious ice creams to be had in Mexico, but there's also a lot of brightly-colored pastries that are more decorative than delectable. But looking through the photographs in this truly stunning cookbook might win a few converts.
I tackled the Chocolate-Dulce de Leche Flan, which required a little tinkering, but am happy to have this book in my collection if only to dream of sweet treats…and future trips to one of my favorite places, Mexico.





When I was asked to write the introduction to the all-new edition of Will Write for Food, about halfway through my scribing, I realized that I had bought the original version of this book when it came out when I was transitioning from being a professional baker to writing about cooking. I like books that are hard-core and don't pull any punches. Want to know how to find an agent and sell your book idea? Wondering how much you can expect to make as a food writer?. Or what makes a good restaurant reviewer?
In this completely updated edition, Dianne Jacob tackles these topics but adds quite a bit about food blogging and interviews many of the most prolific food bloggers, as well as cookbook authors and editors to get the pulse of what's working, and what doesn't anymore. This book is a must for anyone interested in becoming a better food writer.





Portugal is one of my favorite food destinations. Natas, those little bite-sized tarts, are too-easy to eat, and Bacalau à Bras, salt cod with scrambled eggs, could very well be my permanent breakfast, lunch and dinner for the rest of my life. But the Eggless Mayonnaise from The New Portuguese Table by David Leite was truly a revelation. Lighter than regular mayonnaise, I found it the perfect base for sprightly chervil. Someone told me that if a cookbook has one good recipe in it, it's a good cookbook. And this one is good enough for me.





As I flipped through the pages of Good to the Grain, a generously photographed treatise on baking with usual and hearty whole grains, I was floored by how creatively Kim Boyce sifts all sorts of flours into traditional baked goods. This book shows how bakers can dial up flavors just by swapping out another flour or adding a grain that you might not normally think of as a baking ingredient. For example, who would have thought of adding barley flour to Strawberry Scones or buckwheat flour to Chocolate Persimmon Muffins—but why not? I saw that I was thanked as inspiration for this book (see I'm not all bad..) and you'll find in these pages treats that are sophisticated but not fancy, and naturally delicious. And that's all the thanks I need.





I met Jason Wilson in Cognac, when I went there to learn all about the drink. At the time I knew pretty much nothing about it except it was brown, sometimes had Napoleon on the bottle, and usually cost more than I had in my pocket. Like most spirits (which he alludes to in his book got their name because people drank them and were elevated or 'spiritually' transported), Cognac is a certain liquor made a certain way in a certain place. But perhaps the only way to learn is to start at the beginning and I'm a fan of asking simple, basic questions to understand something. Even if I'm afraid of the reproach I'll get from the "experts."
So sitting around a table of fancy—and pricy, Cognacs, I sipped around until I couldn't taste anymore, specifically the last one. Jason was seated next to me, leaned over and pointed to the 1/2 teaspoon of amber liquid in my glass, said, "You'd better drink that. That's about $300 worth of liquid in there." Yikes! So I did. I was glad for that advice back then, and was happy to get his book Boozehound, which took me on an exploration of what he says are "…the rare, the obscure and the overrated" and inspired me to make a icy Spritz. With recipes for all sort of cocktails and libations, plus lots of highly-opinionated rants and raves (and a few pot-shots at the big guys, like the €30 cocktails at the Ritz in Paris that use bottled juice, not fresh) it's not as much fun as sitting with Jason around a table of spirits, ready to be sampled. But until we meet again, this book is the next best thing.





Whoa! Was the first word I said when I opened this book from San Francisco's Tartine bakery. Tartine Bread begins with a lengthy recipe and lesson on how to make bread.
At this always-packed bakery in San Francisco, the bread comes out of the oven late in the afternoon, which is a complete turnaround from Paris. It's amazing bread worth waiting for and although I don't make my own bread (and why would I when there's people willing to wake up at 3am to do it for me around here?) aside from gazing at the stunning photos in this book, there's all sorts of recipes for tempting bread-related dishes like Baked French Toast, French Onion Soup, and the caramelized brown bread crumbs I used in my Brown Bread Ice Cream.





Ann Mah is of Chinese ancestry and her novel about a young woman leaving her less-than-glamorous job in New York and moving to Beijing may or may not be a thinly veiled story of her life. But the 'novel' format gives her lots of latitude to tell the story. A lot of the descriptions in Kitchen Chinese of food were enticing enough to make me want to scramble to the kitchen, or to a good Chinese restaurant, and slurp up some noodles and get crackin' on some crab.





A bit of a departure for Susan Loomis, best known for her books about French country cooking. Here the focus is nuts, with a little worldwide tour of nutty dishes not only from France, but from Thailand and Spain as well. Her recipes are always foolproof and her recipe for Apricot, Almond, and Lemon Bread was a big hit at Thanksgiving this year. Am flipping through the book and thinking of what would be good for a nut-filled Christmas and New Year.





A bubbly woman came up to me at the end of a recent meet-up here in Paris with a bag of homemade macarons and a book which she just published on the same subject. In the bag were the most lovely little macarons I've seen in all of Paris, even in the fancy places that churn out a gazillion of these cookies annually. Macarons have gone rogue, leaving the confines of Paris and spreading across the globe. Mad About Macarons! by Jill Colonna is lavishly photographed with lots of clears steps of the process for how to make classic macarons as well as interesting and unusual variations (curry, chocolate-beet, and pistachio-wasabi to name a few). If you like macarons, it's likely you'll love this book.





I met Gina DePalma a few years ago in New York City. Gina is the pastry chef at Babbo, a position she's held for seemingly all of eternity and it's hard to think of Babbo without her. We met for—what else? Ice cream! We shared bowls of creamy gelato, lapping up different flavors until we could eat no more. Before we parted she signed a copy of Dolce Italiano and handed it to me, which I brought back to Paris.
Italian desserts can be a tough sell. Like the Swiss chard-filled tart from Nice, Parisians aren't used to discovering bits of vegetables in their cakes (even if zucchini, technically, is a fruit). And living in a city, I'm never on the receiving end of someone's overload of zucchini from their potager (vegetable garden) but had a few beautiful specimens I got at the market and made her Zucchini Cake with Crunchy Lemon glaze. You might raise an eyebrow at using zucchini in a cake, but it takes a lot of resolve to resist crunchy lemon glaze. Not only is this book filled with intriguing, authentic Italian desserts, it's a good read, too.





This charming little book was translated from Japanese and I Love Macarons! has a few flaws mostly likely because of it. There's some conflicting information and a few other goofs, but the macarons that I made from the book, using the special technique and master recipe, came out great. It's a charming little book and was the first book on macarons that was widely released in the states. I tackled the master macaron recipe and had great results, although a little tinkering was required.





I'd heard about Flour bakery in Boston for ages but living thousands of miles away, I never got the chance to stop by. Until that happens, I'm going to be content with Flour, the cookbook. I made Joanne Chang's Oatmeal-Raisin Cookies, and from the comments, it seems I wasn't the only one that fell for them. There's lots of breakfast treats and other tasty temptations in this book, too. But it seems like cookies are the star of the show, and I'm looking forward to sampling a few more of her cookies, courtesy of her already flour-dusted book.





And let's not forget about me… Ready for Dessert is a compilation of my favorite recipes, some culled from my first two books; Room for Dessert and Ripe for Dessert (now out-of-print) and a bunch of new favorite recipes added for good measure. All-new photographs and completely updated recipes make my book a great holiday gift to treat yourself to, or to give to someone you love. If you like the blog—you'll love the book! : )
---
(These are books that I featured on the site in 2010 and there were quite a few terrific books that were published this year that I haven't had the chance to bake from due to living abroad. But I do plan to feature recipes from them in the coming year on the site.)