My Favorite Cookbooks of 2009
I have a stack (actually, about four stacks) of cookbooks that arrived this year, many of them riddled with bookmarks for recipes. Some of them I managed to get to, presenting recipes on the blog or baking for friends and neighbors, and a few I didn't get around to yet. In this year's round up, I did sneak in a few recipes from favorite classics cookbooks in my collection, but there's a nice representation from books that came out in 2009. Included are a few guidebooks that I found indispensable, plus I tossed in a couple of cookbooks that I've had my eye on, which are en route, that I'm looking forward to getting dusty with flour, and smudged with butter.
Here's my annual round-up My Favorite Cookbooks from 2009:
Rustic Fruit Desserts by Corey Schreiber and Julia Richardson
I met Corey Schreiber a decade or so ago when he launched a restaurant in San Francisco. Shortly afterward he moved up to Portland to re-connect with the outstanding ingredients of the Pacific Northwest. This best-selling book features everything from a lemon-swathed Blueberry Buckle to Caramel Apple Steamed Pudding with Ginger. But it's the Upside-Down Pear Chocolate Cake that is sitting in my batter's box (or batter box?) to try.
New Flavors of Appetizers: Classic Recipes Redefined by Amy Sherman
I'm the first to admit that when I invite people for dinner, because I live in France, it's easy to stop at the charcuterie for a few slices of country ham or hit the Arab market for a bag of salty olives. But Amy Sherman's book is full of do-able recipes. I'm a bit fixated on her Baked Asparagus, Leek, and Goat Cheese Bites, and as soon as spring rolls back around, I'm going to tackle that one. In the meantime, there's plenty to get me through the winter, like Olives and Feta Marinated in Lemon and Ouzo and Smoky Eggplant Dip with Cumin-Crusted Pita Chips.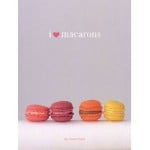 I Love Macarons by Hisako Ogita
I get so many inquiries about macarons that I had to compile a post of the best advice out there. (Making French Macarons.) But this little book, in English, promises a fool-proof method of making the little devils. Because of their popularity, I did a special write-up of I Love Macarons!, which offers more details about the book.
Chez Panisse Desserts by Lindsey Shere
I dislike questions about desert islands and being shipwrecked. But if I had to choose three cookbooks I couldn't live without, this is one of them. Lindsey's caramelized Chez Panisse Almond Tart is worth tackling in the kitchen. Because my copy is still somewhere between San Francisco and Paris (and it has been for about five six years now), I got a vintage copy (shown) when I was back in the states this year and now can refer to it often. I have a vintage edition with the Wayne Thiebaud cover and it's almost too good to use. Almost.
Hungry for Paris by Alexander Lobrano
Yes, there's lots of information floating around, online and in print, about where to eat in Paris. But as far as I'm concerned, the buck stops with Alec Lobrano. Hungry for Paris is his tasty guide to 102 of the best restaurants in Paris, many of which he discovered while being the Paris correspondent for Gourmet for over a decade. But more than just a guidebook, Hungry for Paris tells the story behind the restaurants and bistros of Paris, not just about what's served up on the plate. I thought I'd use this book primarily as a reference, which I do, but I first devoured it curled up on the sofa. Even if you don't live in Paris, you can cozy up in a big chair and savor the best food and restaurants in Paris, comfortably at home.
Getting Americans to unleash our firm grip on measuring cups and spoons isn't easy, but this book is a convincing argument that cooking can become more improvisational if you realize that much of cooking and baking comes down to ratios. I made a batch of Michael's Pickled Green Peppers that now have valuable real estate in my refrigerator. And I thank him every time I reach into the jar and pluck one out. Next up for me are Parisian gnocchi, since I didn't have much luck with my own attempts.
The Vineyard Kitchen by Maria Helm Sinskey
Maria is one of the Bay Area's most accomplished chefs and this now-classic book features seasonal menus from simple to sophisticated. Her Apple Spice Cake was a treat that disappeared quickly around here. Due to popular demand, I brought some along on my Thanksgiving trip to Barcelona, and it was the perfect morning pastry before we began our in-flight "entertainment" (ie; the wine-tasting). The book is well-written and filled with simple, home-style dinners and desserts. Which is why this The Vineyard Kitchen continues to be a favorite of mine.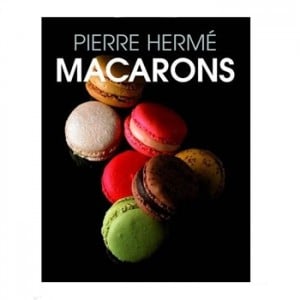 Macarons by Pierre Hermé
One expert that I will rely on is Pierre Hermé, the master of French pastry. His book, Macarons, covers the subject exhaustively. I made his Ketchup Macarons, which were shockingly not-too bizarre. Now in English, this book is for serious macaron-makers who will appreciate the step-by-step photos and special techniques of Chef Hermé to achieve macaron perfection.
A Platter of Figs by David Tanis
I made David Tanis' Spinach Cake, which was a healthy-looking slab of green, a nice side-dish to a slice of rosy ham. Although the recipes tempt, it's David's writing and stories of his time divided between Paris and the Bay Area (where he's chef at Chez Panisse for 6 months out of the year), that really are illuminating. Oh, and the photographs by Christopher Hirsheimer, who took the pictures in The Great Book of Chocolate, are as delicious as the recipes.
Cuisine Niçoise by Jacques Médecin
Niçoise cuisine is a little more than just drizzling olive oil on everything, or calling something a salade Niçoise that bears little (or no) resemblance to the real thing. I made a couple of trips down to Nice this year, including learning how to make Socca, and another to learn how to water ski. You probably won't be pounding stockfish to tenderize it with a wood mallet (after keeping it under flowing cold water in your sink for eight days…plus the recipe calls for "4 ounces of stockfish guts"), but Ratatouille and Pan Bagnat, a sandwich filled with raw vegetables and lots of olive oil, are not only do-able, but require a little less fortitude. I was happy to discover this classic on Niçoise cuisine, written by the former mayor of Nice, translated into English.
The Sharper the Knives, the Less You Cry by Kathleen Flinn
Coming to Paris to study professional cooking isn't easy—trust me. The rules and language are bound to trip you up. But Kathleen Flinn persevered at the famed Cordon Bleu Cooking School, then rewarded us with her tale. Recipes are included and top off this tale of love…and lobster-killing, in the city of light.
Clotilde's Edible Adventures in Paris by Clotilde Dusoulier
Because I'm nosy, whenever I run into people on vacation here who are especially interested in food, I ask them which books they find helpful on their trips to Paris. Those who want to scratch just beneath the surface of the city invariably cite Clotilde's Edible Adventure in Paris as their guide. Aside from listings of some classic bistros, some of the new up-and-coming restaurants get their moment, and visitors (and residents, like me) will also appreciate les bonnes addresses for putting together a lovely picnic, taking a cooking class, or uncovering where to get the best bánh mi (Vietnamese sandwich) in Paris.
A week doesn't go by when I don't refer to this book. Picture-perfect shots of hundreds of French cheeses, this is an invaluable reference for anyone who is interested in les fromages. This is my go-to book when I have a question about French cheese. It is, as they say, le must.
The New Taste of Chocolate by Maricel E. Presilla
Written by one of the leading experts on chocolate, Maricel Presilla's lovely book,
The New Taste of Chocolate, takes us beyond the wrappers and through the jungles to show us how cacao beans are cultivated and harvested. Then it's to the factories and chocolate shops to show us how luscious chocolate is formed and molded into all sorts of confections. This revision of her now-classic book includes recipes from an international galaxy of chefs, from Dark Milk Chocolate-Coffee Crème Brûlée, to a savory Mayan Turkey Stew with Cacao and Chiles.
The Tenth Muse by Judith Jones
It's easy to find online reviews annoying. For example, I read one about The Tenth Muse that accused Judith Jones' lovely memoir of "name dropping". Excuse me if I'm wrong, but considering most of us would know who Julia Child, Madhur Jaffrey, Marion Cunningham, Lidia Bastianich, Edna Lewis, and Marcella Hazan are (and Anne Frank), she has every right to toss their names around. If anyone has bragging rights, it's Judith Jones. This classy memoir of a life dedicated to coaxing the best possible books out of these authors. I enjoyed her writing about life in Paris decades ago, which I couldn't help with contrasting the modern of Paris today. A great read from a terrific editor.
The Steamy Kitchen Cookbook by Jaden Hair
As an American living abroad, surprisingly, when I look for "comfort" foods, I turn to Asian dishes. Sushi, Korean banchan, Vietnamese beef in lot leaves, and Japanese noodles all make me feel right at home. Perhaps it's from being from San Francisco, a city with a wide, vibrant Asian community that's pretty well-integrated. Although I was privvy to seeing the very first copy, I reluctantly had to hand it back. So I'm going to be picking up my own copy of The Steamy Kitchen Cookbook by Jaden Hair on my upcoming trip, which has gotten rave reviews, and I can't wait to join the chorus.
Pure Dessert by Alice Medrich
Even though I never won an award, Alice Medrich has won plenty. And when I made her White Chocolate and Sour Cherry Scones, it's easy to see why she's such a champion. Studded with big chunks of gooey white chocolate and nippy dried sour cherries, they were a bit breakfast hit at my table. In Pure Dessert, Alice uses ingredients like whole wheat flour and cocoa nibs to create a whole new kaleidoscope of desserts. I'm still gorging on her Fruitcake Bars, too. Gorgeous photographs capture the simplicity of using a far-reaching arsenal of ingredients to create a singularly beautiful sweets.
A Homemade Life by Molly Wizenberg
You likely know Molly from her lovely blog, Orangette, but there's only so much you can tell in a blog, until the story bursts from the screen and needs to be told on the page. In A Homemade Life, you can dive in and read her story in a comfy chair, from the highs and lows of living in Paris, to finally landing in Seattle with the man of her dreams. Recipes round out the book, but the real story is in her vignettes of life, each chapter with a delicious ending as a bonus.
The Foodie Handbook by Pim Techamuanvivit
When I started blogging, there were just a handful of bloggers. Pim Techamuanvivit of Chez Pim was one of the first out of the gate and helped define the genre of food blogging. Her book, lavishly photographed, is her first foray into helping others find their inner "foodie" with aplomb. I'm interested in trying her version of the No-Knead Bread and her now-famous version of classic Pad Thai.
Baking for All Occasions by Flo Braker
If you've ever had the pleasure of baking from one of Flo Braker's books, as I did when I made the Pain d'épices from Baking for All Occasions, you'll find the recipes and techniques so well-described it's like having Flo right there in your kitchen. Since that's next to impossible, as she can't be everywhere, this book is a gift to all home bakers. Thick with recipes, like Banana-Coconut Upside-Down Cupcakes and Peanut Butter Crunch Cake, you'll be singing her praises too. I have so many recipes bookmarked that the book weighs twice what it originally did.
Local Flavors by Deborah Madison
I'm mostly a sweets kinda guy, but Deborah Madison takes us on a tour of farmers markets in America in Local Flavors had me chopping onions and clipping fresh thyme to make her Herbed Ricotta Tart. Inspiring stories that tell of the resurgence of local farm fare in American, Local Flavors is packed with recipes to help you make the most of the harvest. I got a sneak previous of Deborah's next book, Seasonal Fruit Desserts, and I liked it so much, I gave it a high praise in advance for the book jacket.
Secrets from My Tuscan Kitchen by Judy Witts Francini
This hand-written collection of Tuscan recipes from long-time resident, as Judy says, "Spend more time shopping, less time cooking!" illuminates her philosophy of starting with good ingredients then making them shine in simple presentations. Her Panna Cotta got surrounded with fresh summer berries, a I made it in just a few minutes. I riffed her Sweet and Sour Onions in The Sweet Life in Paris, which were so good, I thought them calling attention to them outside of Italy's borders.
The Art and Soul of Baking by Cindy Mushet
Huge and comprehensive are the first words that came to mind when flipping through a copy of The Art and Soul of Baking by Cindy Mushet. I made her Peanut Butter Cookies with Salted Butter Caramel, which were even better than they sounded. (Of course, the chocolate drizzle didn't hurt, either.) All bakers will appreciate the copious step-by-step photos, too.
Baked by Matt Lewis and Renato Poliafito
I didn't think the authors would mind when I added Altoid mints to their infamously-rich Baked Brownies. Their first book, Baked, is almost as good as a trip to their Brooklyn bakery, which I haven't been to. And now, I can't stop thinking about making a special trans-Atlantic trip just to taste it all. I mean, Sweet and Salty Cake? Pumpkin Whoopie Pies? I'm packin' my bags…
The Craft of Baking by Karen DeMasco and Mindy Fox
Karen DeMasco was the pastry chef at Craft and aptly-named The Craft of Baking is her first book. I churned up her Pumpkin Ice Cream, which was such a popular treat at our Thanksgiving table, that I almost wanted to take credit for the recipe myself.
This book has been popping up on lots of Top Ten cookbook lists for the year, and with recipes like Berry Brioche Bread Pudding (with a very unusual brioche recipe from Pierre Hermé…baked in cans!) and Pear & Concord Grape Crisp with Marcona Almond Streusel, the combination of homey and sophisticated desserts will certainly make 2010 a little sweeter for bakers everywhere.