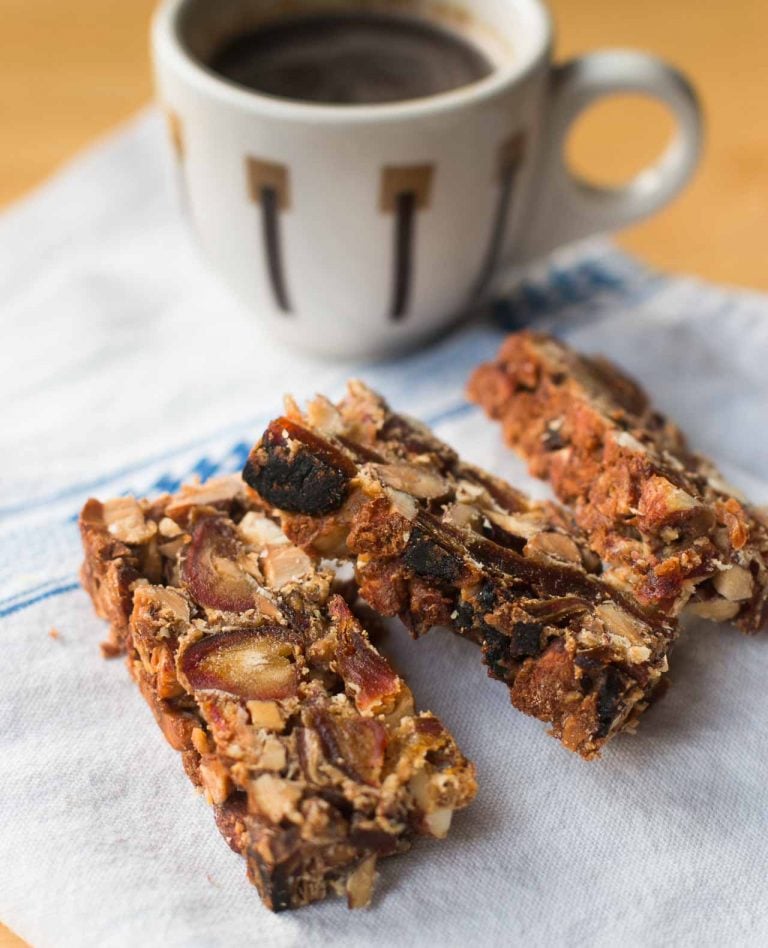 I've been making these Fruitcake Bars more and more as the holidays approach. Not only are they incredibly simple to put together, unlike other fruitcakes, these really do taste great.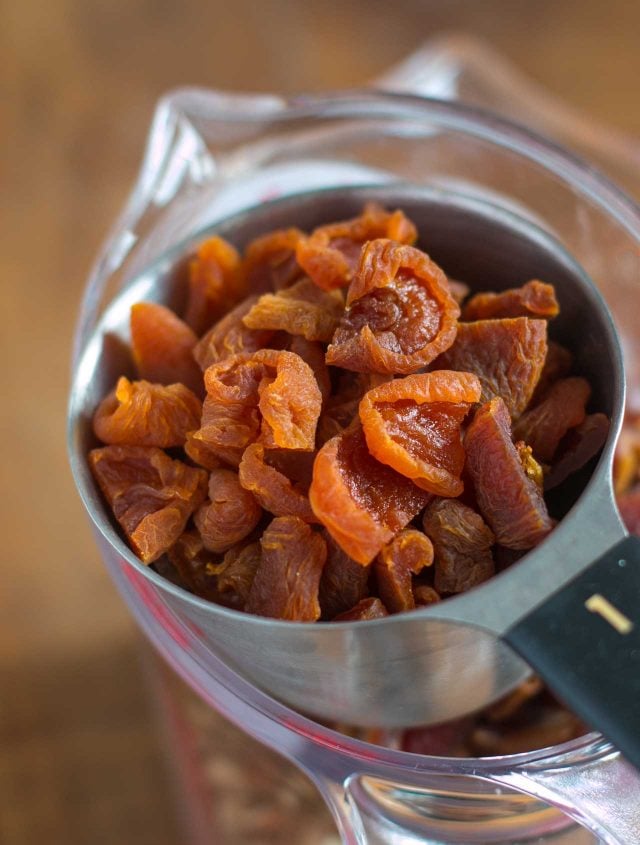 They can be made up to a week in advance, which will undoubtedly help alleviate holiday stress. It's from my archives but thought it worth sharing again since folks enjoyed them so much at a recent Paris book event (and wine-tasting), and because the baking season is quickly approaching and it's nice to have a recipe for a very easy-to-prepare dessert or snack.
These Fruitcake Bars, which are adapted from Alice Medrich's wonderful book Pure Dessert, don't have any icky green cherries or other inedible oddities in there. So you don't have to worry about people giving you funny looks when you offer them a slice.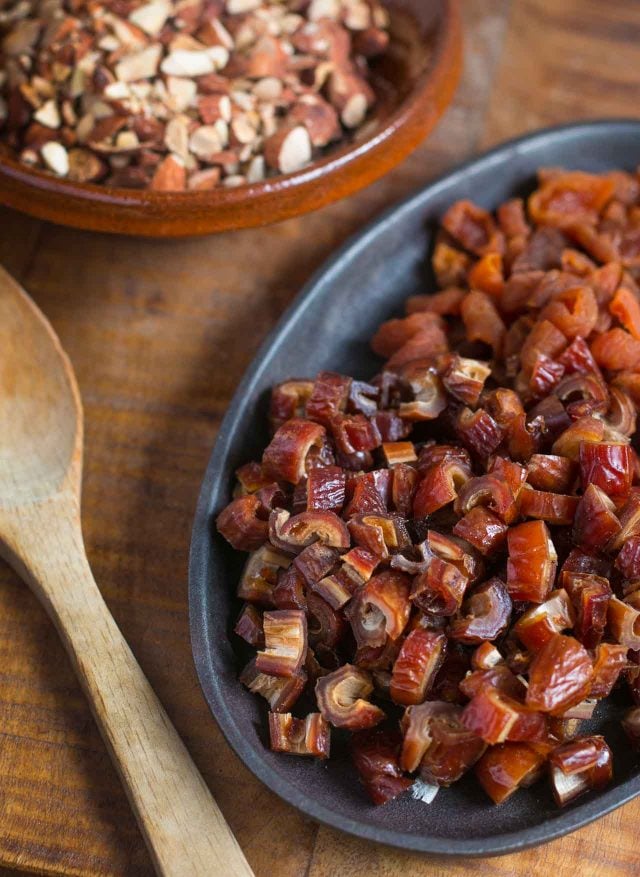 They're packed with lots of healthy dried fruits and nuts, and are one of those great desserts to make when you don't feel like going shopping, since you're likely to have these ingredients on hand. There's no butter either, so they keep for quite some time and could easily to filed under 'low-fat' recipes, so you don't have to feel bad when you polish off the whole pan in one afternoon. But they're so good, they really deserve to be shared.
And if you have small loaf pans, or other cake molds, the batter can be used to make individual cakes, which make great host or hostess gifts. I should know, because I already gave quite a few away already!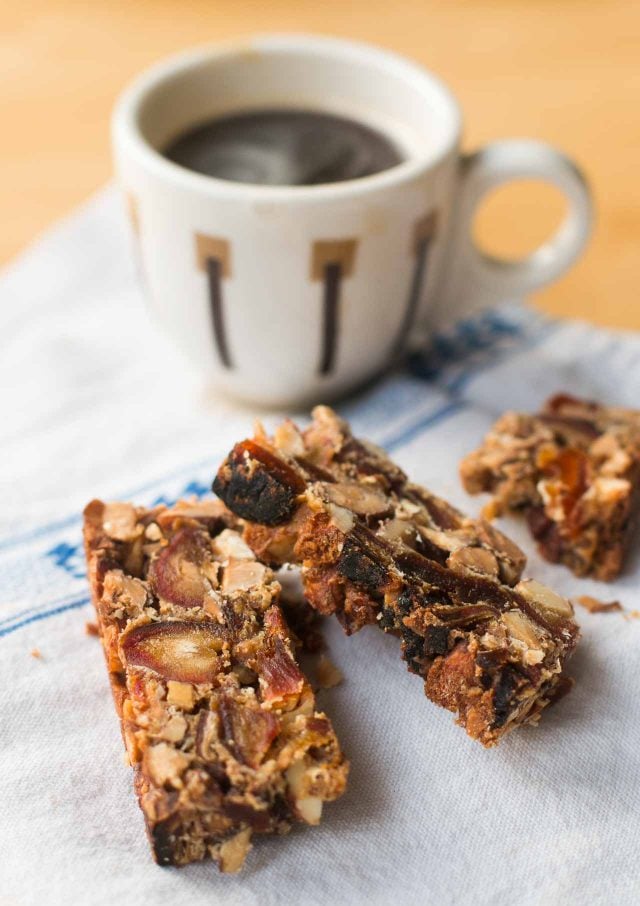 Fruitcake Bars
Adapted from
Pure Dessert
by Alice Medrich Feel free to use any friendly combination of dried fruits that strikes your fancy in these "Friendship Bars". The dates really do make the recipe, but I've tossed in a scoop of dried sour cherries or cranberries, or
candied ginger
as well, with great results. Whatever you do, stick with the quantities below when swapping out other dried fruits and/or nuts. For those of you who are gluten-free, I imagine you could substitute another starch for the flour, but haven't tried it. So if you do, please feel free to leave results in the comments. And if you decide to bake these in individual molds, increase the batter according to the capacity of the molds, and omit lining them with foil and just use non-stick spray.
6

tablespoons (50g)

flour

1/8

teaspoon

baking soda

1/8

teaspoon

baking powder

1/4

teaspoon

salt

6

tablespoons (80g)

packed

,

light or dark brown sugar

2

cups (230g)

walnuts

,

almonds, or pecans, toasted and coarsely chopped

1 1/2

cups (170g)

dates

,

pitted and quartered

1

cup (110g)

dried apricot halves

,

preferably from California, snipped in half

1

large egg

1/2

teaspoon

vanilla extract
Preheat the oven to 325ºF (160ºC) and position the rack in the center of the oven.

In a large bowl, toss together the flour, baking powder, baking soda, and salt. Add the brown sugar, walnuts, dates, and apricots. Use your fingers to mix the fruit, separate any pieces sticking together.

Beat the egg and vanilla in a small bowl, then mix it with the fruit and nut mixture until everything's coated with the batter. Spread the mixture in the baking pan and press gently to even it out.

Bake for 35-40 minutes until the top of the bars are golden brown and has pulled away just-slightly from the sides of the pan. Cool the bars in the pan, then lift out.

To cut the cooled bars, use a heavy sharp knife, such as a bread knife, for ensuring neat, clean slices.
Notes
Storage: The bars can be stored in an airtight container at room temperature for up to a week. Individual cakes can be wrapped in plastic.