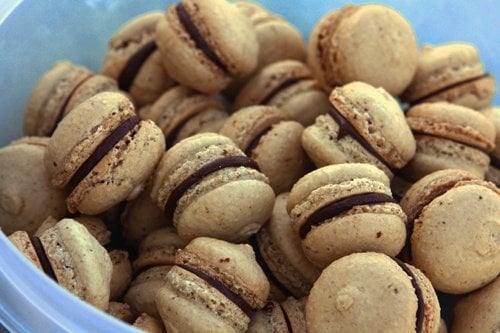 For some reason, the world went a little nuts for Parisian macarons in the past year and everyone, from New York to New Delhi, seemed to be fascinated by these little sandwich cookies.
Notice that I said "Parisian" macarons, since you won't find these too far outside of Paris. Folks in the rest of France make more traditional macarons, made from a simple meringue with sugar and nuts folded in, then baked until crispy. Parisian Macarons, as most of us know them, are said to have been invented at Ladurée, and they claim to sell 12,000 of them daily.
When I Love Macarons! came out this year, the first run sold out immediately and the publisher scrambled to print more copies. Solid proof of the popularity of macarons, for sure. The book is a translation from a Japanese edition, written by pastry chef Hisako Ogita. It's a slender volume, but has plenty of full-color photos and takes us step-by-step through the process of making macarons.
Especially helpful is a great page with descriptions of troubleshooting tips, including pictures of common failures and how to avoid them. Bakers who've had a few ups and down making macarons would find this information of particular interest.
I am not exactly sure why so many people want to make macarons. I usually tell them—"Come to Paris!" and buy them here. They're not really something people would consider making at home: like baguettes and croissants, you'll find them at many neighborhood bakeries and pastry shops, and even in the frozen food department of the grocery store. It's like making your own hot dog buns if you live in America. It's just something most people don't do.
But inquiring minds want to know, and several readers asked me what I thought of this book, which I included in my end of the year round-up of notable books. Once my copy arrived in the mail, I was anxious to get started.
The book is basically a few master recipes with variations. A few people commented that the book is low on recipes and high on style, which is a fair comment. But there's about thirty variations on the two master recipes, plus step-by-step color photos of each step of the process. So for the relatively low cover price ($14.95 list), I think it's worthwhile for those interested in making macarons.
The book was originally produced in Japan and is…well, very Japanese. When I showed it to Keiko, as she flipped through the pages, that was the first thing she noted as well. That means you can expect quite a few pictures of boxes of macarons tied with string, or a few wayward macarons accompanied by phrases like, "Crispy crust!" I find them cute, but I'm a sucker for anything food-related that's Japanese.
There's a few oddities in the book, that I'd chalk up to unsuccessful translations. In the opening of the book, it says to "…use medium-size eggs", although the recipes call for large eggs. And that if you want, you can bake your macarons in a "1500-watt toaster oven." To be honest, I'm not sure how many people plan to bake two dozen macarons in a toaster oven.
Under ingredients you'll need, it says to use powdered sugar that doesn't have cornstarch added, which the author notes can cause the macarons to crack. Readers are advised to find one that contains 'oligosaccharide' which, as someone who's baked professionally for a few decades, had no idea what that was. I'm wondering why they don't just tell you to make your own powdered sugar in a food processor. (Puliverize it until it's powdered.) I used regular powdered sugar, with cornstarch, and had no problems.
Some of the flavoring amounts raised an eyebrow. I confess I didn't make this variation, but one teaspoon of ground hazelnut powder would likely not flavor a few dozen cookies. And the ganache filling I made was quite runny and I added twice as much chocolate, and a pat of salted butter, to thicken it up.
Lastly, when I read through the basic macaron recipe, there were pointers (and pictures) about mixing the ingredients in the whipped meringue a few steps before you even begin whipping the whites. I would've liked it in succession with the other photos and steps. As it was, I thought I was missing something and had to re-read it a few times.
Since I write cookbooks, I'm chalking these quirks up to glitches in the translation and perhaps layout errors. And often authors aren't in control of certain decisions, unfortunately. But still, I found the book utterly charming, but do wish there was a bit more oversight and these things were caught. Mine was a first edition, which sometimes contain "recipe gremlins", as cookbook author Maida Heatter calls them, and hopefully they were rectified in subsequent editions.
I decided on coffee macarons, and made them following the recipe and techniques exactly, from the grinding and double-sifting of the almond powder, to the macaronnage, the mixing of the ingredients into the whipped egg whites. The photos and descriptions were extremely helpful, and those into exactitude will be happy to know that Ogita tells one how many times to mix the batter once the almond meal mixture is incorporated.
And the proof is in the pudding. Or in the macarons, should I say. When I checked mine in the oven at the halfway mark, i was delighted to find that they'd risen nicely and each had a perfect pied (foot), as promised. I couldn't wait to fill them, which I made with some Japanese chocolate I had on hand, to keep in the spirit of the book.
Aside from the variations in flavors you can create with the master recipe, the book also lists topping suggestions, such as cocoa nibs and black pepper, and various fillings, like caramel, rose water, and matcha, accompanied by a nifty color photo of each.
I Love Macarons! also has suggestions for gift wrapping and presentations, plus a few recipes for using up those leftover egg yolks.
In spite of some of the awkwardness, I appreciated the way the author explained each step as you go, with instructive color photos accompanying each step of the process. And when I was done, I realized the real reason one shouldn't make macarons at home: It's simply not safe being home alone with a few dozen chocolate-filled macarons.




Related Links and Posts
Pierre Hermé's Ketchup Macarons
Pistachio and Grapefruit Macarons (Canelle Vanille)
Making French Macarons: Instructions and Recipes
Macarons au chocolate ganache montée Jivara thé rose litchi (Mercotte, in French)
Coconut Chocolate Macaroon Recipe
David Lebovitz Interview on Macarons (Wasabimon)
Almond Meal/Almond Flour (Bob's Red Mill)
Matcha and Peach Pâte de Fruit Macarons (Tartlette)
Macaron Pops (Bakerella)
I Heart Macarons (Eat Me Daily)
How to Make Macarons (Serious Eats)
Do It Yourself Macarons (Dorie Greenspan)
(Please note that if you do have questions about macaron-making, you'll likely find the answer at Macarons Tips & Techniques.)