French Chocolate Macaron Recipe
One of the most vexing tasks some bakers come across is making the perfect Parisian macaron, those ethereal little domes of almond meringue seen all over Paris, often filled with buttercream, ganache, or a fruity filling of jam. Although the original macaron didn't have filling, but were simply fused together while warm.
So I decided to create two recipes for chocolate macarons: one with an Armagnac-scented prune filling, and another with the a pure, dark chocolate filling.
Tender, picture-perfect macarons are not easy to make. Les Macarons are all about technique, rather than about just following a recipe. Armed with a good recipe, almost anyone can make a decent brownie. You just mix, pour, and bake. I'm also a firm believer in cultural divides; there are some foods from other cultures are best left to their home turf. I've never had a great Madeleine in America and if you've ever had a 'croissan-wich' in the US, you know what I mean.
Using my anti-globalization stance as an excuse, I've never tackled macarons until I moved to France. But here I am and I have no excuse.
I phoned my friend Rob who worked at Fauchon, and he warned that the batter for perfect macarons needs to be folded just-so. One extra fold, and it's all over. Not enough, and you won't get that little foot. And he also advised that the chocolate macarons were the most difficult of all to get right But since those are my favorite, I was determined to get them right, no matter how many batches I had to make.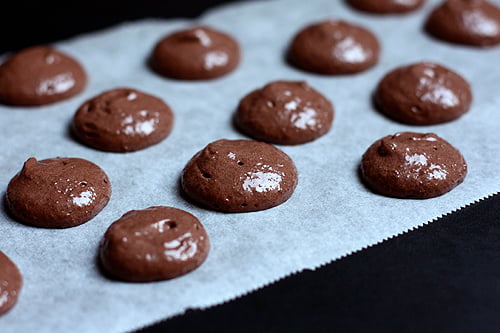 Curiously, many recipes warn to let the piped cookies sit for two hours before baking to develop a shell. Testing that theory, I baked one tray right away which rose nicely but didn't have the perfect 'foot'. Two hours later, I baked the second baking sheet, the same mixture, the only difference was letting it sit. The second batch rose and had a nice little 'foot' around each.
I spoke with my friend from Fauchon again, who said, "Let them sit for a few hours? No way, we just popped those suckers in the oven right away."
So I tried another batch, baking them off as soon as I piped them out. This time the first batch had the perfect 'foot' and the second batch didn't. Then I made yet another batch, where I tried rapping the baking sheet hard on the counter top to flatten the batter before baking, and that first batch looked great with little 'feet' but the second batch I baked later formed little domes.
Determined, another batch followed. I took the advisement of Pierre Hermé who says to begin baking macarons at a very high temperature, then turn it down quickly. That caused all the macarons to crack (ouch!) which I knew could be alleviated by using double-baking sheets but I didn't feel like trying it again and washing all those dishes.
Anyhow, to make a long story short(er), here's the successful recipe I came up with after seven tries, which are perfect. You can choose from either filling.
Chocolate Macarons
Macaron Batter
1

cup (100g)

powdered sugar

1/2

cup

powdered almonds (about 2 ounces, 50g, sliced almonds, pulverized)

3

tablespoons (25g)

unsweetened Dutch-process cocoa powder

2

large

egg whites

,

at room temperature

5

tablespoons (65g)

granulated sugar
Chocolate Filling
1/2

cup (125ml)

heavy cream

2

teaspoons

light corn syrup

4

ounces (120g)

bittersweet or semisweet chocolate

,

finely chopped

1

tablespoon (15g)

butter

,

cut into small pieces
Prune Filling
15

medium prunes (pitted), about 5 ounces (150g) prunes

2 1/2

ounces (70g)

best-quality milk chocolate

,

finely chopped

2

tablespoons

Armagnac
Preheat oven to 350º F (180º C).

Line two baking sheets with parchment paper and have a pastry bag with a plain tip (about 1/2-inch, 2 cm) ready.

Grind together the powdered sugar with the almond powder and cocoa so there are no lumps; use a blender or food processor since almond meal that you buy isn't quite fine enough.

In the bowl of a standing electric mixer, beat the egg whites until they begin to rise and hold their shape. While whipping, beat in the granulated sugar until very stiff and firm, about 2 minutes.

Carefully fold the dry ingredients, in two batches, into the beaten egg whites with a flexible rubber spatula. When the mixture is just smooth and there are no streaks of egg white, stop folding and scrape the batter into the pastry bag (standing the bag in a tall glass helps if you're alone).

Pipe the batter on the parchment-lined baking sheets in 1-inch (3 cm) circles (about 1 tablespoon each of batter), evenly spaced one-inch (3 cm) apart.

Rap the baking sheet a few times firmly on the counter top to flatten the macarons, then bake them for 15-18 minutes. Let cool completely then remove from baking sheet.
To make the prune filling:
Cut the prunes into quarters and pour boiling water over them. Cover and let stand until the prunes are soft. Drain.

Squeeze most of the excess water from prunes and pass through a food mill or food processor.

Melt the milk chocolate and the Armagnac in a double boiler or microwave, stirring until smooth. Stir into the prune puree. Cool completely to room temperature (it will thicken when cool.)
To make the chocolate filling:
Heat the cream in a small saucepan with the corn syrup. When the cream just begins to boil at the edges, remove from heat and add the chopped chocolate. Let sit one minute, then stir until smooth. Stir in the pieces of butter. Let cool completely before using.
Assembly
Spread a bit of batter on the inside of the macarons then sandwich them together. (You can pipe the filling it, but I prefer to spread it by hand; it's more fun, I think.)

I also tend to overfill them so you may or may not use all the filling.

Let them stand at least one day before serving, to meld the flavors.

Store in an airtight container for up to 5 days, or freeze. If you freeze them, defrost them in the unopened container, to avoid condensation which will make the macarons soggy.
Recipe From:
For further information, troubeshooting, and tips about making macarons, visit my post Making French Macarons.
Related Posts and Recipes
Pierre Hermé's Ketchup Macarons (Recipe)
The Cookie That I Couldn't Eat
I Love Macarons (Recipe Book)
10 Insanely Delicious Things You Shouldn't Miss in Paris
Sweet & Stinky: White Truffle Macarons
Chocolate-Coconut Macarons (Recipe)