Favorite Cookbooks of 2011
As 2011 draws to a close, I look at the stack of books that I've collected on my bookshelf (and piled up on my floor…and beside my bed, and stacked in my kitchen…) and wonder how I'm going to cook and bake from them all. I just can't help it, though—I love cookbooks. And these are the books that I couldn't resist tackling in 2011, although a few are filled with bookmarks intended for future dinners and desserts, and blog posts. Some are traditional books bound with nice paper, filled with recipes, others are food-related books; memoirs and remembrances. And there are a few entries I've chosen that push the boundaries of traditional text, electronically and otherwise.
This year, I found myself drawn to cookbooks with a story to tell, not just mere collections of recipes. Books with a distinct point of view by an author, and essays which took me beyond the page and into their lives, which veered in some rather compelling directions. A few of the books were chef's memoirs, which I did include even though they don't have recipes. But something about them added to the canon of cookery books I have and referenced cooking in ways I wasn't expecting.
Because I live abroad and have limited storage space (and deliveries can be a challenge), I wasn't able to procure all the books that I wanted to. But this year saw a big uptick in publishers – and readers – jumping onto the e-book bandwagon. While not everyone wants to cook from a computer screen, one advantage is that foreign cookbooks, or out-of-print titles, may have new lives and can downloaded anywhere in the world within seconds.
I'm still a big fan of printed books, but this year was particularly rich for good cookbooks in a variety of formats and I wasn't able to get my hands on all the ones that I was interested in. So at the end, I listed a few books that are on my wish list, by friends or cooks that I admire. And I hope to get a look at them in 2012.

The Art of Living According to Joe Beef
I wasn't quite sure what to make of this book. Were these guys for real? The whole concept of some dudes "building a tiny restaurant in the middle of nowhere" had a vague whiff of hipster-cooking in Montreal. But reading the pages, these guys are the real deal and the cooking looks and sounds wonderful at the "tiny restaurant in the middle of nowhere", which has gotten major accolades from everyone I know who's been there. Fortunately, the book is nearly free of expletives and this isn't just a group of "bad boy" chefs in plaid (especially since one is a woman). It chronicles the story of the likable owners who went with their instincts, put out great food, and found success in ways as unconventional as this book.
The Art of Living According to Joe Beef: A Cookbook of Sorts also gets my vote for the best cookbook subtitle of 2011. There are a few non-traditional recipes as well as a stunning Marjolaine cake, plus a chapter on cocktails, for good measure. This may be my favorite all-around cookbook of the year.

This compilation of letters between Julia Child and Avis Devoto chronicles the emergence of Child's career as a cookbook author, who struggled to introduce Americans to French cooking. As Always, Julia is a window into how it came to be, and what effort went into writing one of the most important cookbooks of our generation by a multi-faceted woman who came to be beloved not just by cooks, but by all of America. We all watched her breeze through classic French recipes without a whit of trepidation and this book illuminates how a pen-pal rescued her book and helped get it into our hands.

Having worked at Chez Panisse for a considerable length of time, whenever we had a special menu planned, Patricia Curtain would arrive just before mealtime with the most beautiful menus designed and printed specifically for the dinner. If I was lucky, I'd get one, and consequently I have a nice collection of them squirreled away. (I brought my very favorite one to Paris with me, with a head of red oak-leaf lettuce on it, which still leans against the wall in my kitchen.) For those who'd like to take a peek at some, Menus for Chez Panisse is a compilation of some of her best menus and now anyone can own them as well. Reading through the book was a fond souvenir of what made Chez Panisse so special over its forty-year span, celebrating a number of events – from a New Year's Eve dinner featuring peacock ravioli, to lunch for the Dalai Lama, who surprised everybody by requesting roast lamb from the menu.
Joe Yonan is the cheerful food editor of The Washington Post. But like many of us, although he's around food all day, when he gets home – if he's by himself – he needs to get dinner on the table. Although the duck tacos with plum sauce from Serve Yourself sounded good, corn tortillas aren't plentiful in Paris, so I made pizza with potatoes and blue cheese using his method for making individual pies. This book proves dining alone can be fun…and you don't have to share!

This reissue means that one of my all-time favorite baking books is back in print. The Italian Baker, Revised covers a range of Italian cookies, breads, and cakes, and is the classic volume on Italian baking. I've used this book for decades, and made Carol Field's Zaletti cookies; buttery rounds of cornmeal dough (which is hard to resist eating raw), with bits of dried fruit in them. Tiny almond paste macarons with a candied Amarena sour cherry in the middle and swirls of Crumiri cookies are highly recommended recipes as well. Every baker should have this book in their collection.

Tender: A Cook and His Vegetable Patch
A chocolate cake with beets was just one of the many inspiring recipes from Tender by Nigel Slater. Using his garden as inspiration, there are just a few sweet recipes but plenty of generous salads, stews, and ideas for side dishes and dinners composed of earthy fresh vegetables. Although I was jealous I don't have a garden like Nigel Slater, I do have an oven and a mixer, and loved the simplicity of this cake, presented with just a smear of crème fraîche and a sprinkling of poppy seeds. It's a stroke of baking genius, and a cake I'll be making again…with beets from my local produce vendor.

Grant Achatz has always pushed away the edges of what cooking means, and he broke through publishing boundaries releasing his first e-book based on his evolving-concept restaurant, Next. In its first incarnation, which changes entirely every three months (it's currently "childhood cooking classics"), he took on the classic French cuisine of August Escoffier. (Which brings up an interesting question – why doesn't some young chef in Paris trying something like this?) You may not be able to tackle all the recipes in Paris 1906 due to ingredients that even Escoffier didn't know about, but the photography is excellent, and the recipes for updated classics like Duck Leg Confit and Fennel Shortbread are certainly do-able.

40 Years of Chez Panisse: The Power of Gathering
One of my favorite moments of the year was returning to Chez Panisse for its 40th anniversary. Few restaurants last even one-quarter of that time and the fact that it's still going strong, and continues to be on the forefront of promoting sustainable, local sourcing, and encouraging the younger generation of be aware of where food comes from, is the story behind this book.
40 Years of Chez Panisse chronicles everything from Alice Waters protesting the war at UC Berkeley in the 60s (love the picture!), to the current crop of cooks gathering behind the restaurant to discuss what to do with the crates of produce that arrived from nearby farms. This volume bookmarks a moment in American cooking where many of us finally decided to change the way we shop and eat, and to search out cleaner, better alternatives.

Tweaking what we already know about cooking, Aki Kamozawa and H. Alexander Talbot of Ideas in Food, surprised me with little things that I never thought of. I've bookmarked their baked chocolate mousse for all of 2011, and I vow in 2012 to tackle it. But I enjoyed reading this book cover-to-cover, which dispels a lot of cooking myths, and offers interesting twists to dishes we thought we already knew.

Although I spend a lot of time hunting down ingredients, I've got nothing on Girl Hunter Georgia Pellegrini. With recipes that call for coot and javelina, she's got me beat. But any book that has the verve to present a recipe for dumplings where the first item on the ingredient list is "1 squirrel, whole or cut into portions" has a certain appeal. (And could anyone ask for a more rockin' cookbook author photo?) This book is delightfully off-beat and I like the fact it's not only unapologetic, but matter-of-fact about the subject. For trigger-happy cooks, this is the book for you.

Even though I've known Nancy Silverton for a number of years, being around her makes me nervous because she's so friggin' talented. We talked about recipe resting once and instead of using established formulas for breads and baked goods, she just keeps going at it until she gets it right. And when Nancy Silverton gets it right, she really gets it right. When she opened Mozza in Los Angeles, a lot of people knew she nailed pizza as well as desserts, judging from the rave reviews. I haven't been to the restaurant, but it's nice to have all the recipes in The Mozza Cookbook, including her famous Butterscotch Budino with caramel sauce and sea salt, which I did eat here in Paris. It was silky and spectacular.

Jeni's Splendid Ice Creams at Home
After a few back-and-forth e-mail exchanges about the nature and science of ice cream (between two ice cream nerds), I was interested in taking a recipe from Jeni Bauer's book, Jeni's Splendid Ice Creams at Home for a spin since she uses an unconventional method of boiling the ingredients with starch and adding invert sugar for her popular frozen desserts. I was happy to dig my spoon (repeatedly) into her super-creamy chocolate ice cream. The added bonus of her method is that there are no eggs used, so for those with allergies, you've got a whole book of recipes ready to churn.

Who doesn't like popsicles? And as fans of the frozen treats know, Mexican Paletas are the best. Spicy pineapple (which I tasted at author Fany Gerson's La Newyorkina stand in New York City) and yogurt-berry are just two of the frozen treats in this book, which inspired me to get off my duff and make horchata, the Mexican rice drink which cooled me down during a particularly hot French summer.

Mastering the Art of French Cooking
Even though she's gone, and she might find it "new-fangled", there's now an electronic edition of the classic Mastering the Art of French Cooking. There are those who aren't convinced that e-cookbooks are going to take over from print editions, but with winning recipes like Blue Cheese Biscuits, I think it's great that Julia Child's recipes continue to live on in an updated format.

I didn't count, but I think I cried three times while reading the very moving Life on the Line. It's not that the book is meant to evoke sentimentality from the reader (I didn't get the feeling that the chef is interested in people feeling sorry for him), but Grant Achatz's story, told in tandem with his business partner Nick Kokonas, had me riveted. Diagnosed with tongue cancer and told he would die, like his cooking, Achatz decided to be adventurous and persevered until he beat cancer, and became who many consider the best chef in the world. (I wasn't able to snag a table on a delicious trip to Chicago this year, but next time, I'm going to call farther ahead than I did.)

For those who have been following her blog, 101 Cookbooks, Heidi Swanson continues her natural path in Super Natural Every Day, with fresh, vibrant, vegetable-based recipes from her kitchen. These are the ones that she makes for friends and family, and in this beautifully photographed book. Flipping through the pages makes me want to move back to San Francisco just to share with her an unconventionally chilled cup of ice cream more often than I get to do.

This is the biggest book on jam-making I've ever seen, from Blue Chair Jam in Oakland, California. Rachel Saunders takes us through every step of how to make jellies, marmalade, and jams, from classics to those that use unusual fruits, such as bergamots, sweet white nectarines & elderflowers, and plums paired with blushing pink pearl apples.

Not only a proponent of French food, but healthy cooking, Patricia Wells gives greenery its due in Salad As a Meal. I made a lovely lunch of her Turkey with lemons, capers, and cornichons, with plenty of leftovers. Although I'm not sure capers count as a vegetable, there's plenty of other green-centric recipes in the book that certainly do.

I read this book cover-to-cover on a trip because I was fascinated by this unvarnished glimpse of what it really takes to make it through life, to a point where you can have children, a successful restaurant, and a husband—yet still not quite have it all. I particularly liked the chapter in Blood, Bones & Butter about where a woman's place in a professional kitchen is, which raised a lot of questions about sexism amongst both men and women. As well as her candid stories, which eventually lead her to an offbeat address in Manhattan, where Prune restaurant continues to thrive, serving food that's not intended to startle, but simply to feel its customers well. And when in town, I'm often amongst them.

The Rancho Gordo Heirloom Bean Grower's Guide
I used Steve Sando's guidebook as inspiration to stew up a big, hearty pot of Chili with Chocolate. I used some of the bags of Rancho Gordo beans, which invariably manage to find their way back to Paris, occupying some of the valuable real estate in my packed suitcase. The Rancho Gordo Heirloom Bean Grower's Guide is more of a guide than a recipe book, so for those interested in the origins of heirloom beans and their cultivation, along with a handful of recipes, there's no better teacher than Steve Sando.

This terrific book was full of stories about those who live, or have lived, in Paris, told from a variety of perspectives. Compiled by editor Penelope Rowlands, she was recently quoted as saying she wanted to present viewpoints from "not the 1% of Paris", and includes stories about being educated in a rigorous school system that doesn't promote creativity nor room for error. Another from a journalist who moves back to the states to raise a family and finds the French system more accommodating to working women. And finishes with an essay by me, which mixes both the positive…and the perplexing. I thought it was very special to find a book on Paris that was this honest and insightful, rather than a collection of stories about how French women ties their scarves, and was compelled to write at length about Paris Was Ours here on the site.

I had a super-duper time at BabyCakes in New York City, Erin McKenna's fabulous vegan bakery, where we had a get-together and even baked up a batch of vegan doughnuts. Her book, Babycakes Covers the Classics, presents gluten-free versions of cupcakes and doughnuts that skip the wheat flour, and processed sugar, but are so good that even my French traveling companion was accro (hooked).
The Art of Eating has long been one of my favorite food reads. This literary magazine is intelligent, sensible, and anything but aloof. I used it when I moved to Paris, following their spot-on dining and bakery addresses, which took me off the beaten path – and each one was a delicious "find." In celebration of its twenty-five years of publishing, Ed Behr releases a book of favorites fromThe Art of Eating in a basic book of standards – with plenty of nods to French classics – a collection of recipes from one of the best food newsletters/magazines being published today.

Asian cooking can often seem intimidating, especially all those folded dumplings, puffy pork buns, and spicy dishes that we love to eat at Chinese restaurants, but look too daunting to make at home. Bee Yinn Low knows her audience due to her popular blog, Rasa Malaysia, so writes recipes that are truly easy in scope, with step-by-step photos to show readers how to roll an egg roll or whip up a batch of won ton wrappers (for those who want to make them themselves.) As a big fan of chow fun (wide rice noodles), I was happy to see a few recipes for them, as well as her "tried and tested" method for making Crispy-skinned Pork Roast in Easy Chinese Recipes. Man, does that look good.

Bursting forth with color and freshness, the recipes in La Tartine Gourmand will delight both fans of her blog, La Tartine Gourmand, as well as new readers looking for recipes swapping out other grains for the wheat, and adding lots of fresh vegetables and fruits in their repertoire. Of course, France plays a big role in Béatrice Peltre's recipes for Île Flottantes scented with lavender and Oeufs en cocotte (baked eggs), jazzed up with smoked salmon and spinach.

Baking with Dorie (app)
Who doesn't want to be baking alongside Dorie Greenspan? Well, now you can with this app for the iPad, which allows bakers to follow her step-by-step through a few dozen recipes in her kitchen. It's exciting to be taken through every part of a recipe with a baking master like Dorie Greenspan on her Baking with Dorie iPad app, and kudos to her for being a pioneer in this medium.

A visit to Sydney meant two weeks of amazing eating. And during that time, I went to Bourke Street Bakery three times during my stay (crazy much?) because it's everything one dreams about in a corner bakery – rustic breads, savory tarts, and buttery croissants to enjoy with great coffee. Bourke Street Bakery: The Ultimate Baking Companion allows you to recreate their impressive pastries at home, just in case a twenty-three hour plane ride seems too far for you to go for a dark chocolate, marshmallow, and raspberry tart or a lamb, harissa, and sausage roll. (In the meantime, I'm going to keep waiting until I get enough miles to head back the bakery…)

My Franco-American roots melded together in Merguez corn dogs from Matt Armendariz's ode to all things On a Stick! There are plenty of party-friendly recipes from a guy who I personally know likes to have fun – and knows how to party! I stocked up on extra packets of skewers to make a few other recipes from this book. Now I just need to get Matt back to Paris for some more stick-y fun.

One of my very favorite moments of the year was an impromptu lunch at Billy Kwong in Sydney, where chef-owner Kylie Kwong invited a group of visiting chefs and friends to lunch. This fireball of a woman grabbed her giant wok, tossed in vegetables, fresh seafood, and chicken, seasoned them all up, and presented us with an outstanding lunch. Just as good was dinner a few nights later and I am thrilled to have many of her recipes in It Tastes Better, a book celebrating sustainable ingredients. Leafing through this book – which is currently on my coffee table, and not because it's too hefty to pick up! – is inspiring and a terrific read, accompanied by pictures of her favorite purveyors in action.

Serious Eats: A Comprehensive Guide to Making and Eating Delicious Food Wherever You are by Ed Levine and the staff at Serious Eats is presented in a clean, graphic format, with lots of personal notes from the team at this comprehensive website which is dedicated to the pursuit of good food. There are places around America to find great breakfasts (a top 25 list), a recipe for southern fried chicken that made me stain the tears of my iPad (I have the e-version of this book) because fried chicken is My Favorite Food in the World, and lots of old-fashioned fun could be had with doughnuts and biscuits from all over the map.
Written like a guidebook with addresses and "best of" recipes for each genre, I suggest someone organize a road trip based on all their lists of the best places to chow down, and if someone drives the bus, I'll seriously be happy to take care of any and all edible leftovers.

I can relate to Lisa Fain, because sometimes I feel like a homesick Texan myself, craving the Tex-Mex flavors and the dishes I love to eat when I hit the Lone Star State. Sour cream chicken enchiladas? Poblano macaroni and cheese? Coffee-chipotle barbecue sauce? Yes, yes, and yes. Like Lisa, in New York, I often wait for care packages to arrive, with the necessary ingredients for south- and just north-of-the-border cooking. But I have a bunch of dates chopped in a bowl on my counter right now (yes, really) destined for a batch of her chewy Date bars.
I was fortunate enough to go to Momofuku Milk Bar, where I tasted Christina Tosi's famous Crack pie, the surprisingly corny Corn cookies (which I loved the most), and the Compost cookies, which have a list of ingredients plucked right from the snack aisle. You'll need to track down a few ingredients that you might not have on hand to give some of the recipes in Momofuku Milk Bar Cookbook a go. If David Chang is the bad-boy of cooking right now, Christina represents the sweeter side of the Momofuku empire.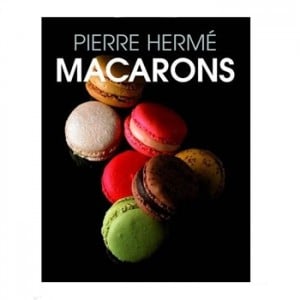 Finally released in English, Macarons by pastry chef Pierre Hermé reveals the secrets to making these sometimes tricky little Parisian treats from the man who is arguable the world's most talented pastry chef. Step-by-step photos plus tips on egg whites and mixing ensure success. I made his Ketchup Macarons, which were…intriguing. But there are virtually all of the flavors that he's known for in here, such as lemon, coffee, and chocolate, plus his signature Ispahan macarons, scented with rose, lychee, and raspberry.
---
I wasn't able to check out these books, which came out this year. But they are by friends, food bloggers, and cooks that I admire, and I hope to add them to my collection in the future.
Short and Sweet by Dan Lepard
Plate to Pixel: Digital Food Photography by Helene Dujardin
Hunt, Gather, Cook: Finding the Forgotten Feast by Hank Shaw
Ruhlman's Twenty by Michael Ruhlman
Odd Bits by Jennifer McLagan
Easy as Pie (app) by Evan Kleiman
The Bonne Femme Cookbook by Wini Moranville
Basic to Brilliant, Y'all by Virginia Willis
Bi-Rite Market's Eat Good Food by Sam Mogannam and Dabney Gough
Essential Techniques by Jacques Pépin
Cook This Now by Melissa Clark
The Fearless Baker by Emily Luchetti
The Food52 Cookbook by Amanda Hesser and Merrill Stubbs
Good Food to Share by Sara Kate Gillingham-Ryan