Sunday Stuff
Global Warming=More Ice Cream
I recently recommend an ice cream maker to one of my friends. It was the model I used to test many of the recipes for my upcoming book, the Cuisinart ICE-50. He then sent me a message that Amazon is currently selling reconditioned models of this machine for just $129!
(That's $270 off the list price.)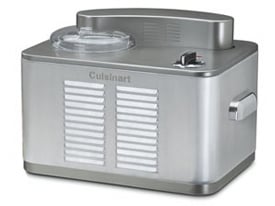 That's an amazing price for an ice cream machine with a powerful built-in freezer. Previously, similar options were Italian ice cream machines that cost four-times that price. So no more jamming your canister in your freezer in advance, smashing that box of fish sticks and pushing further to the back the panopoly of long-forgotten containers of freezer-burned who-remembers-what.
You just press the button and start churning away. I don't know how long this offer will last, so get one while you can. I've been using my daily for months with excellent results (and have the gut to prove it.)
And they make excellent slushy frozen margaritas too…
2007 Bloggies
Congratulations to friends of mine, and of this site, for their nominations for 2007 Weblog Awards and the winners will be announced March 12th.
You're probably wondering what happened to my nomination.

Unfortunately, it was taken away when stories of questionable encounters I had with junior food bloggers were brought to light, and stories of illicit use of ordinary table salt and rumors of frozen fish sticks in my freezer continued to swirl around me. (There were also some photos circulating on the internet of me alledgedly exiting the métro sans slip.) These are only rumors though, and I need to stress, unconfirmed at press time—no guilt is implied.
I can only respond with "No comment", on the advice of my handlers.
I may be headed for rehab as well, which may explain some gaps in blog posts in the near future.
Spring Tour 2007 of Texas, California, and Seattle
I've announced my upcoming tour dates in a recent newsletter and here they are as well. I'll be visiting Texas, Northern California, and Seattle and if you'd like to come to one of my classes and presentations, I urge you to sign up as early as possible since they often sell-out. For some reason, I'm a popular guy. (I think it's the chocolate…or those photos of me not wearing un slip in public.)
Unfortunately I'm unable to visit other cities on this tour as I'll be quite busy for those 3 weeks. And if I planned any more dates, it would cut into my Target®-Time.
And you wouldn't want to deny me that pleasure, would you?
Depending on the school, the classes I'm teaching are Parisian Chocolate Desserts and Making Homemade Ice Cream and Other Treats. More information and registration can be found by following the links provided. So sign up today and there'll be lots of delicious food in your future!
Central Market
June 10 & 11, Houston, TX
June 12, Fort Worth, TX
June 13, Dallas, TX
June 14, San Antonio, TX
June 15 and 18, Austin, TX

Lake Austin Spa
June 16, Austin, TX

Draeger's
June 22, San Mateo, CA

Sur La Table
June 29 & 30, Kirkland (Seattle), WA
June 27, Los Gatos, CA
June 26, San Francisco, CA
If you live in the San Francisco Bay Area (or need to use up some of your miles), you're invited to my Ice Cream Party & Book Signing on Sunday June 24 from 5-7pm, at Ici ice cream shop (2948 College Ave in Berkeley).
Copies of The Perfect Scoop will be available and if you buy one, I'll personally autograph it for you, and you'll get a free scoop of Ici's perfect ice cream!
Dinner With David
Several guests have expressed the desire to get together for a dinner in Paris. So we've put together a night at one of my favorite restaurants in the city, Dinner at Les Papilles.
Chef Bertrand Bluy of Les Papilles will wow us with his market-driven cuisine, and we'll sample of number of their unusual wines which they'll pair with dinner. While we dine in their private wine cave, he'll talk to us about life as a Parisian chef and share his philosophy and opinion of the state of French cuisine today.
E-Mails
I've received a large number of emails from readers asking for information and suggestions for chocolate shops, bakeries, restaurants, and hotels for their upcoming vacations. If you're coming to Paris, I've assembled all of my posts by Categories, which are in the upper left-hand corner of this page for your convenience.
If you search through the archives, you'll find plenty of information for your upcoming trip. However it's difficult to respond to the number of messages requesting that information individually. So please make good use of the postings here on the site, as well as recommendations on the My Paris page. My book, The Great Book of Chocolate, also has an entire chapter devoted to Paris' best chocolate shops with specialties and addresses.
You can also flip through the FAQ's for information about cooking programs and schools, restaurants, and food markets.
Lastly, you may have noticed a pretty little link on this page, which is David's Amazon Shop. I've picked out some favorite things, like bakeware, cookbooks, travel gear, and stuff about Paris that I recommend. I've only put in things I personally use or recommend in there, so take a look around.
There's also previews of upcoming books from Heidi Swanson of 101cookbooks.com and Clotilde Dusoulier of Chocolate & Zucchini, both due out shortly, which I've got on my waiting list and you should put on yours too.
Final Thought For The Week
Why it pays to always be nice to others: