Caramelized White Chocolate Ice Cream Recipe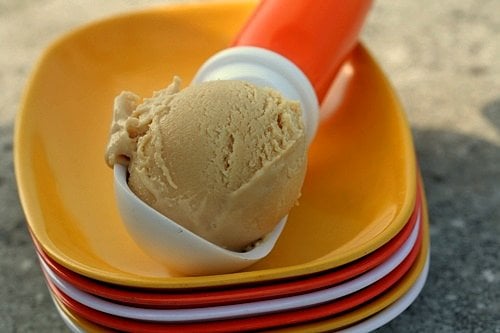 When I gave the terrific recipe for the Caramelized White Chocolate, which I learned to make at Valrhona's chocolate school, I'd hoped that many of you would use it to create your own concoctions. While no one came up with my favorite (stirred into oatmeal!), there was a lot of creativity put forth as people made everything from Caramelized White Chocolate Bars to a spread for a buttery, flaky croissant.
I've listed the ones I found at the end of the post, but I wanted to give the ice cream recipe I've been making this summer.
It's very simple to make and the payoff is that the caramelized white chocolate flavor comes through loud and clear, enough so that if you wanted to serve it with a cherry compote or some sliced and sugared nectarines, the flavor is bold enough to stand up to those fruits.
Similarly, I think this would accompany a chocolate cake perfectly. Or use it to fill cream puffs and douse them with warm chocolate sauce, or drizzled with additional caramelized white chocolate.
This batch got paired with a scoop of frosty-cold Nectarine Sorbet, which I made from the overload of nectarines I couldn't help picking up at the market where the vendors were practically giving them away, since the season is in full swing. Taking advantage of their generosity, and the super-low price, I lugged home two kilos, about 4 pounds, and now have a very full freezer—which is often the case around here.
But even if you have a full freezer of other flavors, this ice cream is one you'll want to make room for. Just don't expect it to last very long in there. As you can see, I've already made a sizable dent in mine.
Caramelized White Chocolate Ice Cream
Make sure the caramelized white chocolate is warm when you mix it with the cream. You can reheat it in a bowl set over a pan of simmering water, or in a microwave on low power, stirring until smooth. There's a few suggestion above for how to enjoy this ice cream, but I found it's also intriguing with a few flakes of
lightly-smoked sea salt
flecked over the top.
8

ounces (240g)

caramelized white chocolate

1

cup (250ml)

heavy cream

2

cups (500ml)

whole milk

1/2

cup (100g)

sugar

1/8

teaspoon

sea salt

5

large egg yolks
Mix the warm caramelized white chocolate in a large bowl with the heavy cream, and set a mesh strainer over the top.

In a medium-sized saucepan, heat the milk, sugar, and salt.

Whisk together the egg yolks in a small bowl and gradually whisk in half of the warm milk, then scrape the warmed yolks back into the saucepan.

Cook over moderate heat, stirring constantly with a heatproof utensil, until the mixture thickens and coats the utensil.

Immediately pour the custard through the strainer into the white chocolate mixture and stir until smooth. Put the bowl in an ice bath, and stir until cool.

Chill thoroughly in the refrigerator, then freeze in your ice cream maker according to the manufacturer's instructions.
Related Posts and Recipes
Tips for Keeping Homemade Ice Cream Soft
Salted Butter Caramel Ice Cream (Recipe)
How to Make Ice Cream Without a Machine
Caramelized White Chocolate Cakes
Caramelised White Chocolate Bar (Fig Jam and Lime Cordial)
Caramelized White Chocolate in Ginger Ice Cream (He-Eats)
Cherry Pit Ice Cream with Caramelized White Chocolate Ribbon (Not Derby Pie)
Hot Caramelized White Chocolate (Ideas in Food)
Alfajores with Caramelized White Chocolate (She Who Eats)
Caramelized White Chocolate Sauce (Spork or Foon)