Herbed Ricotta Tart
I don't think I've ever made a savory tart, until now, which marks the mid-point in my life. And after this one, I'm wondering-what took me so long? I also sometimes lie awake at night and wonder if this really is the mid-point in my life. But that's a whole nother post because it has nothing to do with baking. (Although that hasn't stopped me before…)
Neuroses aside, this tart may look fancy, but it's one of the simplest thing to make that you could imagine. True, it does require a bit of chopping and cooking, but there's no mountains of long-cooked onions like pissaladière, it doesn't call for an artery-busting even-handed pour of cream, and it's wonderful served warm or at room temperature. And it's even better the next day, when the top gets crusty-brown during reheating. What's not to like?
I made this tart on the spur of the moment after leafing through the excellent book, Local Flavors by Deborah Madison, which explores all of the magnificent produce from the diverse greenmarkets and small-scale farms spread out across America.
The long green stemmed 'onions' that I used were labeled cive at the market, which after much research, doesn't seem to translates into English.* The closest thing I've seen elsewhere is green garlic, so in a Napoléonic sweep of power, I decree that you can use them. Otherwise scallions would work well. Or wild leeks, or even ramps, which I've never seen in Paris.
This recipe jumped out at me (well, not literally, which would've meant I'm having Joan of Arc-like schizophrenic visions, which is kinda scary) as I had a baked tart shell that was dangerously close to being smashed to smithereens in the chaos that I call "my freezer". Plus I had just made a batch of homemade ricotta cheese and thought this would be the ideal way to highlight it. If you're not as ambitious as I am, don't sweat it. Deb's original recipe called for fresh goat cheese, which I'm sure is amazing.
Because fresh ricotta is less intense than goat cheese, you could certainly add more fresh herbs than called for if using the former. And don't limit yourself to thyme; a handful of chopped fresh oregano, chervil, mint, or basil added to the filling just before pouring it into the tart shell would work.
I added some spicy Spanish chorizo to the recipe but you could omit it, or add cooked, smoky bacon bits instead. I know some of you would like to swap out the crème fraîche or heavy cream, but since it's only 1/2 cup for eight servings, it's really not all that much. And it didn't bother me one whit. Heck, I even enjoyed a re-warmed square of this tart as part of my late-summer diet.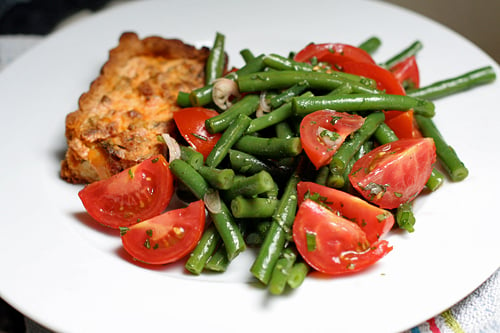 Considering you'll get about eight serving out of this tart, it's only one tablespoon of cream per portion. If you're on a régime, simply follow my example and eat a small portion. Then fill up the rest of the plate with fresh vegetables, like I did, with tomatoes and green beans. Or you could be contrary and try swapping out whole milk for the cream. Just don't tell me about it; I have enough things to worry about.
| | |
| --- | --- |
| Herbed Ricotta Tart | Print Recipe |
Adapted from Local Flavors: Cooking & Eating from America's Farmers' Markets (Broadway) by Deborah Madison I mentioned a few variations above, but in the future, I'm going to try this with feta cheese in place of the ricotta or goat cheese, black olives, and some cooked, (very) well-drained, chopped spinach for a Greek-style version. UPDATE: Judging from the responses in the comments, most are in agreement that these are simply a variety of spring onions that I used. So I've noted that in the list of ingredients. You can use green garlic, scallions, leeks, or ramps in their place, if you can't find spring onions where you live.
half-pound (250g)
spring onions
(See headnote)
1 1/2
teaspoons
chopped fresh thyme,
plus more for sprinkling over the finished tart
8
ounces (285g)
fresh goat cheese or fresh ricotta
1/2
cup (125ml)
crème fraîche or heavy cream
1/2
cup (125ml)
whole milk,
2
ounces (55g)
spicy Spanish-style chorizo sausage,
finely diced
salt and freshly ground pepper
one pre-baked 9-inch (22cm) tart shell
(see Note)
1. Slice the spring onions into 1/2-inch (2cm) pieces. Melt the butter in a skillet and cook over medium heat, seasoning with a bit of salt and pepper, until tender and cooked through. When you remove it from the heat, stir in the fresh thyme and let cool to room temperature.
2. Preheat the oven to 400F (200C)
3. In a large bowl, crumble the goat cheese or ricotta, then mix in the egg, crème fraîche or cream, milk, chorizo, and a bit more salt and pepper along with the onions.
(If you wish to use any other chopped, fresh herbs, add them now as well.)
4. Scrape the filling into the pre-baked tart shell and baking until just set and slightly-browned on top, 20-30 minutes. (As you can see, I used a rectangular mold. If using a different-sized tart pan, the baking time may vary. In which case, bake until it just feels set in the center.)
5. Let the tart cool briefly, then serve either warm or at room temperature. Sprinkle fresh thyme leaves over the top of the tart before serving.