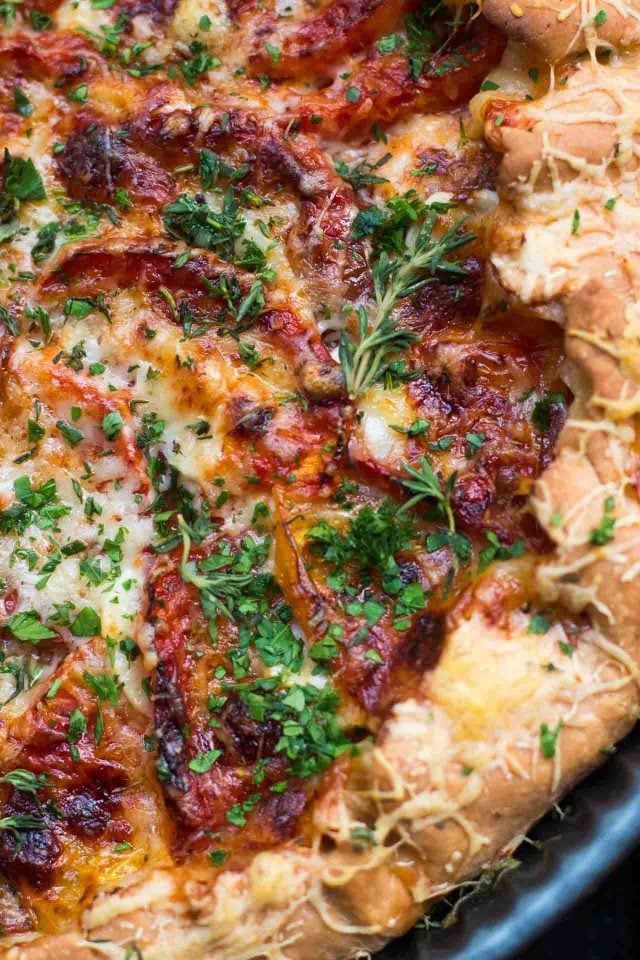 I didn't know what to make for dinner the other night. I had some tart dough tucked away in the freezer, and because I was having trouble closing the door (er…what else is new?), I realized it was time to clear some of the stuff out. But I also had some beautiful tomatoes on hand, and a tub of fromage frais (fresh spreadable cheese), which the universe seemed to be telling me that I should make a tart out of.
I'll admit that I'm not the most creative person with tomatoes. I usually eat them just as they are; I have a hard time messing too much with heirloom tomatoes since they are so precious around here. My usual M.O. is to slice them up, drizzle them with good olive oil, sprinkle them with salt, and eat them that way. But when the stars – or ingredients – aligned in my kitchen, a Tomato Tart seemed destined for our dinner.
Once the dough was defrosted, I rolled it out then spread it with a filling I made from my fromage frais, my goal being to create a creamy, tangy, herb-flecked layer, where my pretty tomatoes would lay their heads, baking in the oven until moist and flavorful, under a blanket (but not a heavy comforter) of browned cheese. I didn't want to make a tomato gratin – I just wanted enough to add a little crunch and contrast to the luscious tomatoes browning underneath.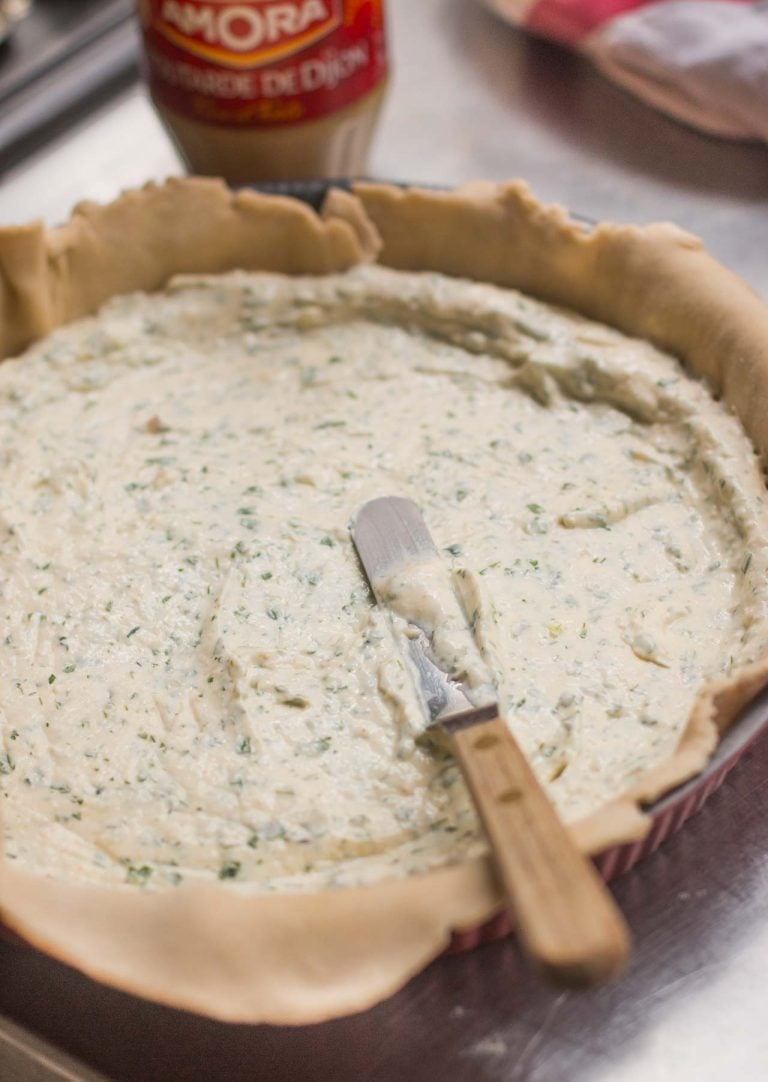 Fromage frais is a French "fresh" cheese that sort of resembles mascarpone, but isn't as rich. It's as thick as Greek yogurt, but has more fat and acid, so it can be cooked. (Yogurt can "break" custards when baked, due to the acid in it.) Unfortunately it's not readily available in the U.S., but you can use whole milk ricotta and stir – or better yet – purée, everything together in a food processor or blender.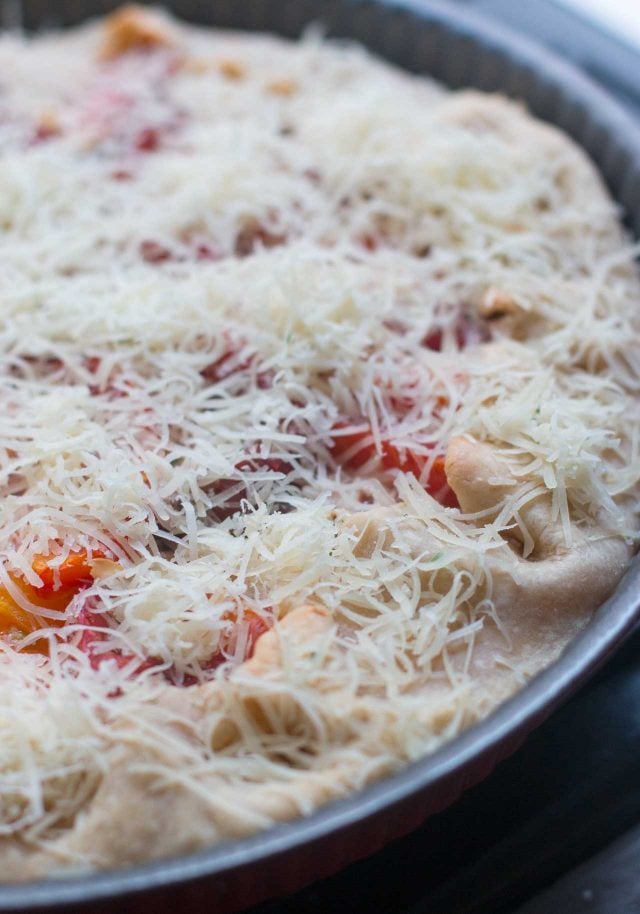 Store-bought ricotta can be grainy, and blending it will help smooth it out. It's not necessary if you don't want to bother, but I figure that if you're going to go through the steps of making a tart, you may as well give the filling a little extra attention, if you're taking the ricotta route.
We liked it so much, I made this Tomato Tart a couple of times. (Plus I wanted to see if I could get it so where it could be made with ingredients, and bakeware, that's available where you live.) The first time I used a solid tart pan, which is a standard in French households (either in metal or stoneware). But figuring many of you may not have a 10-inch (26/27cm) tart pan or quiche dish, I baked one "freestyle" on a baking sheet, and it came out just fine.
The first time I also didn't have any fresh basil, which can be a bit hard to find in Paris. (Maybe we can do a swap for a French metal tart pan if you live somewhere where basil is bountiful?) A few vendors at the markets sell fresh basil, which is usually sold as a few stems with leaves on them, not the huge bunches you get elsewhere. I was told that's because people here use it to make Caprese salads, where a handful of leaves are used, rather than in Soupe au pistou and other basil-forward dishes, where massive quantities are welcome, and celebrated. (When I do find big bunches, I go to town and make pesto galore.)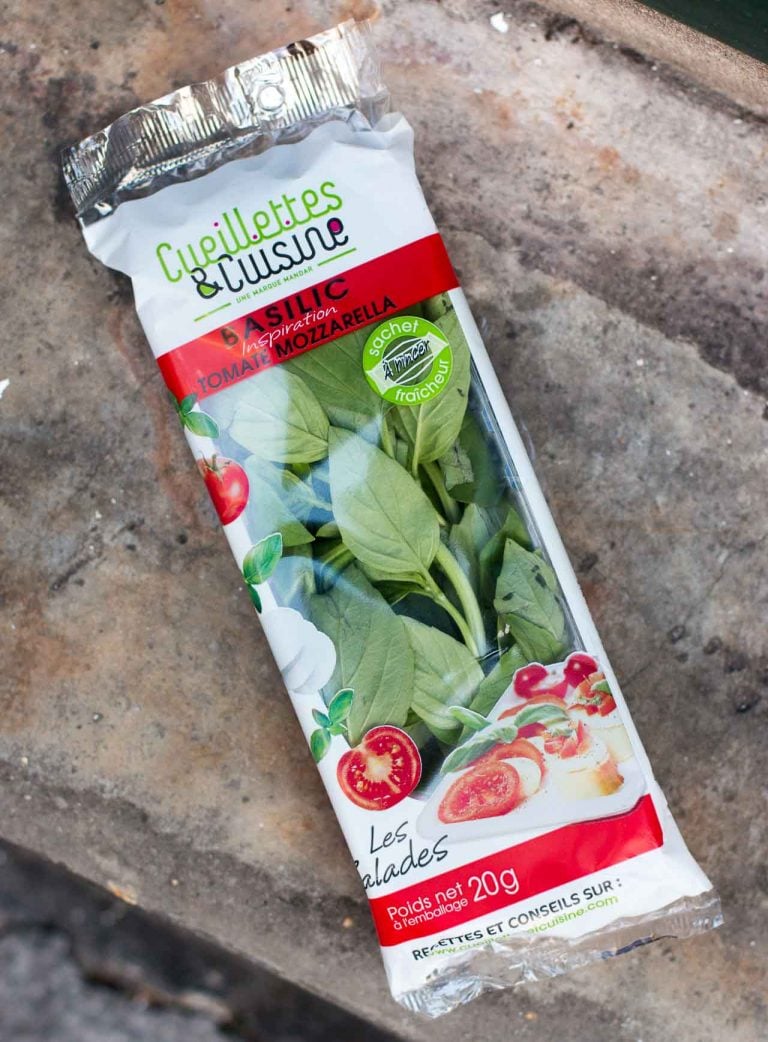 That little basil-theory was confirmed by the cellophane packet I bought at the supermarket, which confirmed that the basil was inspiration tomate mozzarella, backed up by a picture of the aforementioned salade, and a few crostini, I guess so you'd know what to do in case you have a couple of basil leaves leftover.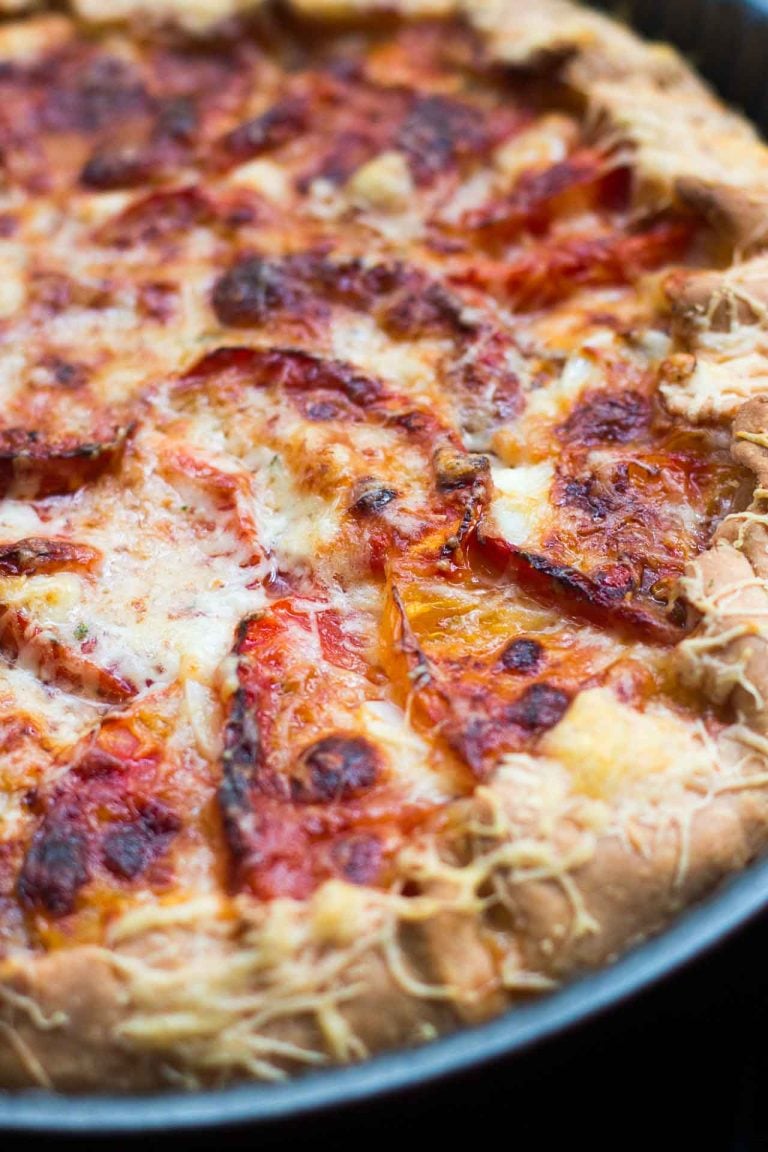 Whether you bake this Tomato Tart in a tart pan, quiche dish, or on a baking sheet, because of the wobbly nature of the filling, it's easiest to cut this tart when it's cooled down considerably. Romain actually said this tomato tart was better the second day, when it was rechaufée'd. He also said he preferred it with the mixture of parsley and thyme, rather than basil, which would have saved me a trip to the grocery store for that basil.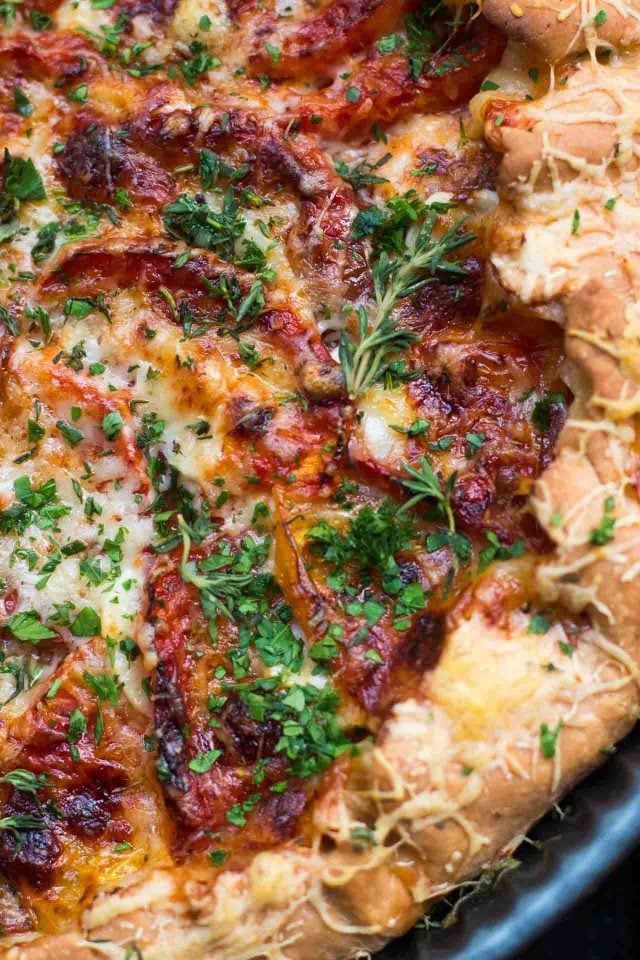 Tomato Tart
I baked mine in a 10 1/2-inch (26/27cm) solid tart pan. It can also be baked in a stoneware quiche dish or on a baking sheet. If using a tart pan with a removable bottom, you may want to bake it on a parchment - or foil-lined baking sheet, to catch any drips. (Mine didn't drip, but you never know...) Either fromage frais or whole milk ricotta can be used. One thing to remember is that when this tart is hot from the oven, it'll be tricky to get perfect slices out of it. Don't let that deter you if you want to serve it soon after taking it out of the oven, when the cheese is oozing and melty. Remember, it's your guest's job to enjoy themselves, not to be food critics : ) That said, it's great served just slightly warm or at room temperature, and fine reheated the next day as well.
For the dough
1 1/2

cups (210g)

flour

1

teaspoon

sugar

1/2

teaspoon

salt

1/2

cup (4 oz, 115g)

unsalted butter

,

cubed and chilled

6

tablespoons (90ml)

ice water
For the tomato topping
4

medium (or 3 large)

fresh tomatoes

,

about 1 1/2 pounds (680g)

salt

2

cloves

garlic

,

peeled and thinly sliced

freshly grated black pepper

1

cup (90g)

finely grated Gruyère, or another Swiss-style cheese

,

such as Comté, Emmenthal, or Jarlsberg
For the filling
1 1/2

cups (360g)

fromage frais

,

or whole milk ricotta

1

tablespoon

Dijon mustard

3

tablespoons

minced fresh basil

,

or 2 tablespoons flat-leaf parsley and 2 to 3 teaspoons minced fresh thyme, plus additional fresh herbs to chop and scatter over the finished tart

2

cloves

garlic

,

peeled and minced

1

large

egg

1/3

cup (30g)

grated Parmesan or Pecorino cheese

1/2

teaspoon

salt

freshly grated black pepper

generous pinch

cayenne
To make the tart dough, mix the flour, sugar, and salt in the bowl of a stand mixer fitted with the paddle attachment. (You can also make it in a food processor, or by hand, using a pastry blender.) Add the cold butter and mix until the butter pieces are the size of peas.

Add the ice water and continue to mix just until the dough comes together. Gather the dough with your hands, shape it into a disk, wrap it plastic, and refrigerate for at least 30 minutes.

Cut the tomatoes into 1/2-inch (2cm) slices and set them in a colander, sprinkling them very lightly with a little bit of salt as you lay them in. Let tomatoes drain for about for 30 minutes.

Make the filling. If using fromage frais, stir it together with the mustard, fresh herbs (parsley and basil, or parsley and thyme or tarragon), 2 minced garlic cloves, the egg, Parmesan, 1/2 teaspoon salt, black pepper, and cayenne, until smooth. If using whole milk ricotta, mix all the ingredients together, except for the herbs, in a blender or food processor, until smooth, then stir in the herbs by hand. (It's not imperative to puree the ricotta first, although it does help it lose any graininess store-bought ricotta can have.)

Preheat the oven to 400ºF (205ºC).

On a lightly floured surface, roll the dough to a 14-inch (36cm) circle and fit it into a 10-inch (26/27cm) tart pan or quiche dish. Let the overhang of dough rest hanging over the edge of the pan. Spread the tart filling over the bottom of the dough in an even layer. If using a baking sheet, lay the dough on a baking sheet lined with parchment paper or a silicone baking mat and spread the filling over the dough, leaving a 2-inch (5cm) band of dough around the filling, with no filling on it, that you'll be using to fold over the tomatoes.

Line a dinner plate with a few layers of paper towels. Remove the tomatoes from the colander and, working in batches, set a few tomatoes at a time on the paper towels to remove excess moisture, then arrange them in overlapping circles over the filling. Continue preparing and arranging the tomatoes the same way in the pan.Places the pieces of sliced garlic over the tomatoes. Grind a little black pepper over the tomatoes. Take the overhang of tart dough, hanging over the edges of the pan, and fold it over the tomatoes to enclose them to make a crust. Bake for 15 minutes.

Remove the tart from the oven and sprinkle the tart, including the crust, with the grated Gruyère and bake until the tart is golden brown on top, for another 20 to 30 minutes. (Mine took 30 minutes in the tart pan, and 20 minutes baked freestyle, on the baking sheet.) Remove from the oven and let cool until the tart is cooled down, or tepid. If you've baked the tart on a baking sheet (i.e.; freestyle) as soon as it's cooled and firm up enough to hold together, slide the tart off the baking sheet and onto a wire cooling rack.Sprinkle with additional fresh herbs, and serve. You can serve the tart warm but it'll be a bit of a challenge to cut into neat pieces.
Notes
Serving: Serve with a green salad, steamed green beans, or another favorite vegetable.