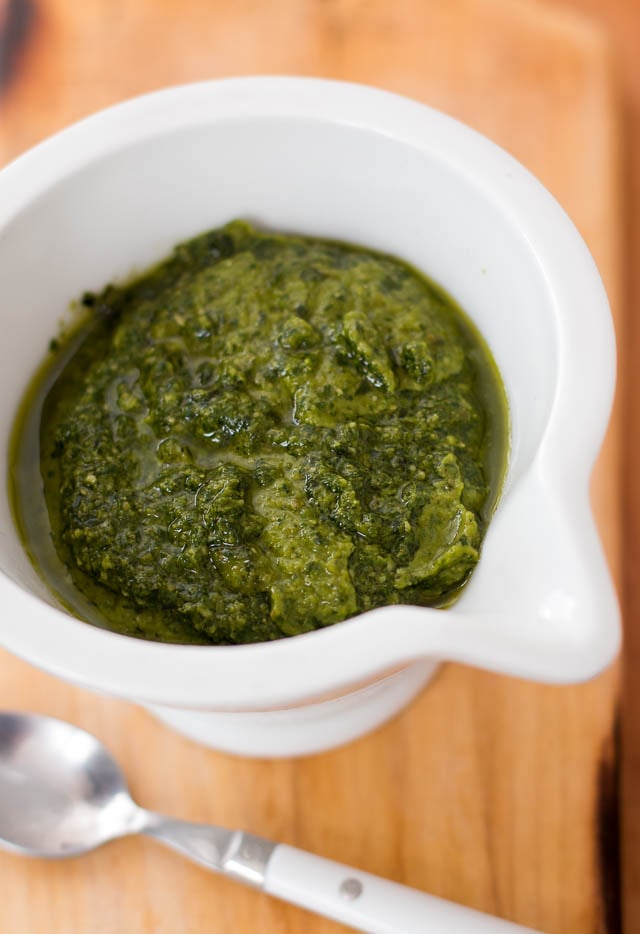 I don't like to make promises I can't keep, and last week I promised myself that I'm going to eat pesto every day for the rest of my life. So far, I've made good on that promise. The only thing that might thwart me is a lack of big, copious bunches of fresh basil, which are a bit of a rarity in Paris. (Most of the great basil is found in the south, in Provence.) Or my pounding arm wears out. No taking bets out there on whichever comes first, but I have a pretty good idea which it's going to be.
The word "pesto" is a derivation of the Italian word for "pounded" so it should be made in a mortar and pestle to be true pesto, although some prefer a blender or food processor. I used to be pretty dictatorial about using a mortar and pestle, but when making it for a crowd, as I sometimes do, I rely on my food processor to do the trick. A blender will work, too.
Classic pesto is made with pine nuts in it, or sometimes walnuts. But the French version, pistou, usually leaves them out, so I sometimes make it without. Pesto made with nuts has more "clinging power" to it and hangs on to pasta better. Pine nuts have gotten expensive but if you decide to use them, it's worth shelling out the money for ones from Spain or Italy. If you want to be totally luxurious, shelled pistachio nuts are another way to go. But walnuts are fine, and are a less-expensive, but delicious, option. Be sure toast whatever nuts you use lightly before grinding to bring out their nutty flavor.
Although people think of pesto as going with pasta, roasted or boiled fingerling potatoes can be tossed in pesto for quick potato side dish. Pesto can be spooned over a platter of sliced tomatoes and avocados with crisp bacon chunks, stirred into a bowl of sautéed corn kernels, or tossed in pasta with green beans and fresh cherry tomatoes cut in half.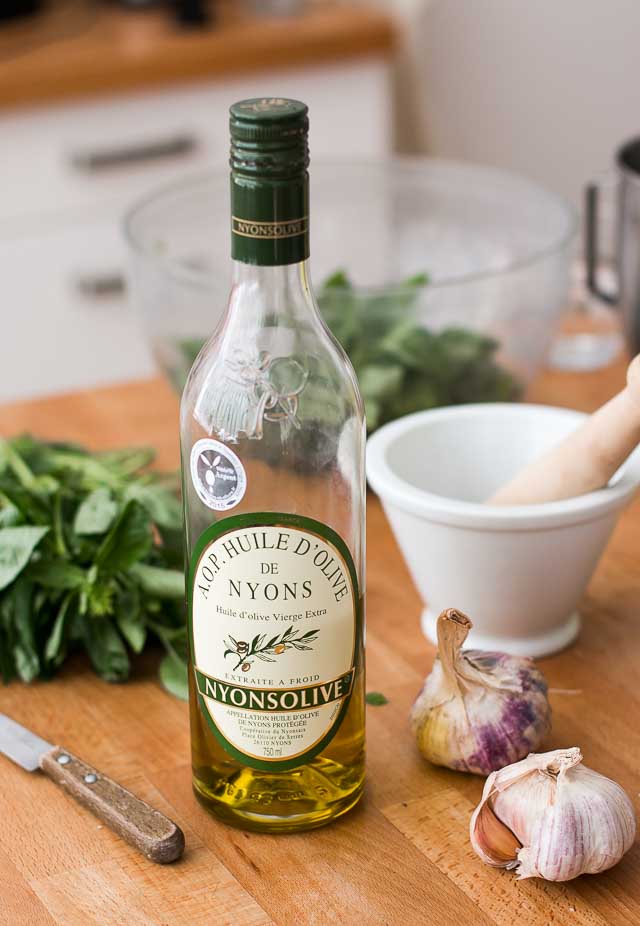 The best way to toss pasta in pesto is to drain the pasta, reserving a bit of the pasta water. Return the noodles to the pan and toss with pesto, adding a bit of the starch-rich pasta water if you want to thin it out a bit. I make sure there is a bowl of grated Parmesan cheese on the table for guests to add to their pasta, as they wish.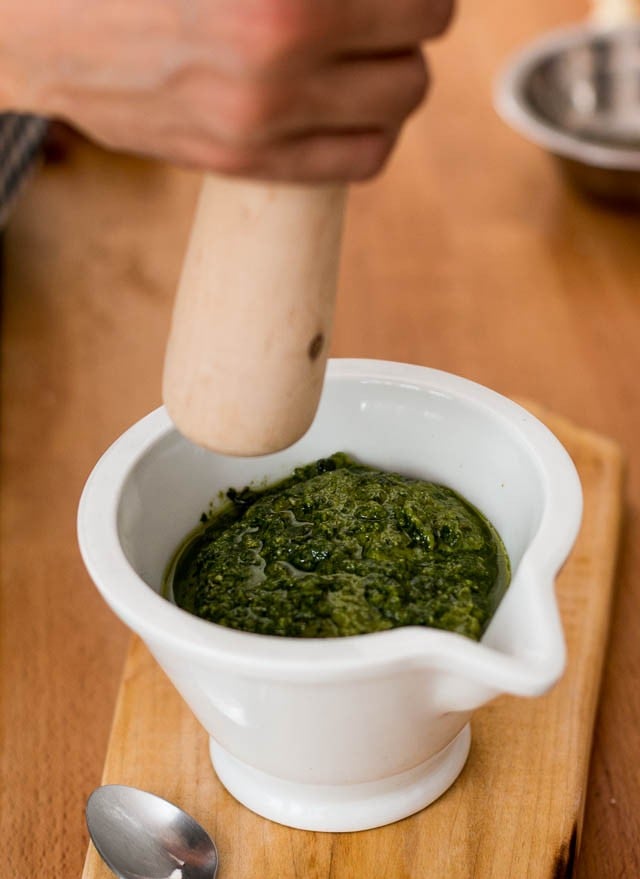 Pesto
Be sure to rinse and dry the basil leaves well. I give mine a shake outside my kitchen window. I haven't lost a leaf yet. (Although some of the people down below on the sidewalk might wonder where that basil-scented mist is coming from.) Those of you who prefer to live less vicariously can use a salad spinner or shake them in a tea towel. If using a food processor or blender, or similar device, I recommend grinding up the nuts, garlic and cheese first, then adding the remaining ingredients and pureeing them until smooth. No need to pre-chop the basil leaves – just add them right in, and stop the food processor a few times to scrape down the sides as you go.
2

cloves

garlic

,

peeled

3/4

teaspoon

coarse salt

5

cups (120g)

loosely-packed basil leaves

5

tablespoons (75ml)

best-quality olive oil

2

ounces (60g)

grated Parmesan cheese

1/4

cup (30g)

pine nuts

,

walnuts, or shelled pistachios, very lightly toasted
Smash the garlic and salt together in a mortar and pestle until smooth. (You can also use a blender or food processor. See headnote for instructions)

Coarsely chop the basil leaves, then add them to the mortar and pounding them into the garlic as you add them.

Once well-mashed, when they've become a fairly smooth paste, pound in the olive oil, adding it a spoonful at a time, until well-incorporated.

Lastly, pound in the cheese, then the pine nuts.

Continue mashing everything for a few minutes until the pesto is as smooth as possible.
Notes
Fresh pesto should be served within a day or two after it's made. Otherwise the garlic can become overpowering. It can also be frozen for a few months, if well-wrapped.
Note: Curiously, although I don't think it's so traditional, I used to eat at a pasta restaurant in San Francisco that made the best pesto pasta. It was simply prepared and delicious; just a hot pasta tossed with lots of pesto. It wasn't until I ate their alone and sat at the counter, which had a view of the kitchen, and I saw the cooks adding almost a full stick of butter to each pasta as they swirled it in the pan with the pesto! I don't think you need to eat a stick of butter with your pasta, but at the risk of upsetting traditionalists, a small pat of butter does round out the taste of the pasta pretty well. And I've know good cooks to sneak in some Emmental cheese along with the Parmesan.
Related Recipes