wild garlic (ail des ours, or ramps) pesto
Over the past few years, there's been a growing interest in intéressants roots and greens in Paris. It's not that they don't, or didn't, exist in France. It's just that many either fell out of favor or were oubliés (forgotten). And now, many are returning.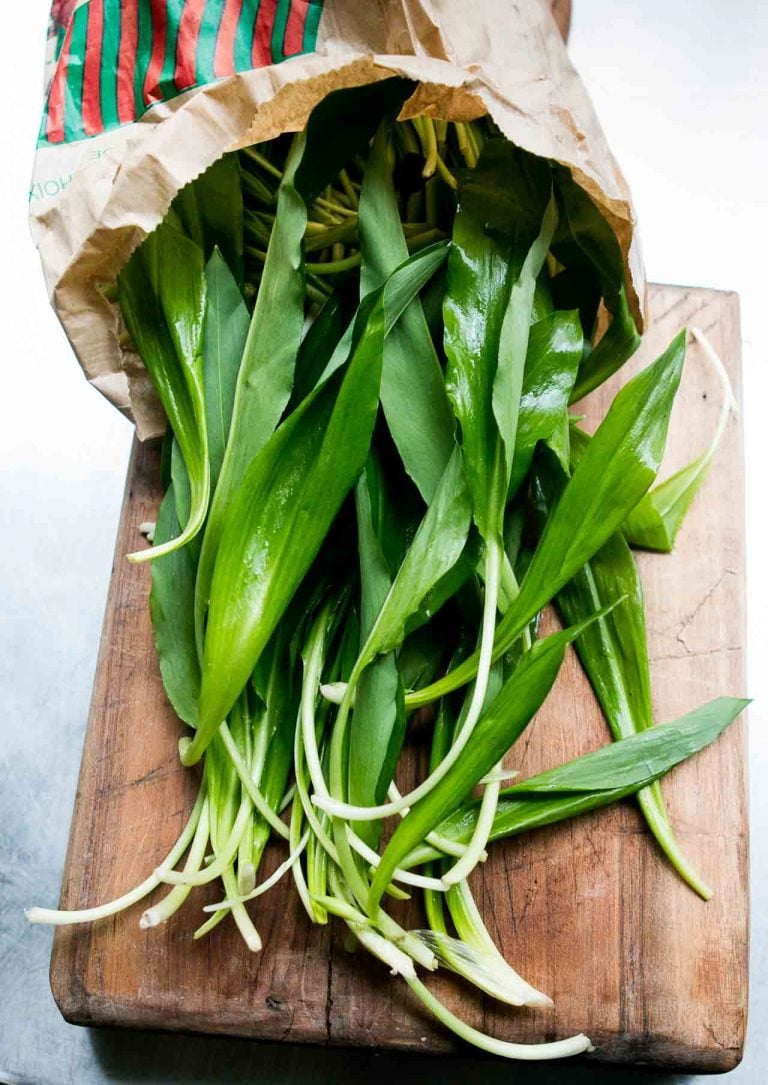 At the market, we now get kale, kale sprouts, rainbow chard, and every so often ail des ours (bear's garlic) will show up at one of the stands. L'ail des ours is a cousin of ramps, which are popular in the United States, and cause a bit of a ruckus when available.
Bear's garlic is also called wild garlic in English and while they look similar, they are botanically different than ramps, although you can use ramps in this recipe. (For more specifics, ail des ours is allium ursinum and ramps are aillium tricoccum.) In Paris, bear's garlic doesn't hold quite the same sway as ramps do in the States and you don't see people grabbing it by the handfuls, except for me.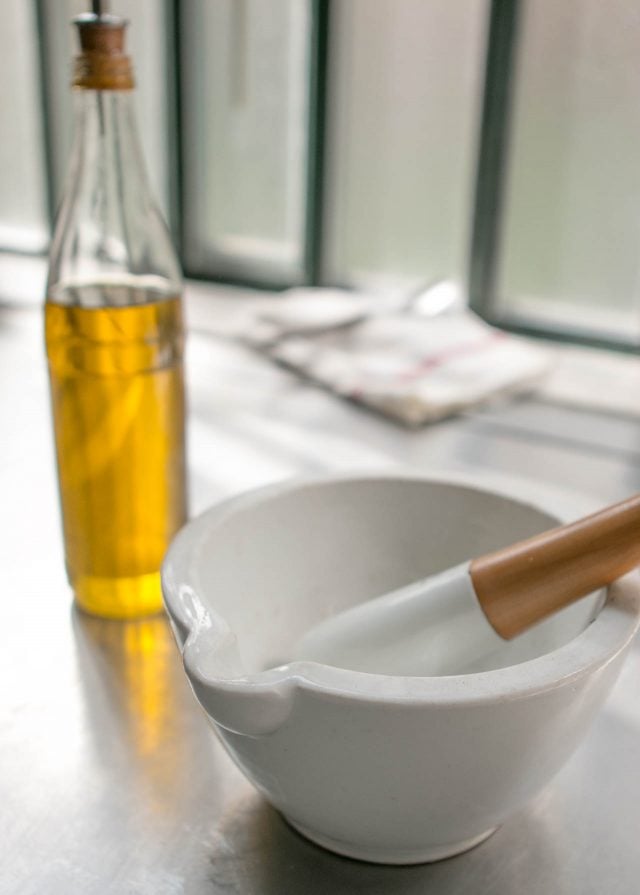 There used to be a woman at my market that had all sorts of curiosities, including fresh oregano, which isn't widely available in Paris, as well as especially interesting varieties of fresh potatoes, which are popular, as well as spring garlic, chervil and parsley roots, and baby leeks. Unfortunately, she disappeared a couple of years ago and I hadn't seen ail des ours anywhere since.
So I was thrilled when I was rifling through the flats of greens at a market stand manned by fellows who've been bringing more and more interesting greens to my market. I like them because they let you mix-and-match the greens, everything from baby beet greens to wild arugula. (And yes, you can help yourself.) The other day I noticed long, slender, green leaves piled up in one of the boxes and checked the label (and the smell). Sure enough, it was a big box of bear's garlic. I grabbed handfuls, filling up a big bag with the leaves and took them home.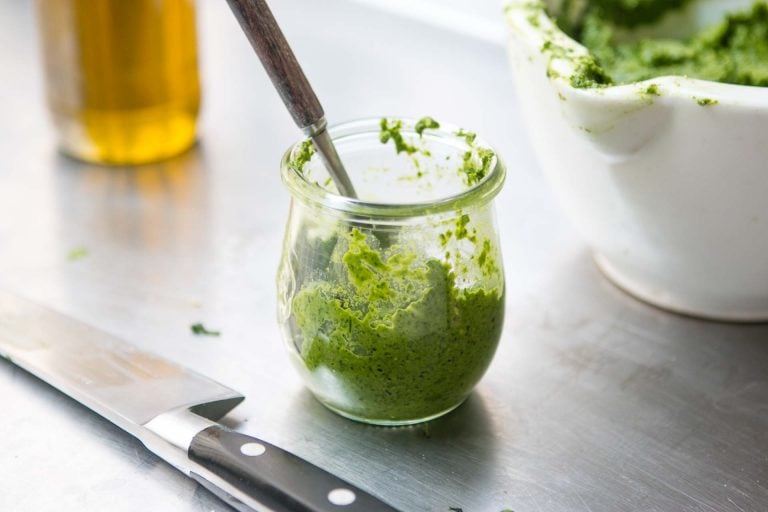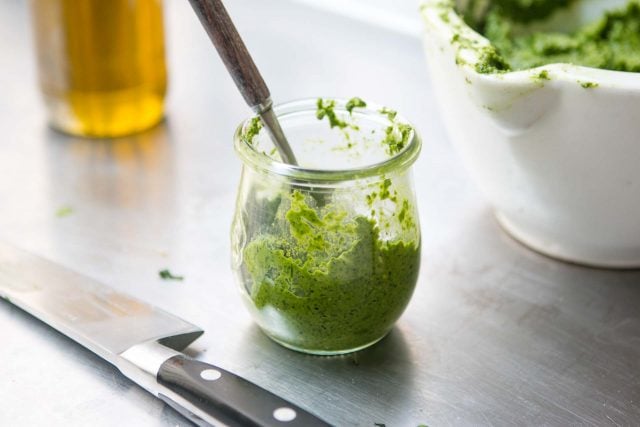 You may not be able to get bear's garlic where you live, and if you go foraging for them, make sure you don't mistake them for lily of the valley leaves (which are toxic), but ramps, or green garlic, would do in this pesto. You may need to taste and add a little more of this, or a little more of that, depending on what you use. The good thing about pesto is that it's easy to make adjustments as you go. Just pound, stir, or blend, until it's to your liking.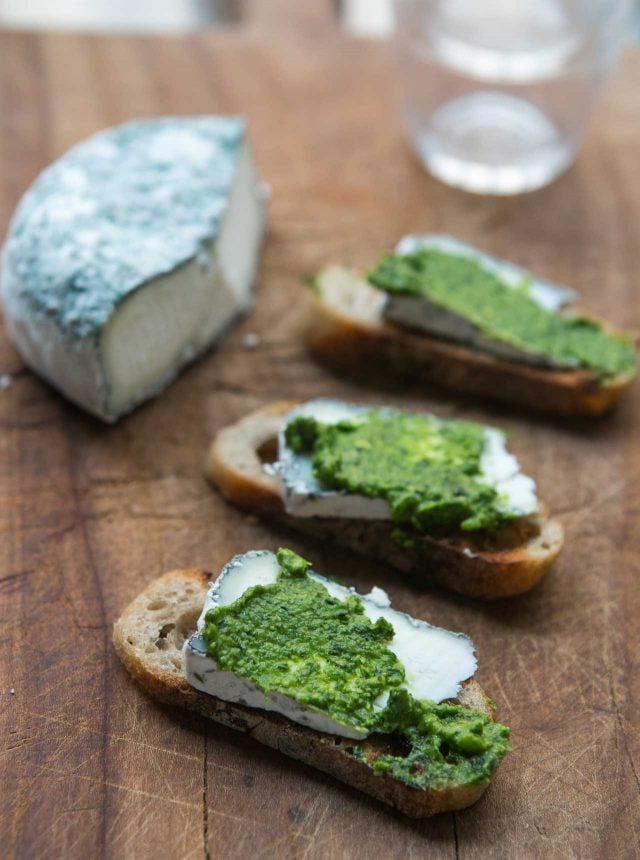 Although it's traditional to use Parmesan in pesto, in the south of France, some cooks put a bit of softer cheese in their pistou, like Emmental, for creaminess. (Changing the name gives them license to do so.) Unlike basil pesto, this pesto needs no additional garlic added. The garlic flavor is already quite strong, so I find a creamier cheese mixed in with Parmesan works well to soften the blow.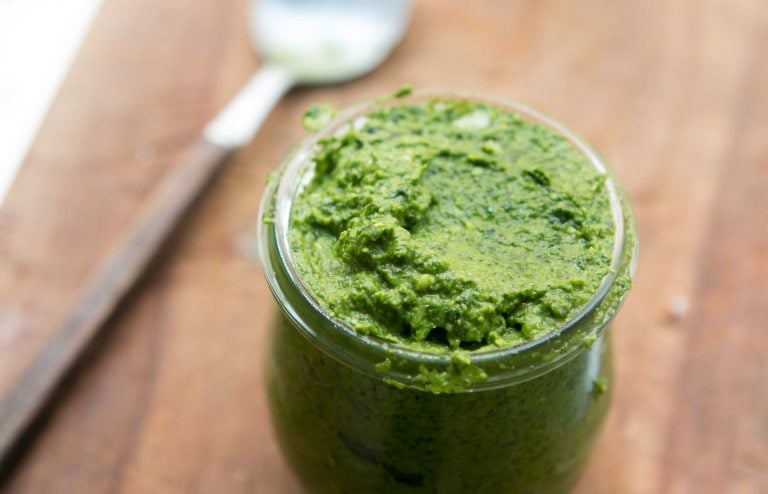 It's especially good mixed with pasta, on its own, or with steamed spring vegetables tossed in, like fresh peas or fava beans, asparagus, or well-wilted greens, topped with feta. I found it was especially good smeared on little crostini as an appetizer, atop slices of slightly aged goat cheese.
Bear's Garlic (or Ramps) Pesto
Makes 1 1/2 cups (375ml)
This recipe makes enough to coat four portions of pasta (starting with 1 pound/450g) of dried pasta. But it's so versatile and delicious that you'll find it's great swirled into soup, such as soupe au pistou or celery root soup.
It makes a great appetizer on toasted bread with goat cheese, or if you're the kind of person who enjoys a good grilled cheese sandwich at home, it'd be incredible smeared between the bread, along with the cheese, then grilled. A few dollops thinned with additional olive oil are delicious served over asparagus and if you're the kind of person who makes their own pizza, this is wonderful as a topping.
7

ounces (200g)

wild garlic

,

ail des ours, or ramps (about 4 cups roughly chopped)

1/3 - 1/2

cup (35-60g)

shelled pistachios

,

or pumpkin seeds

1 1/4

teaspoons

kosher salt or sea salt

1/2

cup (125ml)

extra-virgin olive oil

,

or more, if necssary

1/4

cup (25g)

grated Parmesan

1/4

cup (20g)

soft grating cheese

,

such as Emmental or Gouda
Put the ail des ours leaves in a food processor along with the nuts or seeds, salt, and about half of the olive oil. (If you don't have a food processor, this can be made in a mortar and pesto or blender. If using a blender, you may want to add all the oil at the beginning.) Pulse the mixture until the leaves and nuts are finely chopped.

Add remaining olive oil as well as both cheeses. Mix into the puree is almost smooth but still chunky, as shown in the post.

If the pesto is very thick, it can be thinned with additional olive oil or a bit of water. I often leave it thick, and if tossing it with warm, just-cooked pasta, will add additional olive oil to the pesto-slicked pasta at the last minute, to get it to the desired consistency.
Notes
Storage: The pesto will keep for 3-4 days in the refrigerator. Unlike basil pesto, this will not discolor quickly. The pesto can be frozen, too.
Related Recipes