A Visit to the Mauviel Copper Cookware Factory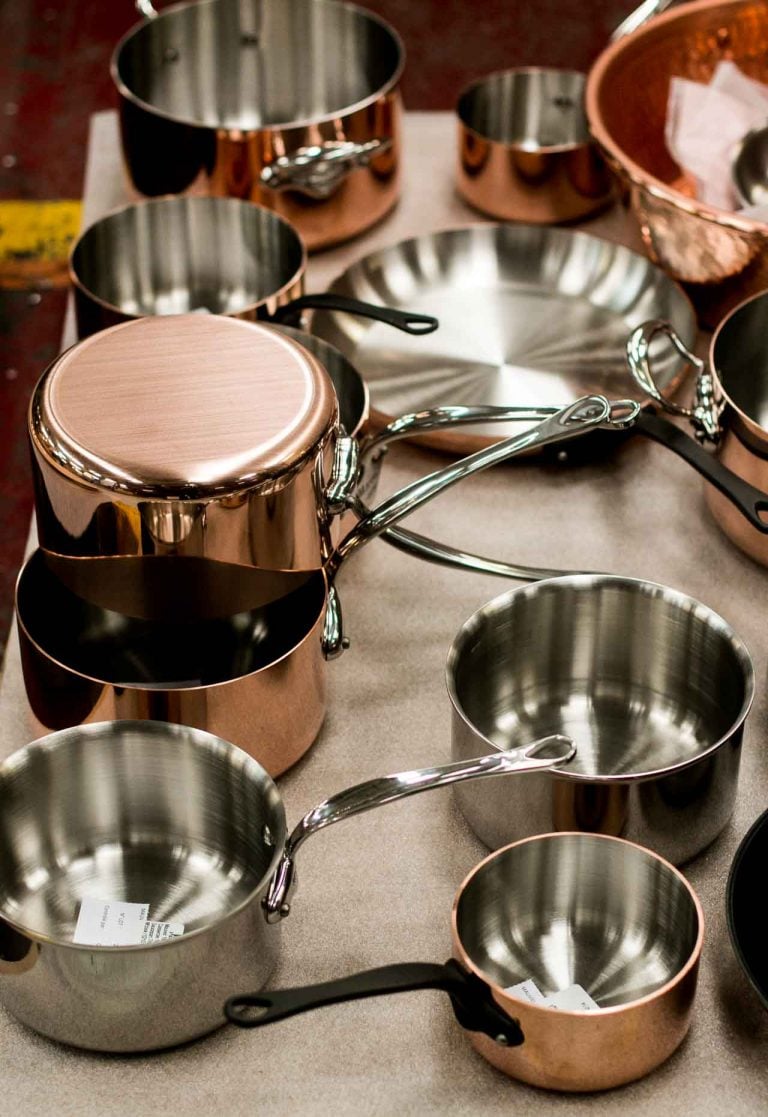 I'll never pass up a chance to go to a factory, whether it be to see how American stand mixers are made, or French enameled cookware. I'd never seen copper cookware being made, though, and jumped at the opportunity to hop on an early morning train to Villedieu-les poêles to visit the Mauviel copper cookware factory. (The only thing I didn't jump at was the bleary 7:30am departure time, from the Gare du Montparnasse.)
A few hours later, after a restorative café express, once inside the factory, everywhere I looked, there was copper cookware in different stages of production, stacked around the rooms. "Factory" conjures up images of giant buildings with thousands of people toiling away. But the human-sized building where Mauviel cookware is made is surprisingly small-scale; fifty four workers working various shifts, bend, press, fire-up, hammer, rivet, and polish their gleaming copper pots and pans, before sending them out into the world.
Before I lived in France, I remember going into E. Dehillerin in Paris…maybe thirty or so years back? I don't recall the year, but I do remember I flew PEOPLExpress and the flights were $99 each way. With the money I saved on the flight, using my kitchen line-cook wages, I splurged on a few pieces of Mauviel copper cookware.
The clerks wrapped and carefully boxed them up; I planned to carry them back to my hotel on the métro, then take them to the airport with me when my flight left a few days later. I got probably seven feet out the door of the store and realized I couldn't haul them any farther. So I got in a cab, and took the case of cookware to the airport, checked it into a consigne (luggage storage area) there, then picked it up before my flight to bring home. (Back when luggage allowance was a lot more liberal.)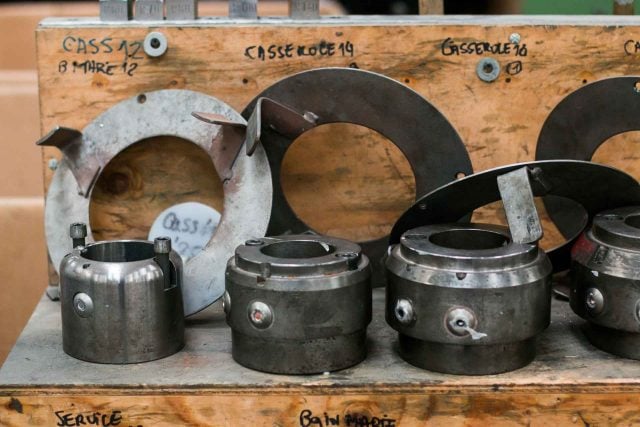 On the flight home, we had a very scary experience with excessive turbulence. People were screaming and falling out of their seats, and a few got sick in the aisles. Many thought we were going to crash, but all I was worried about was about my gleaming copper cookware, down in the hold. Someone on the plane later wrote an article about the experience, although I can't find it anywhere online, but it was about how he "found God" during the turbulence. Whatever higher power that was looking out for us, both I – and my copper cookware – survived the flight.
I'd bought two copper roasting pans, a few oval gratins dishes, and a tarte Tatin pan. A fortunate friend got one of the copper roasting pans as a wedding present, and someone I worked with scored one of the copper gratin dishes, which I hope both of them still have. My pieces are packed away somewhere because I thought it kind of odd to transport French copper cookware back to France. (And luggage fees don't make it as economical as it was back then.)
I finally went back to where it all began, in Normandy, where pots and pans were in all stages of production, starting from sheets of raw copper, hammered, shaped, and bent into things like jam pots (above), and potato steamers, (below).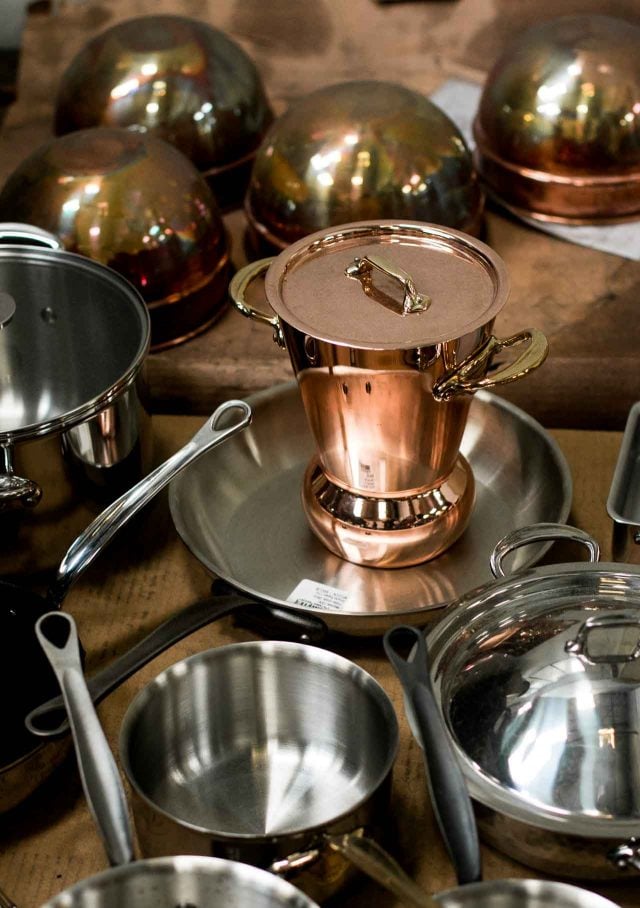 Mauviel has been making copper cookware since 1830. Valérie Gilbert is the seventh generation of her family to run the company. I'd met her at a luncheon in Paris a few weeks ago and she kindly let me spend a good part of the day roaming around the factory with her, and on my own.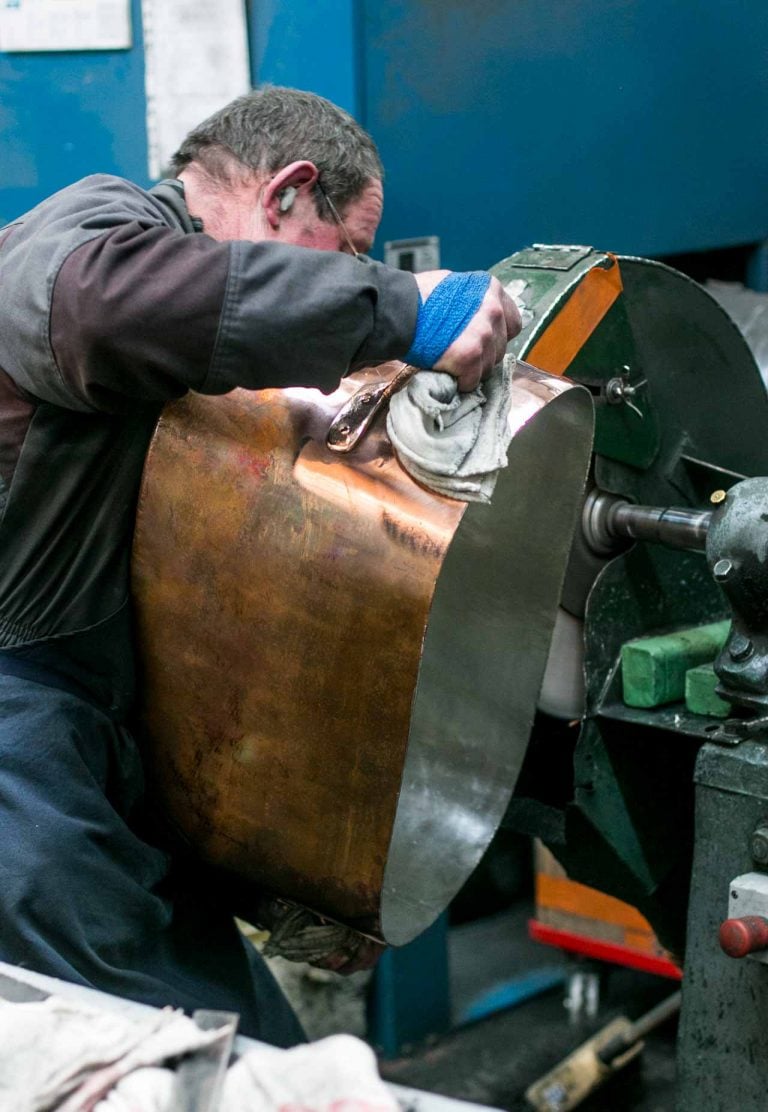 Not only do they make copper cookware, but they recondition and repair it. A giant, heavy braisier had been sent to them to be refinished, and I have to say, that pot was incredibly heavy. I don't know how the man (who had a few years on me) hefted it and held it against the polishing wheel for as long as it took to shine 'er up. But I will never complain about my job again.
Like a number of businesses in France, Mauviel isn't just a company. At the risk of sounding like a logo, it's a tradition. France has a long history making copper cookware. The town, Villedieu-les-Poêles translates to "God's City of the Pans." The residents are often referred to as les sourdins, or "the deaf," because so many had lost their hearing over the years, working in the loud factories where copper was hammered and pounded. The town also has a fonderie that makes bells, and Cornille Havard made the cloches for Notre Dame church in Paris.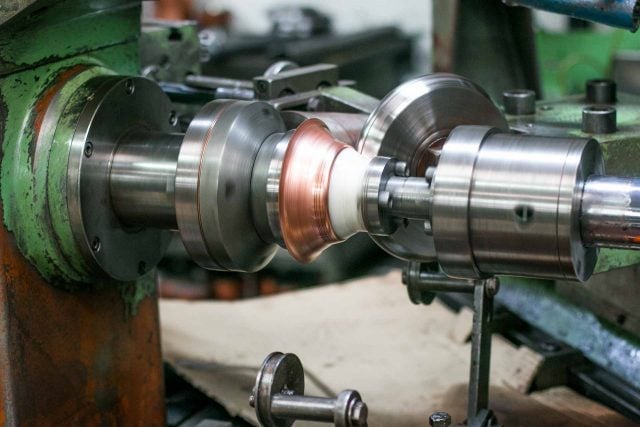 Like everyone at the factory, Valérie is involved of all aspects of the business and inspects various pieces that come off the assembly line, and even pieces that come in for repair or reconditioning. Having inherited the family business, it's clear that this is her life and she takes a personal interest everything that goes in and out of the factory.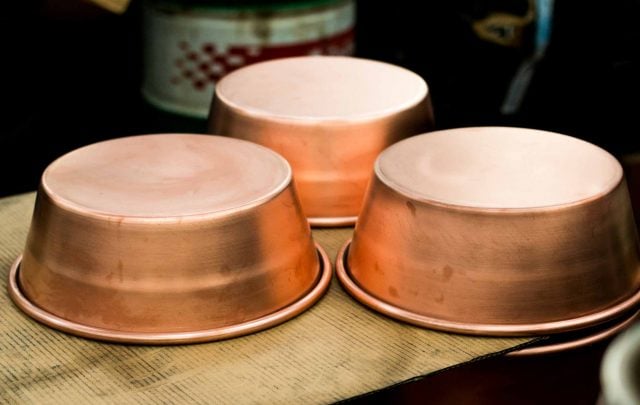 You have no idea what goes into making something until you see it made. So much manufacturing has left for less-expensive places, that you appreciate it even more when you see people working at their craft so diligently, especially in a country that's often accused of having a slack work ethic. Everyone in the factory that I met was friendly, and worked diligently at their tasks. While I was on my own, everyone was incredibly nice and open about what they were doing. Theses people are the best at what they do, and were happy to explain whatever they were doing, or show me the process the pieces of cookware go through.
Above is the beginning of a turbotière, one of those words (and pieces of cookware) that could only exist in French. It's a copper pot for poaching turbot. It starts from a sheet of raw copper, which is folded into a rough suggestion of the final shape.
The sides are soldered together, then the rim is hand-hammered closed.
Once everything is bent and smoothed into shape, then it's sent to be polished and wrapped for shipping.
Every piece is inspected as it comes off the line. And when I say "line," I'm not talking about a mile-long conveyer belt. Here, it was a dozen or so at a time, with each piece being held under a riveting machine, to have the handles attached, as it came off the belt.
Mauviel is one of the last companies in France to make copper pastry pots and pans, including tarte Tatin molds (which is the one piece I wish I had brought back to France with me…), sugar pots, and sabayon pans with rounded bottoms and handles to heat and whip the frothy sauce up. But if anyone wants a specialty piece, they are happy to produce them. Many chefs request special platters and serving pieces, and when I asked Valérie, "How few will you make?" She said, "We'll even do just one!" I was thinking how fun it'd be to design a copper tarte Tatin pan that was my own-branded piece of cookware. Then I came back to reality.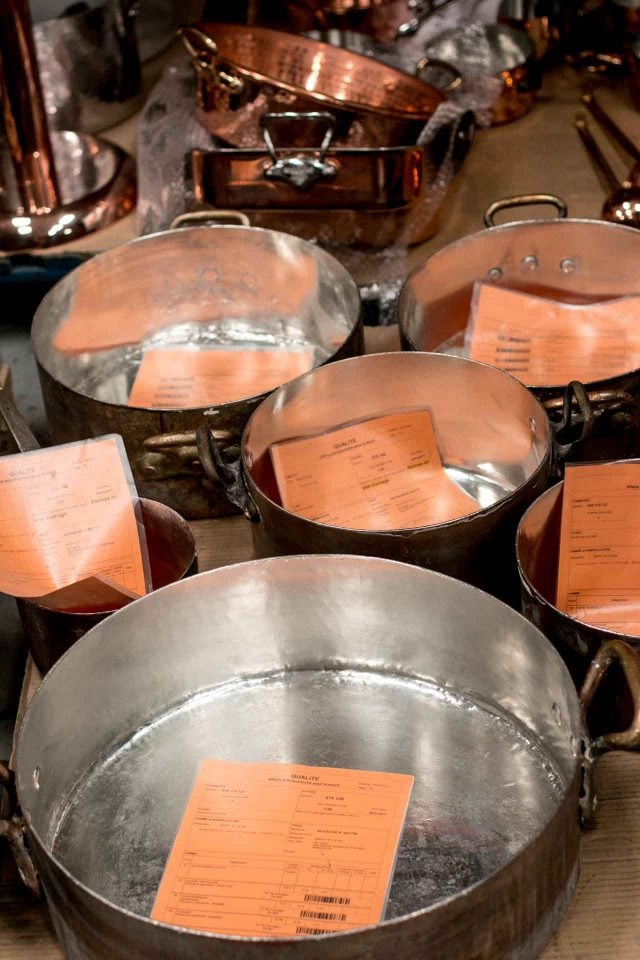 But what really impressed me was seeing these enormous pieces of copper cookware, that came from the Élysée Presidential palace in Paris, that had been sent in for réétamage (retinning). They were spectacular and just trying to pick one of them up was a chore. I could barely lift what we used to casually called a 'rondo' when I worked in restaurants, which is the name of piece above, which I learned is actually rondeau, in French. C'est comme ça.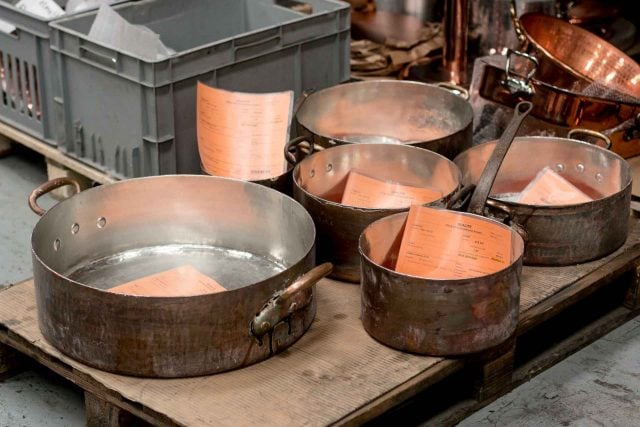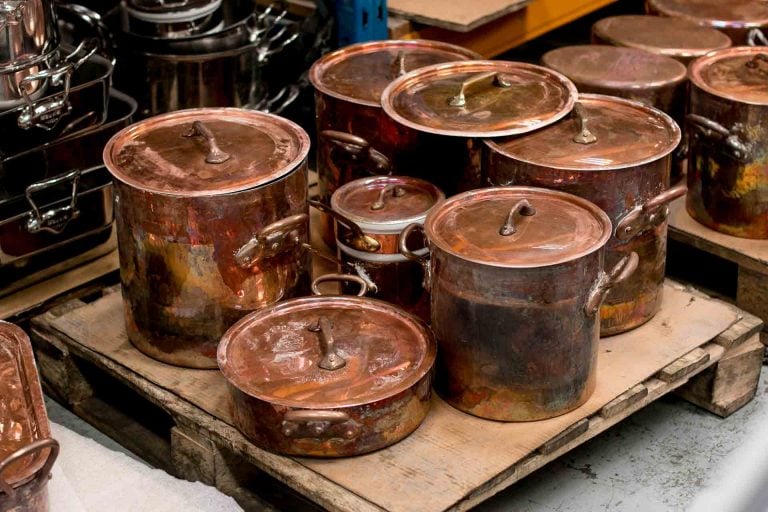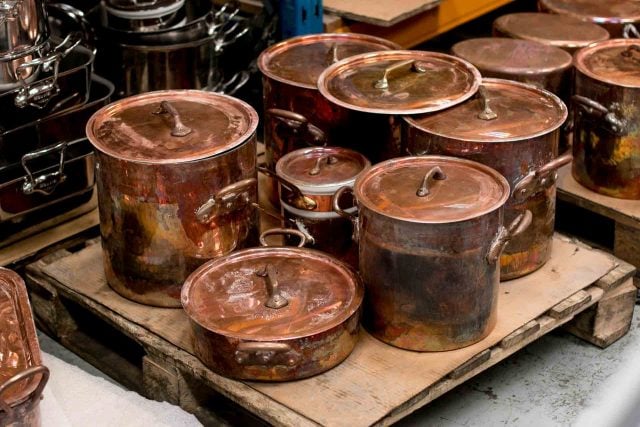 In addition to the bounty from the Élysée palace, two stock pots had just arrived that were stamped with the date they were made – 1866 – which had been sent in for rehabilitation, too.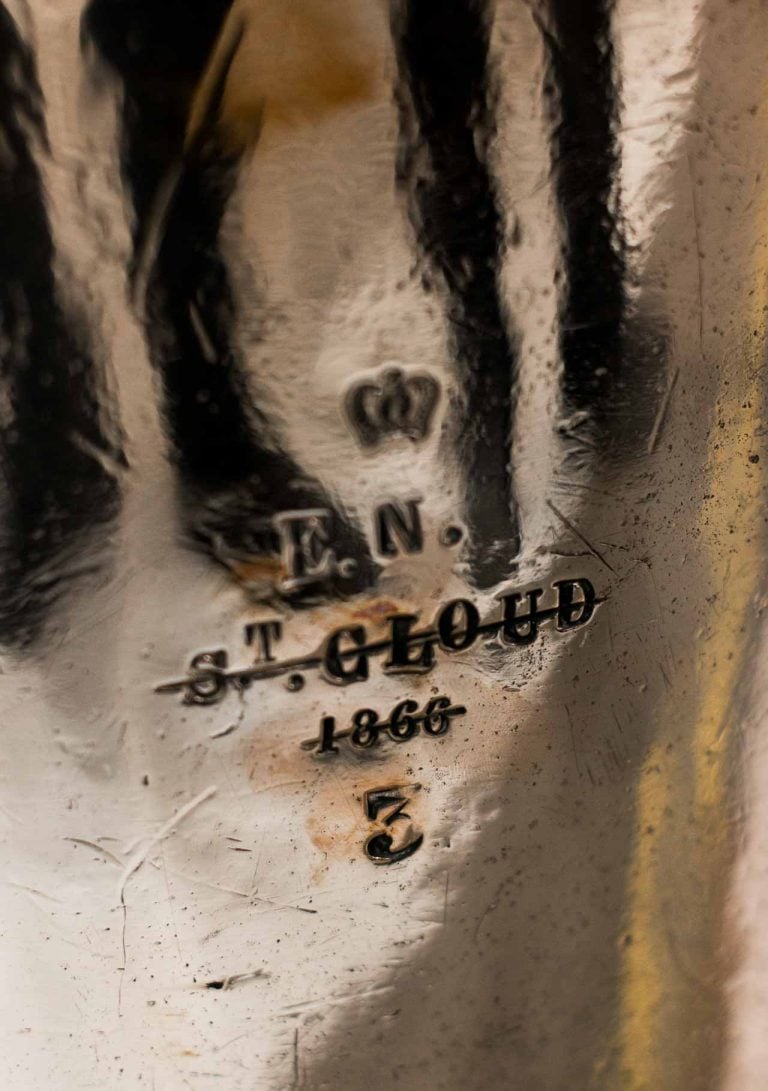 The bronze handles alone were gorgeous, but the girth of the pots was equally impressive. Another bit of French that was added to my vocabulary was martelage – the act of hammering.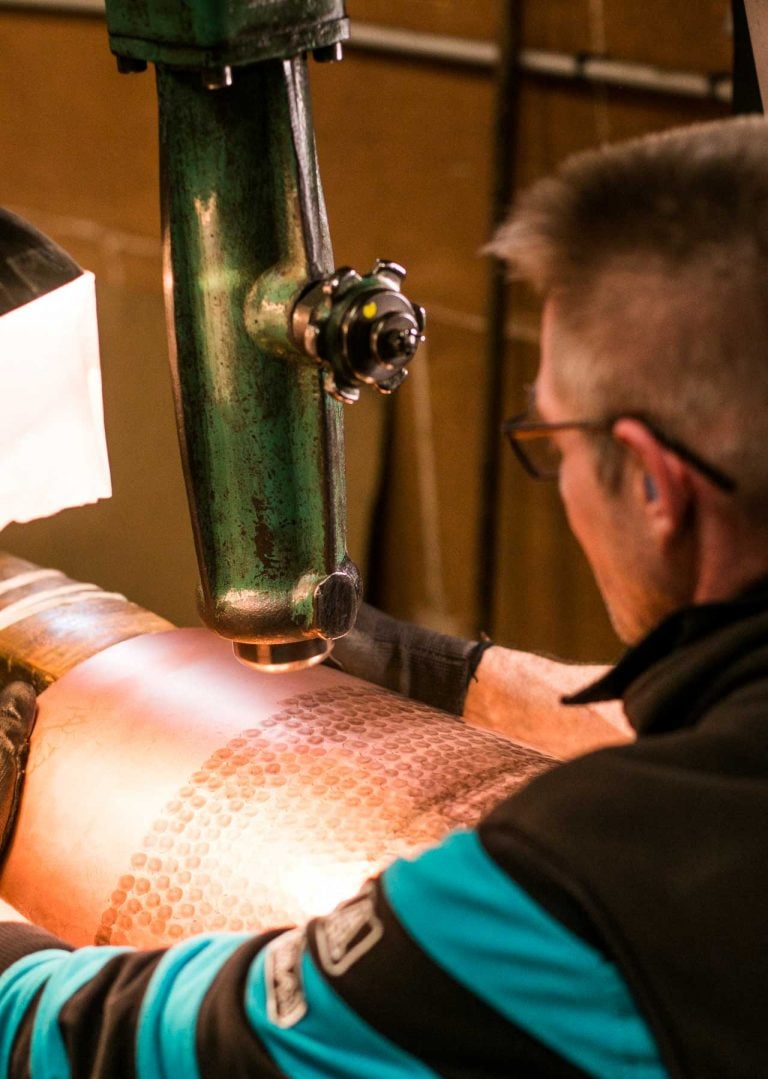 The hammered exterior on copper pots isn't just for decoration but done to larger pieces of copper cookware because it makes them tougher. This is what made most of people way-back-when lose their hearing, but now there are warning signs in place.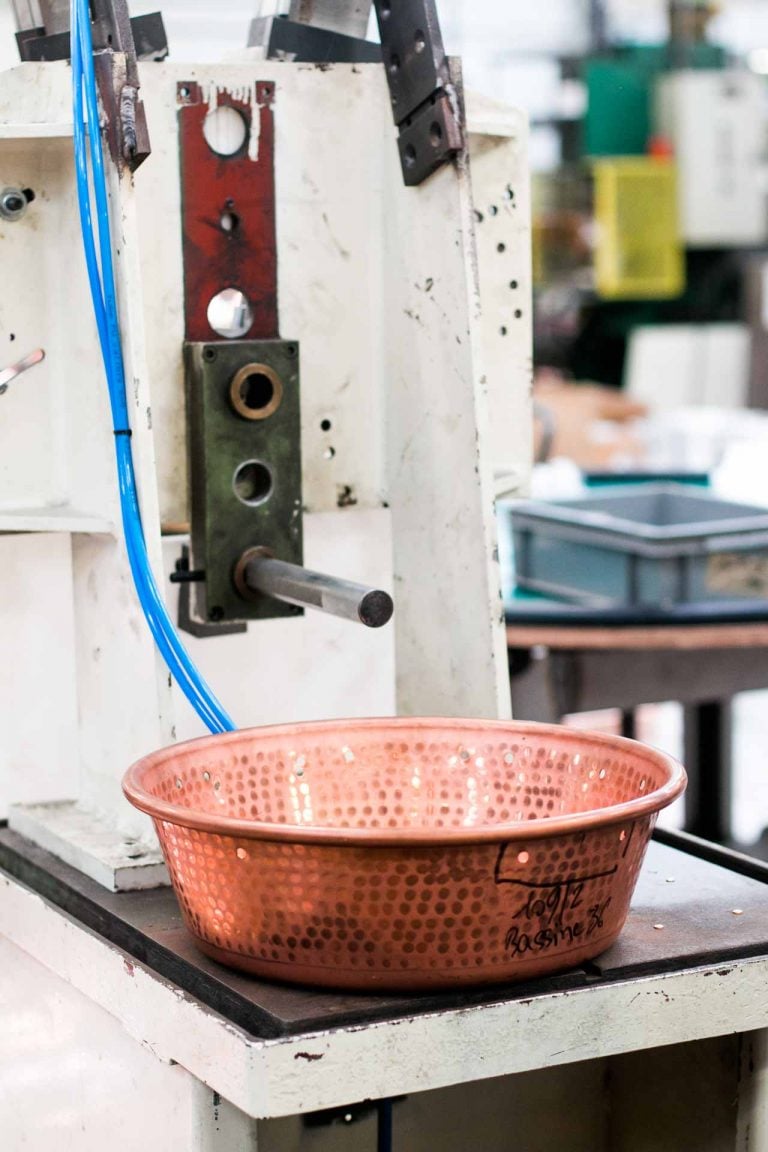 What got me most excited, though, was watching the new copper pots being tinned.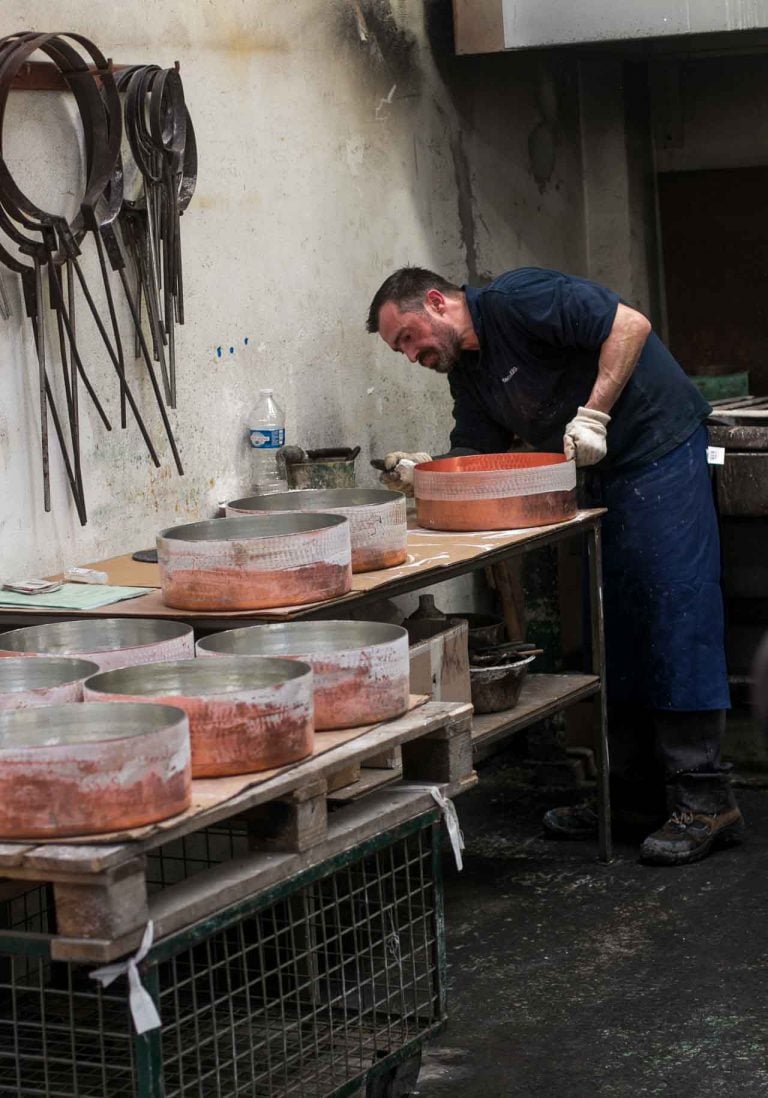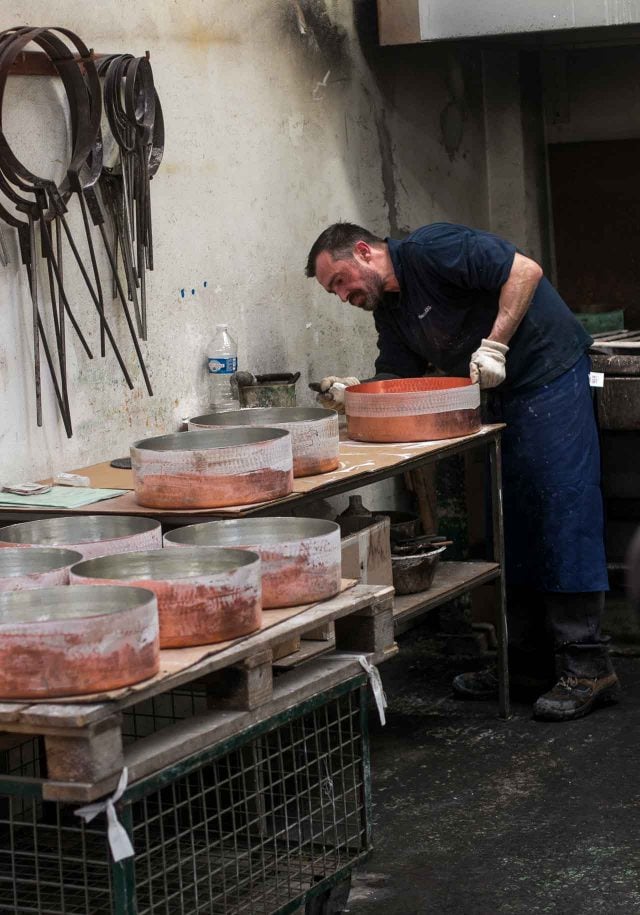 The pots are painted with blanc d'espagne, a special coating to protect the outsides, which tin won't stick to. Then a handful of irregular metal pellets are tossed inside, before the pot is ready to "cook" over an open fire.
Tinning (étamage) of the pots is quite a bit of work. And in addition to seeing the most muscular forearms I'd ever seen in my life, it was amazing to watch the tin melt and make a shiny coating inside the pots:
Seeing that was one of the best things in my life. I could have spent a few days watching him melt the metal and coat the pieces of cookware.
Like turbotière and martelage (don't worry, there won't be a test at the end of this post) another word I was pretty sure I heard was canelisé, the action of putting the ruffles in canelé molds. The sweet little cakes from Bordeaux were invented to use up the leftover egg yolks, after the whites had been used to clarify wine. So someone came up with the crusty little treats to make use of those jaunes d'œufs. Here's how they're initially molded:
I didn't get to see the ruffled part being made because they were testing and inspecting the molds, and the dies used to make the molds, but when I circled back to someone at the factory about the word canelisé a little while later, no one had any idea what I was talking about. (Good thing there's no test at the end of this post! But I can also blame it on my 5:30am wake-up call…)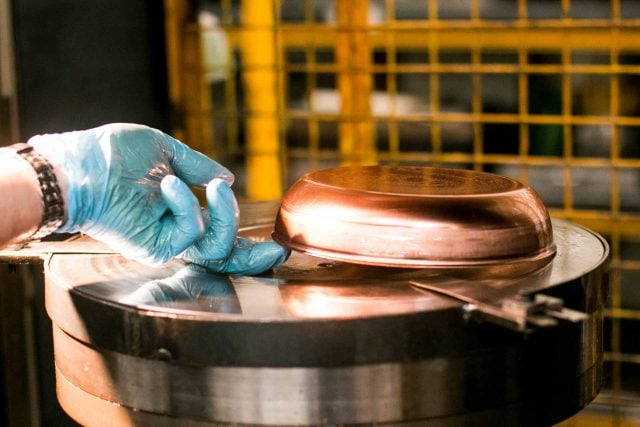 In addition to copper cookware, Mauviel also made pro-quality stainless-steel cookware.
As a gift, they gave me this lovely little saucepan that was coming off the line, and stamped my initials in it.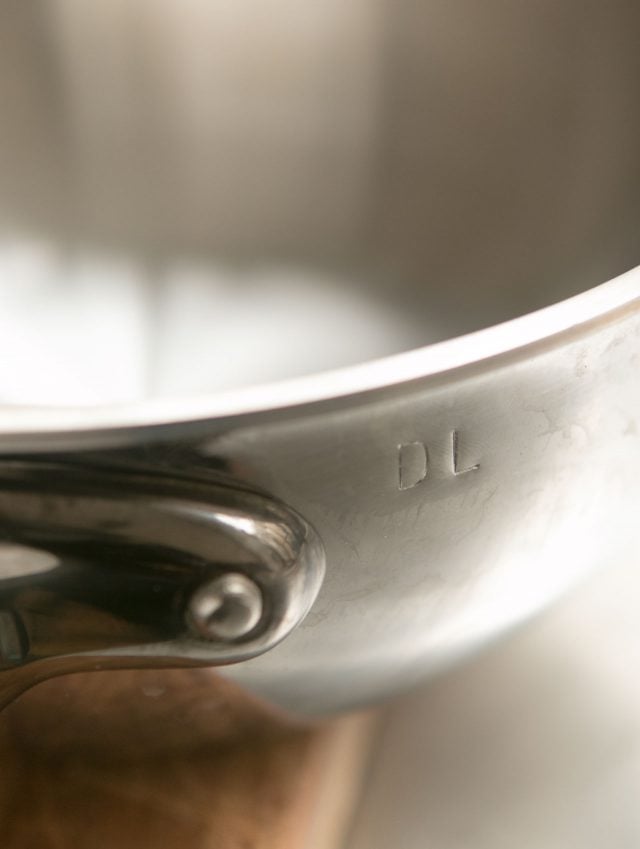 By late afternoon, it was time to say goodbye and head to Mont Saint-Michel for dinner. I was exhausted but had a hard time sleeping that night, thinking about all that beautiful copper cookware coming off the line. And wondering how I could get my tarte Tatin pan (and oval gratin dish) back over here.
Mauviel 1830
47, route de Caen
France
The factory outlet store is open 8 to noon, 2pm to 6pm, Monday through Friday. You may wish to call before visiting to confirm opening hours: 02 33 61 00 31.
At present, Mauviel doesn't offer factory tours but you can visit the factory outlet store, which is adjacent to the factory
For inquiries about retinning copper cookware, they advised that you can email the factory <mauviel AT Mauviel.com> (replacing the AT with '@') or call the number above. (I've given some addresses that retin copper cookware in the U.S., in the links below.)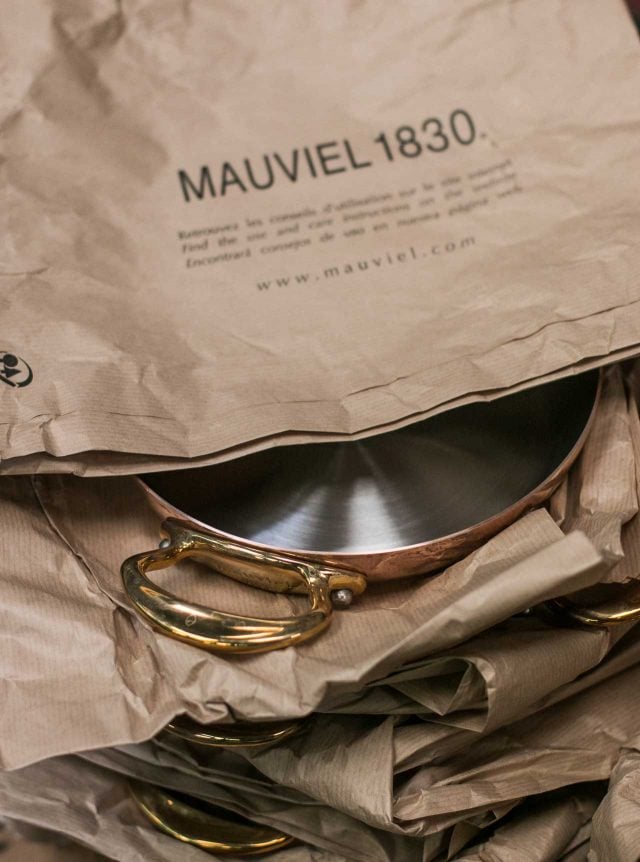 Related Links
Mauviel Factory Outlet Store (in Villedieu-les-poêles)
Atelier du Cuivre (Shop in Paris that sells and refinishes copper cookware)
Mauviel Copper Cookware is available at Williams-Sonoma, Sur La Table and Amazon.
Two places in the U.S. that do retinning of copper pots are East Coast Tinning and Rocky Mountain Retinning.
Bachelier Antiquités (Sells vintage copper cookware, at the Clingnancourt Flea Market in Paris)
Paris Flea Markets and Thrift Stores