What is Nonreactive Cookware?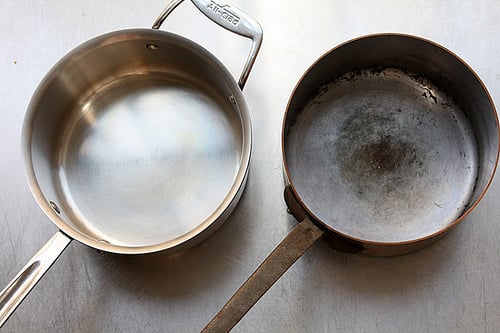 A while back, a friend made the Apple-Red Wine Tart (in Ready for Dessert), which calls for the fruit to be cooked in red wine in a nonreactive pan. I didn't realize it at the time, but many people don't know what nonreactive cookware is and he called to tell me the dessert was great, but his pan was stained. (And this was someone who cooks a lot.) Which is why I specify in some recipes, most notably those that use citrus juice, certain fruits and vegetables, some brown sugars, or wine, to use "nonreactive" cookware. But I'm often asked – What does "nonreactive" mean?
It means to use cookware made of a material that will not react with acidic ingredients. The most common nonreactive cookware is made with a stainless-steel finish and will not discolor or pit when used with acidic ingredients. You can see from the two saucepans above, the finish on the one on the left (nonreactive stainless-steel) has remained intact and has not pitted, whereas the lining and finish (reactive) in the copper pan has become worn off.
Generally speaking, I do not recommend the use of "reactive" metals for cookware, such as unlined copper, those made of raw aluminum or tin, or any pan whose finish has deteriorated. Exceptions are my copper caramel pan, and I use aluminum cake pans since they conduct heat well and there is usually nothing acidic in cake batters to react with the metal. (And I line the bottoms with parchment paper when baking most cakes.)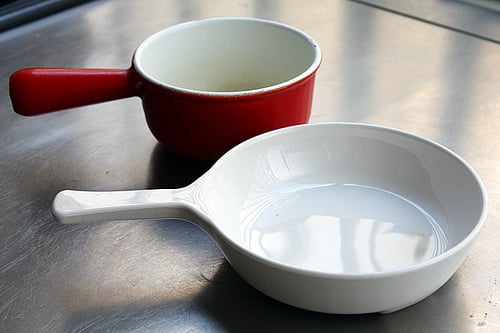 Enamel or glazed finishes are generally nonreactive but can discolor, as you can see in the red pot, so I avoid using mine for anything like red wine or other ingredients that will stain them. There are some health concerns if using chipped enamel or glazed cookware, but anodized aluminum is considered safe. Although after time, the finish can be worn down as well, and they should not be used once the finish has been compromised.
Most nonstick coatings are considered non-reactive and I've had good results using "green" non-stick cookware. Glass and pyroceramic glass, such as those marked as Pyrex and CorningWare are nonreactive elements, although make sure before using them that you follow the manufacturers' guidelines for proper usage to see if they can be used over direct heat or not.
Materials to avoid when using acidic ingredients are unlined tin, unlined copper, raw aluminum, and unseasoned cast iron. (If well-seasoned, cast iron can be used with certain fruits and acidic ingredients.) My advice is to buy good-quality cookware; you don't need a full batterie de cuisine, but some top-of-the-line cookware comes with a lifetime guarantee, which will save you money in the long run. And better quality cookware will perform better, have less hot spots, and most importantly, will make you happier in the kitchen.


Notes
-Please keep in mind that different manufacturer's may have diverse recommendations regarding the use of their cookware. I always recommend you check with the instructions that came with your cookware, or on the manufacturer's website, to determine the best way to use their cookware, include what temperatures it can be used up to.
-An excellent article comparing and discussing the different materials used in cookware, and any associated health risks, can be found at the Clemson Cooperative Extension website.