Vin chaud: Hot Mulled Wine
Yes, it's winter in Paris. And when the temperature drops, folks move inside the cafés to escape the cold, except for the fumeurs, who are remarkably hardy and seemingly immune to the chill outside, while they puff away on café terraces. We're all bundled up, shivering on the sidewalks, lured into the cafés with chalkboards scrawled with the words, Vin chaud.
Vin chaud (hot mulled wine) is somewhat of an anomaly in a country where wine is revered, as the idea of "heated wine", infused with spices, is a curious paradox. I always preferred my wine as it is, right from the bottle, but during the blisteringly cold winter in Paris, I discovered the appeal of the warm soothing drink, tinged with the spices of winter, and I wanted to share it with you, too.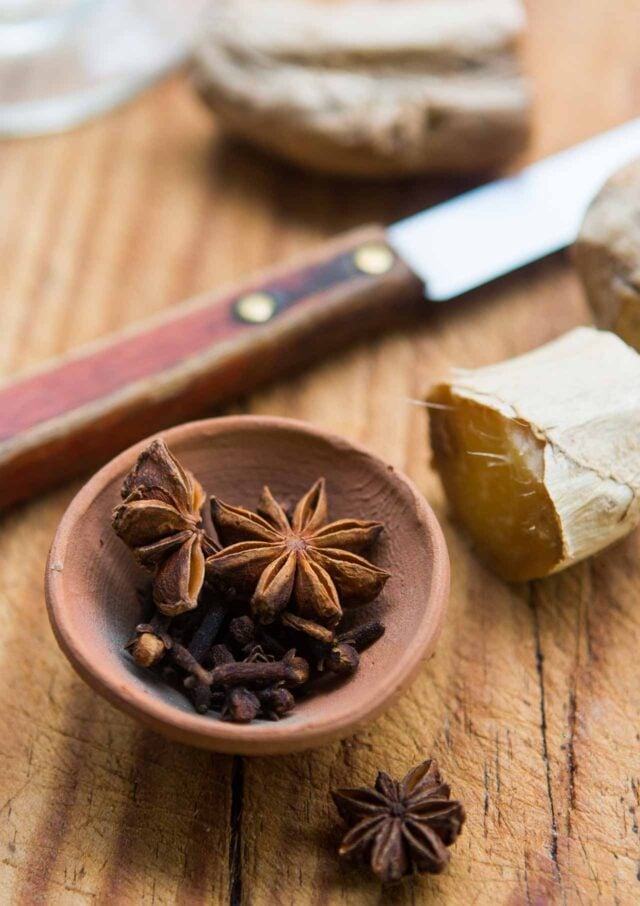 For those folks who say that you should "always use the best wine you can afford…even for cooking," I can't speak for everyone,  but I can't imagine anyone in France making vin chaud with anything but inexpensive wine. Years ago a famous French chef gave me his recipe for vin de pêche (peach leaf wine), and when I asked him which wine he recommended, he said, "…use the cheapest wine you can find. Just pour that in."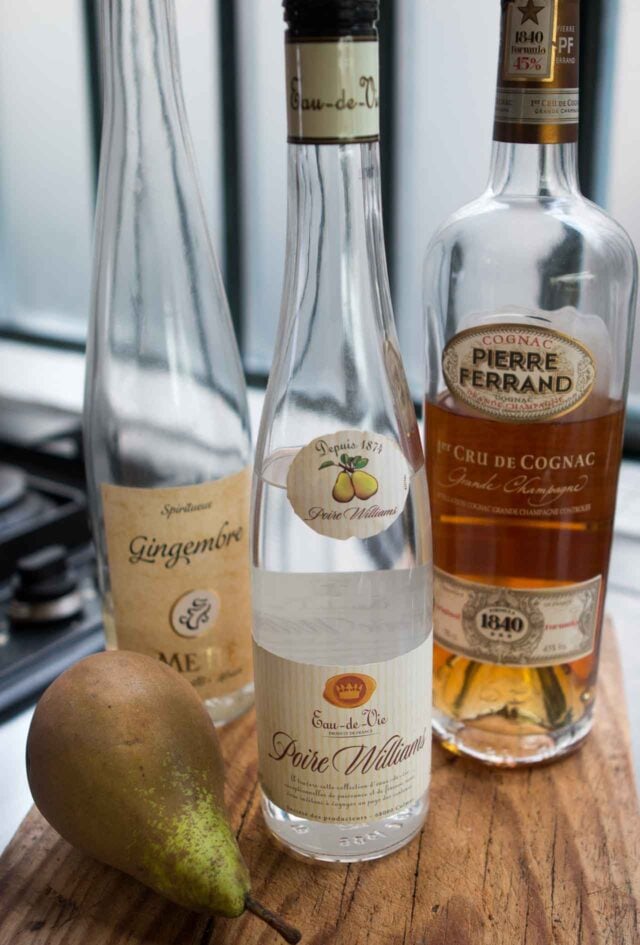 I follow his advice with mulled wine too; once you've heated the wine with the spices, any nuances in a fine wine would get steamed away. The French don't love cinnamon as much as Americans do, so I left it out. Of course, it's a free country – assuming you live in a free country – so you can spice it up as you like and there's no problem if you want to add a cinnamon stick or a pinch of ground cinnamon to the spice mix.
To give the mulled wine a little zip, I used ginger eau-de-vie, which I love because of its spiciness. You might have trouble finding it so any eau-de-vie, such as Pear William, will work well. Another option is to use Cognac or brandy, or a pour of port, to fortify things.
Vin chaud: Hot Mulled Wine
At some cafes in France, the spices are left in, and the mulled wine it served that way. (People just drink around them.) Elsewhere, you may want to alert guests that there are spices in there, or strain them out before serving. Any fruity red wine would work, such as merlot, Gamay, Grenache, or Pinot noir. Fortifying the wine with eau-de-vie is a nice touch, and that too, can be swapped out with another favorite liqueur, such as brandy or port, although it can also be left out.
1

bottle (75cl) fruity red wine

1

whole

star anise

2

slices

fresh ginger

,

(no need to peel)

3

green cardamom pods

,

gently crushed

3

whole cloves

generous

pinch of

freshly ground black pepper

1/4

cup (60ml)

mild-flavored honey

optional: 1/4

cup (60ml)

Pear Williams

,

or another eau-de-vie, or Cognac, brandy or port
Pour the wine into a nonreactive saucepan. Add the spices and honey, and bring to simmer. Turn off heat, and let stand 15 minutes.

Reheat the wine until it's warm and steamy, turn off the heat, and add the eau-de-vie or brandy, if using. Pour the wine into heat-resistant glasses to serve.
Related Links and Posts
How to Find Foods Mentioned on this Site