Neither one of us is quite sure how we connected, but so be it. But somehow I kind of remembered Terresa Murphy from San Francisco. However she's been living in Paris since the mid-80s, so my memory is either better than I thought, or my mind is playing tricks on me. (Which is a whole nother road that I'd prefer not walk down right now.)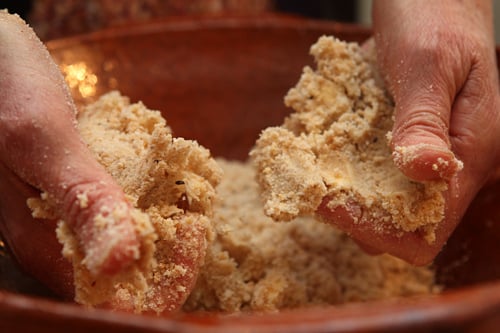 Terresa leads market tours and teaches cooking classes in Paris which focus on vegetarian cuisine and sourcing fresh, local, organic ingredients, and reaches out to people via her website, La Cucina di Terresa. She takes folks to the markets and highlights the farmers and stands at the market, manned by the producteurs themselves and offers tastings of French natural wines. In fact, I often run into her at the market because we have similar taste in produce and we're both always on the lookout for things like stewing greens and other unusual vegetables that are not so easily found.
Some time back I had her Baci di Dama cookies, which I've been dying to get the recipe for because they're so good. And I've wanted to share them with you, because – as they say, sharing is caring.
Another bonus is that they are gluten-free, which means even more of you can share in the enjoyment of them. Can we all have a San Francisco-style group hug now?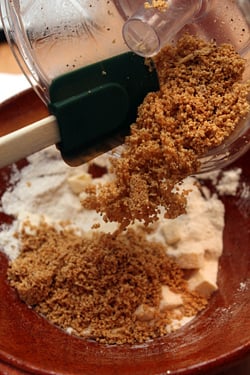 So she came by a few weekends ago, here in Paris, with a nice bottle of Gamay from the Loire and we set ourselves out to make a batch of these Italian-inspired cookies together.
Because we're both San Franciscans, and cooks (who understand the importance of having a bottle of wine handy, no matter where or what you're cooking…or baking), we're sort of kindred spirits and it was a lot of fun to have her come over and show me how to make these nutty, buttery cookies with a little bit of crunch. And a smidgen of dark chocolate, just enough to tease you, so you reach for another one right after you finish off the first…and the second…and the third…and the…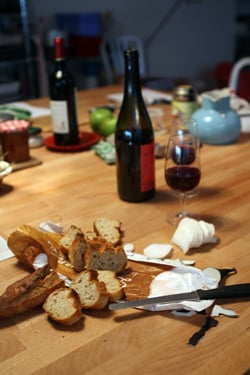 Each little cookie is a double-kiss of hazelnut tenderness. They're so good that I woke up the next morning, determined to wait until at least mid-day before popping the lid on the container. But unable to control myself, I had a few while I was preparing my morning café au lait. And a few more after breakfast as well.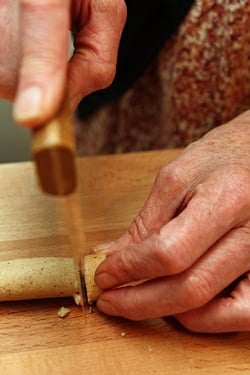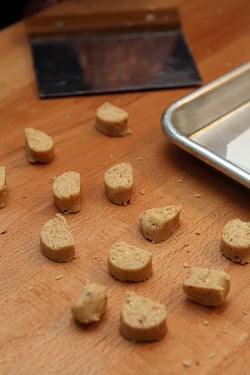 The dough is a little different to roll out than you may be used to, so it's best to keep it cold as much as possible while working with it. It can be a bit sticky because it's so rich in hazelnuts, which is why they taste so good, but it does come together nicely with just a bit of kneading and coaxing.
For those who are persnickety about making sure each cookie is perfect, you can certainly spend the time to roll each bit of dough in a nice little ball, which will spread out ever-so-slightly when baked. Then they firm up into crispy mini-domes, ready to fill.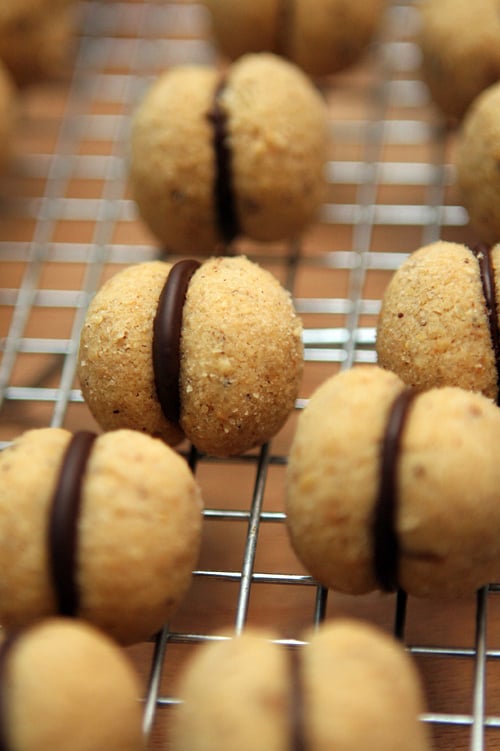 Rice flour is used in these cookies, which I get at my local natural foods store and one can find it in Asian markets as well. However the recipe will work with regular white flour if that's what you have on hand. However rice flour gives the cookies a delightful crispness and I think when you taste these, you'll find yourself stocking rice flour in your pantry, as I'm going to start doing as well, now that I (finally) have this recipe in my files.
Baci di Dama
Recipe by Terresa Murphy of
La Cucina di Teresa
Toast the hazelnuts in a 325ºF (160ºC) for 10 to 15 minutes, until they're a deep golden brown color and the skins are peeling away. Remove from the oven and as soon as they're cool enough to handle, rub the hazelnuts in a tea towel (or if they're not too hot, with your hands), until as much of the loose skins come off as possible. Let them cool completely before grinding them up. Terresa also says you can use almonds, which can be skinned by plunging them into boiling water for a minute, then draining them. And as soon as they're cool enough to handle, pinching them to slide off the skins, then toasting them. UPDATE: A couple of people noted in the comments that they had a bit of trouble coaxing the dough into a cohesive mass. It was recommended that if that happens, adding a small amount of water or a touch of butter (perhaps melted), is enough to bring it into shape. I haven't tried them – or found them necessary – but if you do, I would add the smallest amount possible to bring the dough together. I posted some links to sites that have made them successfully after the recipe.
1 1/4

cups (140g)

hazelnuts

,

toasted and skinned

1

cup (140g)

rice flour

,

or all-purpose flour

3 1/2

ounces (100g)

unsalted butter

,

at room temperature

1/2

cup

sugar

,

100g

pinch

of salt

2

ounces (55g)

bittersweet or semisweet chocolate

,

chopped
Put the hazelnuts in the bowl of a food processor and pulse them until very fine; they should be the consistency of coarse polenta. (See photo, in post.)

Transfer the ground nuts to a bowl and add the rice flour (if using all-purpose flour, sift it in). Cut the butter into pieces then add the butter, sugar, and salt to the dry ingredients. Use your hands to mix all the ingredients together until the butter is dispersed and completely incorporated. The dough should be very smooth and hold together. If not, knead it until it does.

Divide the dough into three equal pieces and roll each piece until it's 3/4-inch (2cm) round. Try to get them as smooth as possible, with no cracks. If the dough is too long to work with as you roll them out, you can cut the dough at the midway point and work with it in batches.

Chill the dough logs until firm on a small baking sheet or dinner plate lined with plastic wrap or parchment paper. (Terresa recommends refrigerating them for 2-3 hours, but we put them in the freezer and they were cold within 15 minutes.)

Preheat oven to 325ºF (160ºC) and line two baking sheets with parchment paper or silicone baking mats.

Working with one length of dough at a time, keeping the others in the refrigerator or freezer, cut off equal-sized pieces using a knife or pastry cutter. The ideal is 5 grams each, if working with a scale. The fastest way to do it is to cut one to the right weight, then hold that one alongside the logs and use it as a template to cut the others. Once you've cut a length of dough, roll the pieces into nice little balls and place them on the baking sheet, slightly spaced apart (as shown.) If you don't have a scale, simply roll the dough to the size of a marble, trying to keep them as similar in size as possible.

Continue cutting the dough and rolling it into little balls. Bake the cookies for 10 to 14 minutes, rotating the baking sheets in the oven midway during cooking, until the tops are lightly golden brown. Let the cookies cool completely.

In a clean, dry bowl set over a pan of barely simmering water, melt the chocolate until smooth. Put a chocolate chip-sized dollop of chocolate on the bottom of one cookie and take another cookie, and sandwich the two halves together. (Terresa uses a spoon but I make a little parchment paper cone and pipe the chocolate. I also find it goes faster if you line the cookies up, side-by-side, bottom side up, and pipe spoon chocolate on one side of a number of them at a time, then sandwich them together, then doing another batch, until they're all filled.)

Once filled, set the Baci di Dama sideways on a wire cooling rack until the chocolate is firm.
Notes
Storage: The cookies will keep in an airtight container at room temperature for up to one week.
Visit Terresa at her site, La Cucina di Terresa, which focusing on vegetarian cooking classes and natural wine tastings in Paris, and follow her on Facebook.
Photos From Others Who Have Made This Recipe
---
Related Recipes