Gooey Cinnamon Cake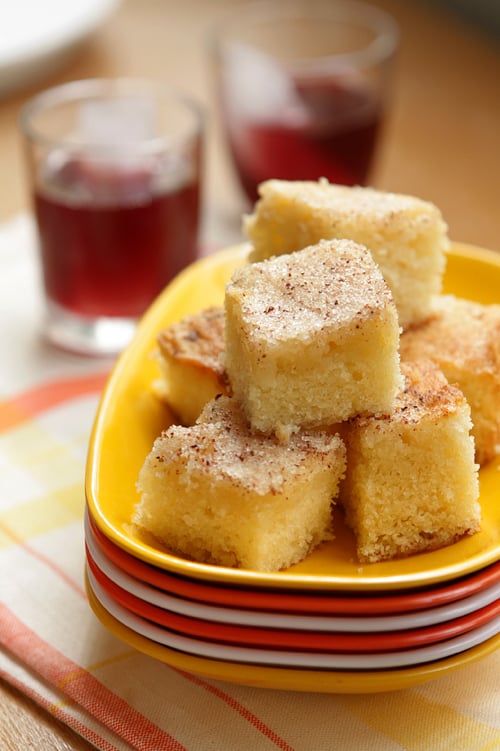 Who was more thrilled than I to find that Deb thanked me in The Smitten Kitchen Cookbook for lugging a big sack of French cocoa powder to New York City for her? But just after I read that in the acknowledgements, my head started reeling, thinking that others would start asking me to bring them cocoa powder as well.
That one time I did it, fortunately, I managed to avoid a catastrophe as I can't imagine anything worse than opening up a suitcase and finding a kilo (2#) of cocoa powder had exploded in there. (It would knock the time that I had a jar of molasses open in my suitcase from that top spot.)
I'd never heard of a St. Louis Gooey Butter Cake until I read about it from Melissa Clark in the New York Times. Deb was also transfixed at the time. But unlike me, she got off her duff and did something about it. And in her typical fashion, she put her own spin on it and recast the recipe in her bestselling cookbook
Like her blog, the book is full of hilarious stories. For example, she tells how she stayed in a Paris apartment and was transfixed by the potatoes sold by the rôtisserie chicken vendors.
(Fortunately she didn't mention that it was an apartment swap and the guy from Paris screwed up his return date and she and her husband came home a day before anticipated and had to sleep in the living room of their own apartment because a certain someone had trouble with the European date system with plane tickets saying November 10, 2010 is 11/10, not 10/11.)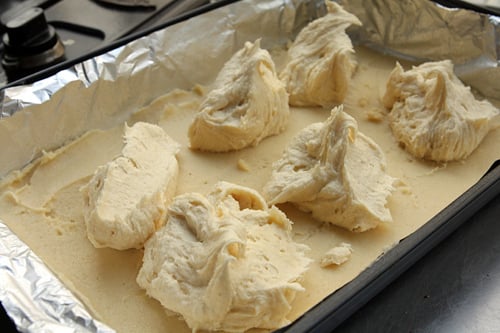 In addition to having a real living room, which my apartment didn't even have at the time (which she graciously didn't mention in the book) she, indeed, did have a very small kitchen. Heck, I could barely toast a bagel in it. Yet she pulls out spectacular layered cakes and so forth, which are in the book, along with tales of her life as an obsessive home cook. (Yes, the potato recipe is in there, page 173.) And I'm sure next time I visit, she's going to be just as obsessive checking the dates on my plane ticket as I am now, about triple-wrapping molasses when I travel.
| | |
| --- | --- |
| Gooey Cinnamon Cake | Print Recipe |
About 90
bite-sized cake squares
Adapted from The Smitten Kitchen Cookbook (Knopf) by Deb Perelman There is something about this cake that's wildly addictive, speaking from personal experience. (My French friends went nuts over it, too.) To the naked eye, it may just look like a simple butter cake and the two layers may look a bit discernible. But melded together, with the crunchy topping, you won't be able to stop eating the squares of cake. You can tell Deb is a blogger because she covers her bases and lists a multitude of substitutions and possibilities for ingredients that folks might inquire about. Instead of corn syrup, you can use golden syrup or honey. (Although honey is pretty strong, so I would use one of the other syrups I listed. Or choose a mild-flavored honey.) She covered the bases on the milk/half-and-half/cream issue, too. And you can use any of them in the gooey layer I'm not as obsessive as Deb, and although she didn't say I could do it (gotcha Deb!) I did grind my own cinnamon. Since it was going right on top, I wanted that zingy freshness of just-grated spices front and center stage. But I'm sure she'd be fine with that.
Soft Gooey Layer
1/4
cup (60ml)
light corn syrup or golden syrup
1/4
cup (60ml)
whole milk or heavy cream
1
tablespoon
vanilla extract
12
tablespoons (170g)
unsalted butter,
at room temperature
1
cup (225g) plus 2 tablespoons
sugar
1
large egg,
at room temperature
Cinnamon Topping
1 1/2
teaspoons
ground cinnamon
1. Line a 9- by 13-inch cake pan with foil, leaving an overhang on all four sides. (I overturn the pan, shape the foil over the bottom, remove it, then flip the pan over and ease the foil into the pan.) Spray the foil in the pan with nonstick spray or brush with melted butter.
Preheat the oven to 350ºF (180ºC).
2. To make the cookie base, whisk together the 1 1/2 cups (190g) flour, baking powder, and 1/4 teaspoon salt in a small bowl. Beat the 8 tablespoons (115g) of butter and the 3/4 cup (150g) of sugar in the bowl of stand mixer with the paddle attachment, or by hand, until light and fluffy, 3 to 5 minutes.
3. Add the egg and the milk and mix in, stopping the mixer to scrape down the sides of the bowl. Stir in the dry ingredients, until fully incorporated. Put the mixture in the cake pan in dollops (it's too thick to spread if you add it all in the same place), and spread it into an even layer with an offset spatula.
(You don't need to clean the bowl; you can reuse it for the next step.)
4. To make the soft gooey layer, in a small bowl, whisk together the corn syrup or golden syrup with the milk or cream, and vanilla.
5. Beat the 12 tablespoons (170g) of butter with the 1 cup plus 2 tablespoons (225g) of sugar, and salt until light and fluffy. Beat in the egg, scraping down the sides of the bowl.
5. Add one-third of the 1 1/4 cup (155g) flour, then half of the milk/corn syrup mixture. Add another one-third of the flour, then the rest of the milk/corn syrup mixture. Then stir in the remaining flour. Dollop the batter over the unbaked cookie layer and spread evenly.
6. Mix together the 2 tablespoons of sugar and cinnamon, then sprinkle it evenly over the cake.
7. Bake the cake for 25 minutes, or until the cake feels slightly damp, but gently set in the center. Remove from oven and let cool on a wire rack. When cool, lift out the cake using the overhang of the foil, and cut the cake into 1-inch (3cm) squares.
Note: Sharp-eyed folks might notice that my cake squares didn't get as dark has hers, as shown in the book, which I attribute to a new oven which I'm still learning how to use. The cinnamon I ground was also not as fine as the finely ground cinnamon that you buy, so the pieces are more distinct, which also led to the tops of mine looking a bit different from hers. Regardless of any differences in appearance, it's quite an amazing cake and I urge you to try it.