Blood Orange Sorbet Recipe
For some reason, people think I eat out all the time. While I like eating in restaurants, I don't like being served something that I don't like. (Funny, huh?) So I mostly make food for myself, since when I do, I get to pick and choose exactly what I'm going to make, what I'm going to put into it, and how to cook it. I've become the proverbial free man in Paris.
Working as a pâtissier for so many years, thought, it's assumed that I want complicated, fancy desserts bulging with buttercream and towering with spun sugar and whimsical bits of foam, spheres, and powders strewn all over the place. While I appreciate the work and skill that goes into those kinds of things (Sam Mason has really impressed me with desserts that were creative and delicious), I really like simple food, especially after a rich or spicy meal.
I don't think dessert should be the proverbial "nail in the coffin" after dinner and I'm always curious when people say, "That restaurant wasn't very good. When we left, we were still hungry!"
I've been writing a bit about Korean food, but Japanese cuisine is a pretty good example of how I like to eat too. There are lots of small, highly-interesting and flavorful bites which are designed to leave you satisfied, but not stuffed. I recently read Untangling My Chopsticks by Victoria Riccardi, about her studies of the food and ritual of tea kaiseki in Japan, and observed: "Through tea kaiseki I genuinely had come to believe that when you leave a meal, moment, or place not quite completely satisfied, you cherish it that much more because it was ephemeral and left you wanting."
I though that was an interesting observation and remembered when Alice Waters was kind enough to write an introduction in one of my books, she compared my sensibility to a perfect glass of tangerine juice she was served in Japan for dessert. It wasn't complicated, but the cool-sweet sensation of that little glass of juice hit exactly the right note after dinner. I always find desserts like that to be the most appealing.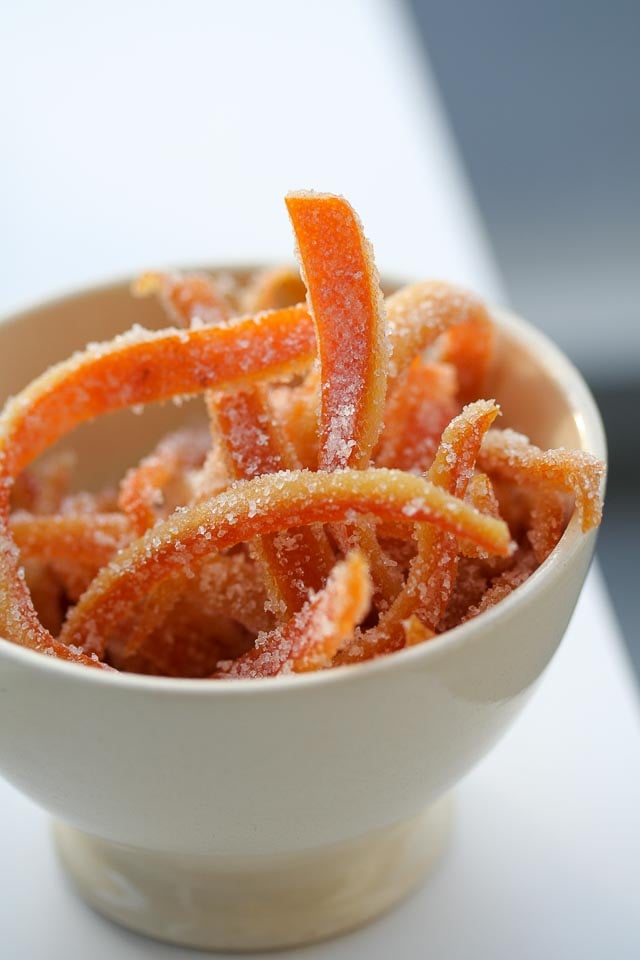 Being citrus season, my market is exploding in a riot of colorful oranges sanguines. The merchants always slice a couple of blood oranges open and leave them facing outward, since they are a beacon to shoppers who marvel at their color, and can't resist bringing a few home. When I started working at Chez Panisse back in the 1980's, few had seen red-fleshed oranges and guests were forever asking me, "How do you get the oranges that color?"
We'd gotten ours from Italy, but times have changed and now blood oranges are grown in the America and depending on where you live, they're readily available. If they're not, I think they're worth moving for.
The great thing about this recipe is—you don't even need a recipe! The directions are below, but here are a few tips that you might be interested in:
-You can use tangerine, orange, grapefruit, or blood orange juice. Just be sure to use fresh juice, which will taste much better than the pre-packaged juice you buy.
-Room temperature citrus fruits will yield much more juice than chilled ones.
-There's no need to strain out the pulp. I never do.
-Because there are no stabilizers added, citrus sorbets are best eaten a few hours after they're churned. If you plan to serve it another day, remove it from the freezer 5-10 minutes prior to serving. (You might wish to consult Tips For Making Homemade Ice Cream Softer.)
-If you want to use an alternative sweetener, such as honey or agave, use 3/4s of the amount in place of the sugar. For example, in lieu of 1 cup sugar, use 3/4 cup honey instead.
-If you want to add Champagne or sparkling wine, about 2 tablespoons per cup (250ml) is about right. A bit of wine will improve the consistency.
-Don't toss the peels away. The can be candied and just a few rinds will reward you with enough candied peels to last you months and months. I never throw them away.
1. Juice your blood oranges. Measure the juice.
2. For each 1 cup (250ml) of juice, figure 1/4 cup (50g) of granulated sugar to be added.
For example: Use 1/2 cup (100g) sugar for 2 cups juice (500ml).
3. Put the sugar in a small, nonreactive saucepan. Add just enough juice to saturate it very well. Heat, stirring frequently, until the sugar is completely dissolved.
4. Stir the sugar back into the reserved blood orange juice.
Links
Oranges by John McPhee (Excellent book on oranges. Surprisingly fascinating!)
Making Ice Cream Without A Machine