Citrus Oils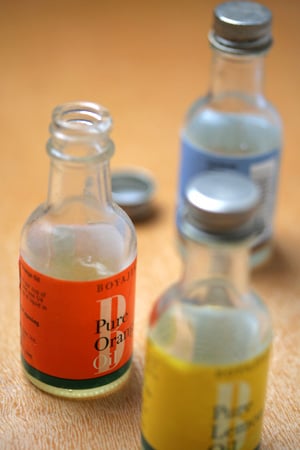 I know some of you've been thinking; "When is David finally going to clean-up and organize his links page?"
Well, that day has come and gone folks, and instead of the previous mish-mash of links added haphazardly, they're now neatly organized into categories and specialties. I've added a couple—and given a few the heave-ho, especially the stale ones that are perhaps older than a few of you out there.
As I clicked around to make sure there weren't any clunkers, a thought flashed through my mind. It was something "hardened and naked." No, it wasn't my other secret blog, it was Deb commenting on the citrus in her refrigerator; all those forgotten fruits that have been zested and left to dry up.
Now that's not very blog-worthy…or hot, is it?

I've been thinking about zest and I have these tiny little bottles in my refrigerator door of pure citrus oil, that are sort of my secret weapon. They've been there well over five years and each time I open the bottle, before using it, I tentatively take a sniff. And each time I expect the flavor to have diminished. But truthfully, I haven't noticed any major deterioration of aroma.
Expiration date? Bof!
So let's say you're tired of coming home and finding hardened, naked things in your fridge? That's where citrus oils are great to keep on hand. You can replace fresh zest in many recipes with these oil, which is especially nice to know if you're baking and you remember that the lemon you thought you'd put on the conveyor belt at the supermarket—Merde!— but is probably still rolling around in that shopping basket.
I like having these little bottles around for emergencies like that. And like most men, I don't think nudity and frigid temperatures are exactly an ideal combination…and definitely not hot. I use these aromatic oils in lots of ways. Because these are pure oils and not extracts, which have water or alcohol added, you can add them to melted chocolate without worrying about it seizing up.
I add a demi-capful to pound cake batters, cheesecakes, and cookie dough if I'm citrus-less, and when I do, I can't resist rubbing a small amount under my nose afterwards, since I love the fragrance. Of course, I sterilize my hands thoroughly before getting back to kneading my cookie dough. So if I bring you cookies someday and you find some stray whiskers in them, they're definitely not mine.
Boyajian, the maker of these citrus oils recommends using 1/2 teaspoon per cup of dry ingredients plus 1/4 teaspoon per cup of liquid ingredients. But in my experience, that's way too much and your madeleines might end up tasting like lemon Lifesavers. If using them, I'd try half that amount, or even less. Then taste, and add more from there. These are st-rong
I've been told the lime oil makes killer margaritas, which sounds pretty good to me. And considering it takes around 80 limes to make 1 ounce (30ml) of pure lime oil, these are the bargain of the century.
Even though this century is only 8 years old, I feel pretty confident. You're welcome to correct me in a couple of years if you want. And somehow, I know some of you will…
The Mini Citrus Oil Box which you can order direct from Boyajian is a great deal at only $9, as well as other oils. And you can also order them through Amazon, including the 1 ounce (30ml) bottles of lemon, tangerine, and orange oils. Many well-stocked food stores carry them too.
(Please note that not all citrus oils are intended for food use. Some are solely for cosmetic purposes. Check to make sure whatever brand you're using is edible.)
________________________
Sidenote:
This Saturday, February 9, I'm going to be a featured guest on Gourmet magazine's Diary of a Foodie airing on PBS stations. The crew came to Paris to film me in one of my favorite pastry shops and in my Parisian bachelor pad. You can find more information at Movable Feast or visiting the Diary of a Foodie website.
Update: One of my readers (thanks B!) alerted me that it'll be airing on KQED in the San Francisco area on February 16th. Click link for more info, or check the website for your local PBS station, for exact date and time in your region.