Last month I was teaching at Central Market, a chain of pretty amazing supermarkets in Texas that has just about anything you can imagine—including cooking classes. And I never pass up the chance to teach there. For one thing, the staff is uniformly excellent and it's just a pleasure to step into their kitchens and work with them. But the other is that I get to wander the aisles of their supermarkets, which are like no other in the world.
French nut oils, Texas honeys, a crazy machine that shoots out crisp Korean wafers at the ultra-high speed of a shotgun, a homemade salsa and guacamole bar, barbecued ribs that I'm still dreaming about, a excellent selection of British cheddars and French soft cheeses, in-store scratch bakeries, and candy-coated chocolate-covered sunflower seeds, which I'm now (unfortunately) completely addicted to. And those Korean wafers are pretty addictive as well, although the blasting sound the machine makes when firing them out kind of scared me. (I get a little gun-shy in Texas, y'all.)
When they invited me to come, they said; "By the way, we're having a Citrus Festival. Would you like to participate and do desserts with some of the citrus we'll be stocking? We'll send you a list so can decide." And when I opened up that spreadsheet and saw everything from Rangpur Limes to fresh Yuzu, I couldn't say yes fast enough.
I was so wowed when I got there and saw all the citrus piled up everywhere, they graciously allowed me to take photographs to share. I mean, when you see all these dazzling fruits, many of which are nearly impossible to find, it's hard to keep them to yourself. When I started working at Chez Panisse in the early 1980s, we had blood oranges which were imported from Italy. Customers were always asking us, "How do you get the oranges that color?"
Nowadays blood oranges are grown in California and elsewhere, and are fairly easy to find in the states. The most common varieties are Sanguinelli, Tarocco, and Moro, the latter having the deepest red color of all the blood oranges. Blood oranges have a distinct berry-like concentrated flavor, although some varieties are juicier and sweeter than others. In France and Italy, one can find blood orange juice commercially available in supermarkets.
Navel oranges are widely grown and I eat one a day in the winter. (Some people forget that winter is citrus season in the northern hemisphere.) A favorite mid-morning snack is a bowl of orange sections and pieces of dates, which is a great combination. Or top slices of oranges with pistachios or pistachio oil, adding a dusting of cinnamon—and perhaps a scoop of blood orange sorbet or crème fraîche ice cream, for a quick dessert.
When you buy one navel orange, you're actually buying two. The "navel" of the orange is actually another orange growing inside the fruit. In the excellent book Oranges by John McPhee, he reminds us that all navel oranges were likely cultivated off one single tree in Brazil. His book also tells the fascinating story of frozen orange juice and it's a must read, even if you don't think that you care all that much about oranges.
Navel's don't yield the most juice of all the oranges but are great for fruit salads since they're meaty, sweet-tangy, and of course, have no pesky seeds. If you can find them, Cara Cara oranges have sections that are vivid pink-orange and are wonderfully flavorful. I would love to get my hands on some.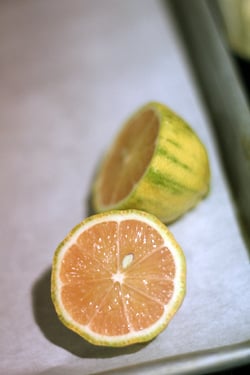 Another citrus shocker are pink variegated lemons, which when sliced open, reveal a soft-colored interior whose perky scent is instantly reminiscent of fresh lemonade. I think if I had space for just one citrus tree (not a chance in a two-room apartment), this would be the one I would plant because I find them so intriguing and versatile. The juice is sweet and pink when squeezed, which I have no doubt I'd find plenty of uses for, sweet or savory.
Grapefruits are widely considered to be a cross between a pomelo (sometimes spelled pummelo) and possibly an orange. Pomelos are the largest of all citrus and can reach the size of a bowling ball.
They appear in markets in January to coincide with Chinese New Year, when they are enjoyed for good luck. Stems and leaves attached signify abundance. Pomelos are best peeled and eaten as one would a giant orange. Like grapefruits, the rather thick skins can be candied but needs to be blanched in several changes of water to reduce their bitterness.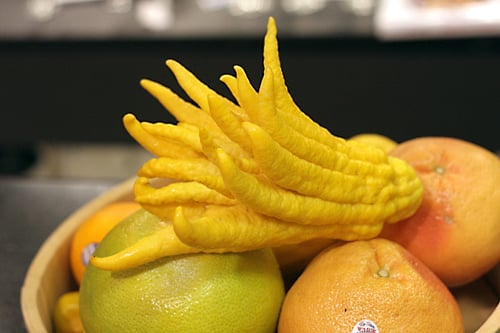 Citrons are a fruit that really is best enjoyed candied. Although in Italy I've heard they slice them raw and serve them sprinkled with salt, the idea in my head isn't all that appealing—although I'm happy to be proved wrong if someone wants to spring for a tasting trip to Italy to sample it. Citrons were one of the first citrus fruits to come to Europe, and nowadays there's a lot of confusion over the names; in France citron means "lemon" and cédrat is a citron. In Italy, it's a cedro whereas a lemon is a limone.
Citrons are used around the Jewish holiday of Sukkot, celebrating the fall harvest, most specifically the Etrog citron. And it must have the pitam attached, the nubbly end opposite the stem, to be used for the rituals. According to the site I linked to previously, some feel that the forbidden fruit in the Garden of Eden was actually a citron, which the ancient Greeks called a "Persian apple." Since I wasn't there, I can't say for sure. But if I was, I probably would have eaten it. (After candying it first, of course.)
The two types of citrons most common are the Etrog or Esrog, (above, left) and the wild-looking Buddha's Hand, (above, right), which has tentacles that can splay out in all directions. Most citrons have little or no pulp inside and the entire fruit is preserved or candied in pieces, or in larger quarters or strips.
Even the experts aren't sure if the Meyer lemon is a cross between lemons and oranges or mandarins, but everyone agrees they're softer and sweeter than ordinary lemons. Because they're more fragile than regular lemons, they're usually not available commercially and if you know someone with a tree, it's likely you'll get gifted some Meyer lemons during the winter. Their juice is quite sweet, albeit delicious, and if you use it in recipes calling for standard lemon juice (usually Eureka or Lisbon lemons), you'll need to at least double the amount of juice or dial down the sugar.
Most limes aren't green when ripe; commercial limes are gassed when they're unripe to 'fix' their color. That's another reason why commercial limes don't yield as much juice as their riper counterparts. If you travel to Mexico or Asian countries, or shop in Latin or Asian markets, you'll see yellow sweet limes, sometimes referred to as golden limes. Whatever kind of limes or lemons you buy, look for glossy fruits which indicate ripeness.
One fruit I was particularly excited about using during my classes was Yuzu, which has become a somewhat trendy ingredients in Paris restaurants and elsewhere, and the juice is sold in small bottles in Japanese markets.
That's partially because each Yuzu has lots of seeds and very little juice. So next time you see the price of a bottle of the juice, the faible amount of juice each fruit yields justifies the price. The scent is a bit mysterious; kind of balmy with a complex musky-citrusy scent. When I sent a picture of one over Twitter from the class (no, I didn't stop the class to do it, but I couldn't believe it when I saw my first-ever yuzu, and waited for the break to share it), someone pointed out that in Japanese markets in Los Angeles they sell yuzu for about $9 each.
Speaking of balmy/musky, those tiny tangerine-like fruits holding up the citron are Rangpur limes, thought to be a cross between a lemon and an orange. They're a bit too musky for my taste, but they're fun to pull out and tell people they're limes. Even if technically speaking, they're not.
Another oddity in the citrus world are finger limes, each the size of a cornichon pickle. But cut one open, and you'll find they're filled with tiny, separate pieces that spill out and crunch like caviar and spritz and spray the inside of your mouth with tangy lime juice. They're really good, and who knew they could be candied?
Kumquats raise controversy as some feel they aren't citrus fruits (Walter Swingle, a botanist, reclassified them as Fortunella in 1915, although people still incorrectly refer to them as citrus fruit), and kumquats are often hybridized. Hence you'll find fruits like mandarinquats (above, left), limequats, lemonquats, mandarinquats, and citrangequats. Calamondin are larger fruits believed to be a natural hybrid.
Kumquats are eaten whole or sliced, and the most of us eat the multitude of seeds inside. Kumquats, and their hybrids, are ideal candidates for candying and preserving because they're quite tart, which is a nice contrast to the sweeteners used when candying. Candied kumquats are marvelous with poached prunes.
You may not have access to a bounty of citrus like this, but local farmer's markets can yield unexpected surprises during citrus season. Many of the oddest or more interesting varieties of citrus don't make it into supermarkets or grocery stores because there isn't the demand. Aside from jam making, citrus fruits are good for candying, making sorbets, and cocktails such as Sidecars and Margaritas. Citrus should be stored in the refrigerator if not to be used within a day. Do not store citrus in plastic bags as the condensation and humidity will cause the fruit to degenerate quicker. Room temperature fruits yield the most juice so if you plan to juice the fruits, allow them sufficient time out of the refrigerator. Some people microwave the fruits briefly to speed up the process.
When buying citrus, looks can be deceiving. The color of the skin isn't all that important and fruit that appears mottled or green can actually be quite sweet and brilliantly colored inside. Fruits that stay on the trees longer, like honey tangerines (which usually have very rough-looking skin) are the juiciest and sweetest. Most people reach for the plumpest grapefruit but the ones that appear slightly flattened tend to be the ripest and the sweetest.
At the market, if you can pick up each piece of fruit; the heaviest ones have the most juice. If they're offering samples, that's a good chance to taste some varieties new to you or reacquaint yourself with some familiar ones.

Books and Resources for More Information on Citrus
Ortho's All About Citrus & Subtropical Fruit (Amazon)
Citrus & Products (Sunkist)
California Rare Fruit Growers Association
Melissa's Produce (Seasonal Specialty Citrus Vendor)
Frieda's Produce (Seasonal Specialty Citrus Vendor)
Citrus Valley Collection (University of California Riverside)
Texas Citrus and Subtropical Fruit


Citrus Recipes