Goat Cheese Souffle recipe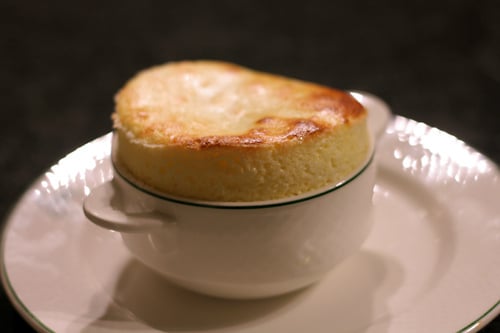 I was teaching recently in Texas at Central Market, and I'd have to say after spending a week there, it's the best supermarket in the world. I was using the marvelous citrus fruits they foraged from around the United States, including fresh yuzu, limequats, jumbo pomelos, bergamots, Seville oranges, citrons (which I've been trying to find in Paris—anyone know where I can find one?), and Meyer lemons.
(One of those lemons made it home with me, by accident. If it wasn't so enormous, I would have tucked a citron in my carry-on…on purpose.)
Not only was there a bountiful display of citrus in their stores, but they had a great selection of cheeses, including locally made goat cheese from Paula Lambert, as well as plenty of others from France and elsewhere. When I was coming up with desserts that used citrus in them for the classes, I thought it'd be nice to combine tangy goat cheese with the sweet, fragrant zest of fresh lemons.
At first you might raise an eyebrow at using cheese as a base for a sweet soufflé. But somehow the mixture magically transforms into something cheesecake-like in flavor, yet much more intriguing. Make sure you use fresh goat cheese. Aged goat cheese, that which has a rind, is likely going to be too strong and for this soufflé. I do take a shortcut and use cream cheese as a base, so I don't need to make a batch of pastry cream, which is often used as a base for dessert soufflés. When I was teaching the classes, I said at one, "I'm not a fan of sweet things", which brought a chuckle from the guests. But I'm not big on overloading things with sugar and often prefer desserts with tang and tartness.
Soufflés are a lot easier to make than you think. If you can make a cake, you can make a soufflé. In fact, the first thing I ever baked was a soufflé. My parents had left me home with a frozen tv dinner way back when I was a kid, so I opened my mother's Settlement Cookbook and landed on the page for Chocolate Soufflé. Since it included things we already had on hand—Baker's chocolate, sugar, and eggs, I improvised using a Pyrex measuring cup, which I buttered and sugared and baked the soufflé in.
| | |
| --- | --- |
| Goat Cheese Soufflé | Print Recipe |
I'm certain this mixture would be great spread over some lightly sweetened berries or orange segments then topped with crunchy sugar crystals and baked in a gratin dish, which I'm going to try when berries are in season. As mentioned, this soufflé is on the less-sweet side. Be sure to put a nice blanket of sugar on top, but if you like things on the sweeter side, you can add an extra tablespoon of sugar to the base.
1/4
cup (60g)
full-fat cream cheese
4
large eggs,
separated, at room temperature
4
ounces (115g)
fresh goat cheese
4
tablespoons (50g)
sugar
additional butter and sugar for preparing the baking dishes
1. Liberally butter four 4-ounce ramekins or custard cups. Sprinkle a few spoonfuls of the additional sugar inside, tilt the dish to spread the sugar and coat the bottom and sides, then tip out any excess. Set the ramekins on a baking sheet.
2. Preheat the oven to 400ºF (200ºC).
3. Use a whisk, or an electric mixer with the paddle attachment, to mash the cream cheese, egg yolks, goat cheese and lemon zest until the mixture completely smooth.
4. With an electric mixer, or by hand, whisk the egg whites in a clean, dry bowl (not plastic) until frothy, with the salt. Increase the speed, until the whites begin to mound and hold their shape. While whipping, gradually add the sugar, one tablespoon at a time. Once you've added all the sugar, beat until stiff.
5. Fold one-third of the beaten egg whites into the goat cheese mixture, then fold in the remaining egg whites just until incorporated. It's okay to have some tiny bits of white; that's preferable to overfolding the batter.
6. Scrape the batter into the prepared baking dishes, gently smooth the tops, and sprinkle the soufflés with an even layer of sugar, about 1/2 teaspoon each.
7. Bake the soufflés on the middle rack (or slightly higher, if possible) of the oven for 10 to 15 minutes, until the top is browned and the soufflé is just set but still very jiggly in the center if you nudge it. Depending on your oven, it may take slightly less or more time. Soufflés are best when slightly runny in the center.
Variation: If you'd like to add a bit of lemony tang to the soufflés, squeeze a few drops of fresh lemon or citrus juice over the soufflés after you sprinkle the tops with sugar.
Note: Fresh goat cheese is often found at well-stocked supermarkets and farmer's markets. You can also check out my tips on How to Find Foods Mentioned on the Site.
Related Links and Recipes
Goat Cheese Custards with Strawberries
Foolproof and Super-Easy Cheese Soufflé (Steamy Kitchen)
Easy Chocolate Soufflé Recipe (Real Epicurean)
Asparagus Soufflé (Simply Recipes)
Orange Soufflé with Grand Marnier (Zen Can Cook)