Coulommiers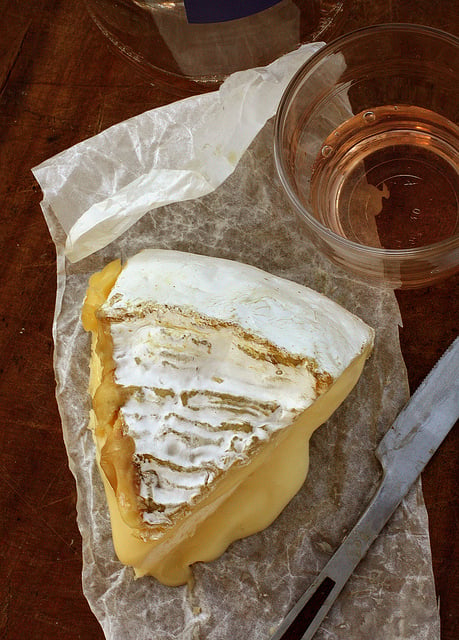 When I came back from Australia, something in my refrigerator stunk to high heaven. I was pretty sure I had done a good job before I left, making sure all bits and pieces of anything that could spoil in the frigo were tossed. Since my head was in another hemisphere, I just chalked it up to my fridge not being opened in a while. But a friend had stayed in my apartment while I was gone, and I remembered something in one of the e-mails about leaving "un peu de fromage" for me, to enjoy upon my return. So I did a little more investigating and found that indeed, wrapped in crinkly waxed paper and a loose covering of foil was a hulking round of Coulommiers.
Coulommiers cheese isn't that widely known outside of France. It's made in the Brie region, in pretty much the same fashion as Brie de Meaux, but it's a lot heftier in depth and like its less-lofty cousin, a wedge of the stuff will go from solid to a gloppy, near-liquid (and utterly delectable) mess before you know it, if left at room temperature. There's raw milk and pasteurized versions and I don't care what anyone tells me; there's a big difference between the two in terms of taste. Never buy the supermarket versions, which only encourages them.
The slightly pungent flavor in enveloped by silky dairy overtones, as if the cows were fed only heavy cream during their blissful lives. And when it's ripe and ready, the over-the-top creaminess will have you racing to the nearest boulangerie for a fresh baguette to smear it on. Which I know, from experience.
The same friend who stayed chez moi also was kind enough to leave me a triple-whammy of three bottles of great rosé, a fitting gift since we've shared many bottles together in the past. Needless to say, next time I go away, I'm not searching very far for someone else to stay in my apartment. In fact, I may find myself taking a few more trips in the future, just to see what turns up in my absence.


Related Posts
Comté Cheese Making and Ripening
Coulommiers (Wikipedia)
Gougères (French Cheeses Puffs)
Why You Should Drink White Wine with Cheese