This week I watched a television program on the phénomène of locavorism in France. Being a resolutely agricultural country, the French are no strangers to being connected to the earth and to farming. But those days are waning and the announcer went to a supermarket in Paris and came out with a basket containing just a couple of items in it. (One was pain Poilâne.) And when she inquired about that, she was told, "There's not much grown on the Île de France." (The IDF is the départment where Paris is located.)
But if she had gone to the local fromagerie, she would have likely seen several substantial disks of Brie de Meaux resting on the counter, a cheese which is made about an hour outside of Paris.
There's a lot of cheeses in France, but if you live in Paris, our local cheese is Brie de Meaux. Brie isn't just a cheese, but it's a region to the east, and we who live in the French capital share a symbiotic relationship with the cheese.
Because Paris has a sizable population, and Brie close by, for many years it was the cheese that was widely consumed in Paris, and was responsible for keeping the cheesemakers of Brie producing all those wonderfully crusty wheels and wedges with the gooey centers pouring out that we know and love. (Often a little too much…)
Luckily Brie de Meaux is still produced the same way as it has been for years and they've been able to maintain the status of the cheese as one of the great fromages au lait cru (raw milk cheeses) of France.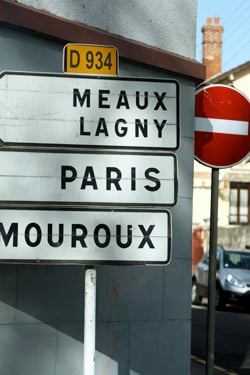 There really isn't any cheese known as just "Brie". Brie is a generic word and you can find Brie-style cheeses being made in such disparate places as Spain, the United States, and Germany, as well as all the way over to Asia. And to prove it, when I went to visit Fromagerie Ganot, which calls itself the oldest cheese shop in the Brie region, they pulled out a box of cheese from China with a sealed tin of something called 'Brie' inside of it.
The owner of this fifth generation affineur (ripener) of Brie cheeses explained that as urbanism moves in, it's pushing out a lot of the dairy farms and in order to be called Brie de Meaux, not only must the cheese be made and ripened in the region, but the milk must be from there as well. It's the terroir, or the specific agricultural qualities of the region, that give the cheeses produced the flavors that are impossible to reproduce elsewhere.
There are two kinds of Brie made in the region which are protected by the AOC certification: Brie de Meaux and the smaller Brie de Melun (above). Other cheeses from the region that are similar include Coulommiers, Brie de Nangis and Fougerus, which is notable for being draped with a fern leaf, added for a bit of flavoring.
Both Brie de Meaux and Brie de Melun are raw milk cheeses, each being aged a minimum of six weeks. Here at the affineur, the cheeses are delivered by the farms that collect and coagulate the milk, then pour it into molds, where the cheeses get salted to draw out the moisture. Ripening takes place in a cool, odorous underground cellar at 8ºC (46ºF), and the cheeses get flipped over twice a week.
The smell in there was so strong that a group of French woman who were breathing through their scarves, at one point couldn't take it anymore and had to leave. I was in heaven.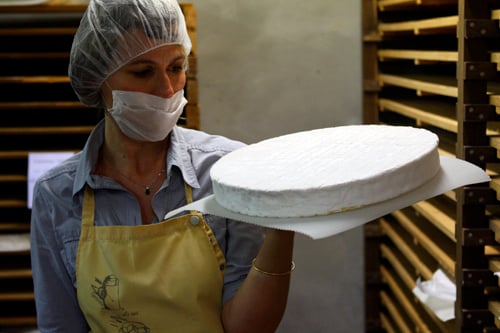 What happens during the six week ripening period is a dewy crust develops with a delicate white mold on the surface. Eventually, as more moisture is drawn out, the crust (called la fleur) firms up and becomes chewy, sealing in the condensed, sticky cheese. What determines the taste of cheese, like Brie, is the thickness of the rind: both Brie de Meaux and Brie de Melun start the same way, but Brie de Meaux is thinner so it ripens faster, hence it's less intense than the thicker, funkier Brie de Melun, which is made from milk that also gets fermented longer.
Nowadays only 10% of the cheeses in France are made on farms; the other 90% are made in factories and by cheese cooperatives. That's not to say good cheese can't be made on a large-scale basis, but it's certainly a wonderful thing to be able to go to the farm where the cheese is ripened and stored. And to be able to taste it there isn't so bad either.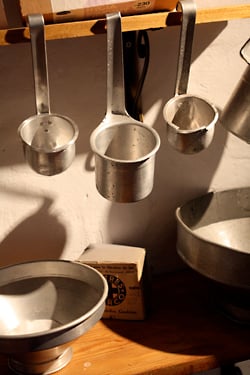 We finished our visit to the caves, it was time for a dégustation. (Avec le vin rouge, bien sûr! Although I'm more of a white wine with cheese person than red. But I'll deal.) The first was a cheese called Pierre-Robert, which I'd not tasted before.
Although not an AOC Brie cheese, and made with pasteurized milk, it's a cheese that's produced by a regional cheesemaker and it's only ripened three weeks. I popped a little square in my mouth and I thought I'd died and gone to triple crème heaven. With a dense cream cheese-like consistency, accompanied by a touch of fermented dairy taste, I could see why my trusty French cheese guide said Pierre-Robert was "..popular with children." I'd like to request they add "with adults" to the next edition.
(I was too polite and didn't cut in the long line of people buying cheese after the tasting. Which was unfortunate because when it was finally my turn, they'd sold out.)
We tasted a traditional Brie de Meaux, which was milky and rich, with a far more pronounced tang that the previous cheese. Then we turned out attention to my old nemesis: Brie Noir.
I'd come across this oddity a few years ago at the Brie market in Coulommiers, and after hearing so much about it back then, I had to try it. The wheels at the market were so funky and covered with dark gray mold, and as crumbly as a decade-old cookie, that I wasn't sure what to expect. And when I took a bite, only because I'm so polite (and because there's no public restrooms), did I resist my inclination to run to a sink and wash my mouth out thoroughly to remove any and all possible traces of that cheese.
So when they offered me a taste of Brie Noir, I wasn't all that interested in repeating the experience with the dusty wedge in front of me. But I did, and this one was more delicate than the one I had before and I was able to tolerate it. The very old Brie Noir, I learned, is best appreciated—believe it or not, dunked in a cup of coffee. They had plenty of Brie Noir by the time I reached the front of the line at the cheese counter, but I politely decided it was best to leave it for others.
It's now said that every year, two to three raw milk cheeses in France disappear. But I pledge to do my best to make sure Brie de Meaux isn't one of them.
Fromagerie Ganot
4, rue Cécile Dumez
Tél: 01 60 22 06 09
Guided visits and tastings given Tuesday through Saturday. Call in advance to confirm and reserve.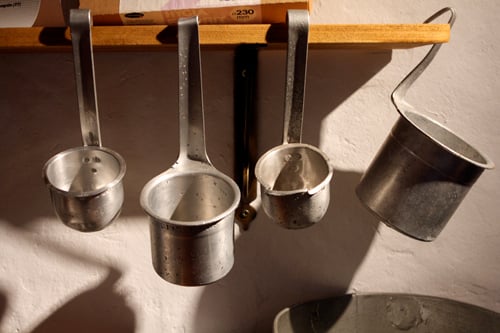 Related Posts and Links
Manger Local (Television program on locavorism, in French)
Community Supported Agriculture in France