Get-Together This Saturday at Sugarplum Bake Shop in Paris!
I don't think anyone out there is more excited than I am for the get-together this weekend at Sugarplum Cake Shop in Paris! There's going to be cake, cookies, and lots of other sweet treats to sample.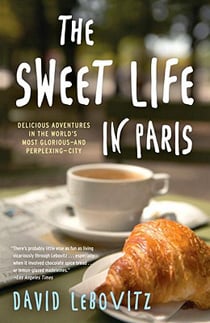 The event will take place this Saturday, October 22, from 6pm to 8pm. Copies of The Sweet Life in Paris, Ready for Dessert, and The Perfect Scoop will be available – Ready for Dessert and The Perfect Scoop will be the new UK editions – and perhaps a good chance to tick off a few gifts on your holiday list, too.
If you haven't been into the Sugarplum Cake Shop, you're in for an amazing time and it's going to be lots of fun, and a chance to taste some of their incredibly scrumdiddlyumptious treats.
You're welcome to bring already owned books for signing and for those unable to make the event, you can stop into the bakery beforehand and order a signed copy of a book.
Although the event is open to all, if you are coming and would like to RSVP on the Facebook Event page, that will give the bakery a better idea of how many guests to expect.
Please note that the bakery is open to the public until 6pm. So if you'd like to arrive in advance and enjoy the café, you are welcome to as a customer until that time. This event will begin at 6pm.
—see you then!


Sugarplum Cake Shop
68, rue du Cardinal Lemoine (5th)
Tél: 01 46 34 07 43
(Map)