Sugarplum Cake Shop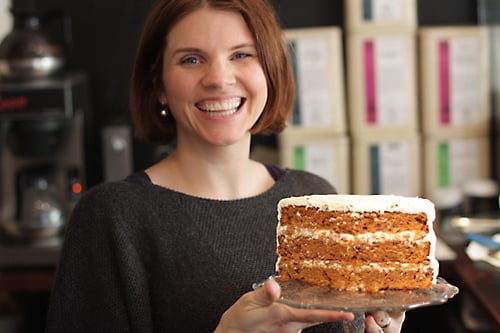 There are a lot of things I like about living in Paris. There's shopping at the outdoor market and knowing the vendors and having them give you the good peaches, and not sticking a few icky ones in the bottom of the bag. Picking up a still-warm baguette and ripping the end off the very moment you step outside the bakery. And getting to go all the way home and re-do that file of paperwork that you carefully spent the last six months assembling isn't acceptable because you've used staples to fasten the pages together rather than a paperclip.
Living abroad in a different culture certainly has its challenges (like being able to determine if paperclips or staples will be acceptable…and at which particular agency), and sometimes one wants a big ol' generous American hug rather than just a few bisous pecked on both cheeks. For the same reason French people congregate on Claude Lane in San Francisco, sometimes you just want to walk in somewhere and not have to worry about feeling like an outsider. Or you want free WiFi that's doesn't shut down after twenty minutes. Or you want ice.
That's exactly the way I felt stepping in to Sugarplum Cake Shop. There's a spate of American-style bakeries in Paris, but as much as I like cupcakes, Carrot Cake, and Rice Krispie Treats, I don't really crave them enough to seek them out here. And if I did, I'd simply make them myself. No need to spend €8 on a slice of cheesecake.
In addition to the lovely array of sweets on display (at reasonable prices), I gotta say, I love the women at Sugarplum. I arrived with my friends Heather and Bryan, and as soon as I met her, I wanted to give Laurel – who was presiding over the cakes and cookies, and coffee – a big hug. And when I left – about two hours later – I was tempted to stay and put on a chef's coat to join Krista and Taylor in the back, who were having a blast in the kitchen decorating cakes for special occasions.
And doing a little multitasking, too…
The interesting thing about Sugarplum is that you'd think it would be filled with Americans. But just like that street of French restaurants and cafés in San Francisco, it's not filled with expatriates. When I went, it was mostly French people, enjoying the solitude and the calm of a café that's not a jumble of rickety chairs at small tables, people jabbering on their cell phones, and teenage girls chain-smoking.
Like the laid-back coffee shops in the states, there's big, wide tables to share with others, or to spread out with your laptop or newspaper (French or English), and enjoy a wedge of cake or a pecan bar along with a tall glass of housemade unsweetened iced tea, not the peach-flavored canned stuff.
I had completely forgotten what it was like to be served a big, chilly pitcher of fresh lemonade loaded up with ice cubes, which I guzzled before I had moved on to carrot juice. And since we're in the beverage department, the organic coffee is good, too – and refills are included. (And no, that's not a typo.)
So if you're craving a bottomless cup, or just one made with care and good-quality coffee, you might want to climb to the top of the rue Mouffetard and take a one-block detour.
I'll have to admit, I was a little reluctant to go in here the first time. But looking around at the Parisians who'd settled into their seats, who were enjoying the desserts and conversations at the tables around us, I'll say it was just the right blend of Franco-Americanism.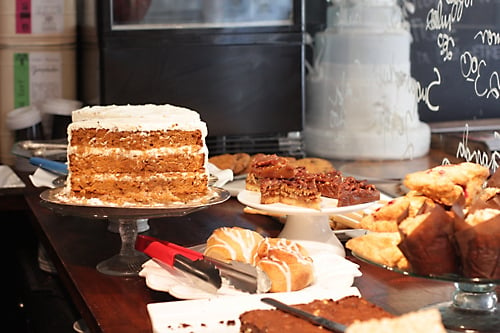 Sugarplum Cake Shop
68, rue du Cardinal Lemoine (5th)
Tél: 01 46 34 07 43
Open Tuesday through Sunday, Noon-7pm
[2016 UPDATE: There have been some personnel changes in the bakery and I haven't been back to the bakery and shop since this piece was originally published. One of the original founders, Laurel Sanderson (shown at the top of the post) is now the owner and chef of Treize Bakery in Paris.]
Related Posts and Recipes
Carrot Cake with Cream Cheese Frosting
Where to Find a Good Cup of Coffee in Paris