People are often fascinated by what, and how I eat. They think that if you're a baker, you spend all your time eating pastries. Which is like thinking that bartenders spend all their time drinking.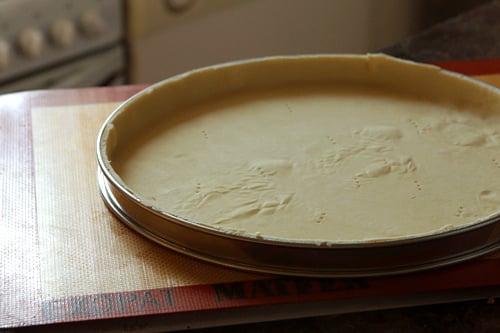 My not-so-secret strategy is that whenever I eat something, I want it to be the best of its genre. I don't want or need a ton of cream or whatever; when I want a chocolate chip cookie, I want a really, really good chocolate chip cookie. If I eat a scoop of chocolate ice cream, it shouldn't taste vaguely of chocolate. I want it to be full-on chocolate.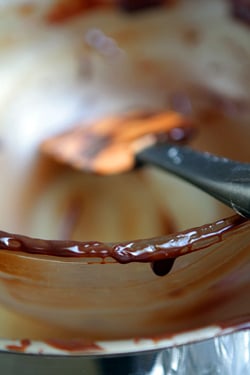 And when I eat chocolate tart, I just want the rich flavor of chocolate set atop a buttery shell. You can skip all the fanfare. A good chocolate tart doesn't need to be fancy, but it needs to be deep, dark, and yes, somewhat decadent. I just put together a quick pâte brisée using a cup of flour (140g), a generous pinch of sugar, and a bit of salt. I rubbed in about 3 ounces (90g) butter until it was in little pieces, that added just enough ice water until it came together. (If you want a more specific recipe, try the excellent French tart dough.) I left the dough to rest a bit, then rolled it out and pre-baked it with beans that I keep on hand for baking tart doughs. Once baked, in went the filling.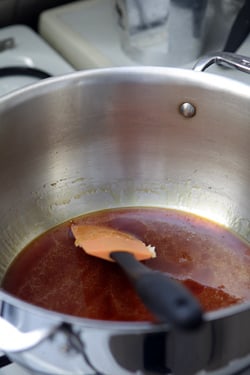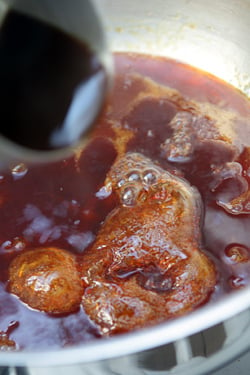 This tart is a great combination of silky-smooth chocolate with a dense bite. The caramel gives it a chewy texture and the unsweetened chocolate counterbalances any sweetness. I add coffee since I like the extra jolt of flavor, but you can omit it, or perhaps play around with other flavors that you like with chocolate. I think orange juice, black tea, or even just ratcheting up the liquor (use some in place of some of the liquid) would give it a nice kick.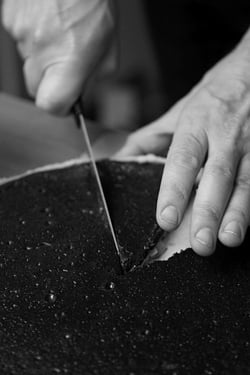 I served it plain, without whipped cream and without ice cream, just as is. French people are usually pretty good at telling you what they think – sometimes with brutal honestly – and I served it for dessert the other night and no one had anything but raves for this one. In fact, the best accolades it got was that it was even better the next day, for breakfast. Although I'll admit, those were from me.
Chocolate Tart
Unsweetened chocolate is often labeled as 99% or 100% cacao, or bitter (as opposed to bittersweet) chocolate and it's easy to find at any supermarket in America. In France, it's called pâte de cacao. (In Paris, you can find it at
G. Detou
, in bulk.) If it's not possible to find it where you live, you could likely get away with just using 6 ounces (170 g) of the darkest bittersweet chocolate you can find. For those new to making caramel, you can check out my post
How to Make the Perfect Caramel
, as well as
10 Tips for Making Caramel
, to help you out and to advise with any precautions.
1 1/4

cup (250g)

sugar

6

tablespoons (90ml)

warm coffee

4

ounces (115g)

unsalted butter

,

cubed, at room temperature

pinch

of sea salt

4

ounces (115g)

bittersweet or semisweet chocolate

,

chopped

2

ounces (55g)

unsweetened chocolate

,

chopped

2

large eggs

1/4

cup (35g)

flour

1

tablespoon

dark rum or 1 teaspoon vanilla extract

cm

One 9- or 10-inch prebaked tart shell

, 23– 25 cm, such as French tart dough
Preheat oven to 350ºF (180ºC.)

Spread the sugar in an even layer in the bottom of a large, heavy-duty saucepan or Dutch oven. Cook the sugar over moderate heat until the edges liquefy and being to caramelize. Use a heatproof utensil to gently drag the liquefied sugar toward the center of the pan, encouraging the sugar to melt evenly.

Once the sugar is melted, it was caramelize rather quickly. When it starts to smoke, but before it burns, turn off the heat and stir in the coffee. (The mixture will bubble and seize a bit. Be sure to avert your face and you may wish to wear oven mitts.)

If the caramel has seized up in places, stir it gently over low heat until smooth. Then add the butter and salt, and stir until melted, then stir in both chocolates until smooth*.

Mix in the eggs, then the flour. Stir in the rum or vanilla extract.

Pour the mixture into the pre-baked tart shell, then bake for 15 to 20 minutes, just until the filling starts to rise and crack at the edges but the center is still jiggly. Do not overbake.

Remove from oven and let cool completely before slicing.
Notes
Storage: Tart will keep for up to three days at room temperature, well-wrapped.
Troubleshooting: If any bits of caramel remain after adding the butter, simply stir the mixture over very low heat until they're all completely dissolved. If any stubborn little bits remain, you can strain the buttery caramel through a mesh sieve, before adding the chocolate.
*One reader noted that they felt the mixture was too hot to add the eggs right after the chocolate, but I didn't have any trouble. If you wish, you may let the mixture cool down a bit before adding the eggs.
Related Posts and Links
Making Tarte au chocolat (Wanderlusting Expat Video)
Baking Ingredients and Substitutions
Chocolate Caramel Tart (Lottie + Doof)
Caramelized White Chocolate Cakes
Sweet Tart Shell (Smitten Kitchen)
Chocolate Raspberry Tart (Dianasaur Dishes)
Bittersweet Chocolate Tart (101Cookbooks)
The Best Chocolate Sauce Recipe