I was joking with someone the other day, who was making Judy Rodgers' Pickled Red Onions. Judy was the chef and owner of Zuni Café in San Francisco and published one of the best books on cooking that has ever been written: The Zuni Café Cookbook. Like a number of her recipes, the method for pickling her famous red onions they serve on the Zuni burgers, seems convoluted and requires what seems like a bunch of unnecessary steps. But like most of Judy's recipes, the joke is on anyone who doubts her recipes, whose results are always spot-on. (I posted an easier pickled red onion recipe a while afterward, for those that don't have the stamina to make hers.) One of her famous quotes about her cooking was, "Stop, think, there must be a harder way."
This unusual combination of citrus and cooked rice prompted the cooks at her restaurant to question her sanity when she put it on the menu, but it's really wonderful and a breeze to make. It requires just a short list of ingredients and pairs perfectly, with everything from grilled fish and shrimp, to seasonal vegetables like asparagus, peas or fava beans. But it shines just as brightly on its own, too.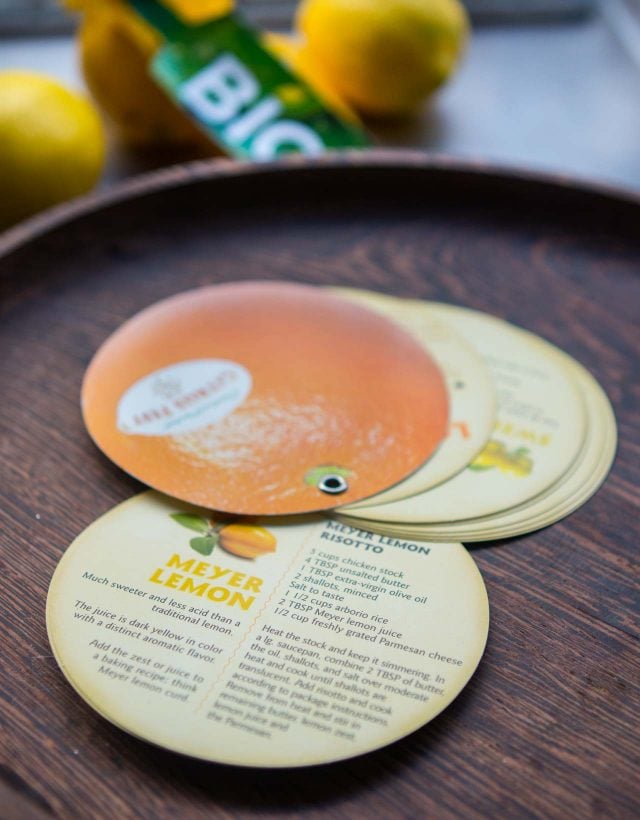 Judy was one of the most concerted, and best cooks, I've ever worked with at Chez Panisse. (I worked at Zuni Café when I arrived in San Francisco, but before she was the chef/owner there.) One night she was on salad duty, making some sort of composed salad that had sliced pears on it. She had the pears submerged in a bin of cold water at her work station and when I asked her why she was carefully tending to each pear, she said; "I'm cooling them down."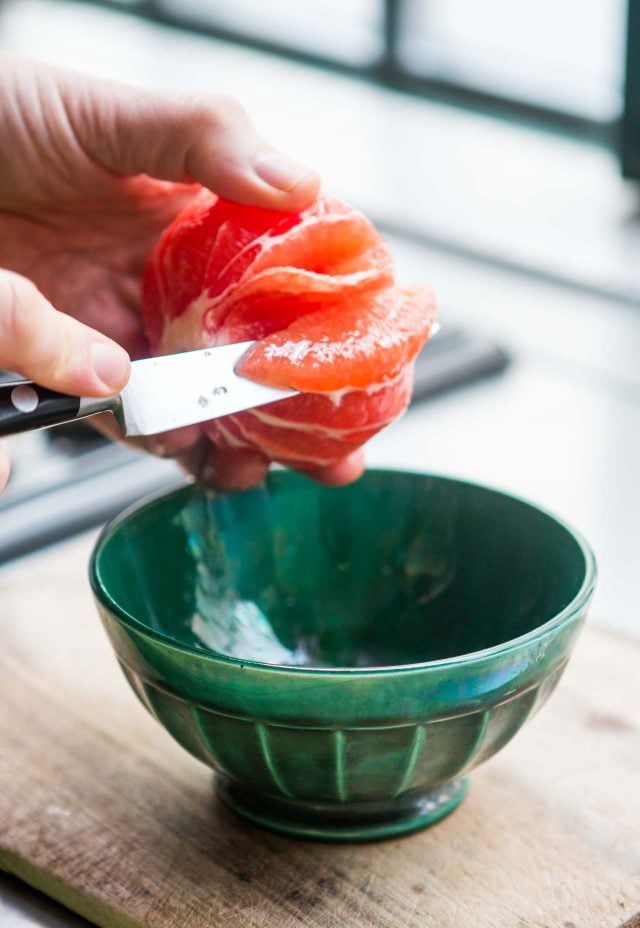 When I mentioned the refrigerator was just a few steps away, she replied that in the refrigerator, "…they get too cold." Room temperature was too warm and she wanted them served at exactly the right temperature. I don't know if any customers noticed, but it was that kind of detail that she thought (or knew) made a difference.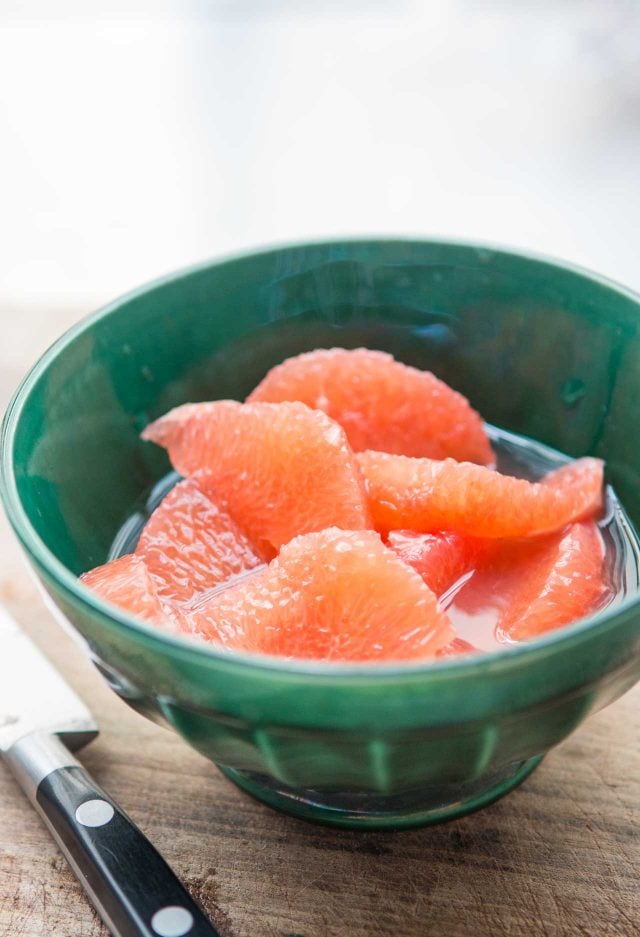 Citrus is a sturdy friend. It lasts quite a while in the refrigerator and is usually available. And I find citrus is always welcome in any meal, whether it's breakfast, lunch, or dinner. It also pairs particularly well with seafood. So during the lockdown, I went to Picard, the popular French frozen food store, and picked up some shrimp.
I've wanted to try this recipe for years. I have a recipe card (above) from when I participated in a citrus festival at Central Market in Texas, that I think I've had for almost 15 years now, with a citrus risotto that I've never made. (One roadblock was that we don't get Meyer lemons in Paris.) But Judy Rodgers has never failed me, so went with her recipe that uses grapefruit and lime.
During the lockdown, one plus is that the food police can enjoy a much-needed break. You don't have to worry about using the wrong pasta in a classic dish. I melted down odds and ends of several packets of flavored butters that I found in my freezer (including a browned one had a little sweetener in it) to make cornbread, and didn't get shamed for it. (Woo-hoo!) And I even got away with using pineapple juice from a carton to make a cocktail. I don't know about you, but I am loving this lockdown.
And although it's usually interdit to serve fish and cheese together (yes, I'm eying some of those cans of tuna I have in my larder for tuna melts…) the sautéed shrimp worked beautifully with this easy risotto, flecked with tangy, bright bits of pink grapefruit and lime.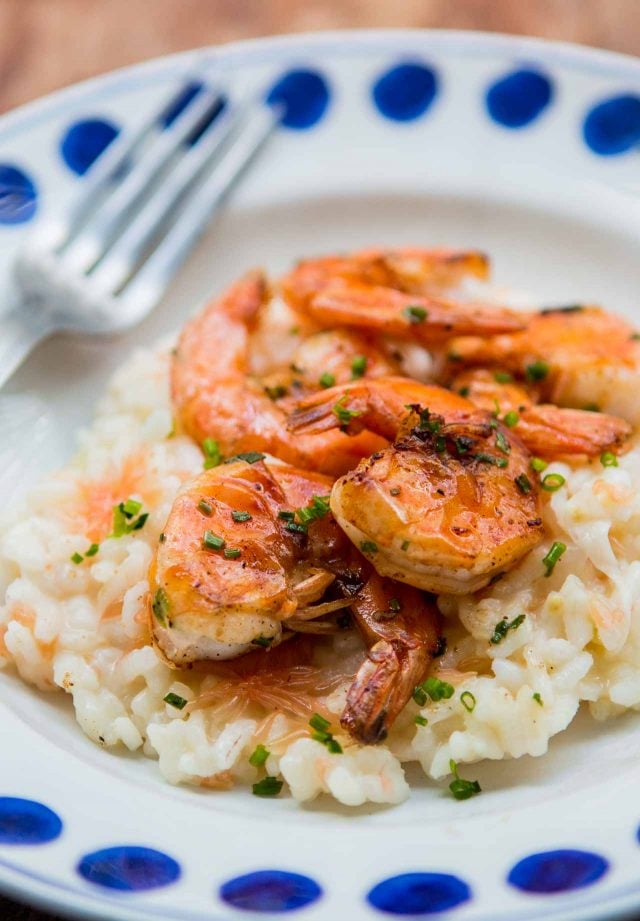 Citrus Risotto
I've not tried to make risotto with another type of rice; I always use either arborio or carnaroli. I have, however, used short-grain or round rice in similar rice-based dishes and it worked well.
This article on rice for risotto
says any short- or medium-grain will work in its place. Basically you want rice that will give up a certain amount of starch, which gives risotto its signature creaminess. In this recipe, a spoonful of mascarpone added at the end also adds that, too. If you can't find it, crème fraîche or sour cream, or even heavy cream, would work, although they aren't the same flavor as mascarpone. I served this with shrimp pan-fried with butter, olive oil, and chives, but it would be good with firm-fleshed fish, like salmon or halibut. You could also serve it with vegetables, such as steamed or oven-roasted asparagus, or broccoli. If fresh peas are in season, you might serve it on its own with a few handfuls of them stirred in at the last minute.
1

grapefruit

,

(you'll need about 3/4 cup of sections, along with any juice)

1

lime

2

tablespoons

butter

,

salted or unsalted

1/2

cup (60g)

finely diced yellow onion

salt

2

cups (390g)

arborio or carnaroli rice

,

(see headnote)

3 1/2 to 5

cups (850-1200ml)

chicken stock

,

(if using store-bought stock, get low-sodium)

1/4

cup (65g)

mascarpone
Lop the ends off the grapefruit and the lime. Use a paring knife to remove the skin and cut the segments out over a bowl, being sure to save any citrus juices as well. If there are any tough bits of membrane attached to any citrus segments, remove them with a knife. Squeeze the membranes over the bowl after sectioning to extract as much juice as possible.

Heat the butter over low-to-medium heat in a medium saucepan (4-6 quarts/liters.) Add the onions, season with a pinch of salt, and cook, stirring frequently, until the onions are translucent, about 5 minutes. Add the rice and stir until the rice is coated with butter and shiny. While you are cooking the onions and rice, heat the stock in a saucepan and keep warm while you continue making the recipe.

Stir about 2 cups (500ml) of the stock into the rice. Keep the heat at a gentle simmer and as the first amount of stock gets absorbed, while stirring occasionally, add another 1 cup (250ml) or so, stirring as needed, to keep the rice cooking and absorbing the liquid evenly. Continue to add more stock, about 1/2 cup (125ml) or so at a time, seasoning the risotto with salt when the rice is very close to being fully cooked. At that point, add the citrus sections and juice to the risotto, crumbling them roughly as you add them to the risotto. Gently cook the risotto, continuity to stir occasionally until the rice is no longer firm.It's hard to say exactly how much stock the rice will absorb, but it's done when the rice is soft and velvety, and no longer tastes raw. I used the full 5 cups of stock but yours may require less.

Remove from heat and stir in the mascarpone. Divide into soup bowls, mounding the risotto in the center of the dish. Serve with shrimp, fish, or vegetables, as desired.