Orange Syrup Cake with Candied Oranges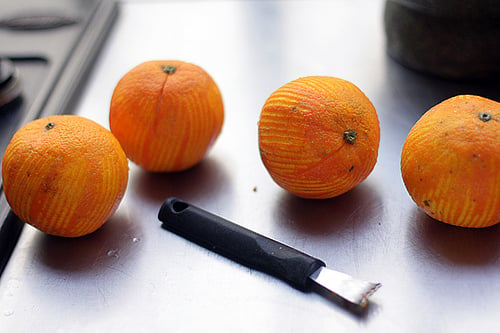 I bought my trusty zester in 1983, back when no one had heard of rasp-type zesters, which are now a lot more popular than their old-fangled counterparts. I got mine in 1983 when I started working at Chez Panisse and the cook training me on my first shift told me that I needed four essential items; a chef's knife, a paring knife, a bread knife, and a zester.
I never realized how important zest could be. (Or how painful it is to get citrus juice into skinned knuckles.) Which is why ever since I got this zester, I've never went back to using 4-sided boxed grated to zest citrus again. Mine is a few decades old and it's still razor-sharp. And aside from its German quality, the reason it lasted so long is because I never let anyone else use it, which anyone who has ever worked in a restaurant kitchen can certainly relate to.
So when I packed up and moved to Paris, I was sure to take my zester along with me. And in spite of all the fancy zesters – and drawerloads of other kitchen stuff I've picked up over the years, this little hole-y fella holds a special place in my heart. And in my citrus-scented hands.
Since my recent trip to the Middle East, I've been craving the kind of rich, dense syrupy cakes, that are different from the lighter western counterparts that we're used to. This dessert is deeply flavored with citrus; the batter is silly with citrus zest and the glaze adds unbelievable moisture and maximizes the orangey goodness.
I adapted it from Jerusalem by Yotam Ottolenghi and Sami Tamimi, one of my favorite cookbooks that touches on the various foods that cross borders and cultures in the Middle East.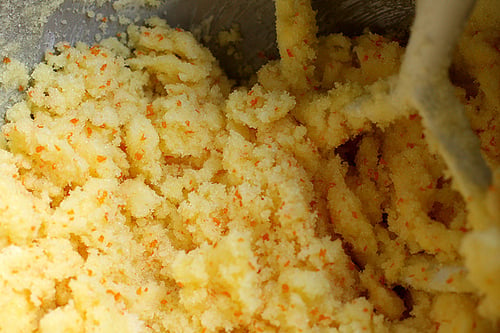 I made a few changes, including using oranges rather than clementines (or tangerines.) But if you have tangerines, they would add even more depth of flavor. I also had a lot of sliced almonds on hand, so used those, grinding them up with the flour. The result is a pretty great cake and I would imagine during strawberry season, it would being super with a pile of lightly sweetened berries alongside.
| | |
| --- | --- |
| Orange Syrup Cake with Candied Oranges | Print Recipe |
One 10-inch (23 cm) cake,
10 to 12 servings
Adapted from Jerusalem by Yotam Ottolenghi and Sami TamimiI like to grind citrus zest in the food processor with the sugar for cake recipes that call for zest since the sugar absorbs a good deal of the aromatic citrus oils from the zest. Be sure to use fruit that hasn't been sprayed. If you don't have a food processor, simply chop (or grate) the zest finely and add it to the butter and sugar.In place of the sliced almonds (I used blanched, but if you choose to use unblanched, the cake will be darker and denser), the authors recommend that you use 10 ounces (280 g) ground almonds, which is often sold as almond meal or almond flour.
For the orange cake
4
oranges (or tangerines),
organic or unsprayed, zested
14
tablespoons (7 ounces, 200g)
unsalted butter,
at room temperature
3
cups (240g)
sliced almonds
4
large eggs,
at room temperature
For the syrup
3/4
cup (180ml)
orange and lemon juice,
squeeze the juice from the zested citrus
6
tablespoons (75g)
sugar
Candied orange slices
1
orange
organic or unsprayed
1. To make the cake, preheat the oven to 350º F (180ºC.) Butter a 9- to 10-inch (25 cm) springform pan and line the bottom with a round of parchment paper.
2. Grind the citrus zest in a food processor with the 1 1/2 cups of sugar until it's finely ground. (No need to clean the bowl afterward as you'll use it in step #4.)
3. In the bowl of a stand mixer, or by hand, beat the butter with the zest-infused sugar until well-combined.
4. Grind the almonds, flour, and salt in the food processor until the almonds are completely pulverized.
5. Add half of the almond mixture to the butter, then add the eggs one by one, stopping the machine a few times (if using a stand mixer) to scrape the sides down. Then add the remaining almond mixture, stirring just until incorporated.
6. Scrape the batter into the pan. Level the top of the batter, and bake the cake for 40 minutes, or until a toothpick inserted into the center comes out relatively clean, but a little moist. (The original recipe said to bake the cake for 50-60 minutes, so it may take longer than it took me.)
7. While the cake is baking, make the syrup by heating the 3/4 cup citrus juice and 6 tablespoons of sugar in a nonreactive saucepan until boiling and the sugar is dissolved, then set aside. When the cake comes out of the oven, brush the syrup liberally over the hot cake. Let cool completely in the pan.
8. To candy the oranges, cut the orange into 1/4-inch slices. Put the slices in a nonreactive saucepan, and add enough water to cover them well, and bring to a simmer. Blanche the slices for ten minutes, then drain well.
9. Put the oranges back in the saucepan and add the 2/3 cup sugar and 2/3 cup water and cook the oranges at a simmer for about ten minutes, or until they are tender and translucent.
Serving: Serve slices of the cake with your favorite ice cream, if you wish, and a slice of candied orange along with some of their syrup.
Related Recipes
Zucchini Cake with Crunchy Lemon Glaze
Baking Ingredients and Substitutions