Al Bohsali: Middle Eastern Pastries
It's too bad that so many people are only familiar with Middle Eastern pastries that aren't so well made. If you sample them far from where they originate, often they're made with old or stale nuts, they've sat around too long in plastic packages, or the cheeses aren't exactly fresh. While it's true that some of them can be a bit sticky-sweet for Western tastes, but when they're made correctly, they're just as lovely to look at as they are to eat.
At Al Bohsali in Beirut, all the pastries are made on the premises. As you get ready to sip your coffee, you can gaze at all the lovely pastries resting in a shiny glaze, presented in wide stainless-steel trays on the counter. Then make yourself a little plate to try a few, which I was happy to do.
interestingly, I was never served pastries like these after lunch or dinner in Lebanon, which leads me to think that people consume them in the morning or in the afternoon with coffee or tea. However the shop sells gift boxes of pastries and I'm sure if you brought a host or hostess a gift of these treats, you'd be served them for dessert – whatever time it was! And believe me, some meals I had seemed to last long enough to bridge both lunch and dinner.
Further advancing my theory that Arabic pastries are often gifted, there wasn't much to eat, but the two kiosks at the Beirut airport that sold Arabic sweets were very scraping up pastries and packing up plenty of boxes for departing passengers.
(On a related note, the restaurant offerings at the airport were rather unfortunate for a country that has such wonderful food, but you could buy boxes of fresh tomatoes, green almonds, fava beans, za'atar, and choose from a copious selection of Lebanese and Middle Eastern cheeses to travel with.)
At Al Bohsali, their most notable pastry is Knafeh (knefeh), which is traditionally eaten for breakfast (for those with a sweet tooth!) The base of the pastry is a soft cheese baked in a semolina crust. And because the cheese is soaked in a mahlab (sour cherry pit powder) syrup, it has the light taste of bitter almonds to cut through the sweetness. It's sandwiched between kaak, flat sesame seed bread that makes it easier to eat, and less of a struggle to deal with the warm, stringy cheese that oozes out when you bite into it.
I was going to describe the sweets in better detail, and had some help from my friend Bethany, but looking at the Al Bohsali site, they've done a better job of it than I could do.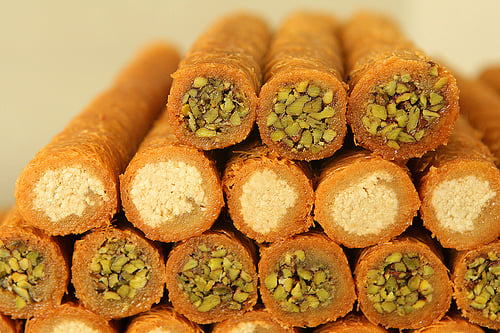 There were domes called Ma'amoul, ground almonds or walnuts, or date paste with orange flower water and cinnamon. Ma'amoul Mad (below), layers of semolina pastry with bright-green pistachios as a filling.
And there were plenty of baklawa (baklava), a general name given to Arab sweets layered with filo dough, whether in sheets or cut into thin threads. Then baked. Then eaten.
Al Bohsali
Riad el Soih Square
Beirut, Lebanon
Recipe Links
Knefeh (Taste of Beirut)
Kaak (Phoenician Gourmet)
Ma'amoul (The Food Blog)
Ma'amoul (Dirty Kitchen Secrets)
Basboosa/Semolina Cake (The Cookie Shop)
Baklava Daisies (Kolofagas)
Baklava (Anissa Helou)
Pistachio and Almond Baklava (Dirty Kitchen Secrets)
-If you come to Paris, I recommend La Bague de Kenza and Masmoudi for top-quality Arab and North African pastries.