Maison Aleph
I'm always happy to hear of a new pastry shop opening in Paris, especially when it offers something a bit different than the others. Sometimes I go and they're interesting. Other times, I'm less enthusiastic. I was especially excited when I heard about Maison Aleph, which offers bite-size tastes of the Middle East, referencing French techniques, but creating something completely original.
There's been a spate of luxury stores moving into the Marais, adjacent to Maison Aleph, especially along the rue des Archives, as well as a spiffing up of the iconic BHV department store. But that part of the Marais is also becoming mini-mecca for sweets, including Pozzetto gelato, Christophe Michelak, Comme à Lisbonne, Grom, Edwart chocolate, as well as Pierre Hermé and Maison de la Prasline Mazet, which are just a short walk away, too.
I used to live closer to the area and it's a shame I don't anymore, especially when there are such beautiful pastries nearby. Owner/pastry chef of Maison Aleph, Myriam Sabet, previously worked in the world of finance. But like a number of young people in Paris, she decided to turn her attention elsewhere; toward baking.
Myriam grew up in Aleppo, in Syria, shopping the vibrant markets with her father. That was part of her inspiration to reinvigorate Middle Eastern pastries in the French capital. Parisians like foods of the Middle East, but she said many were disappointed that the pastries available weren't made with the top-quality ingredients that are available in France, from Valrhona chocolate to walnuts from the Périgourd. So she decided to do something about it.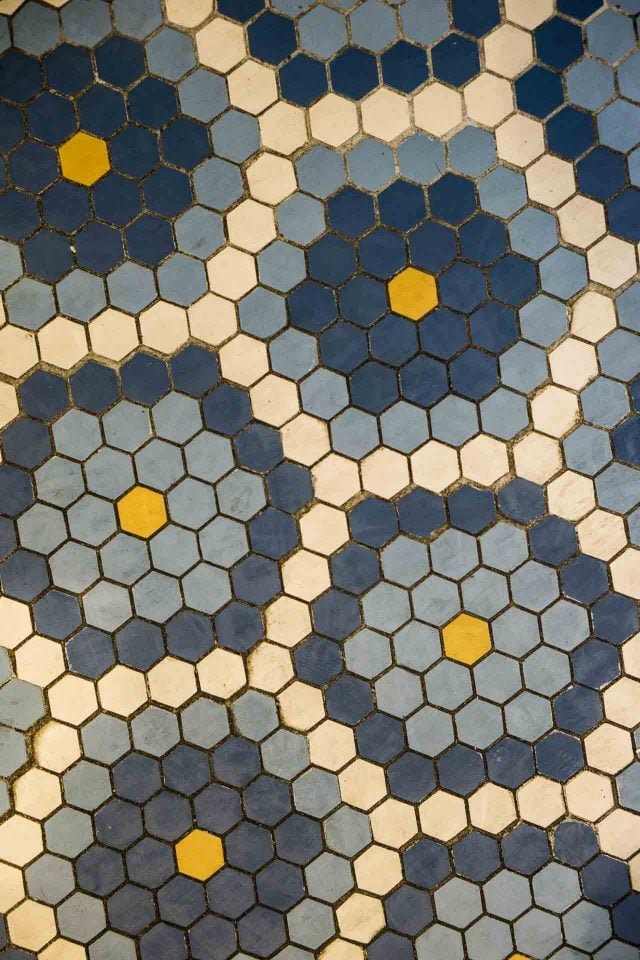 After leaving finance, she went to Montreal to learn more about Syrian pastries, as well as enrolling in courses to get her CAP (certification as a pâtissière), at pastry school in Paris. (Does anyone mind if I take a year or so off from my blog and writing book to go, too?)
The crunchy nids pâtisseries (pastry nests) she creates use swirls of kadaïf and a crown of Normandy cream on top to hide centers that range from dark chocolate-sumac and quince paste-almond, to pistachio-mastic and fromage blanc with Damascus rose. I appreciate bite-size pastries because I can try several without getting too full. Although it was hard to stop because each one was so interesting. I wanted to keep going. And going, and going…
The nids de voyage are perfect for traveling, but you're welcome to eat them there, in the compact seating area. In lieu of cream, each of those are topped with a palet of chocolate or cocoa butter embossed with her logo, or the bakery's name. I picked mine off as I wasn't sure if it was edible or not. But Myriam assured me that it was. So I ate those, too.
Another nod to Myriam's Middle East heritage are the 1001 feuilles, little filo squares that might recall baklava to some. None of the pastries here are especially sweet, so you can leave those thoughts of gloppy, syrupy pastries outside, and my favorites in this category are the white sesame-halvah and the Iranian pistachio with a touch of orange flower water. Perhaps a nod to les américains (which I often tease French confectioners that use peanuts about, because French people don't typically use or eat peanuts in desserts), there's a dark chocolate and peanut one, that this américain loved.
I should probably back up, or hit the 'scroll up' button as I write this, but the hot chocolate shown above, was one of the best cups of hot chocolate I've had in Paris, or anywhere. And that's saying something, since I was in the middle of testing not one, not two…but three hot chocolate recipes at home last week. Myriam's hot chocolate features dark and milk chocolate, milk and cream, and just the right proportions of cardamom, cinnamon, and nutmeg to give it a delicately spicy edge. I was going to ask her for the recipe for my next book, but I was trying to be polite in between gulps…I mean, sips, of her hot chocolate.
For those that want something a little more refreshing, there's a lightly sweetened house made citronnade (lemonade) made with Amalfi lemons and a Damascus rosewater drink. It was funny a sign in front of them said either was available by the glass or the liter, and when I saw the beautiful liter carafes they store it in, I wanted to buy one. Those aren't for sale, unfortunately.
Recently I was having dinner with a French friend and I noticed that she carried a bar of chocolate in her purse. I've noticed other French women do that, too. (Maybe that's why men sometimes carry man purses?) In France, the chocolate bars are thinner than the ones in the U.S., which makes them easier to break off a piece to discretely nibble on, without stuffing a big block in your mouth (like I do in the privacy of home). Like the pastries at Maison Aleph, the chocolate bars (made with Valrhona and some Domori chocolate) feature flavors like white sesame, Iranian saffron, lemon-cardamom, and bigarade confit (candied sour orange).
My absolute favorite thing at Maison Aleph, however, was the pastry that was the least polished; les barres chocolatées, layered squares and rectangles with crumbled kadaïfi, almonds, sunflower seeds, and candied citrus, with the bottoms dipped in chocolate. They're a little messy to eat, but worth the fuss and clean-up afterward.
Those I'm not going to ask the recipe for those, because they'd be hard to recreate at home. But I know where to go back and get them, when I need another.
Maison Aleph
20 rue de la Verrerie (4th)
Tél: 09 83 03 42 02
Métro: Hôtel de Ville