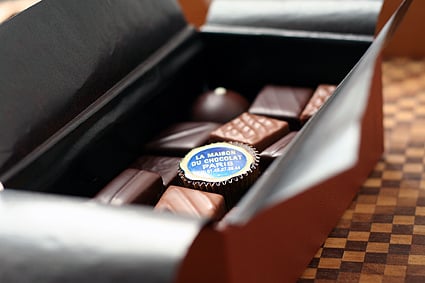 I was excited to finally visit the famed kitchen of La Maison du Chocolat, just outside of Paris. Robert Linxe, who was born in the Basque region founded La Maison du Chocolat. He was one the major proponents of using ganache in his chocolates; that slightly-airy amalgamation of chocolate and cream. Then he went on to develop a flavor palette of ganache-based chocolates…and the rest is one of the most successful stories in chocolate history.

And what better way to do my first chocolate-tasting post than with a box of picture-perfect La Maison du Chocolat resting smack-dab in front of me. I couldn't take pictures in the production facility but I will say that everything I saw was extraordinary, from the wild fennel branches infusing in cream for Garrigue, to the sublime, melt-in-your-hand before-melting-in-your-mouth caramelized-butter mousse for Rigoletto. And watching the focused, yet cheerful chocolatiers go about their work, was another treat for me. So was meeting their head decorator and watching him fashion all sorts of things from chocolate, while working towards his exam. It's the highest honor that France bestows on craftspeople, which allows the chef to wear a red, white, and blue-striped collar on their chef's jacket: I'm certain by the looks of things, he's not going to have much difficulty. His chocolate sculptures were witty and playful, but above all, absolutely gorgeous.
Whipped caramelized-butter mousse aside (or should I say 'down' as in 'down the hatch'…), another top flavor in my book is Zagora; a blend of fresh, zingy mint and bittersweet chocolate. But as the Cerise Griottes came moving through the chocolate enrober, the chef plucked one off the belt and stuck it in my mouth. Inside was a tender, tiny candied sour cherry (watch out for the pit, my litigious compatriots…), which melted into a flavorful mouthful of dark chocolate and cherry madness. Is it about the fruit, or is it about the chocolate? Why fight it? It was a perfect alliance of both.
Other flavors at La Maison du Chocolat include Andalousie, whose ganache had the unusual taste of sugary orange peel, not quite fully-candied so the little citrusy pieces of zest had a nice crystally-crunch.
I tend to take La Maison du Chocolat for granted. After all, they have shops all over Paris, as well as in Tokyo and London. I go by them all the time, and although I peer in the window to see what's new (note: If you come during Christmastime, the chestnut mousse-filled mounds are not to be missed) I don't stop in as often as I should.
From now on, that's going to change, as soon as I polish off the box I have. Which, as you can see from the half-finished box above, will definitely be soon.
La Maison du Chocolat
225, rue du Faubourg Saint-Honoré (8th)
(Check web site for other addresses in Paris and elsewhere.)
Also read: La Maison du Chocolat