La Maison du Chocolat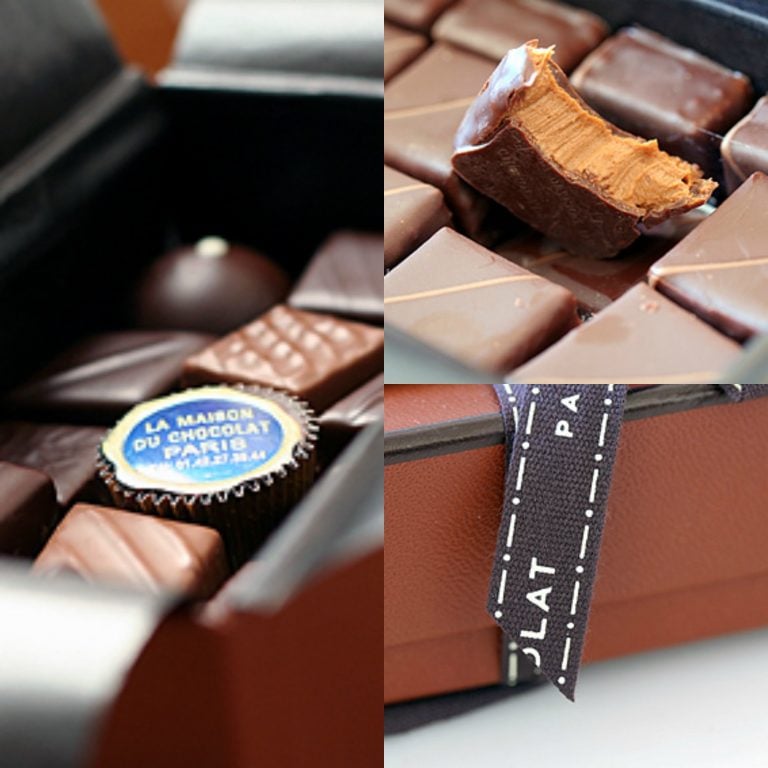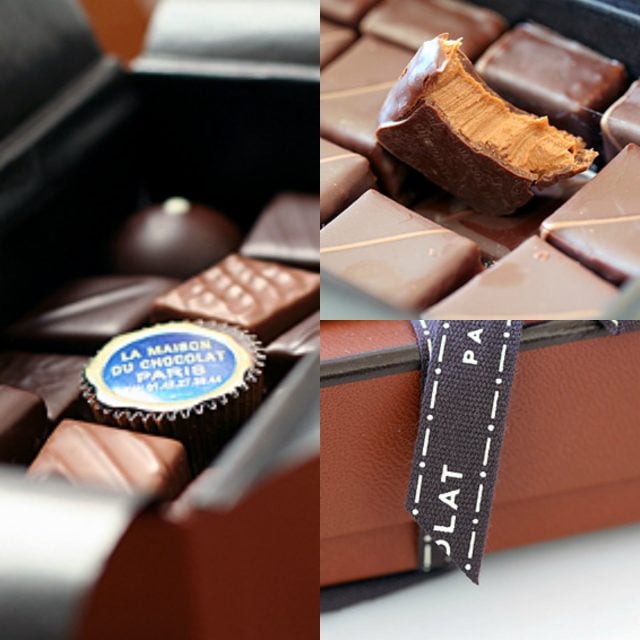 I tend to sometimes take things for granted. I get messages from readers, "You're so lucky! You get to live in Paris!".
To be honest, it wasn't like one day back in San Francisco I came home and there was an envelope waiting for me with an airline ticket, an apartment lease, and all the blanks filled in on the paperwork filled for a French visa. It's a lot of work living in a foreign country; it's so much easier just to stay 'home'. So when people say I'm 'lucky', I prefer to substitute the term 'fortunate', as living in Paris has some challenges as well as its rewards.
But each and every time I step out of my apartment, I'm amazed at the beauty that surrounds us here. Everywhere you look is something special, from the stately place des Vosges to the over-the-top Opera Garnier. Perhaps I'm a dork, but each time I pass something of significance, I stop and take a long, deeply-felt look. There's fresh bread everywhere too. I can have a buttery croissant, a rich, cream-filled éclair, a yeasty kugelhof, or a scoop of glace Berthillon whenever I want.
(Except on Monday and Tuesday, when Berthillon is closed. Or in July or August. Or on Tuesday and Wednesday, when my bakery with the good croissants is closed. And in August. Although this year it might be July. Or on weekends, when the place I go for kugelhof is baking them. If they're in the mood, of course. But I won't know that until I get there. Unless there's a holiday. Or a strike.)
Anyhow…I spend a fair amount of time here exploring the chocolate shops, which seem to keep reliable hours. Nowhere in the world is more devoted to chocolate than Paris, and there are really excellent chocolatiers here, who I visit and write about often. But although we're often excited by what's new and unusual, sometimes we return to the classics for a reason: the simple fact that they're really good.
Robert Linxe founded La Maison du Chocolat in 1977. He was a young man from the Basque region, famous for its abundance of chocolate shops, although many are sadly gone. When he opened shop in Paris, M. Linxe disdained fillings heavy with nuts, spices and sugar (which had quite a long shelf life), in favor of smooth, creamy (and highly-perishable) ganache, that suave mixture of pure chocolate and heavy cream, which has since become synonymous with fine chocolates that we enjoy today.
Last week we held a private tasting at La Maison du Chocolat for my guests, which reminded me that I had forgotten how absolutely extraordinary their chocolates were, and still are.
Each time I bit into one, I found something new and delicious, wondering how a chocolatier could consistently hit it exactly right with every bite of chocolate. Each one was melting, pillowy-soft, with the true, fresh flavor of whatever M. Linxe had infused.
Zagora is my favorite. A melange of dark chocolate ganache steeped with fresh mint leaves. Bacchus is filled with Smyrna raisins soaked in the best Caribbean dark rum, then flambéed. And a life-changing Andalousie, where just the right amount of grated lemon peel is mixed with the ganache, is resplendent with spritzy lemon oil without a hint of bitterness, tasting remarkably like grated lemon that was zested just moments before.
When I went back a few days after the tasting to personally thank them for their warm and generous hospitality, I was offered a few more chocolates to sample. Not wanting to be rude, I pulled up a seat at the counter and unwrapped Cerise Griotte, a house-made candied sour cherry enrobed in dark chocolate, which exploded in my mouth, a wash of bitter-sweet cherry liquid bathed in alcohol with a thin, dark chocolate coating…it was pure heaven.
I felt like I was coming back home, as I'd first discovered chocolates from La Maison du Chocolat what seemed like so long-ago while on vacation a long time ago in Paris. And here I am now, rediscovering them all over again. La maison means home, and I do feel indeed fortunate, and just a bit lucky, that I get to live here. And that this is home.
La Maison du Chocolat
52, rue François 1er
Tel: 01 47 23 38 25
Other locations across Paris, as well as in London, Tokyo, and New York. All chocolates ordered through the La Maison du Chocolat website are handmade in their Paris workshop.
LATE-BREAKING NEWS: I just tried the Rigoletto Noir, buttery caramel mousse enrobed in dark chocolate.
Wow…simply sensational.
Related Links:
Papabubble (New York City)
Le Furet Tanrade (Paris)
REGIS Chocolatier (Paris)
Jacques Genin Opens (Paris)
A Visit to Bernachon Chocolate (Lyon)
Eye Candy (Paris)
Salted Butter Caramels from Henri Le Roux (Brittany)