Delving Deeper Into Coffee
Because I'm out of my mind, once I get something stuck in my craw, I'm not okay until I get it all figured out once and for all. I guess that's why I'm a baker. Because I'm insane. When I got my new espresso maker, I became obsessed with that too, and I needed to figure out how to pull the best espresso out of it as I could, like they do in Italy.
So what did I do? I went to Italy.
Mais oui.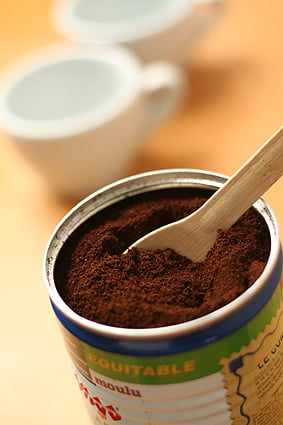 Although I got a lot of questions answered there, new ones kept popping up when I got home. And when I posted about my trip there were some enlightening comments, especially from Greg Sherwin of CoffeeRatings.com. I clicked away, delving deeper into his site where there was much top-notch information and we began corresponding.

So I decided to ask Greg if he'd write a guest post here since he's a veritable font of caffeinated knowledge, whereas I'm a mere coffee débutant.
Greg's even more obsessed that I am in pursuit of a great cup. But I was especially impressed with his thoughts & opinions, and one of my favorite posts, Getting Serious About Coffee offers great advice to newbies like me, which included how much to spend on a machine, where to spend it, and what to buy (and more importantly, what not to buy). It's required reading for anyone interesting in buying an espresso maker or even just brewing up a good cup of joe in the machine that you have. So I asked him if he'd like to expand on that topic here and he was delighted to do so.
Please welcome Greg from The Shot…
Taking The Next Step With Home Espresso
The art of good coffee preparation is really the art of good cooking—it's all about the proper time, temperature, and pressure.
The goal is to extract the good, flavorful elements from the coffee beans and leave the bad stuff behind. The reason so much of the espresso served in America tastes bitter is because most places over-extract their coffee: pouring longer and larger shots, as if doing us a favor, when in fact they're just drawing more of the bitter, water-soluble elements into the cup.
If you have taken an interest in making quality espresso at home, the most common first step is to research some of the many home espresso machines now available on the market. However, there are three more critical elements to making good home espresso that few consider from the start — but should.
Freshness: "Of course the coffee is fresh."
There are two kinds of people: those who clearly know that they've tasted fresh roasted coffee, and those who think they have.
When making espresso, you should use coffee that is as fresh as you can possibly get—ideally roasted less than one week ago. The bags of whole bean coffee you will find on most store shelves are typically several weeks old, so try to go to a local coffee roaster if you can.
Roasted coffee is a lot more like fresh baked bread than Lipton tea bags, which is how most of us treat it. If you wouldn't buy croissants imported from overseas, stuffed in cans or in vacuum-sealed capsules, you wouldn't want to buy coffee for your espresso that way either. Coffee starts oxidizing the moment it is roasted, leeching out its flavor. The smell of fresh coffee is quite literally the smell of its flavor escaping. Grinding roasted coffee accelerates the process by exposing the insides of the bean to air and multiplying its exposed surface area.
(It's for this reason that the convenience of single-serving pod machines can only get you so far. And always be suspicious of anything where "cappuccino" or "ristretto" are considered flavors.)
Of all coffee preparation methods, espresso seems the most sensitive to the age of the roast. For example, the frothy brown crema on your espresso will noticeably degrade within just a week of roasting. If CBS ever produces CSI: Roma, using coffee beans from a crime scene they could make espresso in the lab to determine the precise moment of death.
Grinders: "What are they good for?"
Too often people spend hundreds of dollars on a brand new espresso machine and yet still use a $20 Krups coffee grinder. Most everybody treats the grinder as an afterthought, and a cheap grinder will completely throttle your espresso quality. By using poorly ground beans, that $400 espresso machine will only make espresso shots as good as a $100 machine.
A quality burr grinder, instead of a cheap "chop"-style grinder, is a must to ensure your coffee grinds are as consistent and as fine as possible for the best results. This undoubtedly will come as sticker shock, but I recommend that you spend almost dollar-per-dollar for a grinder as you do your espresso machine—up to about the $400 level.
Cleanliness: "You mean this isn't a 'self-cleaning' oven?"
Using an espresso machine isn't like seasoning a wok.
With use, the shiny metal parts of your machine (and any plastic ones) will acquire a yellowish-brown tint indicating the build up of coffee oils. These old, stale oils impart a rancid flavor to your espresso that will get worse over time.
Ask any pastry chef trying to get a stiff peak from egg whites when using equipment that isn't clean of all fats: cleanliness counts. The solution is to clean your equipment frequently — at least weekly with regular use — using food-safe coffee oil solvents, such as Puro Caff. Espresso machines also require regular maintenance like automobiles. For example, replacing worn seals and gaskets about once a year ensures that the machine is operating in top condition and maintains the right brewing temperature and pressure.
Despite the many conveniences of modern home espresso machines, unfortunately there are no instant shortcuts to great espresso. As the International Association of Culinary Professionals) recently noted: "The need to enhance convenience often means a trade-off with other desirable goals."
But if quality and flavor are your goals, following the above guidelines, as well as the tips below, should get you a long way there.
Greg's Top 8 Home Espresso Making Tips
To do this right, it's going to be expensive— plan to spend at least $400 for a decent espresso machine.
Buy your espresso machine from a specialist retailer. You're not likely to come across the best brands at the bigger-name kitchen appliance retailers.
Just as important as your espresso maker is spending almost as much on a decent burr grinder. Most everybody treats the grinder as an afterthought, and a cheap grinder means an underperforming espresso machine.
Use coffee beans as fresh as possible—ideally less than one week since roasting. If you don't know (or remember) the roasting date, it's likely been several weeks.
Coffee is 98% water, so use filtered water to improve flavor and to prevent deposits from forming on your machine.
Clean your machine. Coffee oils build up over time and will make your espresso taste rancid if you don't regularly use food-safe coffee oil solvents such as Puro Caff.
Perform regular espresso machine maintenance, such as replacing seals and gaskets annually to keep it operating in top condition.
Espresso should be short, naturally sweet, come with a foamy layer of dark brown crema, and it should have the consistency of a light syrup. If you think espresso is bitter, you've never had a proper espresso.

Thanks to Greg for his insights and sharing his wisdom. For more tips, be sure to visit his coffee and espresso blog, The Shot and Coffee Ratings.

Other online coffee resources:

Coffee Geek: Informative, in-depth reviews of coffee makers and grinders.

The Joy of Coffee, an excellent book by food writer Corby Kummer.

Coffee Sage: Reviews and news for coffee-lovers.

Starbucks Gossip site, with an especially damning barista rant.

Fortune's 'bread-chocolate-coffee-yoga' blog.

Roast your own.

Claiming to be the best, The Clover is the newest (and perhaps the most expensive) way to make coffee.

Illy's guide to making coffee by various methods.

Recommended by several readers, the Aeropress promises a great cup for a fraction of the cost of other extraction methods.

Wanna make your own espresso machine for less than 30 bucks?