Belgian Hot Chocolate Recipe
Due to a quirk in the way my website was initially set up, a short list of recipes on my Recipes page are in a format that I can't alter. A friend suggested I get an intern to re-do the recipes, but I looked at the list and scoffed—heck, I want to remake everything there! So I'm going to be re-presenting some of the recipes from the archives, updating them over the next few months or so.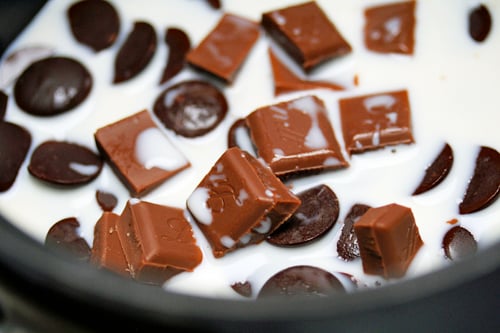 One of the first recipes I put up on the site was a hot chocolate recipe from Wittamer, one of the best chocolate shops in Brussels. And let me tell you, there's plenty of competition in that town.

The head chocolatier, Michael Lewis gave me this recipe, which they serve in their chic tea salon overlooking the place Sablon.
This recipe is simple enough to make anytime you're looking for a hot chocolate fix. Which for me, is often. Especially in the winter. It uses a touch of milk chocolate, and you should seeks out a good-quality one. Most of the better ones lists the percentage of cacao on the label (often between 30-40%) and are likely to taste better than those bars where a small amount of chocolate is used basically as a colorant. I call them "dark" milk chocolate and they're widely-available in lots of stores.
This chocolat chaud is adapted from The Great Book of Chocolate, where there's also a story about my time working at Wittamer, dipping chocolates all day, then wrapping things in lovely bows for the boutique. I was also fortunate enough to sample (re: sneak in when no one was looking) most of their rich, creamy chocolates: one bite and it's a no-brainer to see why Wittamer is "the" classic Belgian chocolate.
Their hot chocolate? It's no slouch either.
| | |
| --- | --- |
| Wittamer's Belgian Hot Chocolate | Print Recipe |
Adapted from The Great Book of Chocolate (Ten Speed)Although Michael told me this recipe serves four, I think the Belgians must have a high-tolerance for the amount of hot chocolate they can drink, and you might find it serves a few more than indicated. Leftover mix can be stored in the refrigerator for a few days, and re-warmed in a saucepan or microwave oven.In Paris, most places use low-fat milk for their chocolat chaud, so you could likely use it here. I use whole milk. Or for more adult tastes, one could replace some of the liquid with strong coffee or add a hit of liqueur at the end, such as cognac or Chartreuse.
1
quart (1L)
half-and-half or whole milk
8
ounces (230g)
bittersweet or semisweet chocolate,
finely chopped
4
ounces (115g)
milk chocolate,
finely chopped
1/2
teaspoon
ground cinnamon
1. Warm about one-third of the half-and-half or milk, with the chopped chocolates and salt, stirring until the chocolate is melted.
2. Whisk in the remaining half-and-half or milk, heating until the mixture is warmed through. Add the cinnamon.
3. Use a hand-held blender, or a whisk, and mix the hot chocolate until it's completely smooth. Serve very warm.
At Wittamer, it's served with a poof of whipped cream and chocolate curls.
Speaking of hot chocolate, for those of you in New York, or within driving or flying distance, the month of February means it's the annual City Bakery Hot Chocolate Festival. The flavors will be changing daily, and you can sip Maury Rubin's hot chocolate with your friends by candlelight!