Edwart Chocolatier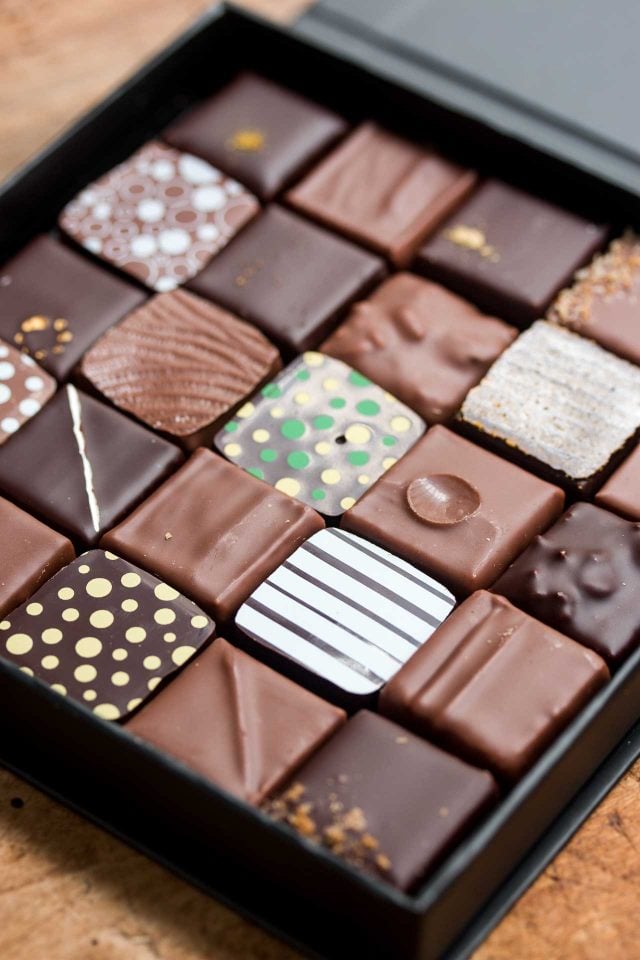 I'd been meaning to stop into Edwart Chocolatier since it opened nearly three years ago. But I had my head buried in the books and I wasn't let out until after dark. And once released, I'd make a sprint to the nearest bar or café for a drink or glass of wine, before retreating again.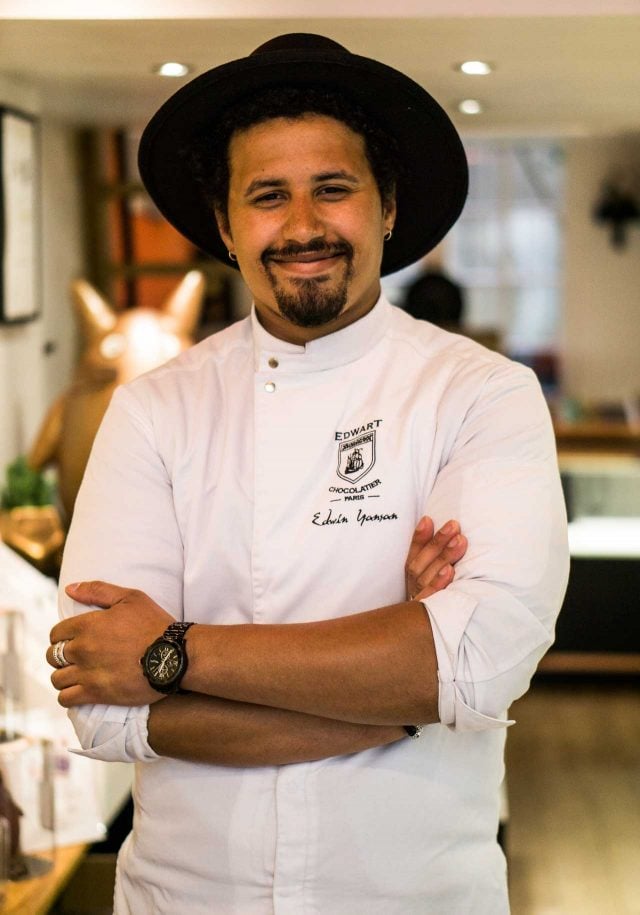 When we finally connected, Edwin Yansané said I should come in for a chocolate tasting. And was happy to be greeted by him on an especially brisk day in Paris at his shop in the Marais, in his wide-brimmed hat. After discussing our favorite cocktail bars in Paris (we have more than chocolate in common!), we got down to business…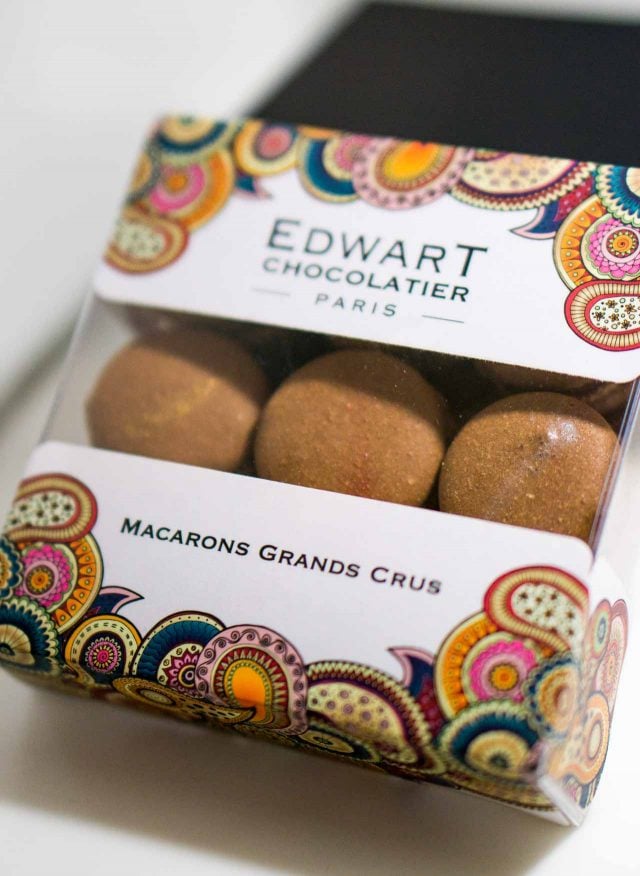 The shop seems no larger than a very large box of chocolates, which essentially, it is. And when we finished comparing notes about nightcaps (or late afternoon caps?), I was drawn to the back of his shop where rows and rows (and rows and rows) of chocolates are neatly lined up by flavor, and color.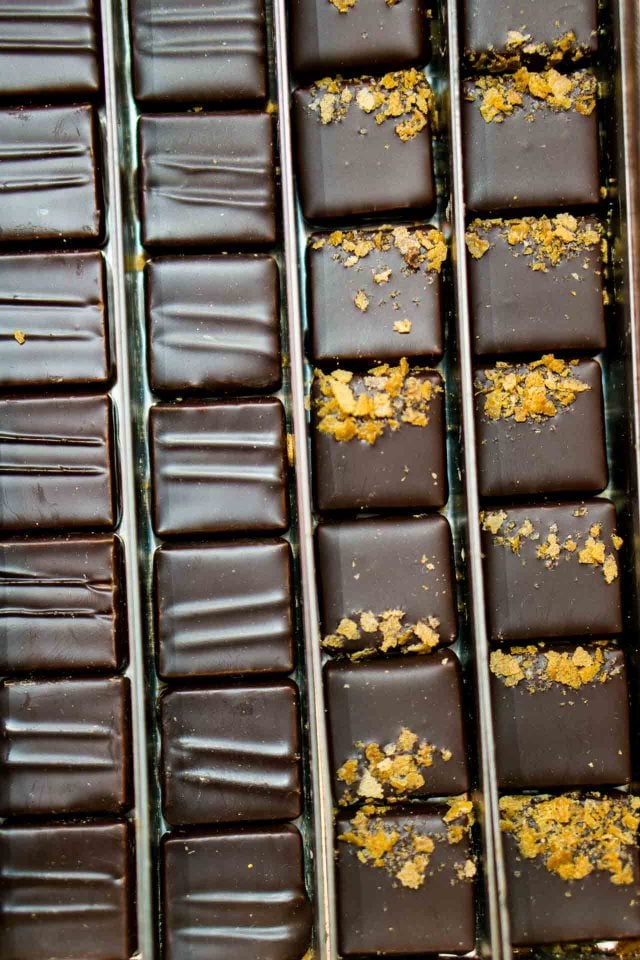 Edwin first asked if there was anything that I didn't like. I don't love licorice and bell peppers, the latter one I probably didn't have to worry about. But I actively dislike tonka beans, which have become a fixture in some chocolate shops in Paris. The taste of them reminds me of furniture polish, and I get kind of irked when they're put in food because I can't get that Pledge-like taste out of my mouth for at least an hour afterward. And I can't taste anything else. So when someone offers me a chocolate and doesn't want to tell me what it is, saying only, "Just taste this, Daveed…" I make sure they rule out there aren't any of those beans in there before I bite.
But I eat any and (almost) all other chocolates, which was a relief to Edwin. He loves combining spices and other ingredients that are found in France, but aren't always associated with chocolate. He's particularly interested in the provenance of the cocoa beans, too. Chocolate from each country and region tends to have certain flavor characteristics associated with it, from sweet to smoky, and he likes to work with various types and crus.
The first thing you'll notice is that the chocolates seem small. In spite of their slightly smaller than a postage stamp-like size, each one is decisively flavored. When you bite into one, which you should do in one single go, you going to taste very specific flavors. And each chocolate delivers them.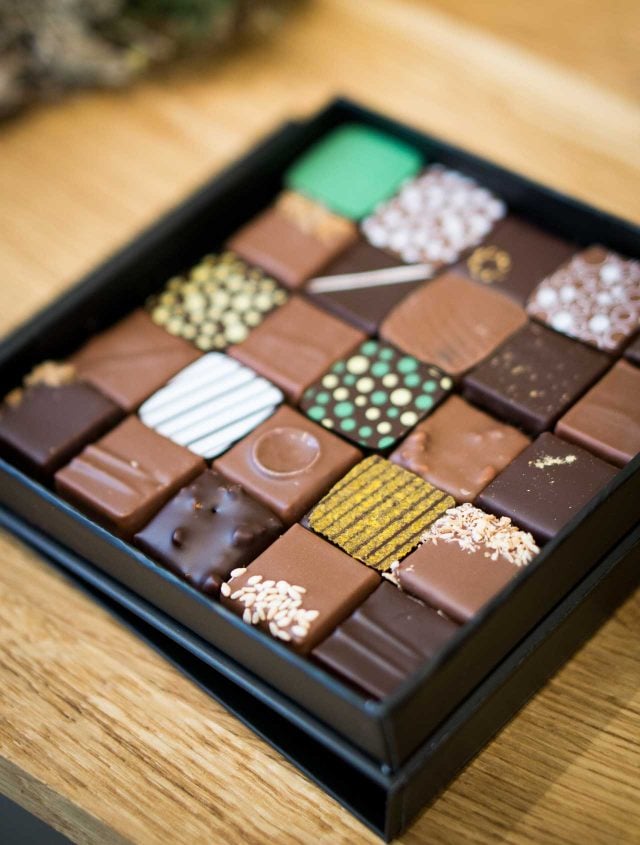 It's generally best when you're tasting anything, from wine to sushi, to go with the lighter flavors first. Ditto with chocolate. Not that chocolate itself is lightly flavored, though. But it's best to start with the plain ganaches. Ganache is a simple blend of cream and chocolate, a relatively new invention in the world of chocolate. Cream was (and is) a luxury that most cultures that nurtured chocolate toward what we know it today, didn't have cream. Even those that had cream couldn't afford refrigeration, so chocolates were made with spices and nuts, rather than something perishable.
Edwin does use cream in most of his chocolates, but it's not very noticeable, which moves the chocolate flavor squarely (so to speak) forward. But you'll be surprised to notice the chocolate used in one, from Papua New Guinea, is smoky and woody, while a square filled with a Madagascar-based ganache has notes of vanilla and honey.
I tasted a sensational noisette chocolate called La Française, flavored with ground French hazelnuts, which you rarely see; most hazelnuts that are available come from Turkey or Italy. French hazelnuts are excellent but they're not grown in quantities that make them commercially viable, I suppose. Ker Edwart detours through Brittany, with a base of crunchy dentelle (lace) cookies and like the rochers de Bretagne (rocks of Brittany), the Little Big Rock (mini rochers) have irregular bumps of almonds and hazelnuts.
After working through the basics (although this sure didn't feel like work…), things started to get a bit more adventurous. Eating a Taj Majal with Madras curry, there was a pique après. You get the full-on curry flavor shortly after it melts in your mouth; the heat arrives afterward. Edwin is thinking of toning it down, so if you stop in, let him know how you feel. (His English is perfect so if you don't speak French, don't worry about chatting him up.)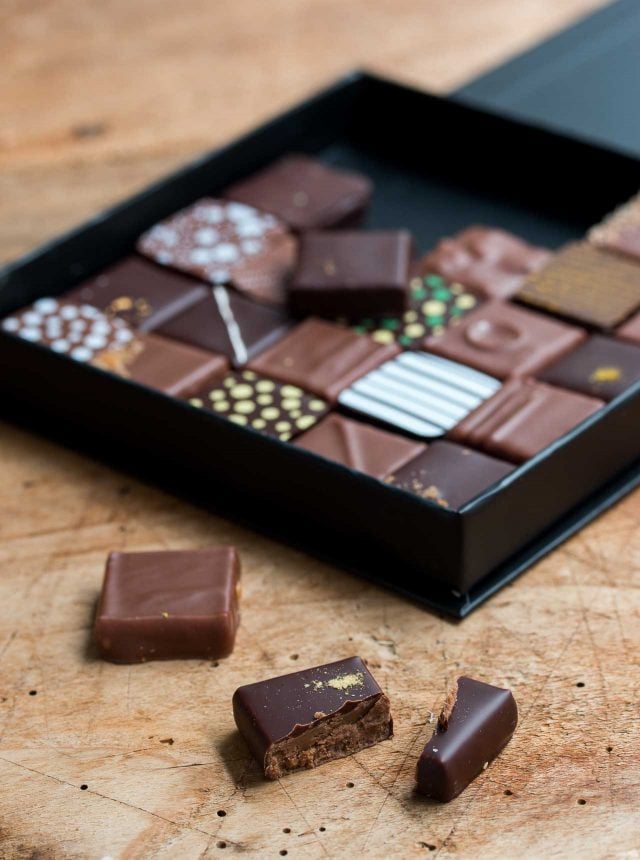 Coriander seed can a hard flavor to pick out, but they come through boldly in the chocolate I tasted with them, Damas, made with green anise and star anise, two flavors I enjoy, never mind my aversion to licorice. And with a bit of a sly wink, he offered me a chocolate filled with peanut praline, which he notes is dangereusement addictif. But the wink was because I asked about his use of peanuts beforehand, which French people eat as a bar snack, but don't tend to appreciate when they're ground into a paste. Kind of like me not liking licorice, but liking anise and fennel. Go figure.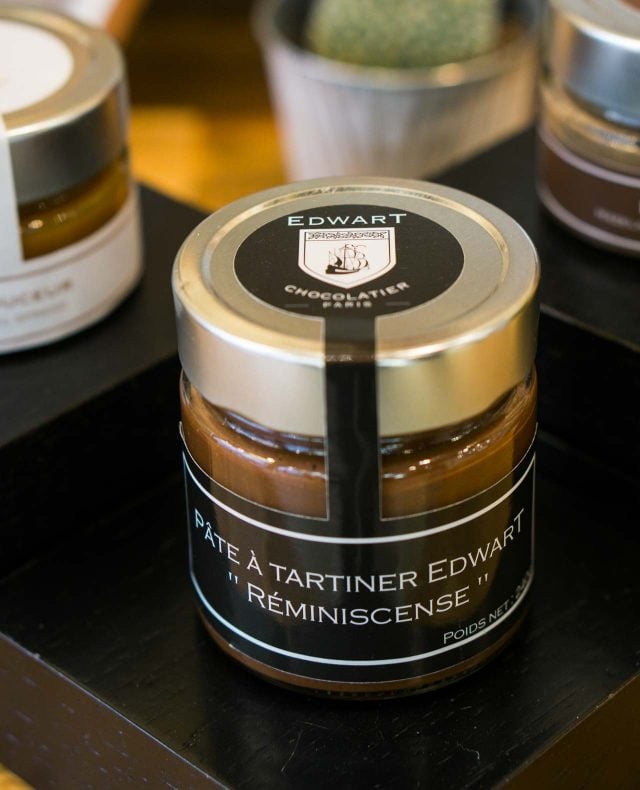 Eager to please, Edwin makes a vegan chocolate that anyone will enjoy, filled with a blend of ground up roasted cocoa beans and caramelized almonds. Now that I had warmed up, I took in the rest of the shop, and zeroed in on a few jars placed around the counters and on the shelves, specifically one labelled Réminiscense, a blend of chocolate and French hazelnuts which might remind one of another spread that can be a little too popular in France. And Le Grain, a spread made with caramelized hazelnuts, chopped hazelnuts, and chocolate, which I'd come to fisticuffs over, too.
A quick tasting that started in the morning, turned into several hours with the affable Edwin, and he gave me a jar of Le Grain to take with me, which I slyly have been keeping away from Romain. Me bad. But can you blame me?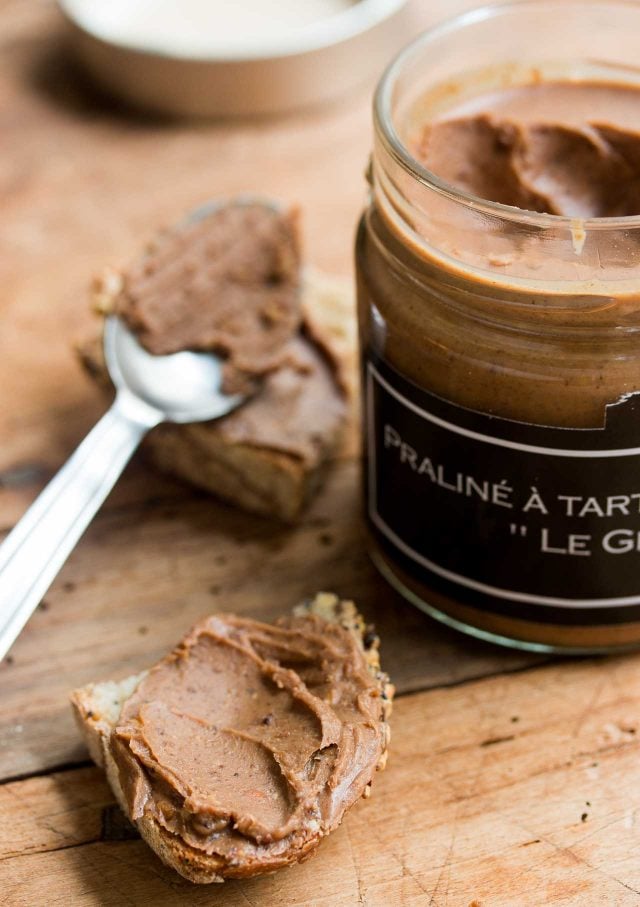 Edwart Chocolatier
17, rue Vieille du Temple (4th)
Tél: 01 42 78 48 92
Métro: Saint-Paul or Hôtel de Ville
and
244, rue de Rivoli (1st)
Tél: 01 49 27 03 55
Métro: Concorde